Rays land 5 players in deal sending Myers to Padres
Former Rookie of Year heading to San Diego; Nats' Souza among Tampa Bay's haul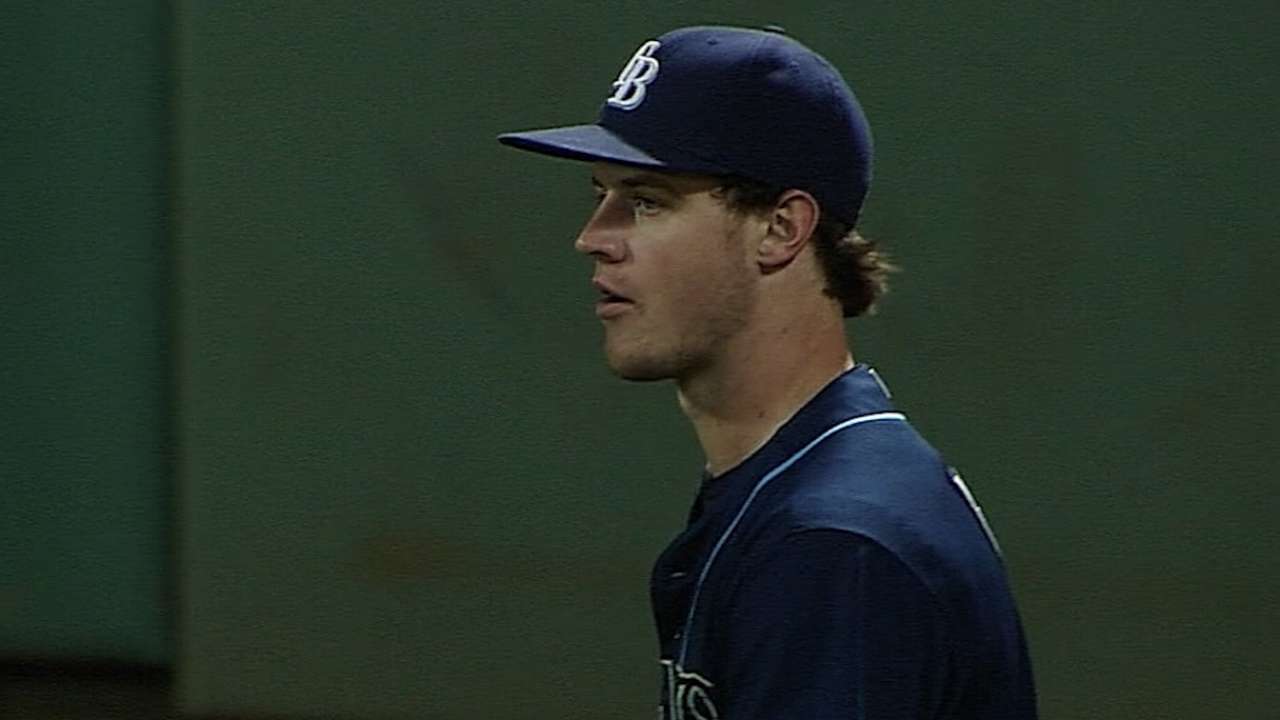 ST. PETERSBURG -- One of the biggest chores facing the Rays this offseason was assessing their roster. Which players did they want to go forward with and which ones did they not?
Outfielder Wil Myers and catcher Ryan Hanigan are now among the growing list of the latter category, while outfielder Steven Souza Jr. and catcher Rene Rivera are among the players the team hopes to ride in 2015.
That's how everything shook out after days of rumors and speculation about the trade the Rays finally announced Friday. Myers, the 2013 American League Rookie of the Year, is the centerpiece of the 11-player, three-team trade involving the Padres and Nationals.
"This is a baseball trade, and one we believe will make our club more competitive both for 2015 and beyond," said President, Baseball Operations Matt Silverman. "Trading Wil Myers was not an easy decision, but we are very excited about the talent coming back our way, and this deal has potential to improve our team on both sides of the ball."
Myers and Hanigan are headed to the Padres along with Rookie League left-hander Jose Castillo and Class A right-hander Gerardo Reyes.
In return, the Rays received Rivera from the Padres, along with prospects that include right-handers Burch Smith and Joe Ross, first baseman Jake Bauers and a player to be named, who is believed to be shortstop Trea Turner, the 13th overall pick in the 2014 First-Year Player Draft.
On the back end of the deal, the Rays sent Ross and the player to be named to the Nationals for Souza and Class A left-hander Travis Ott.
• Mayo: Trade features top young talent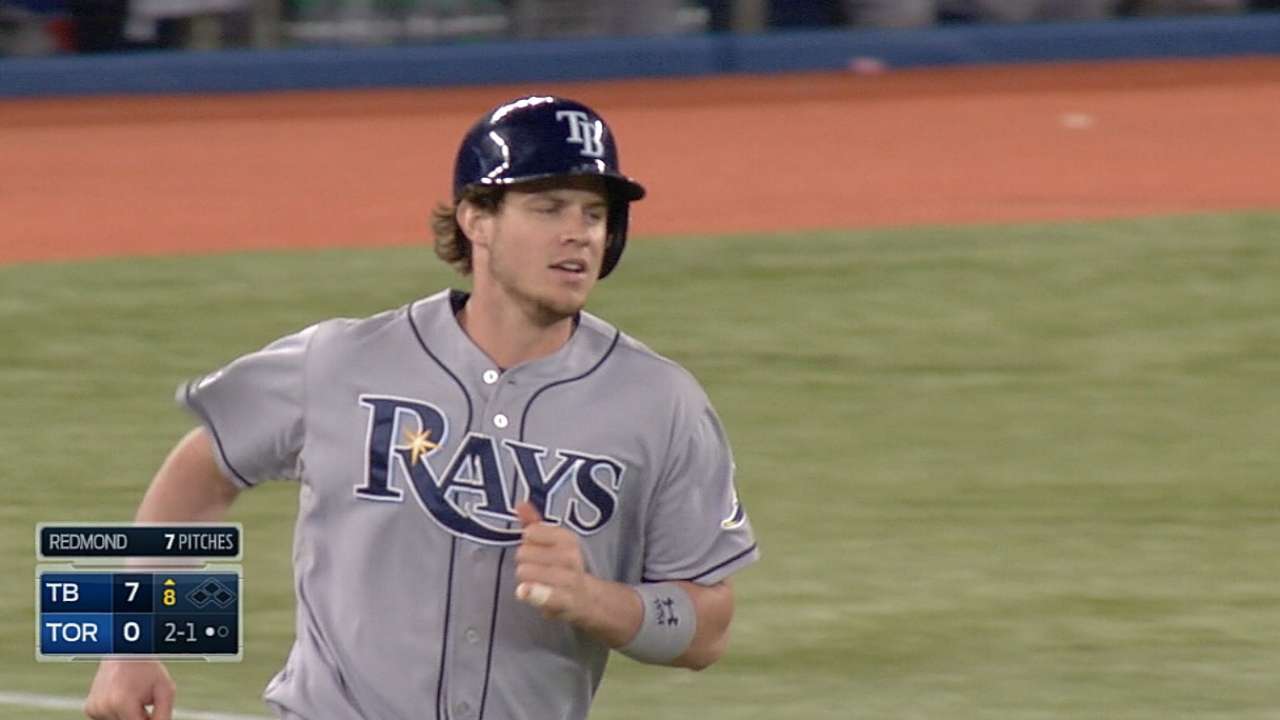 Rays get:
Steven Souza Jr., OF (WSH)
Rene Rivera, C (SD)
Jake Bauers, 1B (SD)
Burch Smith, RHP (SD)
Travis Ott, LHP (WSH)
Padres get:
Wil Myers, OF (TB)
Ryan Hanigan, C (TB)
Gerardo Reyes, RHP (TB)
Jose Castillo, LHP (TB)
Nationals get:
Joe Ross, RHP (SD)
Player to be named (Trea Turner, SS) (SD)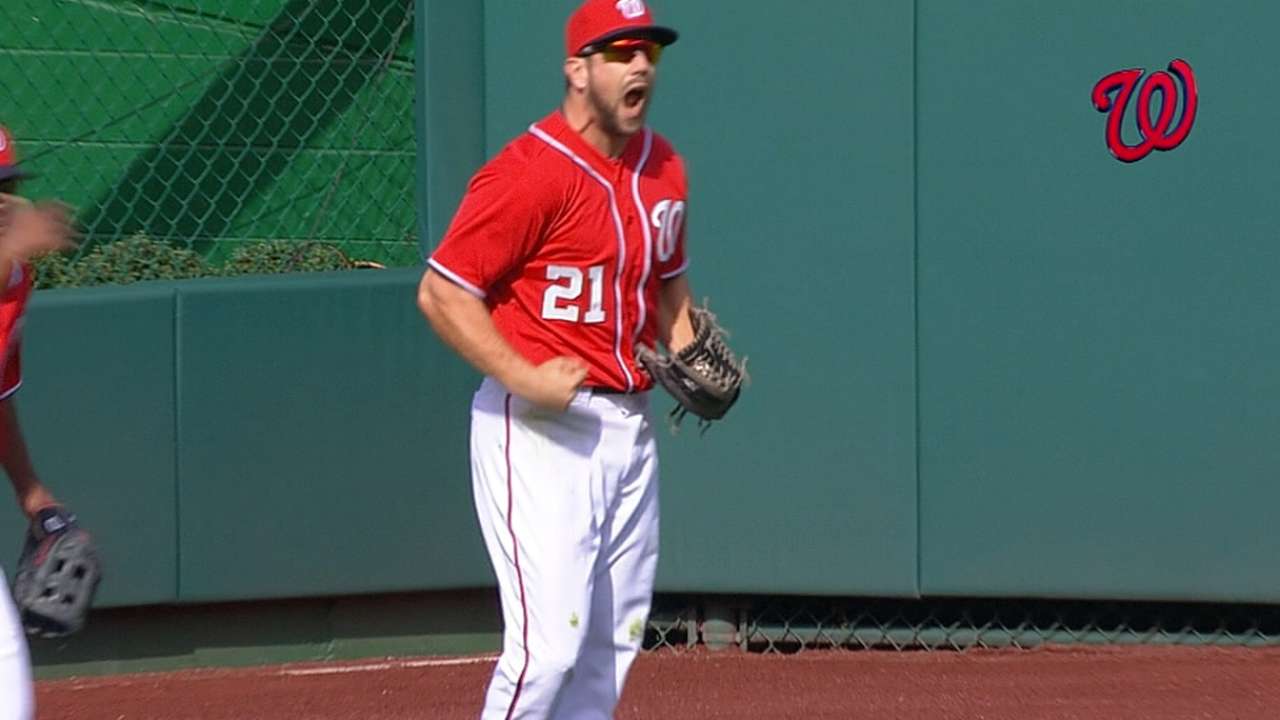 Souza, 25, earned International League Most Valuable Player honors in 2014 while playing for the Nationals' Triple-A Syracuse affiliate. How he will fit in remains to be seen, though he appears to be a strong candidate to hit in the middle of the lineup and play right field.
The Rays went into the offseason with a crowded outfield consisting of Brandon Guyer, Desmond Jennings, Kevin Kiermaier, David DeJesus, Matt Joyce and Myers. They traded Joyce to the Angels for right-hander Kevin Jepsen on Tuesday. Regardless of Souza's role, the Rays' outfield situation continues to look healthy and competitive.
The Nationals picked Souza in the third round of the 2007 Draft. After several injuries and a 50-game suspension for testing positive for performance-enhancing drugs in 2010, he put it all together and made his Major League debut last season.
Souza has good size at 6-foot-4 and 225 pounds and is said to combine speed with raw power from the right side of the plate, giving him the tools to be a Major League regular. Since moving to the outfield, he has primarily played right field and profiles best there, but he is athletic enough to handle center in a pinch.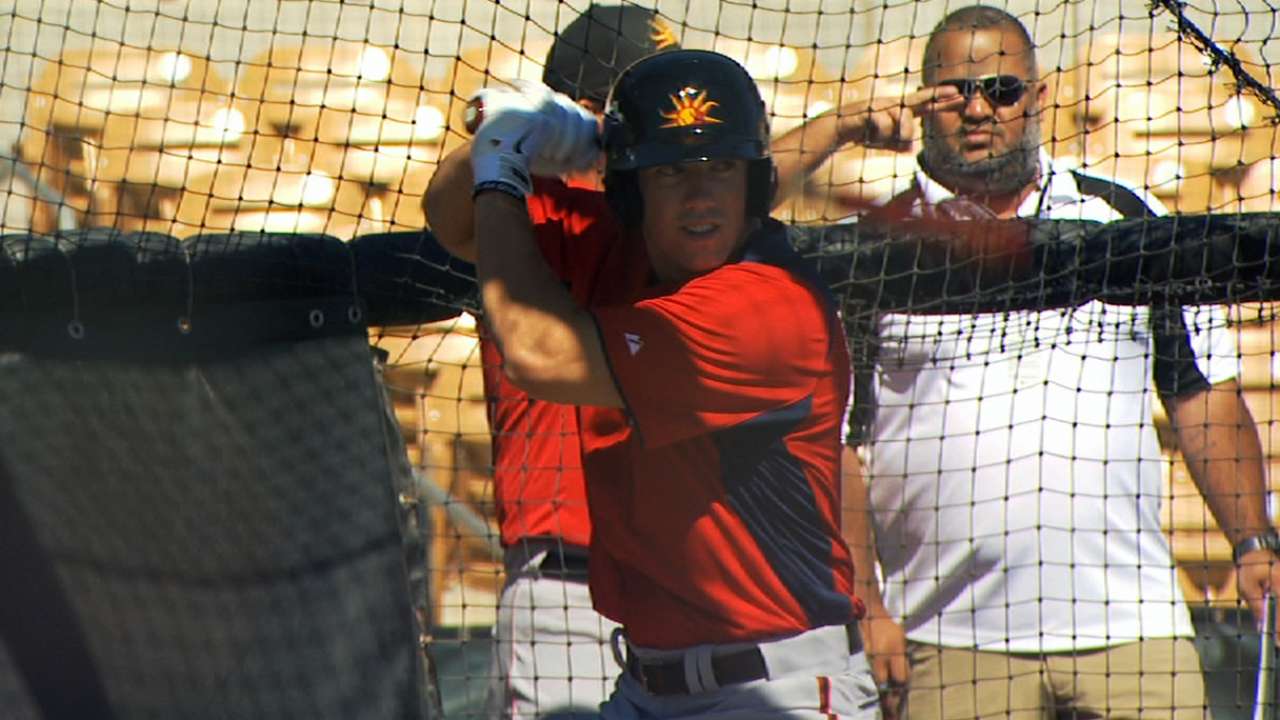 Rivera, 31, played in 103 games for the Padres in 2014 and hit .252 with 11 home runs and 44 RBIs. He has hit .228 with 15 home runs and 66 RBIs in parts of six Major League seasons with the Padres, Mariners and Twins.
Behind the plate, Rivera is considered one of the best pitch framers in the Major Leagues. He threw out 36 percent of opposing basestealers in 2014 and has thrown out 39 percent in his career.
Myers arrived to the Rays in 2013 as the marquee player received in a deal that sent James Shields and Wade Davis to the Royals and also brought right-hander Jake Odorizzi and left-hander Mike Montgomery to Tampa Bay.
Myers delivered as advertised in '13, winning the AL Rookie of the Year Award without even playing a full season. Heading into his second year, everyone speculated about how great his production could be during a full season. That question remains unanswered.
Myers could not dodge the sophomore jinx in 2014, which included right wrist and hand injuries that resulted in a lengthy stint on the disabled list. When he did play, Myers did not resemble the player he was in '13. He vowed at the end of the season that he would be in great shape come Spring Training and that would result in a return to form.
Hanigan had a disappointing first season with Tampa Bay, and the Rays hope they've landed a catcher who can be more productive in Rivera.
The Rays acquired Hanigan in a trade with the Reds prior to last season, hoping they had found their catcher for several years. They even signed him to an extension worth $10.75 million for three years with a 2017 club option.
In an injury-shortened 2014 campaign, Hanigan, 27, hit just .218 with five home runs and 34 RBIs in 84 games. That followed an injury-shortened 2013 season with the Reds when he hit .198 with two home runs and 21 RBIs in 75 games.
Of the other prospects acquired, Smith, 24, is the closest to being Major League ready. MLB.com ranked Smith, 24, 16th among the Padres' top prospects.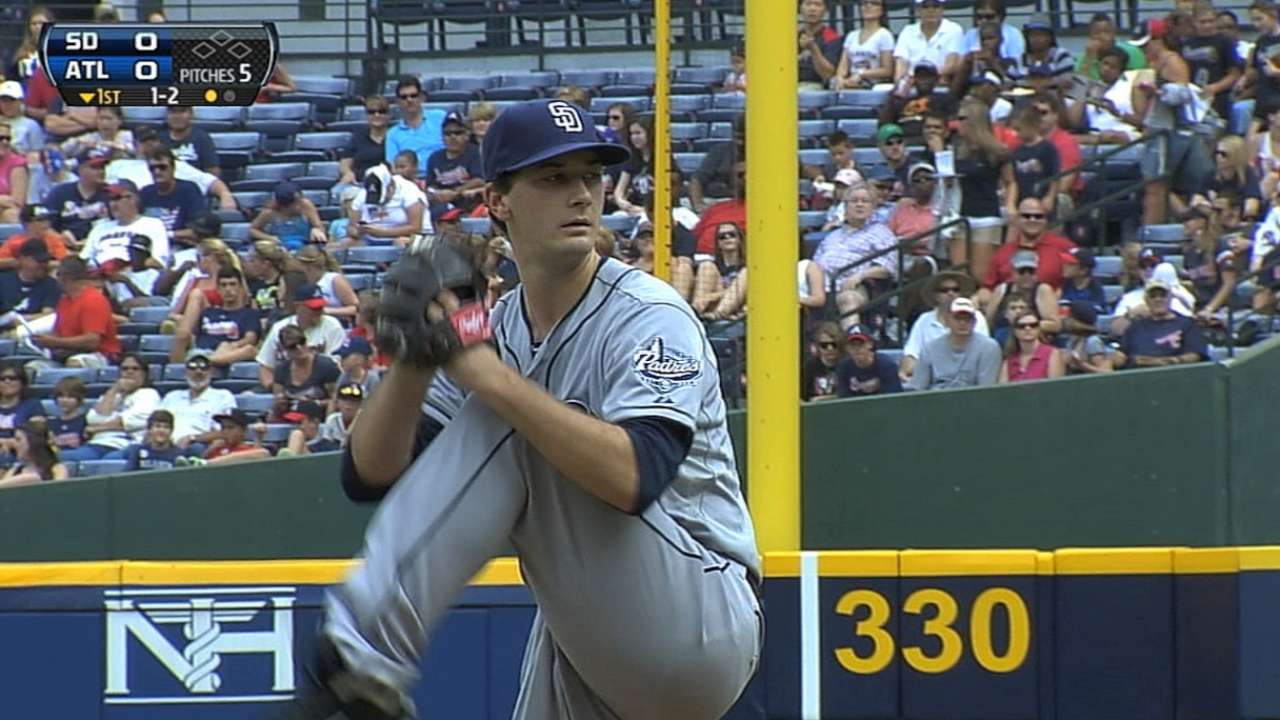 Smith stands 6-foot-4 and 215 pounds. After being selected in the 14th round of the 2011 Draft, Smith flew through the Padres' system, making his Major League debut in May 2013. His early results in the Majors were mixed, but he finished the season strong. Smith's progress slowed in '14, however, when he landed on the disabled list in April with forearm tendinitis.
When Smith is healthy, his fastball sits in the low 90s and can reach 97 mph with late cutting action that makes it difficult for hitters to square up. His changeup is the more consistent of his secondary pitches, though his curveball is also a solid offering. Smith had good control throughout the Minors, only to struggle with it in the Majors.
Smith's injury came when he appeared to be ready to make the jump to the Major Leagues for good.
MLB.com ranked Bauers, 19, as the Padres' 14th-best prospect. He bats from the left side and has a short, compact swing. He has shown power and that power is projected to grow as he fills out his 6-foot-1, 195-pound frame. A left-handed fielder, he is solid at first base, but does not project to play elsewhere. So he will need to continue hitting to advance.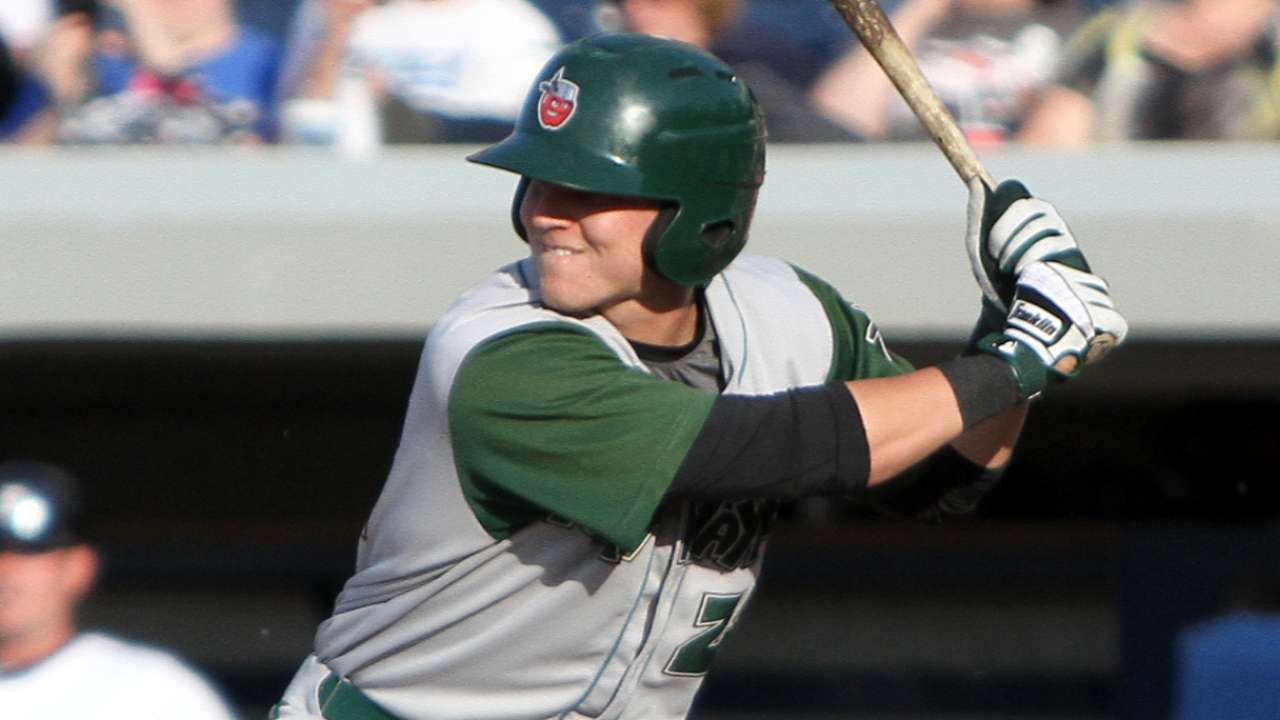 Highlighting the list of players traded or let go earlier by the Rays this offseason are Joel Peralta, Jose Molina, Sean Rodriguez, Cesar Ramos and Jeremy Hellickson.
Bill Chastain is a reporter for MLB.com. This story was not subject to the approval of Major League Baseball or its clubs.