Heaney's path has led him to Halos' rotation competition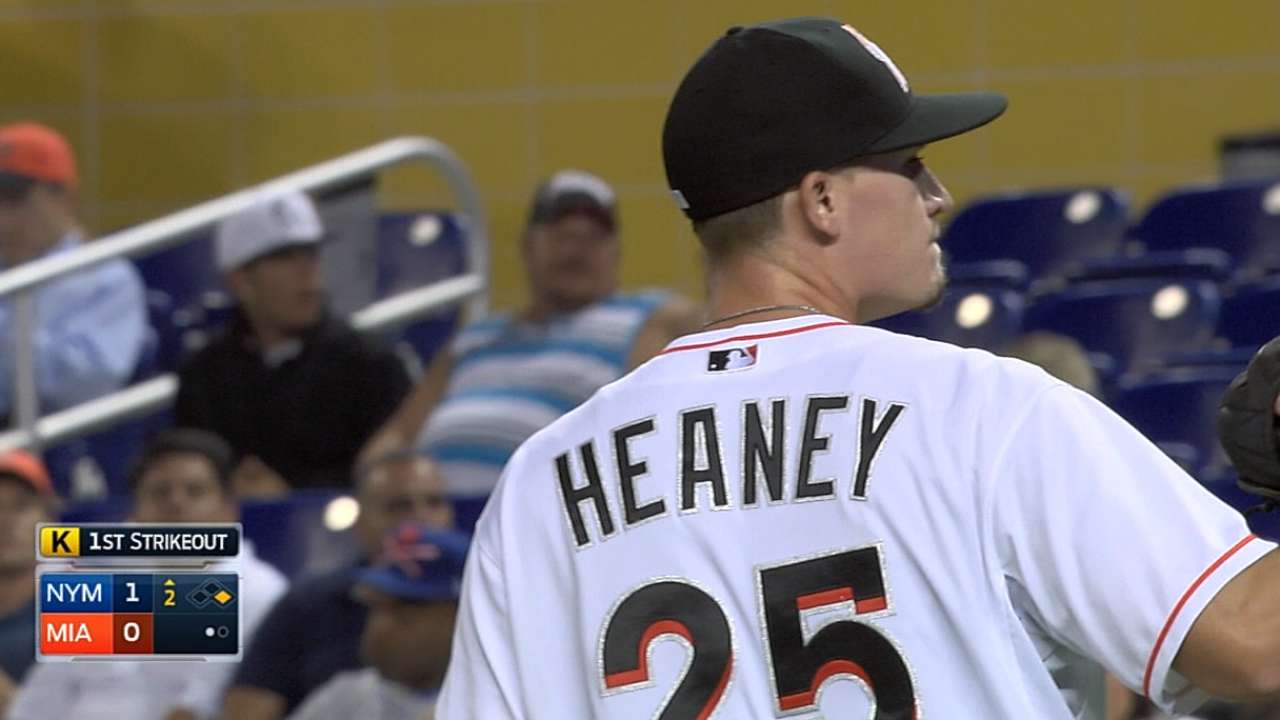 ANAHEIM -- When Frank Anderson first saw Andrew Heaney walk into the Oklahoma State University campus in the fall of 2009, the young left-hander was carrying 140 pounds on a 6-foot-2 frame.
"He was just a string bean," said Anderson, the longtime Oklahoma State baseball coach who is now an assistant at the University of Houston. "I always joked around that he looked like one of those Dr. Seuss characters."
In five years, Heaney went from a skinny freshman to a first-round Draft pick to a standout Minor Leaguer in the Marlins' organization to the guy the Angels couldn't pass up.
Angels general manager Jerry Dipoto stopped actively shopping second baseman Howie Kendrick early in the offseason, when he used backup catcher Hank Conger to acquire Nick Tropeano from the Astros on Nov. 5. The Angels no longer needed starting-pitching depth, but when the Dodgers brought up the possibility of acquiring Heaney from the Marlins and flipping him to the Angels for Kendrick, Dipoto was immediately intrigued.
Heaney already was considered the 18th-best prospect in baseball, according to MLB.com's rankings, and easily became the No. 1 prospect on the Angels, who will give him a legitimate chance to win a job in their starting rotation.
"We feel like this guy can pitch up in a rotation and has a No. 2-type ceiling with All-Star potential," Dipoto said shortly after pulling the trigger for Heaney late last Wednesday, as the final full day of the Winter Meetings concluded.
"He's very good, and he has the potential to grow into something very good."
Heaney, now 23, grew up in Oklahoma but never really knew Garrett Richards -- who's three years older, attended high school 15 miles away from Oklahoma City and opted to attend the University of Oklahoma. The Rays drafted Heaney in the 24th round out of Putnam City High School in Oklahoma City in '09, but Heaney opted to go college and started off slowly.
He compiled a 4.59 ERA in his freshman and sophomore seasons, combining to strike out 106 batters in 133 1/3 innings while splitting time between the rotation and the bullpen.
Then, between his sophomore and junior year, Heaney developed a legitimate slider to pair with his low-90s fastball and straight changeup.
"When he got that," Anderson said, "he finally had that swing-and-miss pitch."
Heaney -- by that point up to 170-175 pounds -- dominated in his junior year, posting a 1.60 ERA while leading the NCAA with 140 strikeouts in 118 1/3 innings. The Marlins saw him as a future mid-rotation starter who could rise quickly, made him the ninth overall selection in the 2012 First-Year Player Draft, and watched him storm through their system in his first full season in 2013, posting a 1.60 ERA, a 1.07 WHIP and a 3.42 K/BB ratio in Class A Advanced and Double-A.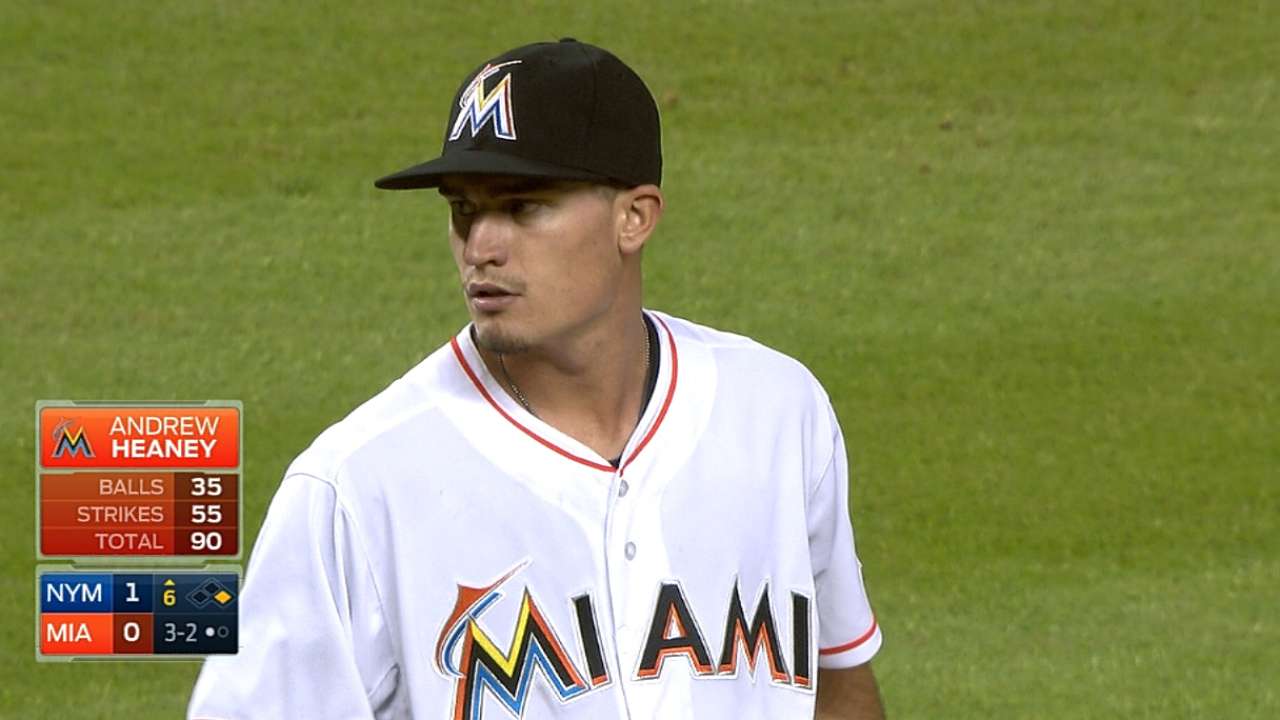 Heaney never has blown evaluators away with his velocity -- though he can touch 95 mph on occasion -- but his delivery has always played it up.
"If you see how easy his arm works, his motion is very fluid, easy, and at the last second, it's very whippy," said right-hander Anthony DeSclafani, a former teammate of Heaney's who was sent to the Reds when the Marlins acquired Mat Latos on Thursday.
"You can have guys that throw 100 and if it's flat-planed, it'll seem like a 90-mph fastball," said DeSclafani. "But his velocity is so easy and fluid, his 90 plays up like it is a high-90s fastball, just because of the life it has to it."
Heaney has walked 2.4 batters, struck out 9.1 batters and given up 7.9 hits per nine innings in his Minor League career. His fastball has tailing action, his changeup has developed into an out pitch against opposing right-handed hitters, and his breaking ball is thrown at varying speeds, sometimes tight like a slurve and sometimes loopy like a curveball.
Rival scouts believe all three of his pitches are Major League ready, though his delivery needs to be more consistent on his breaking ball.
"He's a first-rounder for a reason," DeSclafani said. "His stuff is really good. He throws three pitches for strikes, and definitely all average or above average."
The question is whether Heaney can use that to establish himself in the Major Leagues in 2015.
The Marlins called Heaney up from Triple-A in the middle of this past June, sent him back down when he posted a 6.53 ERA in four starts, called him back up when rosters expanded in September, and saw him finish the season with four runs in four innings of a doubleheader on Sept. 26.
"I didn't feel like I was at my best at the time, but I'm a little bit glad," Heaney said of his time in the big leagues. "Sometimes being humbled and being a little bit shaky or having some disappointments can be good for you."
Heaney's brief Major League experience re-inforced the little things, like holding runners and keeping the ball down; the types of things that matter a whole lot more when success doesn't come so easily. He experienced "a dead-arm period" while pitching through his first six-month season and talked about the importance of adding more muscle this offseason, a point scouts tend to agree with.
"He does need to get stronger, still needs to do a better job holding runners, all while still keeping his strike quality up," one scout who watched Heaney closely said. "It's a learning process up there, and I think that's kind of what he ran into."
Scouts love Heaney's makeup -- "stoic, no-nonsense, business-like guy," said one scout -- and believe he can establish himself in 2015, kind of how Tyler Skaggs did before Tommy John surgery this past season.
The Angels will give Heaney that chance in Spring Training, putting him up against Tropeano and Hector Santiago for the fifth spot of their rotation.
"As long as he takes care of the things he needs to take care of, he should be fine," DeSclafani said. "He definitely has the stuff to pitch up there. There's no question about that."
Alden Gonzalez is a reporter for MLB.com. Read his blog, Gonzo and "The Show", and follow him on Twitter @Alden_Gonzalez. This story was not subject to the approval of Major League Baseball or its clubs.