Daniels likes young talent Rangers have in system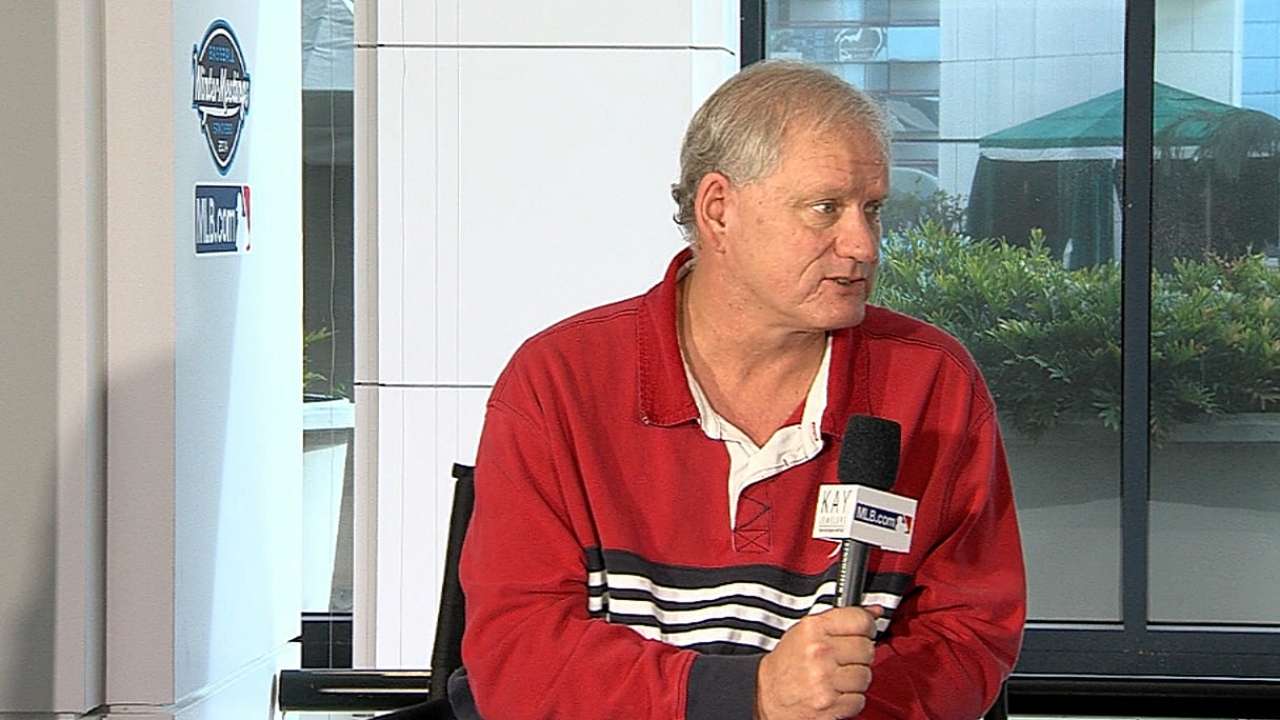 DALLAS -- In terms of big-name acquisitions and blockbuster trades, the Rangers have been relatively quiet this offseason, but general manager Jon Daniels says that's all part of the plan, given the young depth he will have when Spring Training begins in February.
It's not for lack of trying that the Rangers haven't made any major trades, Daniels said -- just a lack of willingness to deal prized prospects.
"We've been involved in a lot of guys that have been moved or rumored to be moved," Daniels said. "For where we are and what we would have had to give up, we didn't feel like the prices made sense for us at this point in time. We've been in the thick of things, we've been amongst the teams in that flurry before. There's an adrenaline rush to it, I'd be lying to you if [I said] there weren't days when I wanted to kind of take off the restraints and go a little bit, because it's fun, it's one of the fun parts of our jobs, making deals."
But Daniels said he doesn't want to deal the organization's top young talent, which includes second baseman Rougned Odor, outfielder Ryan Rua, third baseman Joey Gallo, catcher Jorge Alfaro, pitcher Luke Jackson and several other players who might not be far from the Majors.
"I think sometimes the right thing to do, the prudent thing to do, is look back and you're like, 'Hey, our own players are good,'" Daniels said. "These guys are good. That's not to say we won't trade some of them; we will, we've traded prospects plenty of times in the past. But I think the time and the deal has to be right. … Our young players that are getting asked about are going to be on our team here in the next six to 18 months, and they're going to play for us this year, in a lot of cases. To trade some of those guys that we think are ready to step in for us, or close to ready, for guys that are short-term fits -- at least to this point, that hasn't been something we wanted to do."
Daniels said the Rangers' remaining offseason wish list is limited right now. They wouldn't mind adding a starting pitcher who could step ahead of more inexperienced rotation candidates; they could use another catcher given Robinson Chirinos' history of concussions; and they could use another bat to contribute to the lineup, though not necessarily an everyday hitter.
A slew of injuries to key contributors forced the Rangers to use an MLB-record 64 position players and pitchers in 2014, but those setbacks have given way to positive news: No. 1, the Rangers expect to have nearly everyone healthy by Spring Training, and No. 2, the Rangers were able to give some of their top prospects Major League experience while the top players were hurt.
"I like a lot of the competition that's been created," Daniels said, "both by some of the pieces that we've brought in, but maybe more so by the development of some of our young guys and the positive medical news we're getting on the whole group that should be the best players on our team."
That group includes first baseman Prince Fielder, designated hitter Mitch Moreland and outfielder Shin-Soo Choo, all of whom suffered season-ending injuries in 2014, as did ace Yu Darvish.
All are progressing as planned, Daniels said, and all should be ready for Spring Training -- as will the prospects he values so much, like Odor, Rua and a host of others who will be closely watched this spring.
"The best players on the field in 2015 are going to be our own guys that are either coming back or continuing to develop," Daniels said. "That's been our mindset. We weren't looking to turn over the roster. After we lost 90-plus games last year, maybe some people would think that we should turn it over, but that's not the approach we took. We believe in these guys."
Dave Sessions is a contributor to MLB.com. This story was not subject to the approval of Major League Baseball or its clubs.