Visit to children's hospital extra special for Banister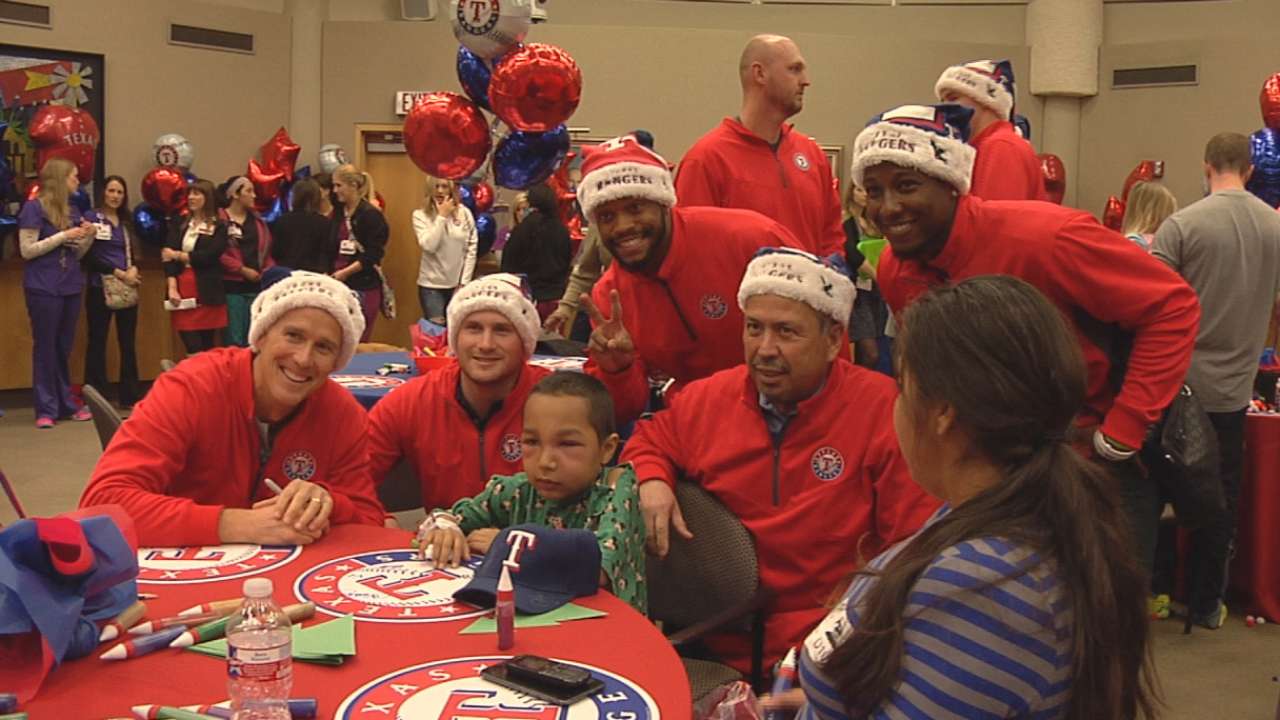 DALLAS -- For nearly three decades, the Rangers have made a holiday tradition out of visiting children's hospitals to spread some cheer to ailing kids. For new manager Jeff Banister -- who overcame bone cancer and a broken neck as a teenager, undergoing 10 surgeries before he left high school -- the visits take on special significance.
"It takes me back to a time and a place when I was laying in that hospital bed and seeing those gowns and masks and gloves," said Banister, who joined a large contingent of Rangers players, coaches and broadcasters at Children's Medical Center in Dallas on Wednesday as they met with hospitalized children and their parents.
"Knowing how tough it is for them, every day … I can only imagine the feeling that they get to have a group like us come in with a smile on our face," Banister said. "We're not going to ask them how they're doing or what they're doing -- our sole mission is to try to put a smile on their face and help them forget, if it's just for 10 minutes, where they're at."
In an auditorium festooned with red, white and blue balloons, the Rangers signed autographs, took pictures and chatted with young patients before heading to other departments to visit more children.
All the kids received an oversized Rangers logo for players to sign -- a memento Datrice Lawrence of Dallas said her son, 7-year-old Gregory, will treasure.
"I think it means a lot to him," Lawrence said. "He'll put these things on his wall, and when he sees the game, he'll say, 'I met him, he came to see us at the hospital!'"
Several kids seemed surprised and awed by the Rangers' arrival.
"They told me [the Rangers were coming] when I was in my room," said 16-year-old Eustace, Texas, resident Ayden Reed, who was recovering from appendicitis. "I had to unhook everything to get down here."
Starting pitcher Derek Holland started the morning's festivities by presenting the hospital with a Starlight Fun Center, a self-contained, mobile video-game unit that can be wheeled into kids' rooms.
Pitcher Tanner Scheppers also found himself operating a video-game controller, playing "Ultimate Fighter" against a young patient in the oncology department playroom.
"He actually kicked my butt," Scheppers said.
"To be able to put a smile on their face is what it's all about, to try to lift their spirits and make [their situation] a little bit better," Scheppers said. "We're here to support them and show them that they're not alone. That's the most important thing."
Wednesday marked the third hospital visit in a week for the Rangers, who have been making appearances at children's hospitals since the late 1980s. Banister has only been with the club a couple of months but has plenty of experience with hospitals. Before he was a manager, a coach or a professional baseball player, he was a young patient fighting for his life.
"My hope is that I live my life every single day well enough for those young people," Banister said, "because I am fortunate enough to get to do what I do, and I could have been on the other end of that."
Dave Sessions is a contributor to MLB.com. This story was not subject to the approval of Major League Baseball or its clubs.