MLB.com Columnist
Phil Rogers
AL Central looking like one powerhouse division
Tigers are reigning champs, but pennant-winning Royals, Indians, White Sox eye top spot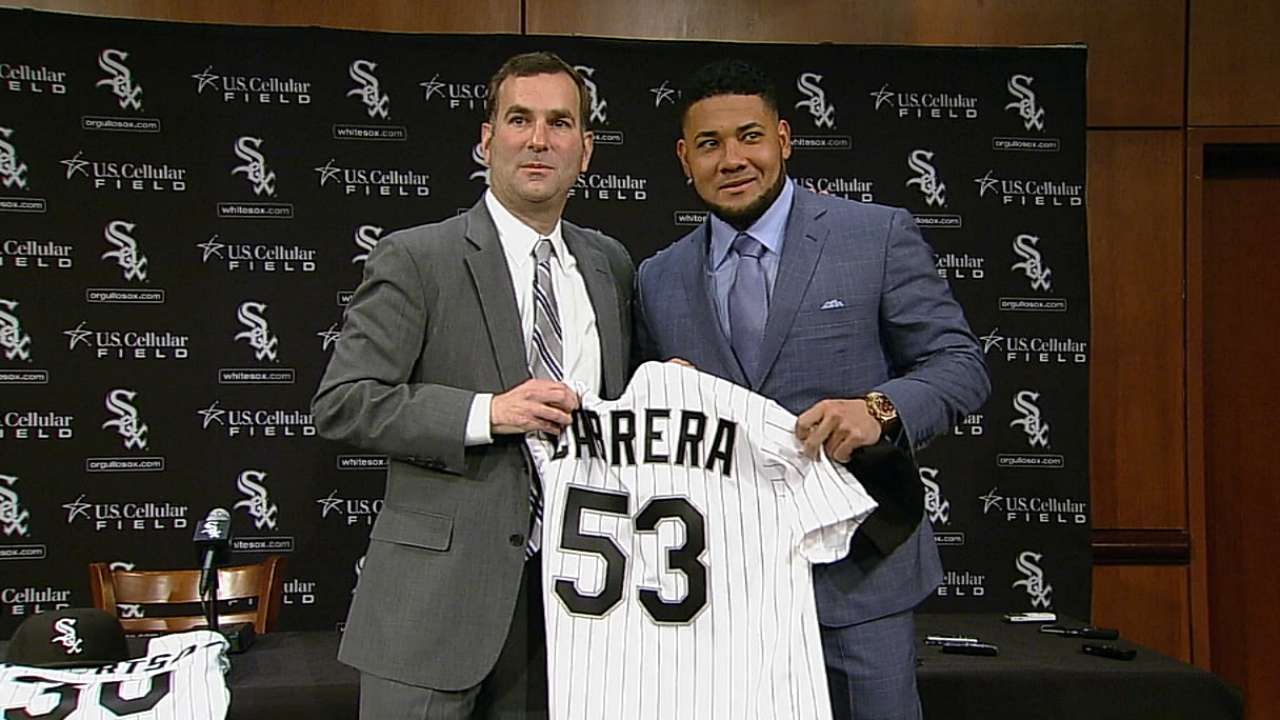 The Tigers are the king of the American League Central, and the king is always given his due. They would probably be the division favorites if the 2015 season began today.
But in this case probably is a big word.
How do you not bet the streak when a team has won the division four years in a row? There are at least three good reasons to this point -- that's the Royals, Indians and the Hot Stove-leading White Sox.
Let's listen to Rick Hahn's take.
"The AL Central is going to be extremely tough," said Hahn, the White Sox third-year general manager. "Not only do we have the reigning AL champ, but we have a four-time division championship club in the division. We have an improved Indians club, and not only do the Twins have some good players coming, but they have [general manager] Terry Ryan and his staff, who are as good as any in the game. So it is becoming a bit of a power division, I would argue, if it's not there already."
The AL Central a power division? Well, if the definition of a power division is one in which any of four teams could win 95 games and a title, or one in which all five teams could have winning seasons, that's exactly what the Central has become.
Yes, all five teams can have winning seasons.
Starting pitching was the Twins' biggest issue in recent seasons and they improved significantly with the addition of Phil Hughes and Ricky Nolasco, along with getting 31 starts from the homegrown Kyle Gibson last season. Ryan wasn't satisfied, committing $55 million and sacrificing a Draft pick to add Ervin Santana to the front of the rotation.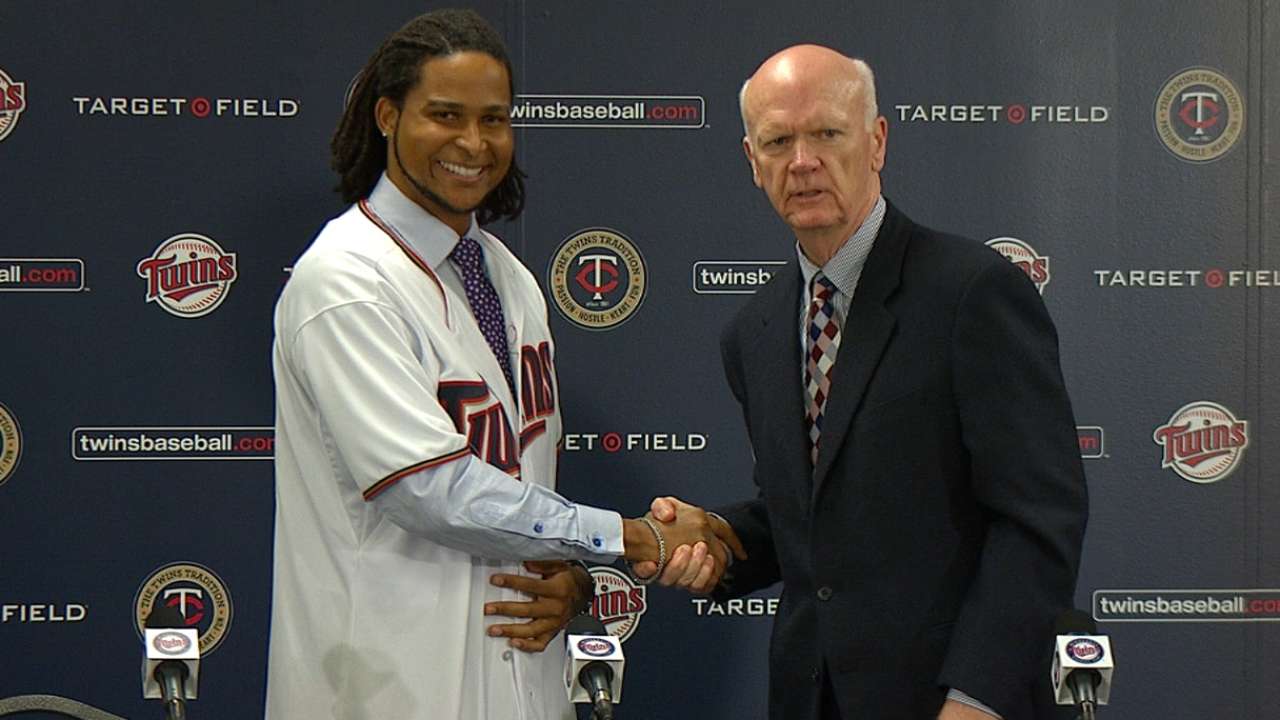 The Twins have also added a clubhouse leader in Torii Hunter, who hit .286 with 17 homers for the Tigers last season. They need to get more than a .732 OPS from Joe Mauer, for sure, but this is becoming a deeper lineup thanks to offensive players like Kennys Vargas and Danny Santana. Miguel Sano and Byron Buxton, who is the No. 1-ranked prospect, according to MLB.com., remain in the wings, eager to play for new manager Paul Molitor, who has played a big role in their development.
As for the four teams that can win titles, let's consider them.
The Royals were on a roll in October, sweeping the Angels and Orioles after disrupting the A's to win the Wild Card Game. Kansas City lost some significant parts from that team in James Shields -- who almost certainly has priced himself beyond the club's means -- Billy Butler and Nori Aoki. But manager Ned Yost expects guys like Lorenzo Cain, Eric Hosmer and Mike Moustakas to step up their games because of the confidence they gained in October.
"I was really excited about the way that our kids stood up during the playoffs," Yost said. "We've talked about for years about taking their game to the next level, and what it feels like and the intensity and the focus and the whole mindset of taking their game to the next level. And they took their game to the next level during the playoffs. ... With that experience, I'm really excited to see what they can accomplish next year."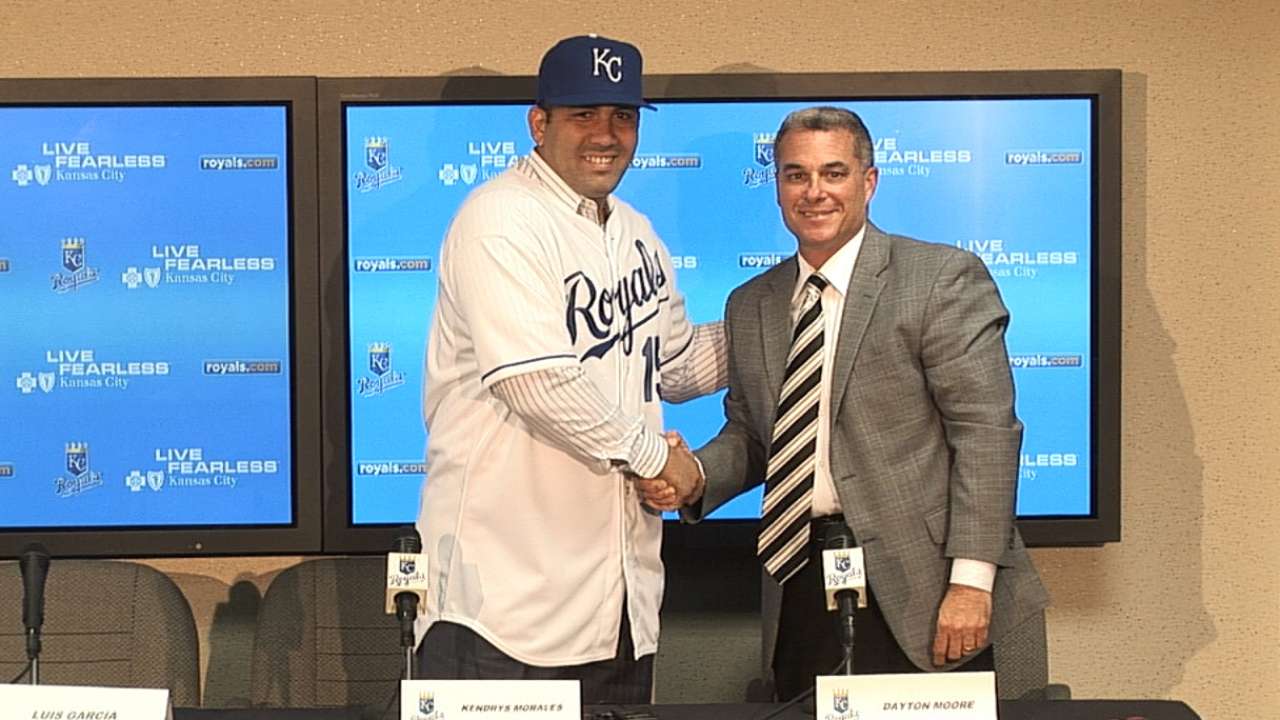 Yordano Ventura gives Yost a front-of-the-rotation arm to potentially replace Shields, and the best-in-baseball bullpen has so far remained intact. But how will newcomers Kendrys Morales and Alex Rios fit in the lineup? They combined to hit only 12 home runs last season, so this isn't the infusion of power that fans envisioned when general manager Dayton Moore decided not to exercise the option in Butler's contract.
Cleveland has averaged 88.5 wins in manager Terry Francona's first two seasons. The Indians just missed the playoffs last season when they got breakout performances from AL Cy Young Award winner Corey Kluber and left fielder Michael Brantley, who finished third in the MVP voting.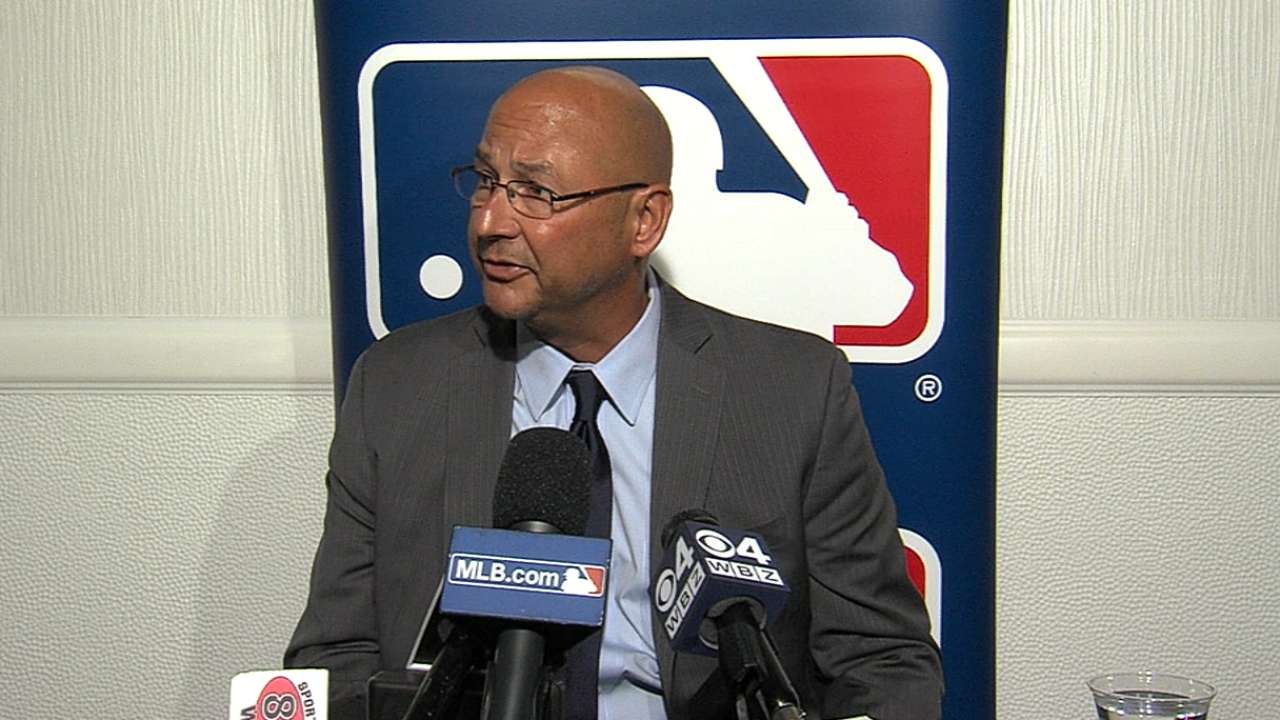 They return everybody, including the rotation headed by Kluber, Trevor Bauer and Carlos Carrasco. General manager Chris Antonetti created a lineup surplus by trading for Brandon Moss -- the kind of power hitter who would have been a good fit for the Royals -- and is taking a low-risk gamble on Gavin Floyd in the rotation.
Hahn's White Sox, an after-thought when the Hot Stove season began, were empowered by the presence of a young ace in Chris Sale and one of the best hitters in the game in Jose Abreu. They have addressed their weaknesses by adding relievers David Robertson and Zach Duke, along with hitters Melky Cabrera and Adam LaRoche as free agents. They also boosted a strength by trading for Jeff Samardzija, who slots nicely between Sale and the 25-year-old Jose Quintana, who has thrown 200 innings each of the last two years.
Abreu's arrival helped the Sox add 10 victories in 2014. The hope for '15 is an improvement of at least 17 more wins, which would get them to 90 and into the mix of the postseason picture.
"We don't have a specific number we project ourselves for, but our goal has to be to get to at least 90 if not beyond," Hahn said. "That's what we always want to achieve. It would put us right in the mix of the playoff race."
In winning the Central in 2011-14, the Tigers averaged 92 wins and finished a combined 256 games ahead of the rest of the division. But after winning by 15 games in '11, they've had narrow margins the last three years -- three over the White Sox in '12, one over the Indians in '13 and one over the Royals in '14.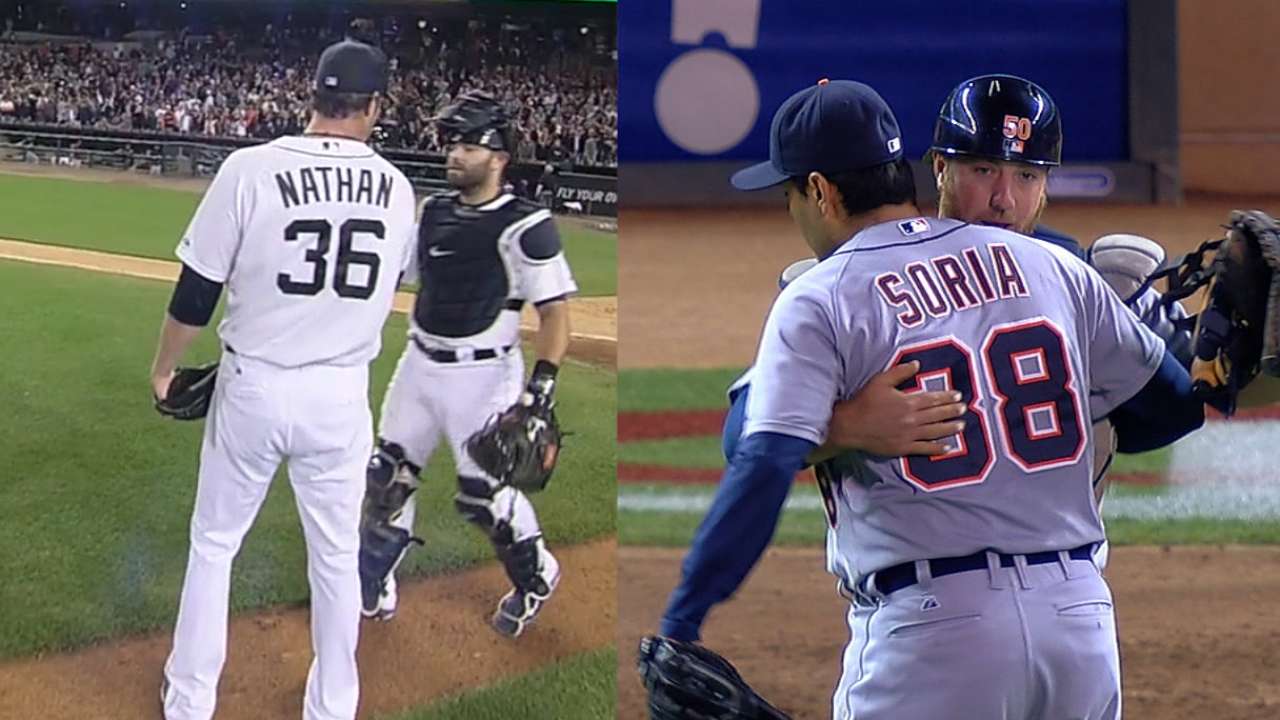 They added David Price to their rotation mix headed by Max Scherzer, Justin Verlander, Anibal Sanchez and Rick Porcello at the non-waiver Trade Deadline in July, but they figure to lose Scherzer to free agency and have traded Porcello for Yoenis Cespedes. The Tigers spent heavily to retain DH Victor Martinez, but they are counting almost as much on a repeat performance by 2014 surprise J.D. Martinez and the health of Miguel Cabrera and Jose Iglesias.
The Tigers look vulnerable but it's still early. Maybe owner Mike Ilitch will tell general manager Dave Dombrowski to do what it takes to keep Scherzer. Maybe they'll make some moves to strengthen the bullpen that is a chronic weakness.
Yes, the Tigers are still king of the AL Central, but everywhere they look someone is trying to stage a coup. That's the way it's supposed to be in a power division.
Phil Rogers is a columnist for MLB.com. This story was not subject to the approval of Major League Baseball or its clubs.