After playing a lot in '14, Pena stays home this offseason
Reds backup catcher usually at winter ball, but spending down time with family
CINCINNATI -- Reds backup catcher Brayan Pena is usually a lock to play winter ball during his offseason, but that isn't the case during this particular offseason. Pena has decided to skip it this year -- pretty much.
"I'm not saying I won't play winter ball. But I'm 99 percent sure," Pena said. "It's just taking care of my family a little bit. I want to give my body some rest and some time to recover. I played a lot this year. I wasn't expecting to play that much. I'm preparing myself much better this year because you never know in this game."
Pena, 32, is headed into the second season of the two-year, $2.28 million contract he signed with the Reds in January. An immediate hit in the clubhouse and on the field for his outgoing personality and ability to communicate with the pitchers, especially Spanish-speaking pitchers like Johnny Cueto and Aroldis Chapman, it was a good first season in Cincinnati.
In 115 games, Pena batted .253 with five home runs and 26 RBIs. Defensively, he threw out 10-for-25 (40 percent) of runners attempting to steal. He caught all five of the pitching staff's complete games and eight of its 13 shutouts.
One thing that was unexpected was that Pena could play first base. He was pressed into service when Joey Votto missed 100 games because of distal strain of his left quadriceps. With the club lacking a true backup first baseman, Pena played 53 games at first base, including 45 starts. While not Gold Glove-caliber, he was often steady and made the occasional spectacular athletic play.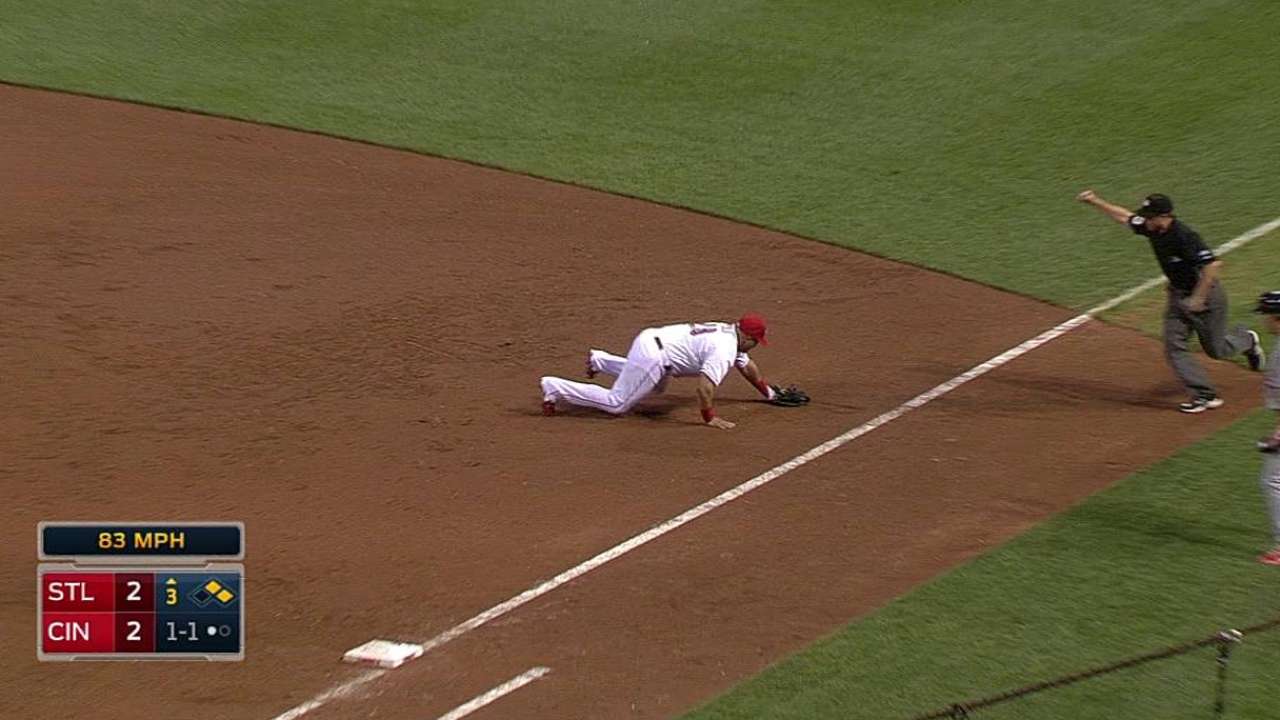 "Everybody saw last year, not that it was a surprise, but playing first base was a position I never really played before," Pena said. "I need to improve my conditioning. I need to improve my offseason training. It's not just being a backup guy."
After the season, Pena had surgery to remove bone chips from his right elbow. He's expected to be fully ready for Spring Training and back up regular catcher Devin Mesoraco.
Pena isn't planning on being at first base as much in 2015.
"Joey is going to be healthy. Hopefully he can go out there pretty much every day," Pena said. "It's part of my preparation. I'm taking ground balls and doing some catching and stuff. I'm doing outfield work to be prepared so nothing is going to catch me by surprise. I just want to be able to help. I want to give [manager] Bryan Price the opportunity to know that whenever he wants me to play, I'm going to be ready for him and ready for my team."
A father of three kids -- ages 4, 3 and a baby daughter born in July -- Pena isn't taking the time away from baseball for granted.
"It was time for me to stop playing winter ball for a little while and spend time with my family -- especially with my baby girl, Isabella," Pena said. "I really am enjoying my time with my family. But it's time to start working."
Mark Sheldon is a reporter for MLB.com. Read his blog, Mark My Word, and follow him on Twitter @m_sheldon. This story was not subject to the approval of Major League Baseball or its clubs.