Moya's future in Detroit delayed by Cespedes' arrival
Top-notch prospect likely to start 2015 in Minors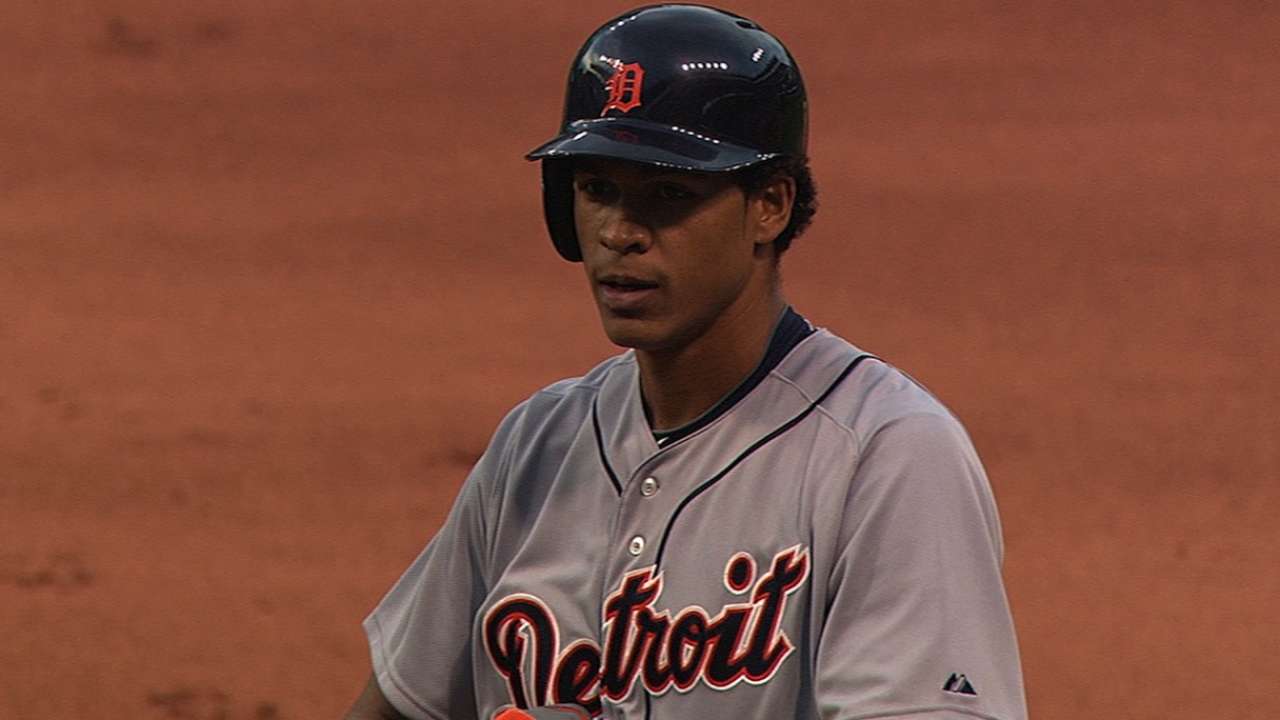 DETROIT -- Steven Moya rose from hit-or-miss prospect at this point a year ago to the Major Leagues in September. Even he's in awe of how quickly it all happened.
"It was a really blessed season," Moya said earlier this month. "I thank God that I had that season."
His next step, a rise to a big league role, is probably going to take a bit longer. If patience wasn't assured before, the Yoenis Cespedes trade likely guarantees it now.
"It will be much more difficult for him to break with the club at this point," team president/general manager Dave Dombrowski said, "but you never can tell what happens. We definitely don't have to rush him at this point."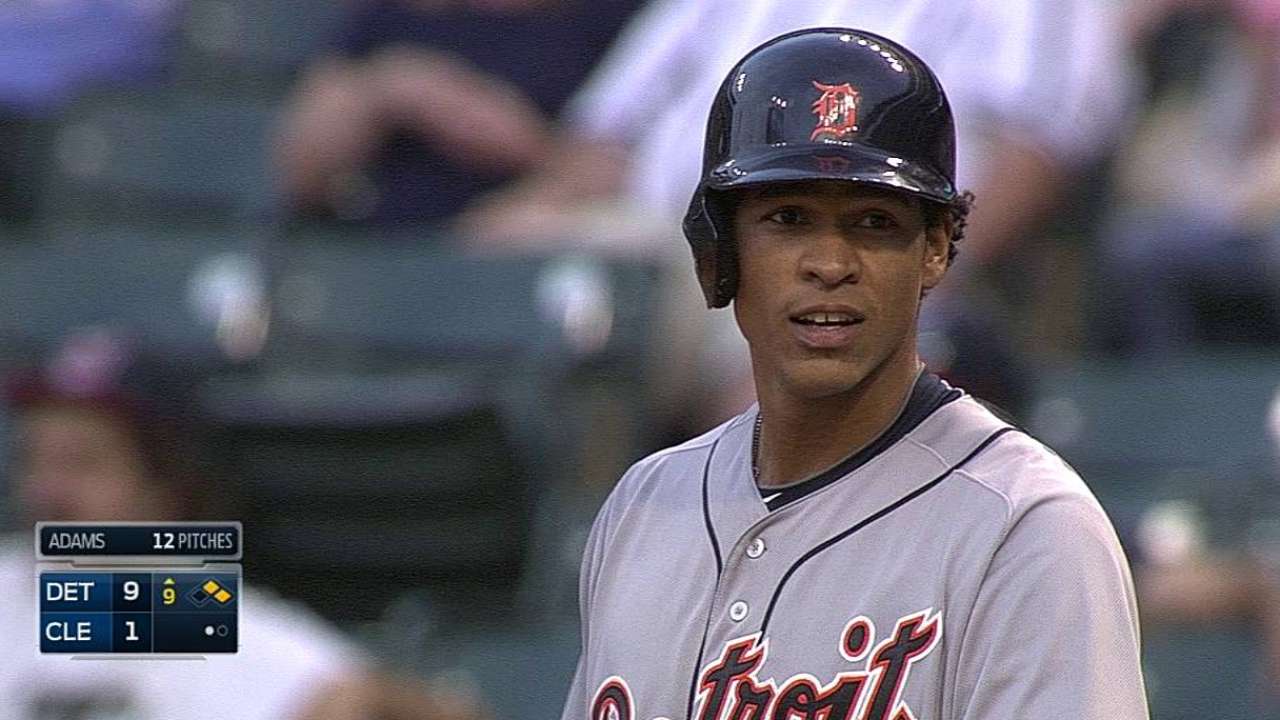 Moya, No. 4 among the Tigers' Top 20 Prospects, according to MLB.com, can live with it. The 23-year-old spent the season learning how to read what pitchers are trying to do with him. He's trying not to worry too much about what the Tigers are trying to do with him.
Moya, his whirlwind season finally over, was back in Detroit a couple weeks ago, signing autographs for fans at the Tigers' holiday sale at Comerica Park. He had essentially played nonstop from Spring Training in February to the close of the Arizona Fall League season just before Thanksgiving.
He hit 40 home runs in that span -- 35 at Double-A Erie on his way to Eastern League MVP honors, then five more in the Arizona Fall League en route to a spot on the AFL's Top Prospects team.
Add in Spring Training, and Moya racked up 634 at-bats. That's not only more than he had in any other season in his pro season, it's more than he had in his previous two seasons combined, thanks in part to injuries.
That's 634 showdowns with opposing pitchers, not including walks. That's a lot of time to pick up patterns and learn how pitchers changed their approach to him as his numbers grew.
And that, he said, was the biggest thing he learned.
"I learned that I can control the game a little bit more," Moya said, "not like I can do whatever I want when I want, but that I can actually focus and go there and make things happen if I can be aggressive and patient at the same time. It sounds crazy, like how are you going to be aggressive and patient at the same time? But if you focus, you can do that.
"I've been aggressive with the pitches in the strike zone and patient, waiting for that pitch I'm looking for. It's just a matter of knowing what they're trying to do to you, knowing that they know I can do damage to them, and knowing that I have to fight for that."
He learned a lot about that during his September in Detroit, watching Miguel Cabrera and Victor Martinez and their approach to pitchers.
"They are not going to give it to me," Moya continued. "I have to fight for it. It's just like a heavyweight fight."
Considering Moya has added muscle to his 6-foot-7 stature, to the point that he's not so lanky anymore, it's not a fight many pitchers would want to face. Now that he's growing out his hair for the winter, he towers even more.
As one little girl slowly walked up to the table where Moya was signing, Moya got out of his chair to say hello and take a picture.
"You're even taller than my dad," the little girl marveled.
A fair number of shoppers might not have known who Moya is, but they could tell at first glance that he's an athlete. The physical side of the sport has never been a problem. It's the nuances of the game, the approach at the plate, the situational awareness, that has been the learning process.
"It's what I learned, that baseball is not just hit the ball hard or run as hard as you can," Moya said. "Even when you're running the bases, it's not [about] how quick you are. It's how smart you are running the bases. There are some players that are not fast at all and they can steal bases, and it's because they know how to do it. It's not because they're really fast. …
"It's something I was already working on during the season in Double-A, something that I did when I was here [in Detroit] in the couple at-bats I took in the big leagues. I had success with it in the Arizona Fall League, too. I still have to work on a couple things sometimes, but the biggest thing is [to] focus every game. Focus every single game, every single at-bat. It's easy to go out there and be there and play, but it's really hard to be there and be focused every single second of the game."
Barring unforeseen circumstances, he'll get more time to work on that at Triple-A Toledo next April. He'll be in camp long before position players formally report at the end of February, because he's spending the winter with his wife in Lakeland, Fla., working out at team facilities. After a short break, he's already swinging the bat and throwing again.
Before the Cespedes trade, he said his goal was to make the team out of camp. That might not happen now, but with Cespedes on track for free agency next winter, Moya's time might not be far off.
"If they want me to play [in Toledo], I will play there," he said. "I'm just going to keep working. I'm going to keep doing my job. Everything will come together. At the beginning of this year, the beginning of Spring Training, I didn't know that anything like this was going to happen. It just happened, and it's because it was God's will, and it will keep going the same way. I'm just going to hit and pray that everything works [out] for good."
Jason Beck is a reporter for MLB.com. Read Beck's Blog and follow him on Twitter @beckjason. This story was not subject to the approval of Major League Baseball or its clubs.