MLB.com Columnist
Tracy Ringolsby
Preller is bold enough to shoot for the stars
Padres GM attempting to bolster weak offense with major deals for Kemp, Myers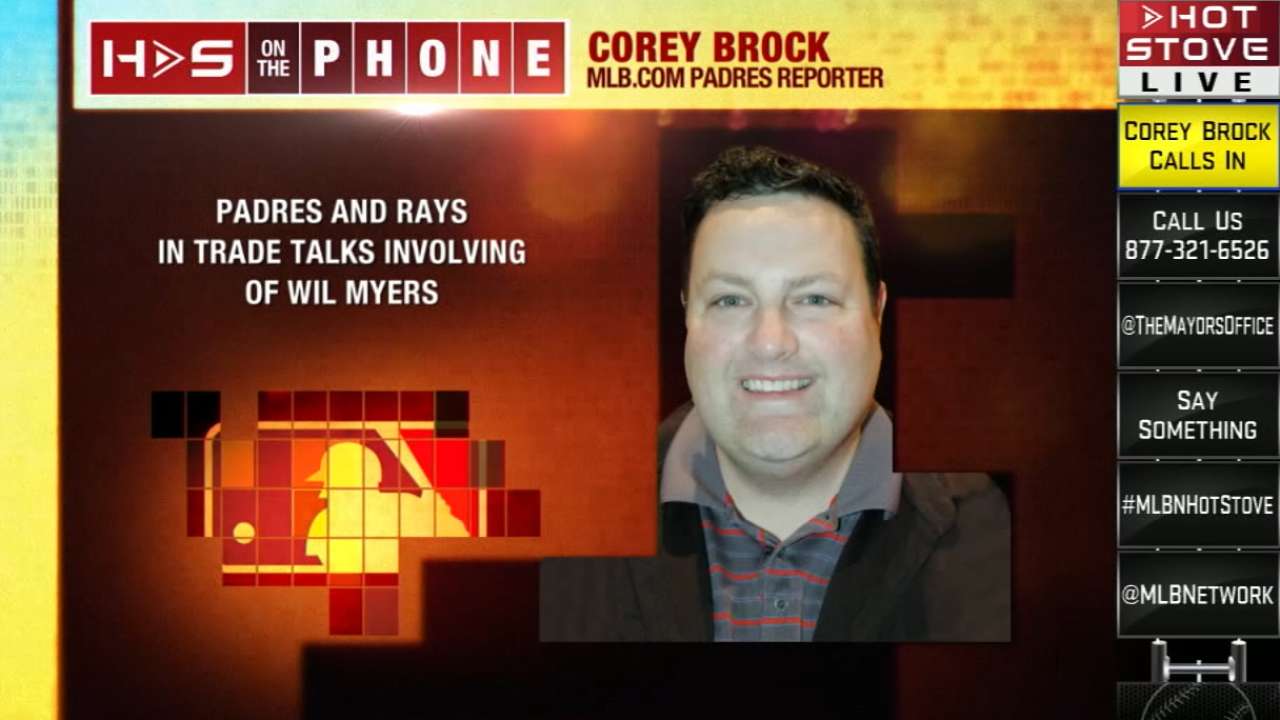 Padres executive vice president and general manager A.J. Preller doesn't relax.
When he was overseeing international and professional scouting for the Rangers, he was always pushing himself to find that one player everyone else missed.
Nothing has changed now that he's in charge of the entire baseball operations department of the Padres.
Last week, Preller put together a deal that is expected to land the run-producing bat of outfielder Matt Kemp from the Dodgers, and although the Padres haven't confirmed it, he has acquired promising outfielder Wil Myers from the Rays as part of a three-team trade, according to a baseball source.
That's what the Padres' ownership group liked about Preller when they hired him in August to become the fourth general manager of the franchise in the past six years.
When the Padres were vetting candidates for the GM job with Major League Baseball, it was disclosed that Preller had been given a three-month suspension, which was later reduced to one month, and the Rangers were fined $50,000 because he talked to a representative of a Dominican player who had been placed on suspension over an identity issue.
That didn't bother the Padres in the slightest. They liked the fact he is not afraid to take chances.
They wanted somebody who was going to be the aggressor. And instead of being concerned about the dimensions of Petco Park and the impact of the "heavy air" in San Diego, he would be focused on reasons to succeed -- not excuses to fail.
But it's not like Preller is a mad scientist. He didn't show up to his new job and decide he had to put his stamp on every moving part in the organization.
Preller has enough insight and sense to know that like any operation, the Padres had strengths. He could see those started with manager Bud Black and pitching coach Darren Balsley, who have combined to work wonders not only in helping young pitchers develop, but in helping veterans rebound. The only change made to Black's staff was the hiring of hitting coach Mark Kotsay, a former Padres outfielder who was a special assistant in the front office a year ago.
Preller, however, could also easily see the biggest weaknesses -- the offense.
And that's where his attention has been focused.
Preller hasn't shied away from adding an arm or two, including signing free agent Brandon Morrow to a contract that guarantees him $2.5 million but also carries incentives for the right-hander as a starter that could add as much as $5 million to the deal, or as a reliever that are worth up to $1 million.
Preller provided infield depth in the aftermath of cutting ties with shortstop Everth Cabrera by signing veteran middle infielder Clint Barmes.
The cornerstone of his first year on the job, however, has been that Kemp deal (which is contingent upon a physical), even though it cost the Padres the left-handed power of catcher Yasmani Grandal and two prospects, and now the effort to acquire Myers.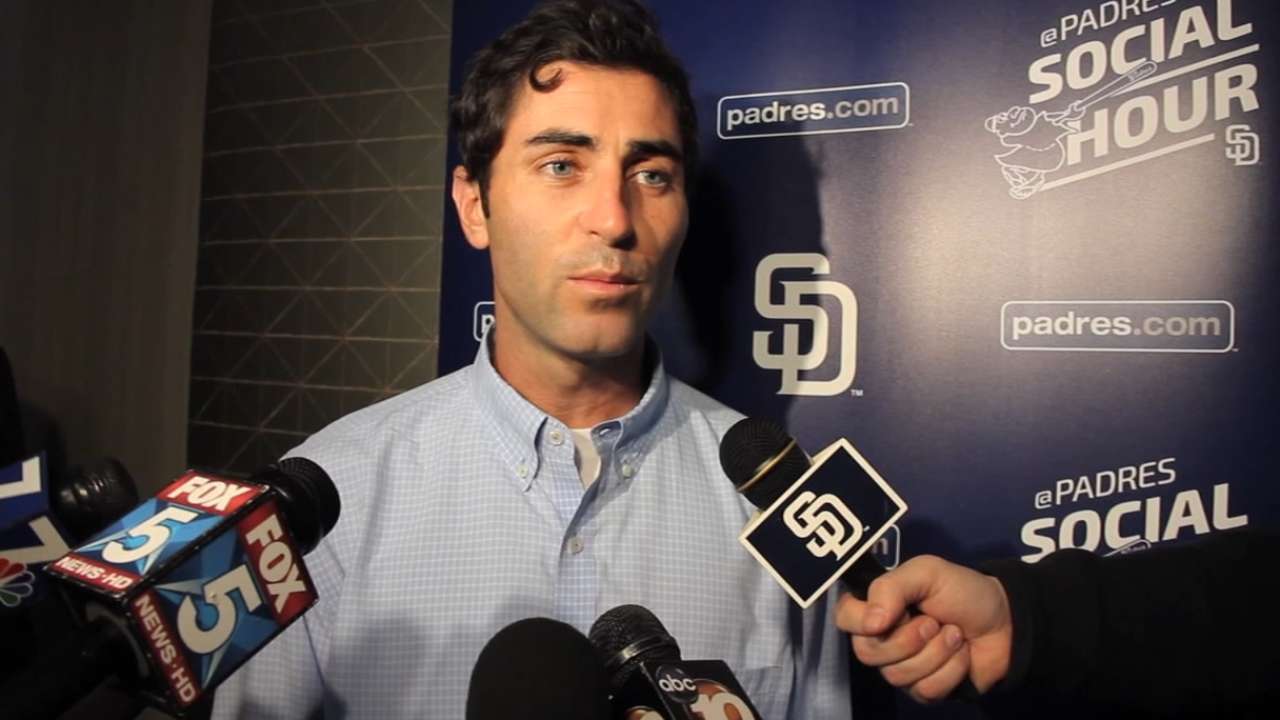 Preller even got the Dodgers to agree to pick up $32 million of what Kemp will earn in the final five years of the outfielder's contract, which will now cost the Padres $75 million. In return, San Diego has a legitimate right-handed run-producing bat who rebounded last year following two injury-plagued seasons.
It's not just that Kemp hit .287 with 25 home runs and 89 RBIs, but the fact that he got better as the season went on and he returned to top playing shape. In 64 games after the All-Star break, Kemp hit .309 with 17 homers and 54 RBIs.
One big bat, however, is not enough to pump up an offense that a year ago scored a Major League low 535 runs, the second-lowest total for a National League team in a 162-game season since 1971. The Marlins scored only 513 runs in 2013.
That's why before the Kemp deal was even formalized, Preller was checking out what it would take to get Justin Upton away from the Braves, and then turned his attention to Myers, the 2013 American League Rookie of the Year Award winner who isn't free-agent eligible for another five seasons.
Myers hasn't overpowered pitchers in the big leagues yet, but he was the centerpiece for the Rays in the trade that sent James Shields and Wade Davis to the Royals two years ago, and he was sidelined for a chunk of this past season with a right wrist fracture.
Preller, however, can see Kemp and Myers giving the Padres a right-handed-hitting duo in the middle of the lineup that will only enhance the abilities of the likes of the left-handed-hitting Yonder Alonso.
Preller knows that adding Myers and Kemp will lead to further dealing, because it would give the Padres six legitimate big league outfielders. It would also put Preller in a position to try to add quality prospects for the likes of a Seth Smith or Cameron Maybin, or even clear a roster spot by finding an AL team in need of a DH to gamble on injury-riddled veteran Carlos Quentin.
It's the Preller way: always look for that next deal, never willing to feel he can't get better.
Tracy Ringolsby is a columnist for MLB.com. This story was not subject to the approval of Major League Baseball or its clubs.