Kipnis has finger surgery; should be OK for start of season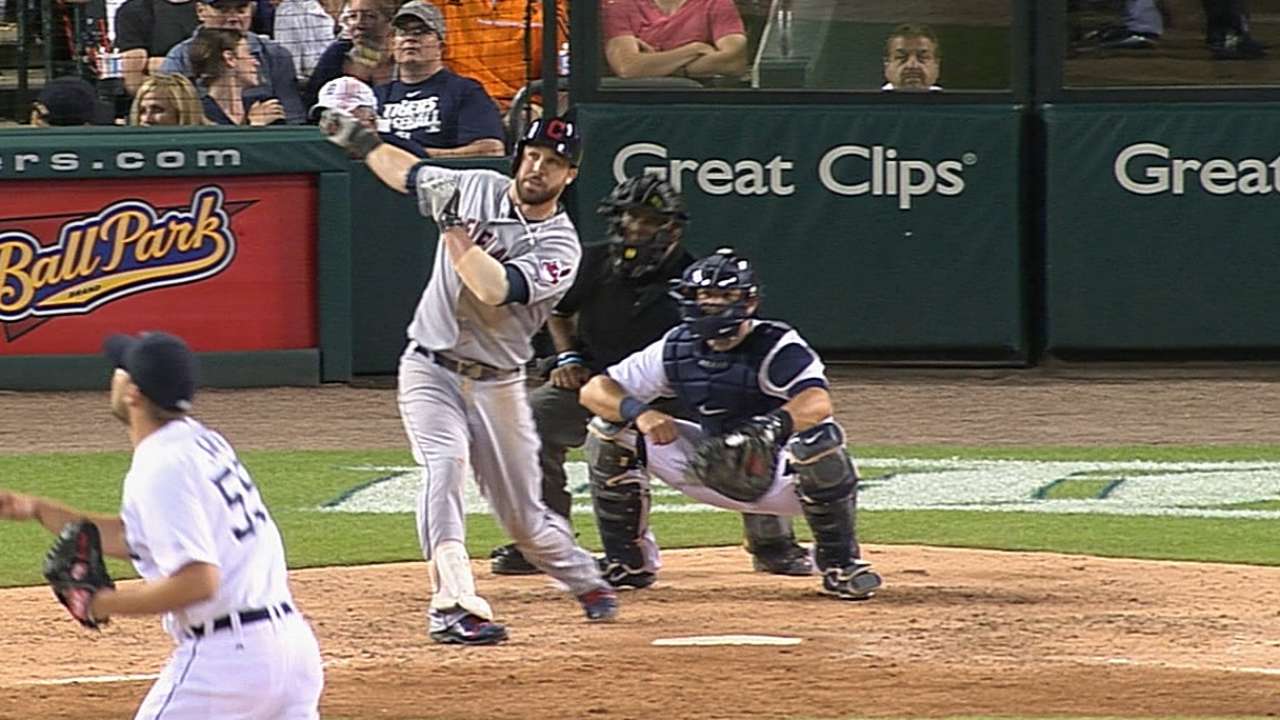 Indians second baseman Jason Kipnis had surgery on Tuesday to repair a damaged extensor tendon in his left ring finger. He is expected to be ready to go in time for the regular season.
Kipnis sustained the injury during offseason strength and conditioning activities in Chicago, then was seen this weekend by Indians medical personnel and Dr. Thomas Graham, who diagnosed the injury and recommended the surgery.
Graham performed the operation at the Cleveland Clinic. Kipnis had an external pin put in to stabilize the joint, a pin that will be easily removed non-surgically after five to six weeks, according to Indians head athletic trainer James Quinlan, who spoke during a conference call Wednesday.
Quinlan stated that the mishap causing the injury happened about one month ago, when Kipnis' hand got pinched between a heavy weight he was re-racking and the weight rack.
"When it initially occurred, he sustained a pretty good laceration," said Quinlan. "We were guiding him along the way since the time it happened.
"More recently we noticed that his finger motion and strength was gradually reducing and that's what happens with these types of things. It doesn't present at first. So we brought him in for a follow-up."
Coming off an All-Star 2013 season, Kipnis hit just .240 with six homers, 41 RBIs and 61 runs in 129 games in '14. Quinlan expects Kipnis will be able to do everything but hit by the start of Spring Training.
"We are optimistic he's going to be able to do a lot in Spring Training," said Quinlan, adding the recovery time is variable. "To give you some idea, we are pretty optimistic he's going to be able to do fielding and throwing and doing all aspects of baseball activity with the exception of hitting by the start of Spring Training, when he reports to Spring Training.
"As you know, the forces involved in gripping the bat and hitting are a little bit more extensive, so that will be the last thing he starts. We are optimistic he'll also be on some form of hitting progression at the start of Spring Training."
That time frame for Kipnis to start hitting is "motion dependent," per Quinlan's recounting from the doctor, and Kipnis will be judged as he comes in for check-ups.
"Some of it is tissue healing. Over certain amount of time, he's going to be healing strong," Quinlan said. "You monitor his motion. As soon as he starts toward the end of January more activity, more movement and fielding, putting a bat in his hand depends on where his motion and strength are.
"There's a variability in the time frame. Everybody heals differently, but we believe he'll be in an optimal position to heal."
This injury shouldn't interrupt Kipnis' offseason conditioning program, being that it's a smaller joint that was hurt. The second baseman will be able to do a great deal of cardio, core and legs, and modifications will be made to keep his upper stuff activity going.
"He's been working hard. Jason, he's a pro," Quinlan said. "He has been working hard. He's frustrated but handling it well."
Scott Merkin is a reporter for MLB.com. Read his blog, Merk's Works, and follow him on Twitter @scottmerkin. This story was not subject to the approval of Major League Baseball or its clubs.