Hammond Stadium renovations enter final stretch
Improvements made with players, fans in mind
FORT MYERS, Fla. -- In just over two months, Twins pitchers and catchers will arrive at Hammond Stadium. What they'll find is a dramatically upgraded Spring Training complex currently nearing the final stages of construction.
The revamped, rebranded CenturyLink Sports Complex will be mostly complete by Jan. 31 and completely ready by the time the Twins show up for Spring Training. The team and Lee County have scheduled a ribbon-cutting ceremony for Feb. 22, the same day pitchers and catchers report.
"As we form our roster to hopefully be a competitive, contending team, it all starts here on Feb. 22 when our players report," Twins president Dave St. Peter said Wednesday. "When they come in, their world is going to be changed dramatically from what they saw last spring, and it's all for the better."
The renovation of the complex, the Twins' Spring Training home since 1991, began with the project's announcement on Feb. 26, 2013.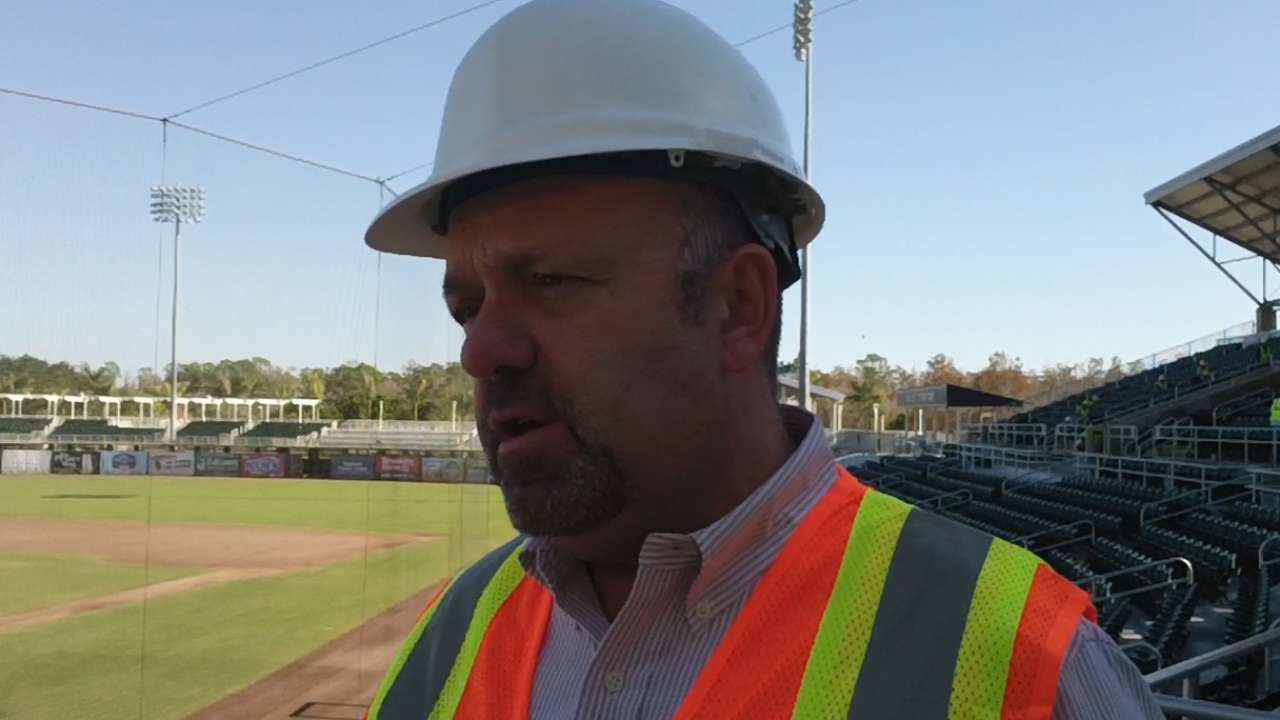 In less than a year, they completed Phase I of the $48.5 million project in time for Spring Training. They built a player development academy and improved other aspects of their Minor League operation, as the complex also hosts the Class A Advanced Fort Myers Miracle and the Rookie-level Gulf Coast League Twins.
Phase II of the project has been focused on the Major League facilities and the gameday experience.
"There's no doubt about it. The first priority is the fans, and I'm very confident we're going to deliver a premier experience for them," said St. Peter, wearing a hard hat and work vest while media were given a tour of the construction site. "Beyond them, there's a secondary priority that's also very important, and that's that this is a year-round player development facility."
The field itself at Hammond Stadium is unchanged, though the club did at one point consider changing the field's dimensions so they matched those of Target Field.
But the players will find renovated clubhouses with new lockers, showers, weight rooms, training facilities, a hydrotherapy room and administration areas along with a players' lounge.
For the fans, the improvements are already obvious. Climb up the final set of stairs at the ballpark entrance behind home plate and you'll be able to see the whole field in front of you.
Stadium seating has replaced the bleachers. The concourses have been widened from 17-21 feet to 45-68 feet. In Phase I of the renovation, a 360-degree boardwalk was installed so fans can see the field from anywhere.
"That's really a great way to watch Spring Training -- to meander around, not necessarily sit in your seat for every minute of the game, but to get up and see the game from different perspectives," said Bruce Miller, senior architect for Populous, the same group that designed Target Field. "I think in Phase II, that complete vision comes together."
The architects boast they've provided three times as much shade and 5 1/2 times the public space for fans. There are four expanded concession areas and two new ones on the boardwalk, six new suites, new restrooms, a new retail store and two group party decks.
They have sped up the old elevator and added another one, moved the suites to the third floor alongside the Twins offices and given the Miracle permanent administrative offices on the fourth floor, which also contains an upgraded press box.
It's been a great deal of work. Since June, they've had an average of 135 workers on site every day of their six-day work week. It's taken more than 200,000 hours of labor from 35 different companies.
The end result, St. Peter said, will be a new, state-of-the-art facility for the Twins' longtime player development home.
"We believe this is now certainly back in the upper echelon of Spring Training facilities and year-round training facilities in Major League Baseball. We're proud of that," he said. "We have a lot of work to do, but I can assure you, there's no place we'd rather be."
Adam Berry is a reporter for MLB.com. Follow him on Twitter at @adamdberry. This story was not subject to the approval of Major League Baseball or its clubs.