Inbox: On Melky, Drabek and potential moves to come
Beat reporter Gregor Chisholm answers questions from Blue Jays fans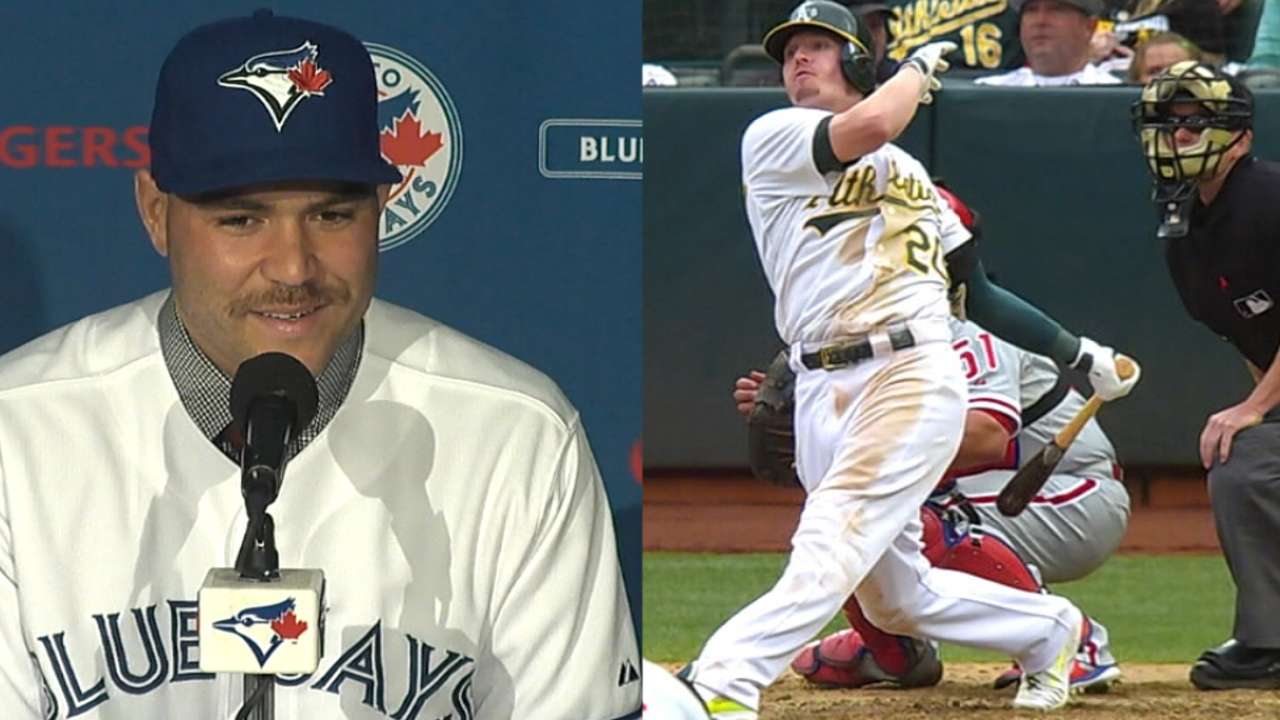 Melky Cabrera didn't end up getting the five-year deal he was looking for, so why didn't the Blue Jays make more of an effort to bring him back? He was a great fit and it seemed like he really enjoyed Toronto.
-- Robert W., Waterloo, Ontario
Cabrera's market never really developed as expected, but perhaps that shouldn't be surprising. His value took a hit when he received a qualifying offer from the Blue Jays, because there are a lot of teams that balk at parting with a first-round Draft pick to sign a free agent. Combine that with the fact that Cabrera was suspended in 2012 for elevated levels of testosterone, as well as his somewhat inconsistent track record, and it was enough to keep some organizations away.
The Blue Jays definitely had a lot of interest in bringing Cabrera back, but they also weren't going to wait around and hope everything worked out. A significant amount of payroll was put toward signing Russell Martin, and the pursuit of Cabrera officially ended when the club traded left-hander J.A. Happ for outfielder Michael Saunders. By choosing Saunders over Cabrera, Toronto saved a bit of money, and all of that will be needed to upgrade second base and the bullpen.
Click here to submit an Inbox question
What's the current outlook on Kyle Drabek? I have not heard his name come up at all this offseason. Do the Blue Jays view him as a potential piece to this very uncertain bullpen? Or is he expected begin another year as a starter in Triple-A Buffalo's rotation?
-- Matt W., Fergus, Ontario
The Blue Jays essentially gave up on Drabek as a starter last season, but he'll have a chance to compete for a spot in the bullpen during Spring Training. This is the make-or-break year for Drabek in Toronto, because he's out of options on his contract and cannot be optioned to the Minors without clearing waivers.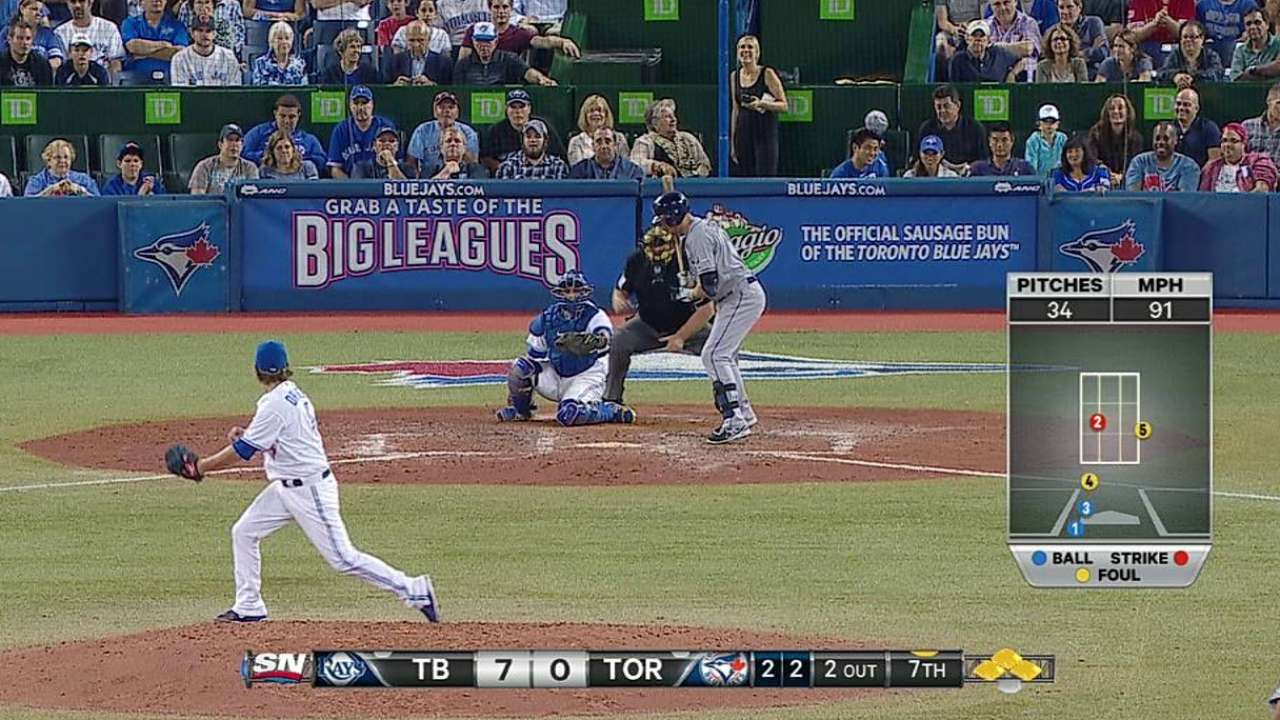 Toronto often makes every attempt to keep some of its players without options. Last year, Esmil Rogers and Todd Redmond both made the team out of camp, while in year's past, the group also included Jeremy Jeffress and even Jo-Jo Reyes.
Despite the club's track record, Drabek does appear to be facing an uphill battle to make the team. The Blue Jays lack any kind of depth in late innings, but there are plenty of options in long relief, which is a role that Drabek would be considered for. Marco Estrada is essentially guaranteed to make the team, and Drabek's top competition could come from Todd Redmond.
This might seem like wishful thinking with the latest payroll developments, but what are the chances of the Blue Jays landing James Shields? They have little money committed to starting pitching after 2015, and this would allow Aaron Sanchez to close next year.
-- Jordan, Aurora, Ontario
The likelihood of Shields landing in Toronto seems slim to none at this point. His name was frequently mentioned in the lobby of the Winter Meetings, but I never put much stock into the rumors, because there seems to be too many obstacles in Toronto's path.
The Blue Jays have a limited amount of money left to spend on next year's payroll, and the priority is to use the remaining resources on the bullpen and second base. Toronto technically could backload the contract, but even that would be problematic, because that strategy was used on Martin and the club will have to be careful about not sacrificing future flexibility for present needs.
Between Toronto's payroll parameters and a club policy of not going beyond five years on any contract, a deal with Shields becomes very difficult to pull off. Will that change? I suppose it could, but after several teams narrowly missed out on Jon Lester, there will be plenty of competition for Shields' services, and the Blue Jays don't seem like a realistic destination.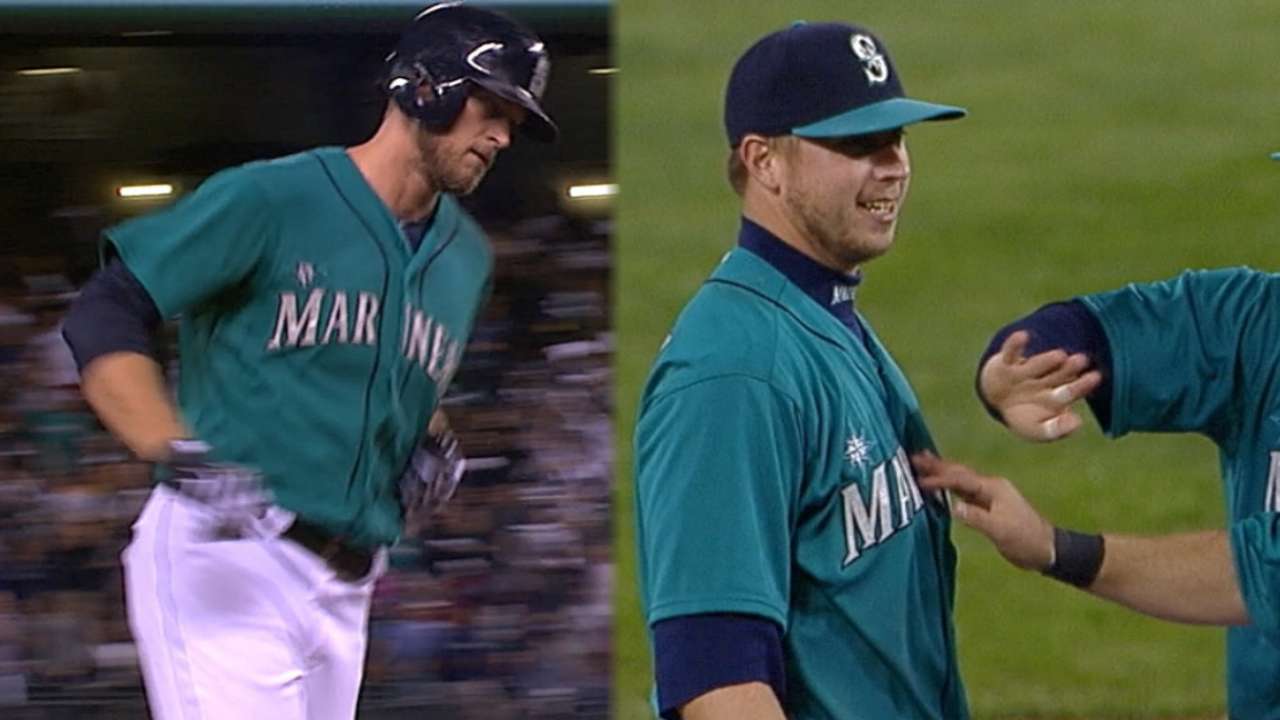 Is Chase Utley completely out of the Blue Jays' scope? Is it because they don't think he's a good fit or because Toronto is on his no-trade list?
-- Chris C., Union
Utley has been insisting for months that he won't waive his no-trade clause, but his thinking could change as Philadelphia continues to rebuild. Jimmy Rollins was dealt to the Dodgers and Cole Hamels might follow suit in the coming weeks. Combine that with the departure of free agent A.J. Burnett and the regression of Ryan Howard, and it's difficult to envision the Phillies contending anytime soon.
Even if that were to happen, though, Utley's destination likely wouldn't be Toronto. Utley is set to make $10 million next year, with three vesting options, and the Blue Jays likely would need to either receive financial support from the Phillies or trade a sizeable contract in order to clear payroll. Another problem is that the Phillies almost assuredly would ask for young starting pitching in return, and that's not something the Blue Jays can part with.
The Blue Jays have a powerful lineup, but how critical might it be to add a legitimate left-handed bat to the order?
-- Joseph C., North Battleford, Saskatchewan
Manager John Gibbons conceded last week that the lack of lefties in his lineup isn't necessarily ideal, but the quality of those right-handed bats should at least help even the splits. Toronto likely will bat four righties in a row -- Martin, Jose Bautista, Josh Donaldson and Edwin Encarnacion -- but those players also happen to be some of the better hitters in the game.
The addition of Saunders gives Toronto some power from the left side in the bottom half of the order. Justin Smoak theoretically could do the same, but he's also someone who has yet to really figure things out at the big league level. Second base is another spot where the Blue Jays could get a lefty into the lineup, and strengthening the bench provides a backup solution. There are some minor adjustments that can be made the rest of the way, but the heart of the order is relatively set in stone at this point.
Do you feel there is any urgency on the part of the Blue Jays' front office to acquire a new second baseman? I really believe that not addressing second base is what killed the last rebuild prior to the 2013 season.
-- Myrod N., No location given
Second base remains a priority and another player could be added in the relatively near future, but it's not going to be the type of big name that will get a lot of fans excited. Toronto would like to add some depth at the position, but it only seems prepared to sign an infielder to a short-term deal while prospect Devon Travis receives more time in the Minor Leagues before an eventual callup.
One of the possible fits at second is Japanese infielder Takashi Toritani. Agent Scott Boras confirmed last week that the Blue Jays have expressed interest in the 33-year-old, and reports out of Japan suggest his top suitors in the Major Leagues are Toronto and San Diego. Toritani isn't expected to require a lot of money to sign, but he's also not someone who's going to come in and magically fix all of Toronto's issues up the middle.
There appear to be some question marks about Toritani's defense, with at least a couple of experts comparing it to that of Munenori Kawasaki. Toritani also doesn't hit for much power, but his on-base percentage in Japan has been at least .402 in each of the past two years. All of this could become a moot point, though, because Toritani is still weighing an offer to return to Japan, so his departure for the big leagues isn't exactly guaranteed.
Gregor Chisholm is a reporter for MLB.com. Read his blog, North of the Border, and follow him on Twitter @gregorMLB. This story was not subject to the approval of Major League Baseball or its clubs.