Searage's latest mission? Revive careers of Richard, Liz
With prior reclamation projects, Bucs pitching coach has been up to the task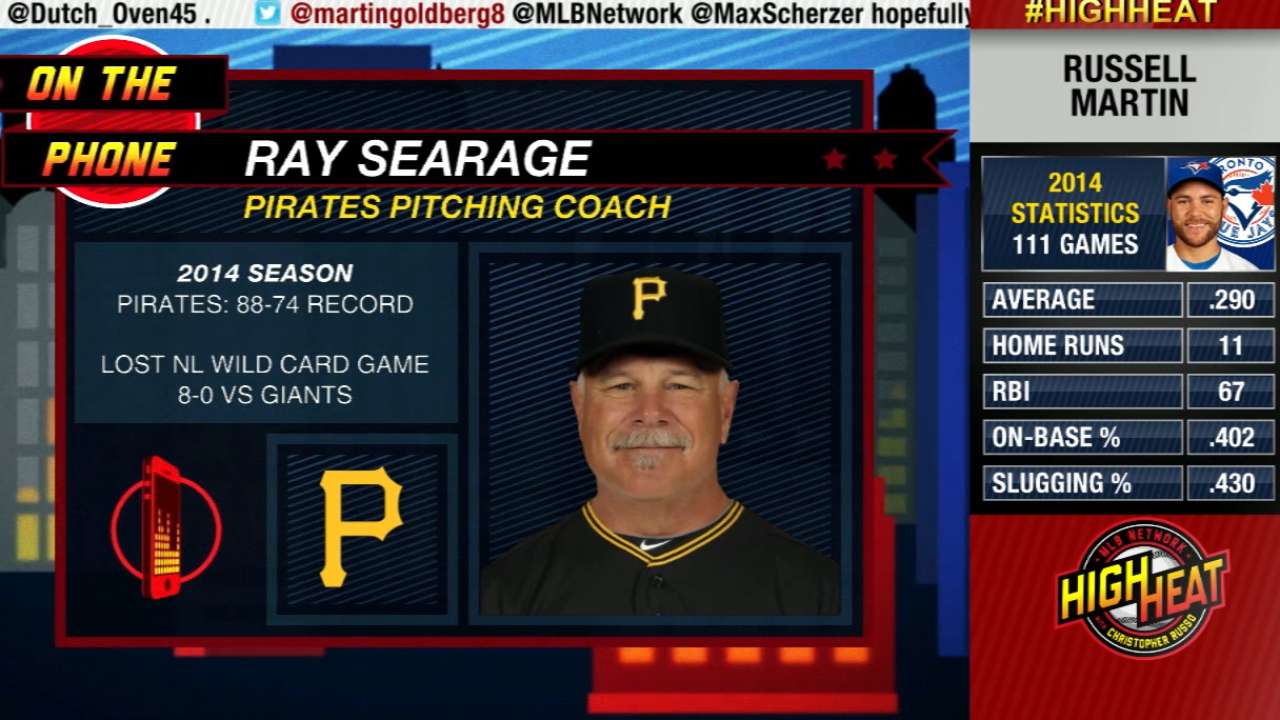 Ray Searage comes into every spring feeling a bit like a cast member of a revival of the classic TV series "Mission: Impossible."
The Pirates' pitching coach pushes "play" on the digital recorder in his Pirate City locker and hears, "Your assignment, should you choose to accept it, is ..." Searage always accepts the task, and repeatedly turns it into mission very-much-possible.
In 2012, it was A.J. Burnett. In 2013, it was Francisco Liriano. This spring, it was Edinson Volquez. All got well in the care of Searage and Jim Benedict, the pitching maven on general manager Neal Huntington's staff.
If you need to cure a sore back, you go to the Mayo Clinic. If you need a pitching cure, you go to the Searage-Benedict Clinic. That's just what you do.
The latest reclamation patients in the waiting room are Clayton Richard and Radhames Liz. Spring Training is two months away, but the "doctor" is already in.
"I've talked to Richard by phone. He says he is on his throwing program," Searage said. "I've looked at some video on him, but that's not the same thing as raw eyes. We'll see what he's got."
Richard had plenty in 2010 and '12, both 14-win seasons with the Padres. The lefty is 31 and 18 months past serious shoulder surgery.
"I remember Liz from Baltimore. With him, it'll be a wait-and-see type of thing," Searage said.
Searage must have a good memory, because Liz threw his last pitch for the Orioles -- his last pitch in the Majors -- on April 20, 2009. The 31-year-old righty rebuilt his reputation in Korea and signed a one-year deal with the Bucs in the midst of a sensational Dominican Winter League season; he is 4-0 for Oriente, with a 1.90 ERA and 29-to-5 strikeouts-to-walks ratio in 23 2/3 innings.
"I've talked to some scouts who saw him in the Dominican," said Searage. "I don't think the approach to him in Spring Training will be as drastic as with Volquez. We started from scratch with him; broke him down and got him back to where he was in 2008."
Volquez made a name for himself in 2008 with a 3.21 ERA in 196 innings for the Reds. He did not approach that level of efficiency until being handed over to Searage. In 2014, Volquez had a 3.04 ERA in 192 2/3 innings.
So the prognosis is good for Richard. A major difference is that, unlike Volquez, Richard is fighting his way back from surgery. To relieve impingement in the shoulder, he had part of his collarbone shaved down.
"I remember watching him against us in San Diego, and he was nasty," Searage said. "Hopefully he has his health back and we just need to build him up."
Searage knows he'll have to start out by keeping both down.
"I want them to relax," Searage said, "and not go in there and from the first day on the side think, 'OK, I gotta do this.' I'll tell them, 'Do your thing for a while, we'll watch and maybe in 10 days we'll have something for you.' Then we'll make minor adjustments, if needed, and go from there."
Searage always looks forward to such assignments. But what he most anticipates is being able to open the season with an intact rotation.
"That would be kinda weird," he said, laughing. "It'd be a first for me, because we've always got these things popping up."
In 2012, it was a bunt popping up off Burnett's bat and into his eye socket. In 2013, it was Liriano cracking a bone in his right arm in a household accident. In 2014, it was the doomed comeback attempt by Wandy Rodriguez.
Days before even winter officially starts may be too early to count one's blessings. But Gerrit Cole, Liriano and Burnett are lined up, with Jeff Locke and Vance Worley behind them, rehabbing Charlie Morton perhaps a bit further behind -- with Liz and Richard in the hole. Culling a hale rotation out of these options with which to open the season is quite realistic.
"Then, we could concentrate on going to work, getting down to business right away, and not have the kind of April we had this year," Searage said. The Pirates went through seven different starters within the first 32 games. "We'd get it -- then sputter. Then repeat that cycle. And the guys who were still in felt the onus on them and went out thinking, 'I gotta do more. I gotta be better than I am.' And, as we know, that doesn't work."
Tom Singer is a reporter for MLB.com and writes an MLBlog Change for a Nickel. Follow him on Twitter @Tom_Singer. This story was not subject to the approval of Major League Baseball or its clubs.