Mariners acquire versatile outfielder Ruggiano from Cubs
Seattle sends Minor League right-handed reliever Brazis to Chicago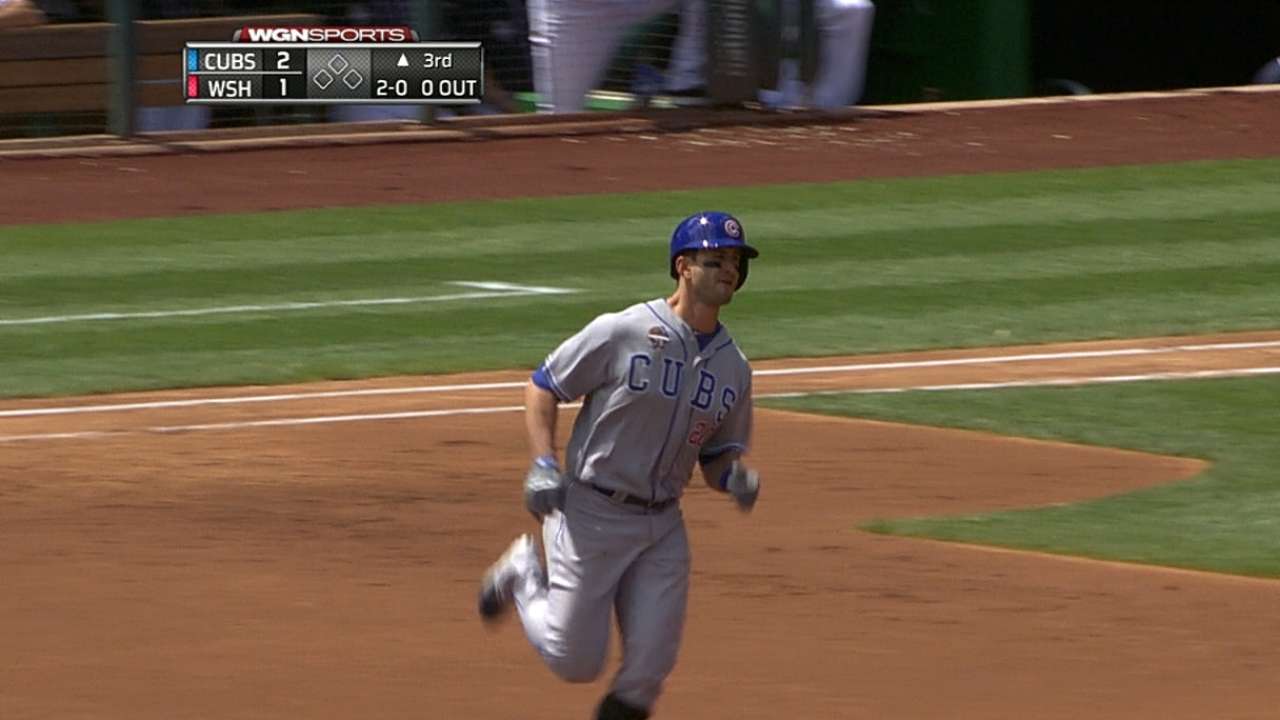 SEATTLE -- The Mariners added some needed outfield depth Wednesday by acquiring Justin Ruggiano from the Cubs in a trade for Minor League reliever Matt Brazis, and the club will continue looking for other opportunities to improve its offense, according to general manager Jack Zduriencik.
The move could foreshadow a platoon scenario for the Mariners in their right-field situation. Ruggiano, 32, gives Seattle a right-handed option who can play all three outfield positions. The six-year Major League veteran hit .281 with six home runs and 28 RBIs in 224 at-bats in 81 games last season for the Cubs.
He hit .323 with nine doubles, four homers and 20 RBIs in his last 44 games before missing the final month with an ankle injury that required postseason surgery to remove a bone spur. Zduriencik said the ankle is fully healed and he expects Ruggiano to give the Mariners another needed right-handed bat.
"We're excited about Justin. He's a nice fit," Zduriencik said. "We viewed this as a guy who can certainly hit left-handed pitching. He's done that throughout his career. He's a tough kid, a gamer, a winner. This is an addition we've talked about for a while, and it got to the point where we pulled the trigger."
Ruggiano, who was headed home to Austin, Texas, for the holidays, said he was looking forward to the new opportunity.
"I'm definitely excited to be involved in this trade," he said. "Seattle's lineup stacks up very well, and the [Mariners] have really good pitching. In a way, it was a surprise, but I'm never really shocked by anything anymore."
Ruggiano has a career line of .257/.319/.431 in 398 games. He spent his first three Major League seasons with Tampa Bay, then had two years in Miami before getting traded to the Cubs last offseason.
The Texas native earned $2 million last year in his first season of arbitration eligibility and won't be a free agent until 2017.
Ruggiano has a career OPS of .704 against right-handed pitchers and .836 vs. lefties. The Mariners have left-handed-hitting James Jones and right-handed Stefen Romero as their two returning right-field candidates after dealing Michael Saunders to the Blue Jays last month.
"If you talk to him, he'll say he wants to be an everyday guy, and that's great," Zduriencik said. "We'll run him into Spring Training in competition to play every day. There are a few other guys that want to play, too. We'll bring all the pieces in and let them fall where they may."
"I want to be part of that lineup every day," Ruggiano said. "But I'm here to fill whatever role they want me to fill and help Seattle win some games."
Zduriencik said Ruggiano is a good defender and capable center fielder, though he'll focus on the corners in Seattle, with Austin Jackson manning the middle. And while Ruggiano isn't a big-name addition, he brings some interesting attributes to a team looking to upgrade offensively after finishing one win shy of an Anerican League Wild Card berth at 87-75.
"He hits left-handed pitching well," Zduriencik said. "He has versatility, power, he's a guy that can get on base. It's a nice well-rounded package we're acquiring, and we'll see. We're not making out the lineup today, and we may not be finished with some things. But we'll let him come in and compete. It's an addition that was needed."
Seattle went with a largely left-handed lineup for much of last season, but did add the right-handed-hitting Jackson at last year's July 31 Trade Deadline and signed right-handed designated hitter Nelson Cruz this month.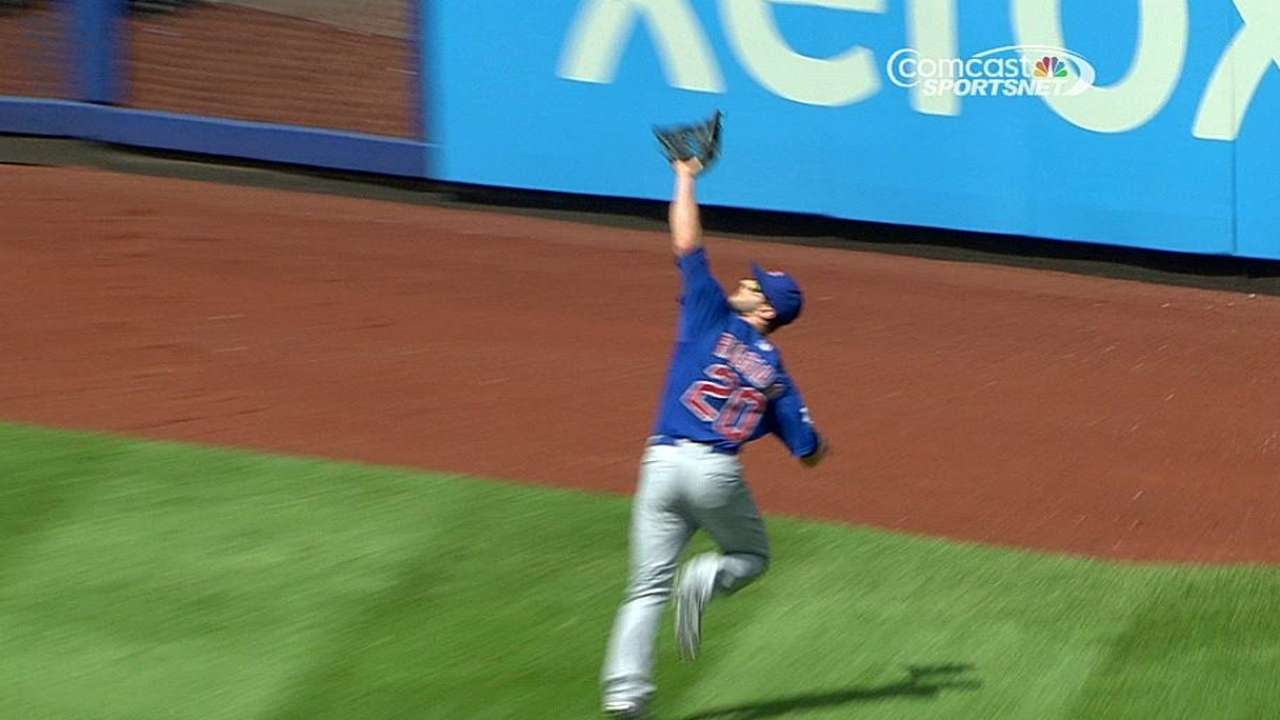 If needed, the 6-foot-1, 210-pound Ruggiano is also capable of backing up Jackson in center field or Dustin Ackley in left. Ruggiano has played 166 career games in center, 118 in left and 76 in right.
Zduriencik said he's definitely still looking for ways to improve the club. He mentioned the possibility of also adding to the bullpen, but the outfield remains the primary concern.
"We've had a lot of different discussions taking place and will continue to take place," Zduriencik said. "You just don't know how things will play themselves out. I think we have competition right now. James and Stefen certainly have ability, but also a degree of inexperience. Justin brings an element, and we'll continue to look."
The most-likely scenario now is finding a veteran left-handed-hitting outfielder to pair with Ruggiano. The club is known to have interest in the Padres' Seth Smith, who is a strong platoon option with a career OPS of .839 against right-handers, compared to .605 vs. lefties.
Other lefty-hitting outfielders who could be available on the trade market include Gerardo Parra of the Brewers, Andre Ethier of the Dodgers, David Murphy of the Indians, Travis Snider of the Pirates and David DeJesus of the Rays.
Remaining left-handed-hitting outfielders on the free-agent market include Nori Aoki, Colby Rasmus, Ichiro Suzuki and Endy Chavez.
Ruggiano's addition didn't cost Seattle any of its Major League pitching depth. Brazis, 25, split last season between advanced Class A High Desert and Double-A Jackson, going 4-1 with a 2.36 ERA and six saves in 40 appearances. He also was one of Seattle's representatives in the Arizona Fall League, where he posted a 5.11 ERA in 12 1/3 innings over 10 games. The 6-foot-3 right-hander was a 28th-round Draft pick out of Boston College in 2012.
Right-handed reliever Logan Bawcom was designated for assignment by the Mariners to make room on the 40-man roster for Ruggiano.
Greg Johns is a reporter for MLB.com. Follow him on Twitter @GregJohnsMLB as well as his Mariners Musings blog. This story was not subject to the approval of Major League Baseball or its clubs.