For Rays to rebound, 10 questions must be answered
Offense -- starting with Longoria -- needs its groove back; rotation must be healthy
ST. PETERSBURG -- Rays fans have always had to adapt to change.
Given their financial situation, that change has normally seen popular players sent elsewhere once they begin to make big money.
But this offseason, the changes have had a different texture since they dealt with the loss of brainpower in manager Joe Maddon, who went to the Cubs, and vice president of baseball operations Andrew Friedman, who departed for the Dodgers.
The finishing touches have not yet been put on the Rays for 2015, but president of baseball operations Matt Silverman believes the team will again be a contender.
"There were some injuries, there were some lack of performance that we think will revert back to normal," Silverman said. "But if you take the same guys we had last year, put them back on the field, they're going to score a lot more runs. The pitching is there, we're pretty close. Seventy-seven wins doesn't cut it. But 77 very easily could have been in the mid-upper 80s, and that's why we have so much optimism heading into next year."
While the Rays are confident they can once again advance to the postseason in 2015, they are like the other 29 teams in Major League Baseball -- entering the season with their share of questions:
1. Did the Rays make the right choices when paring their outfield?
Wil Myers arrived in 2013 and proved to be everything he was advertised to be, earning American League Rookie of the Year honors. Heading into his second season, everyone projected how great his production could be during a full season. But Myers could not dodge the sophomore jinx in 2014, which included wrist and hand injuries that resulted in a lengthy stint on the disabled list. When he did play, he did not resemble the same player he was in '13. He vowed at the end of the season that he would be in great shape come Spring Training and that would result in a return to form.
The Rays won't be the team benefiting from that potential return to form after they traded Myers to the Padres in an 11-player, three-team blockbuster. Matt Joyce, who netted righty Kevin Jepsen from the Angels in a separate trade, is also gone, leaving the Rays with the following outfield candidates: Brandon Guyer, Desmond Jennings, Kevin Kiermaier, David DeJesus and perhaps Corey Brown and Mikie Mahtook. The Nationals -- the third team involved in the Myers deal -- sent Steven Souza Jr. to Tampa Bay, giving the competition another twist.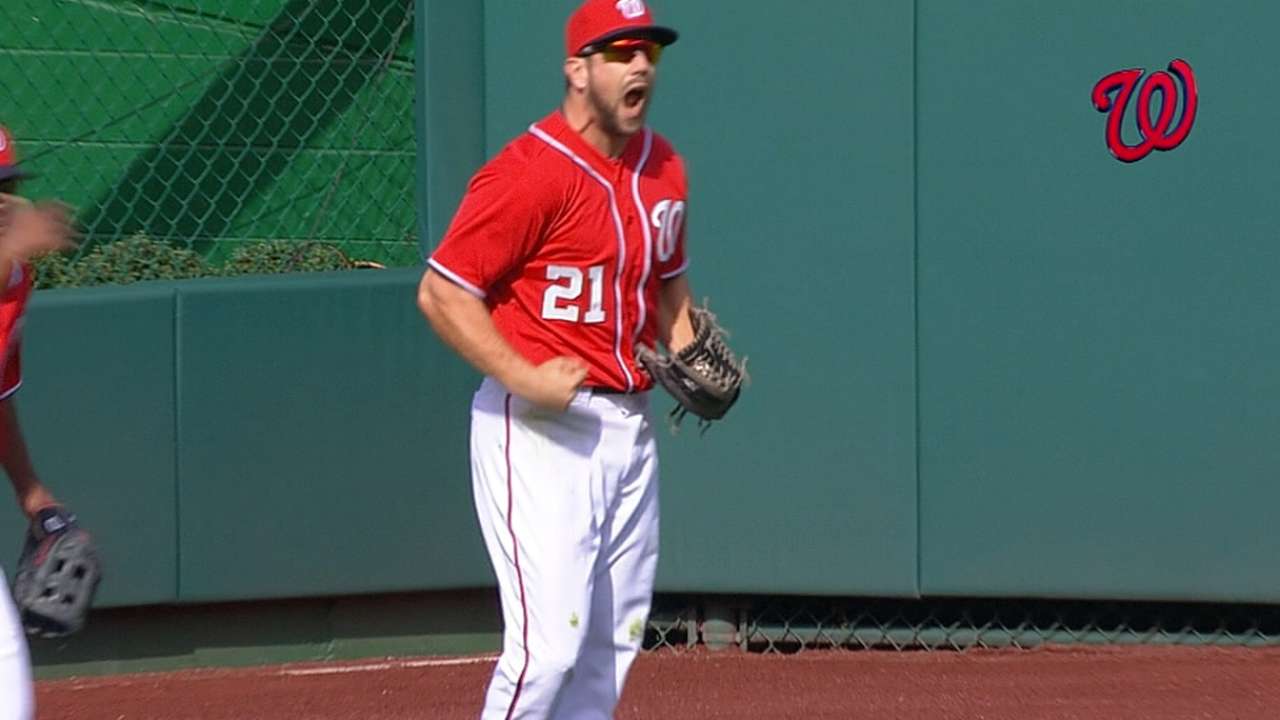 2. Who is the starting catcher?
When the Rays acquired Ryan Hanigan -- respected for his defensive and game-calling skills, and his ability to get on base as a patient hitter -- prior to the 2014 season, they agreed to a three-year contract extension covering the 2014, '15 and '16 seasons, with a club option for '17, worth a guaranteed $10.75 million.
But nothing seemed to go right for the veteran receiver in 2014, and Hanigan spent much of the season on the disabled list before he was included in the Myers trade. Veteran backstop Rene Rivera came to Tampa Bay in the deal, but he profiles as backup catcher. So the Rays are still searching for the everyday answer behind the dish they have desired for so long.
3. Can Rays starters stay healthy?
Even before the 2014 season began, the Rays were one starter down, since Jeremy Hellickson had elbow surgery that kept him from pitching for most of the first half. Matt Moore and Alex Cobb followed with injuries that prevented them from pitching. Not having a healthy staff showed in the standings, too.
Moore won't return until close to the midway point of the 2015 season, but the rest of the staff looks sound, even after Hellickson got traded to Arizona. Cobb, Chris Archer, Jake Odorizzi and Drew Smyly will be the top four pitchers. They will be followed by either Nate Karns or Alex Colome. If that group can stay on the field, the chances of the Rays returning to the postseason will be greatly enhanced.
4. Does Grant Balfour rediscover his mojo?
Balfour signed a two-year deal prior to the 2014 season to become the Rays closer. After struggling early in the season, he lost his spot to the one-two punch of Jake McGee and Brad Boxberger.
The veteran reliever pitched well during the final month of the season, resembling the old Balfour who stomped around the mound in an Aussie rage. Having Balfour successfully pitch late in the game would go a long way toward creating a successful bullpen in 2015.
5. Can Evan Longoria return to All-Star form?
Longoria played in 162 games in 2014, which should have meant more in the numbers department. Instead, he posted mediocre numbers in relation to those expected of the former All-Star.
In fairness to Longoria, the overall lack of production in the lineup likely has had a residual effect on his production.
Silverman noted there are "very lofty standards" that the Rays hold Longoria to "for good reason."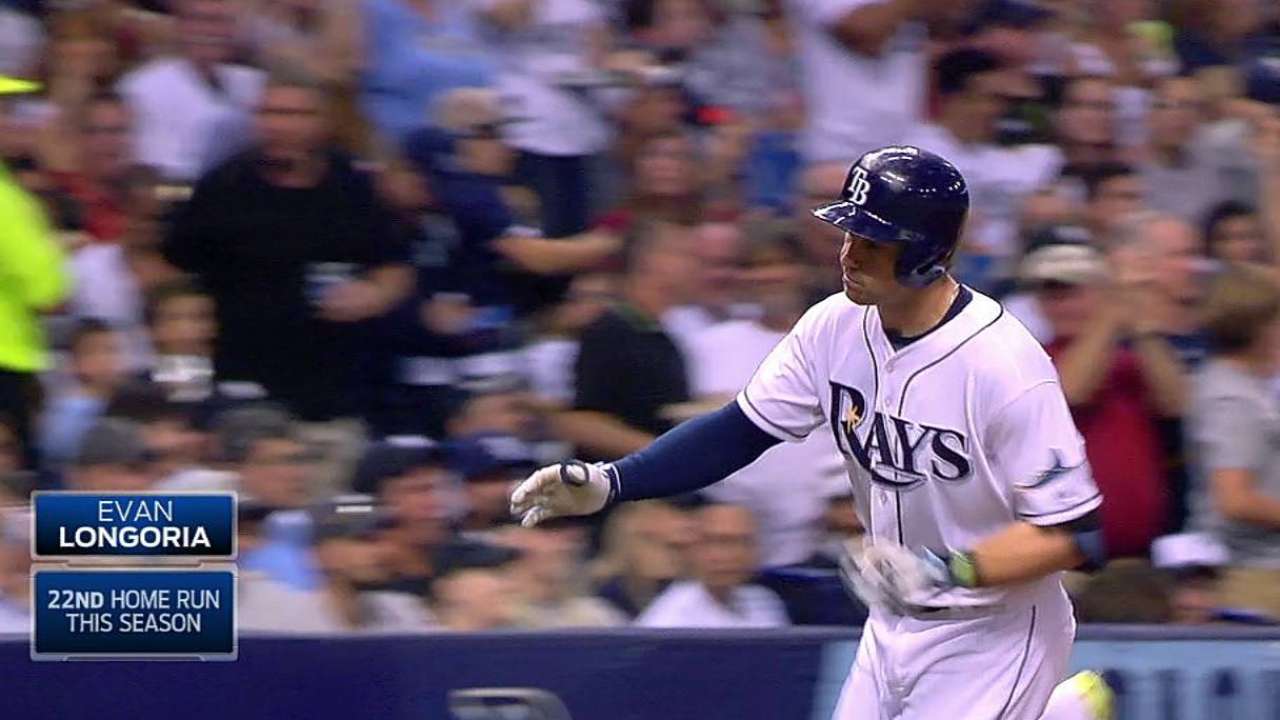 "And he probably holds himself to an even higher standard," Silverman said. "He wasn't satisfied with his year last year. He was as healthy as he's ever been. And playing every single game may have done himself a very slight disservice. But knowing that he can go out there every single day and that health isn't a concern is a big plus. And we all know his work ethic. We all know his dedication. He's going to come in ready for a big season."
Despite his less-than-Longoria 2014 campaign, the third baseman remains one of the team's best offensive players, and an increase in production next season will be a huge help.
6. Will Cobb continue his rise toward becoming one of the top pitchers in the AL?
Cobb is the only AL pitcher with 10-plus wins, a winning record and a sub-3.00 ERA in each of the last two seasons. Unfortunately for Cobb and the Rays, in 2014, he spent more than a month on the disabled list with a left oblique strain. During his absence, the Rays went 12-23. Prior to going on the DL, he'd recorded a 1.89 ERA in three starts.
How good can he be? He set a club record by making 12 consecutive starts allowing two runs or fewer, which tied him for the third-longest streak by an AL pitcher since 1914.
Imagine the difference for the Rays if Cobb could make 33 starts in 2015.
7. Can the Rays' back end of the bullpen shoulder the load until McGee returns from minor elbow surgery?
McGee had arthroscopic surgery on his left elbow on Dec. 12 to remove a loose body. McGee said he is doing fine and a full recovery is expected. The Rays will not put a timetable on his return, but McGee expects to be back in May.
What do the Rays do in the bullpen until then? They need Balfour to step up and pitch the way he did last September, which resembled the closer they thought they signed. They will also need healthy contributions from newcomer Jepsen, along with Boxberger and perhaps veteran Ernesto Frieri.
McGee recorded one of the best seasons by a Rays reliever with his 2014 effort, going 5-2 with a 1.89 ERA and 19 saves in 73 appearances. Those numbers led Tampa Bay's bullpen and set career highs for McGee in saves, ERA, appearances and innings.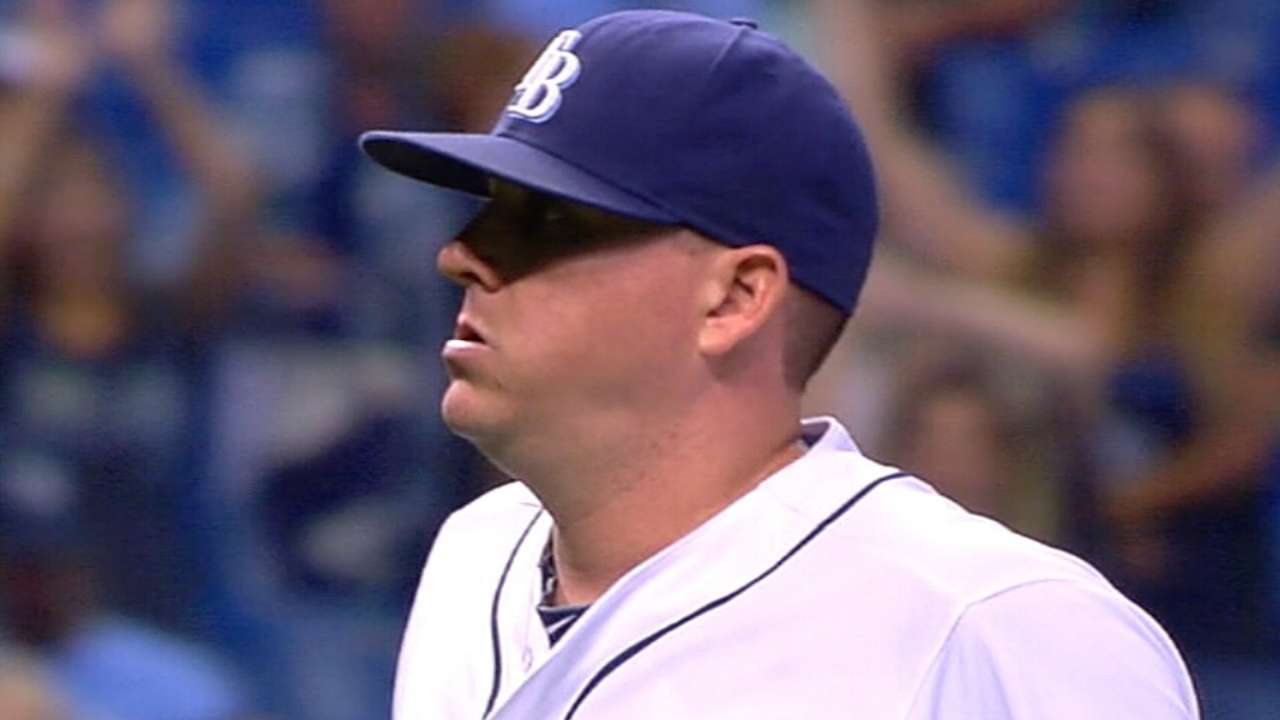 8. Will Smyly be able to make Rays fans forget David Price?
Acquired hours before the July 31 Trade Deadline, Smyly came to the Rays in a three-team, five-player trade that saw Price head to the Tigers.
Given Price's popularity, Rays nation wasn't exactly enamored with the new left-hander. Smyly changed that view.
He made seven starts after joining the Rays and went 3-1 with a 1.70 ERA. The Rays went 5-2 in his seven starts.
Rays fans will never forget Price, but if Smyly continues to pitch as he did last year, they will most definitely remember Smyly.
9. Will the Rays be able to improve offensively?
When the Rays broke camp from Port Charlotte, Fla., last spring, many forecast the team to win the AL East; some even forecast a World Series appearance. Obviously that did not come to fruition for a lot of reasons, but the Rays' lack of offense could be counted as a major factor in their finish.
On the bright side, the Rays will have back their entire infield of Longoria, Yunel Escobar, Zobrist and James Loney. None of the group had their best season in 2014, so there's a good bet that several -- if not all -- will rebound. In addition, outfielders Guyer and Kiermaier were able to establish themselves to a certain extent.
"We believe in them," said Silverman about the players the Rays are banking on rebounding. "We believe in their true talent level. And in many cases the results on the field weren't consistent with some of the under-the-surface indicators that we have. Those indicators are often times a better indicator of future performance. For most of these guys, those indicators are there and point to a bounce-back season."
The Rays have also agreed to sign free-agent infielder Asdrubal Cabrera, MLB.com has confirmed, adding a name that could boost the offense. A two-time All-Star with the Indians, the 29-year-old Cabrera hit .241/.307/.387 with 14 home runs and 61 RBIs last year between the Tribe and the Nats. But in 2011-12, he batted a combined .272/.335/.443 with 160 RBIs and impressive power (41 home runs) for a shortstop.
So, yes, the Rays' offense should improve in 2015.
10. Can new manager Kevin Cash pull the right strings in order to bring about a smooth transition from Maddon's managing?
Cash emerged from a list of 10 candidates to become the last man standing in the Rays' search for a new manager. He is young. He is enthusiastic. He has different ideas than Maddon.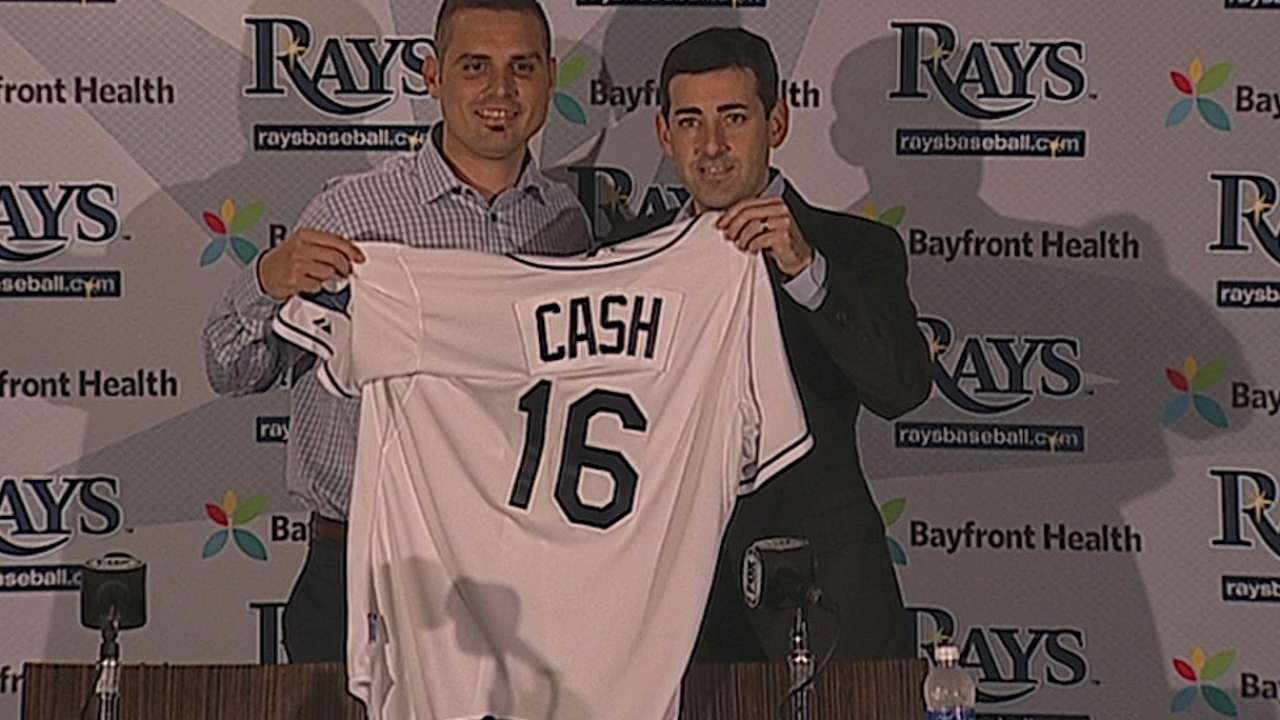 Rays fans will never forget Maddon for what he did for baseball in the area, but everybody has a shelf life and Maddon might have reached his with the Rays. A new voice can sometimes be a good thing.
Expect the Rays' way to keep rolling along, and the dynamic Cash should be a major contributing factor.
Bill Chastain is a reporter for MLB.com. This story was not subject to the approval of Major League Baseball or its clubs.