Comfort essential to Tribe's winter program for Kluber
Club working with righty to monitor throwing, maintain 2014 level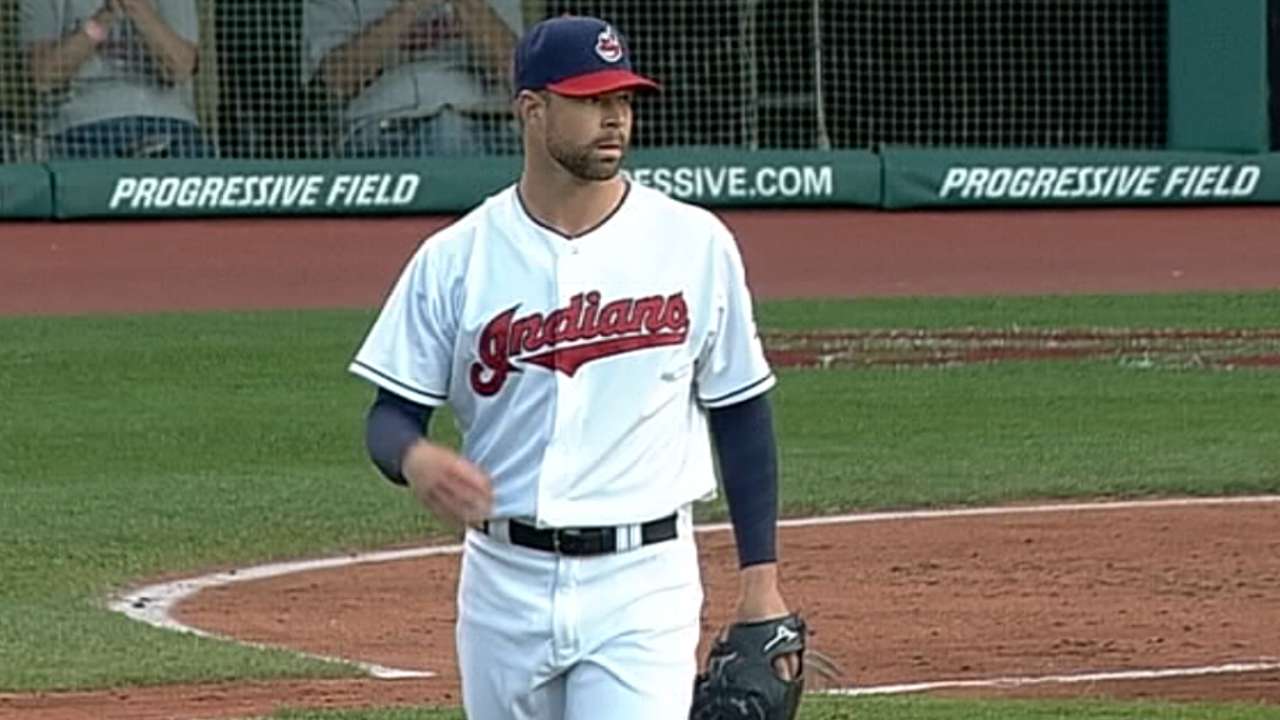 CLEVELAND -- Corey Kluber worked with robotic precision last season, piling up innings and strikeouts at a rate unlike any other year in his professional career. The Indians are now doing what they can to make sure the pitcher's workload does not make him a one-year wonder.
Indians pitching coach Mickey Callaway has met with a variety of former pitchers and pitching coaches this offseason to discuss how to handle Kluber's program this winter and during Spring Training. Callaway and Kluber have also had a handful of conversations in an effort to find a balance between the team's ideas and the pitcher's comfort level.
"What we're trying to accomplish," Callaway said, "is keeping this from one day all catching up to him."
Right now, Kluber does not want to change his throwing program too much. He is a creature of habit and finds comfort in a routine that has worked for him in previous years. Callaway respects that feedback from the American League Cy Young Award winner, so the pitching coach is looking for ways to reduce stress within a relatively similar throwing schedule.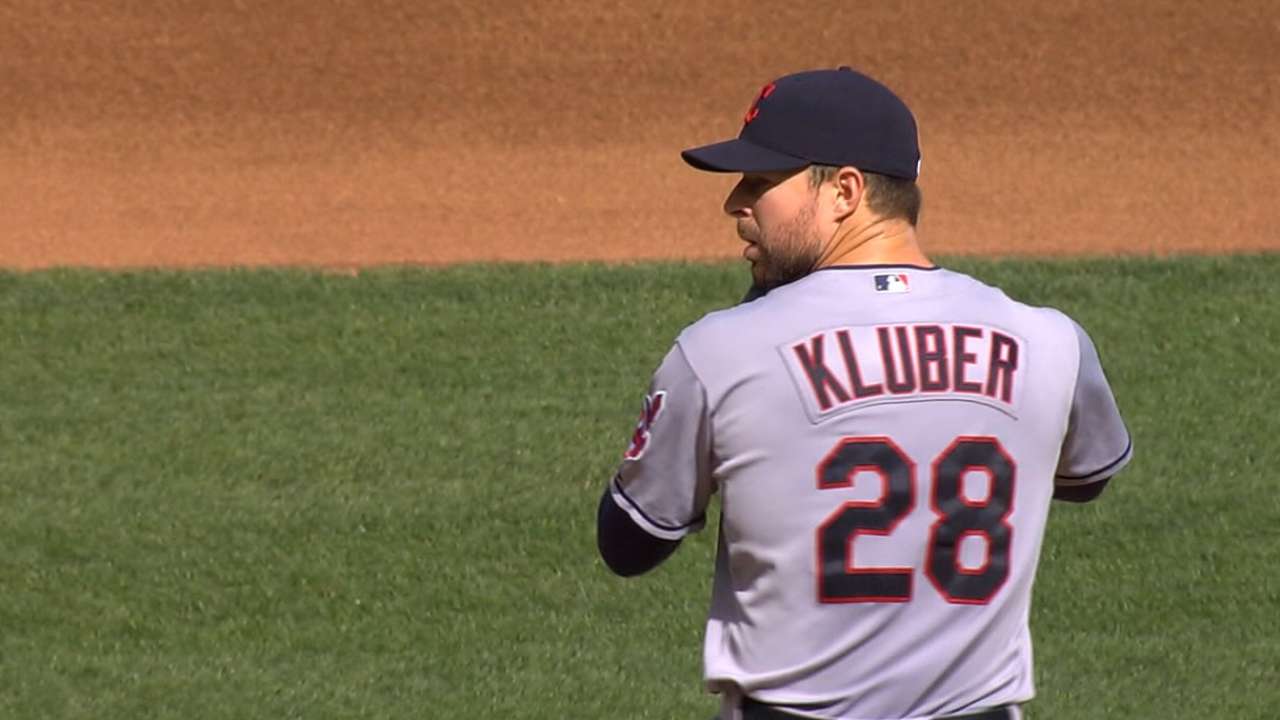 Callaway currently has two concepts that he will discuss with Kluber as the Indians inch closer to the beginning of Spring Training. The first idea is to have Kluber throw in more simulated games in the early portion of the preseason, eliminating some high-intensity innings. The other idea is to have Kluber potentially throw fewer bullpen sessions before he arrives to camp in February.
Callaway consulted Tim Belcher (former Indians pitching coach and now a special assistant to baseball operations), Jason Bere (special assistant to baseball operations), Charles Nagy (special assistant to baseball operations) and Carl Willis (former Indians and Mariners pitching coach) via conference call to get their input.
"I got them all on the phone and we put our brilliant heads together," Callaway said with a laugh. "I just wanted their experiences. Carl gave us some good things on how he handled [Felix] Hernandez after he won the Cy Young in Seattle [in 2010]. So, we're going to do some things during Spring Training to really monitor Corey's workload and in-game stress.
"And Belcher made a great point and they all kind of stressed this: Once you've won a Cy Young, or once you've had a really good season in the Major Leagues, those things you work on every year to get ready for Spring Training come a little bit more naturally to you, just because you have a little more confidence than you've ever had."
Kluber just wants to be cautious about potentially altering his program too much.
"I definitely want to keep it as close to normal as possible," Kluber said. "I don't want to show up to Goodyear [Ariz.], without having thrown off a mound or anything like that. For me, at least, if I were to go out there and everybody else has thrown four, five or six bullpens and they're getting pretty close to being locked in, and I'm just starting to get off the mound, that wouldn't probably be a very comforting feeling."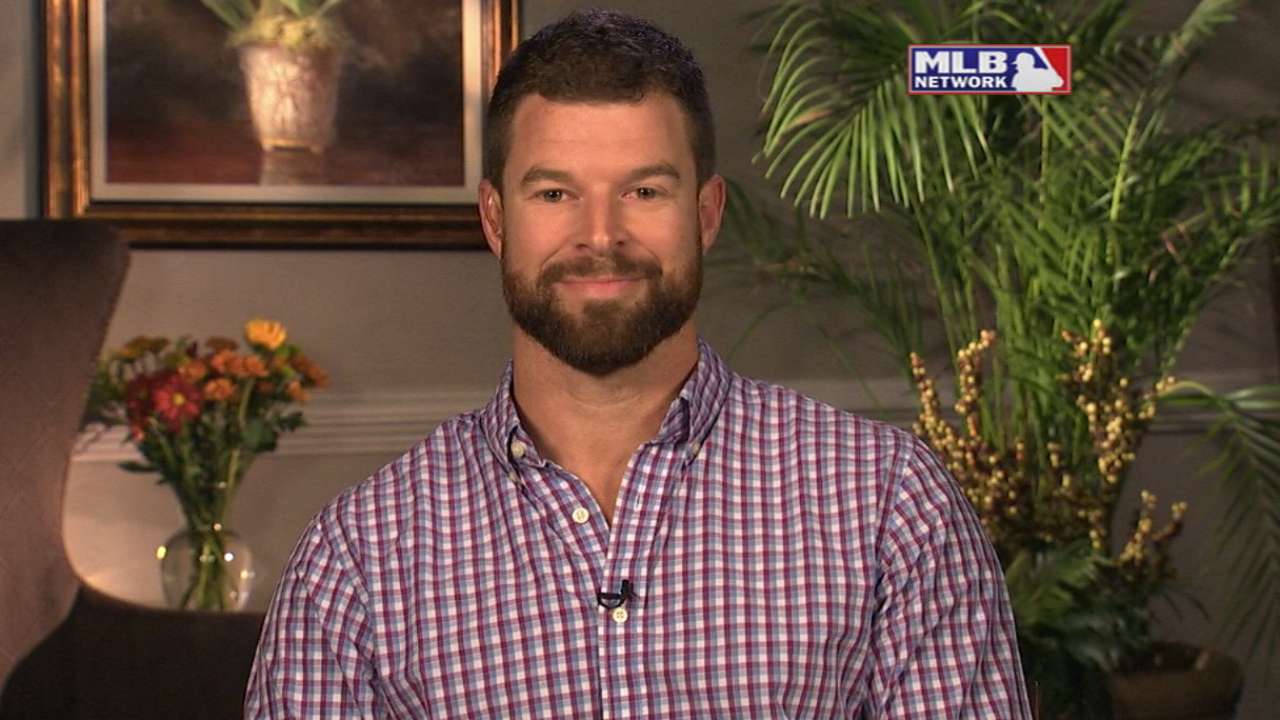 Those are all things that Callaway is considering, and that is why the pitching coach plans on working closely with Kluber on developing a detailed schedule.
"I want him to feel comfortable with whatever he does," Callaway said. "So, if he throws too much, and he's comfortable with that, then that's probably what he needs to do. If we try to get him to throw a little bit less and he's not going to be comfortable with it, well, then we haven't done our job either. He's got to be comfortable with whatever he wants to do.
"I'm going to have a good conversation with him about, 'Hey, it's not that you'd be working less or wouldn't be working as hard. You're just being smarter.'"
Last season, the 28-year-old Kluber went 18-9 with a 2.44 ERA and 269 strikeouts in 235 2/3 innings for the Indians. In his previous six seasons between the Majors and Minor Leagues, the right-hander averaged roughly 160 innings per year. His 2014 total was a 47 percent increase over that six-year average and over his 2013 innings total (159 2/3).
Prior to last year, Kluber had not thrown more than 188 1/3 innings (2012) in a professional season.
One encouraging aspect of Kluber's '14 showing, though, was that he maintained his performance and pitch velocity down the stretch.
That innings increase covered his final 11 starts, during which Kluber posted a 2.09 ERA with 99 strikeouts and a 68 percent strike rate. After Kluber posted a 6.19 ERA from Aug. 21-Sept. 1 (three starts), leading to speculation that he was fighting fatigue, the righty went 5-0 with a 1.12 ERA, 54 strikeouts and a 71 percent strike rate over his last five starts (40 1/3 innings).
"He literally did his best work in those 80 innings that eclipsed whatever he had thrown in the past," Callaway said. "That really spoke to how hard he works throughout the season and how well he prepared, and did his weight routine, and got in the training room and took care of his arm, and whatever else he needed to take care of. He was just so consistent in all those things, and that's why he finished so strong."
Kluber is confident that the program that led to his success and durability last season can once again help him for the 2015 campaign.
"The way that I look at it and what I told Mickey," Kluber said, "is that I kind of have an idea of what I feel like gets me in the best spot to be ready when the season starts. As long as we stay feeling good sticking with that, then I feel like that's the best route to continue on.
"If it gets to a point where, say something comes up and you're extra sore or your arm is tired, then you listen to your body. But, for the most part, I'm just trying to stick with what's comfortable. I don't like to feel like I'm forcing the issue."
Jordan Bastian is a reporter for MLB.com. Read his blog, Major League Bastian, and follow him on Twitter @MLBastian. This story was not subject to the approval of Major League Baseball or its clubs.