Hillman itching to contribute to Astros' rise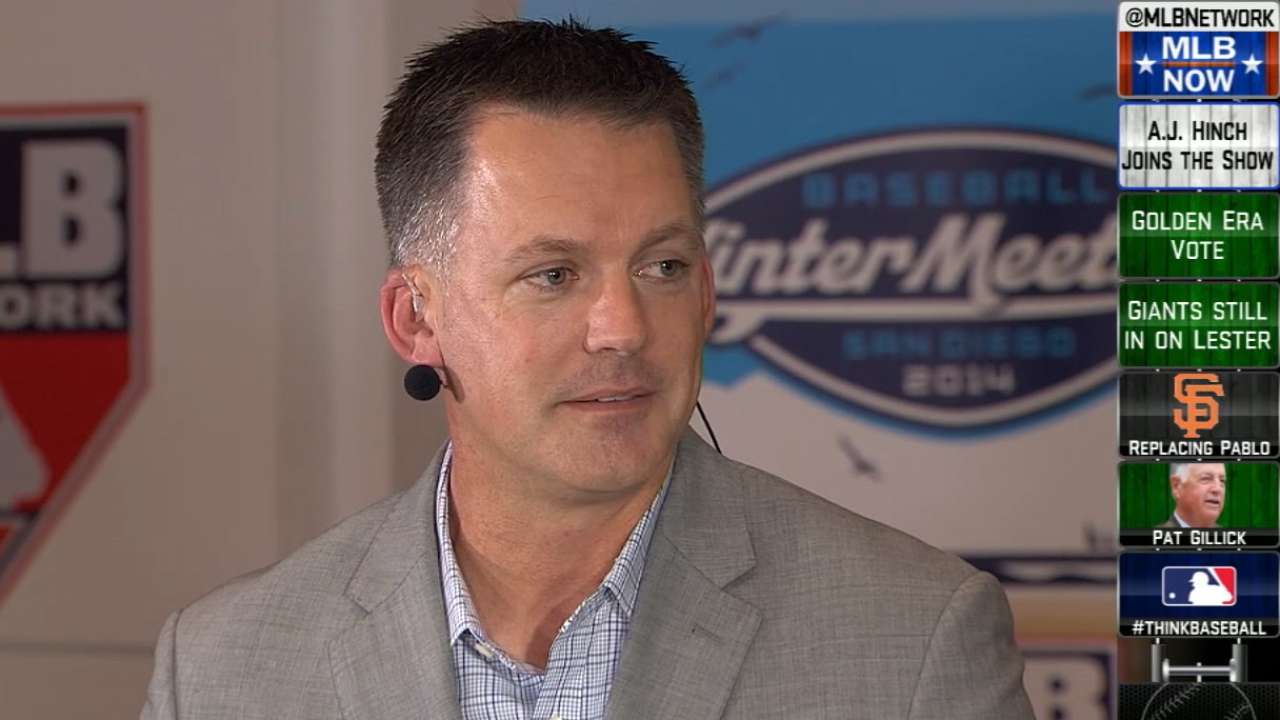 HOUSTON -- Considering he wasn't in uniform on a daily basis in 2014 like he had for so many years previously, Trey Hillman can't wait for the start of Spring Training. In fact, the new Astros bench coach has already gone over some schedules for the spring, and he would be in Kissimmee, Fla., tomorrow if he could.
The job as manager A.J. Hinch's right-hand man comes at a good time for Hillman, who has no desire to manage in the big leagues and is thrilled to be working in his home state of Texas. And Hillman is enthused about the direction the young Astros are headed.
"I'm not looking to use this as a segue into my next managerial job," Hillman said. "I did that for 20 years, and I've had enough of that, honestly. My job is to bust my butt every day making sure the manager's job is easy."
Hillman, 51, spent this past season as a special assistant in Major and Minor League operations with the Yankees -- a job he took after he worked for three seasons as the bench coach under Don Mattingly with the Dodgers. Hillman managed the Royals from 2008-10 after managing for five seasons in Japan, where he led the Hokkaido Nippon-Ham Fighters to a championship in '06.
"I loved my time in L.A. with Donny," Hillman said. "I was disappointed that ended after the '13 season, but things happen. I wasn't bitter. To get to do this and serve these guys, especially A.J., and to get to work for [general manager] Jeff [Luhnow] and the group he's got here, this is really exciting."
Hillman spent 13 years managing and coaching at the Minor League level in the Yankees system (1989-2001), and he also served as director of player development for one season with the Rangers ('02). He played three seasons of Minor League Baseball in Cleveland's system from 1985-87 before serving as a scout for the organization from '87-88.
When Hinch was hired in September, he spoke about his desire to have a former big league manager as his bench coach. Hinch and Hillman knew each other when they were both managing in the Majors in 2009, and it seemed like a solid partnership.
"There's no question about what's most important in everybody's mind, and that's to serve these players," Hillman said. "A.J., with his relationship-based philosophy, he's going to be a great manager. Really, more than anything, I'll keep problems off his desk. That's what I'll try to attack for him."
Hillman knows how much a manager has on his plate and is going to do his best to make sure Hinch can focus on the things he needs to focus on.
"I want to nail it," Hillman said. "I want to nail it for the right reasons. I want to nail it because it's perceptual for his tenure here. I want to nail it because it benefits the players and getting them ready for a Major League championship season. I get excited and passionate about stuff like that, because it's about putting these guys in position to go out there and perform."
Some of Hillman's duties will revolve around soaking up the analytical information he'll get from the Astros' front office. Hillman said the Yankees were big into analytics, which should help him be ahead of the curve in Houston.
"I learned a lot, and I was on the inside a little bit with meetings with New York," Hillman said. "The analytics have grown so much. That was huge in New York. It was almost like God plucked me out of L.A., where we used it very minimally during my three years there, and he went, 'OK, I need to prepare you for [your] next job, so I'm going to put you with a team that uses it a ton.' I learned a lot, but I've got so much more to learn."
The chance to come to Houston and coach under Hinch is meaningful for Hillman because of the time and effort Luhnow and Hinch put into assembling the staff.
"When it was all complete, I sat back and I was talking to my wife and I said, 'Wow, it's pretty impressive the amount of work they put into this,' which was humbling to me because of the amount of experience," Hillman said. "This is an experienced staff."
Hillman is Texas to the core. He was born in Amarillo and lives in Liberty Hill, just north of Austin. He graduated from the University of Texas-Arlington, near where he grew up, and his wife is from Angleton, just south of Houston. He has plenty of family in the Houston area.
"I've been really blessed," he said.
Brian McTaggart is a reporter for MLB.com and writes an MLBlog, Tag's Lines. Follow @brianmctaggart on Twitter. This story was not subject to the approval of Major League Baseball or its clubs.