Goal of '15 success brings 10 questions for Mets
Harvey most intriguing variable, but Wright's health, Grandy's bat also factors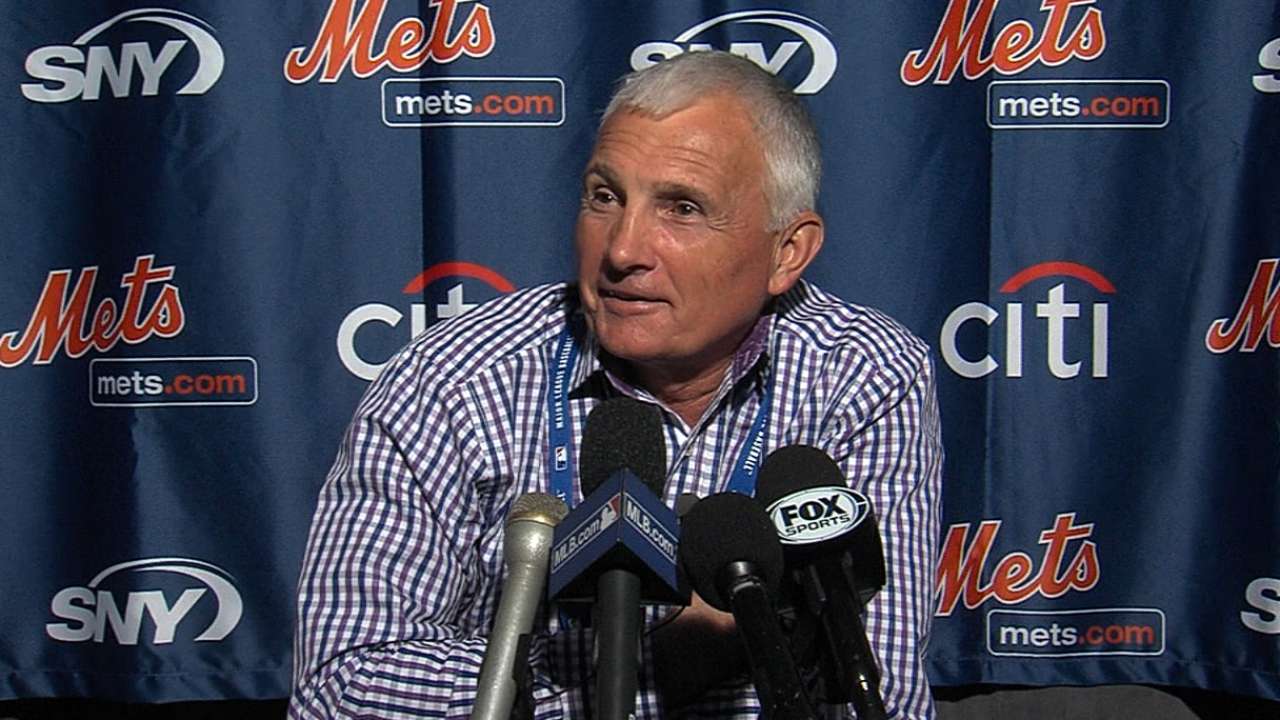 NEW YORK -- At the Winter Meetings earlier this month, Mets manager Terry Collins sat behind a podium discussing anything and everything about 2015. Someone asked about his job security, his run of losing seasons, the future of the Mets.
"It's time," was Collins' simple response.
After years of rebuilding more slowly than they would have liked, Collins knows it's time for the Mets to unveil what they envision as their first playoff team since 2006. A healthy Matt Harvey and David Wright, an improved Curtis Granderson and a newly-signed Michael Cuddyer are the ingredients they believe can lift them to the top of the National League East.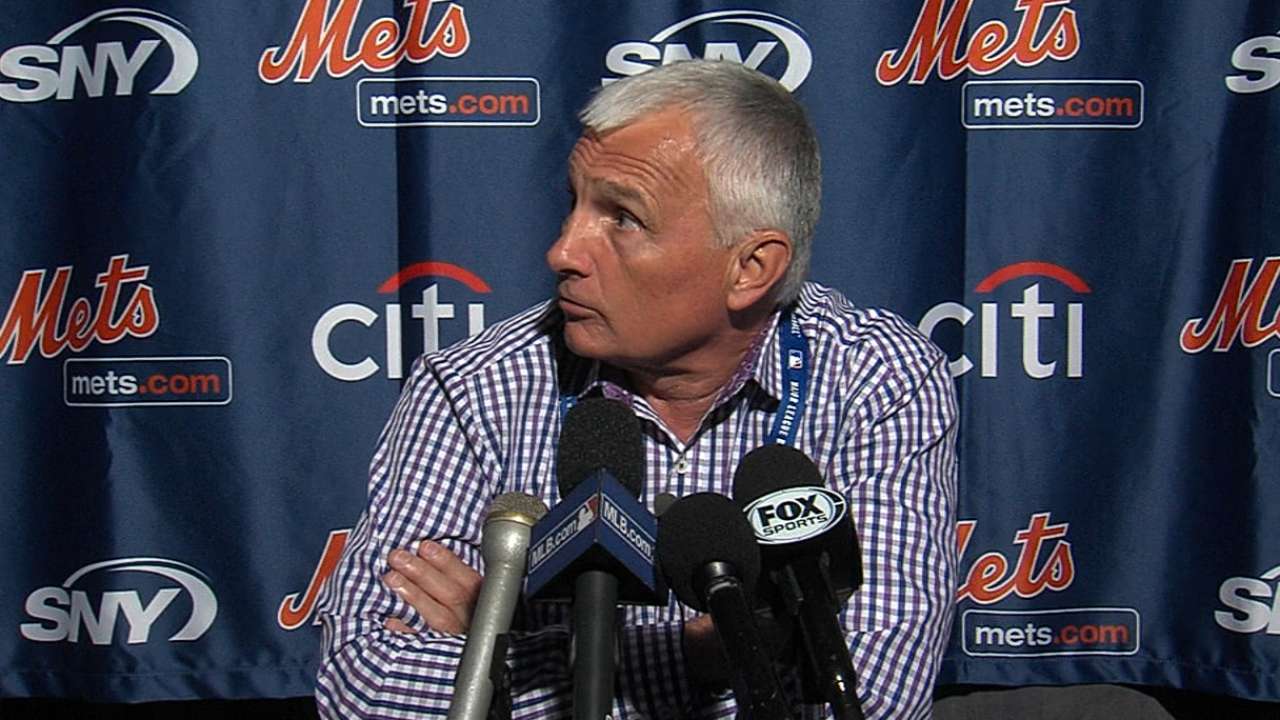 But plenty of questions exist for a club with uncertainty up and down its roster. If the Mets find satisfactory answers to these 10, they have a strong chance at bringing bliss back to Flushing:
10. Who will close?
This remains unchanged from a year ago, when the Mets were unsure how Bobby Parnell would recover from surgery to replace a herniated disk in his neck. He did make it all the way back, but tore a right elbow ligament on Opening Day and underwent Tommy John surgery shortly thereafter. With Parnell unlikely to be at full strength by April, the Mets must figure out who will replace him in the interim. Jenrry Mejia remains the leader in the clubhouse, but Jeurys Familia and Vic Black could score some save chances as well. And whoever nails down the job may ultimately wrest it away from Parnell before he can return to health -- despite Collins' insistence that Parnell is the closer.
9. Can Juan Lagares lead off?
Barring a shortstop acquisition, the Mets' starting eight is relatively set heading into the New Year -- and it appears that Lagares will lead off by default, in an experiment the Mets desperately want to work. With the world now well aware of Lagares' defensive reputation, the Mets are holding out high hopes for his bat. They went as far as to encourage Lagares to steal more bases last September, which he did with aplomb before suffering a season-ending injury. But speed alone does not a leadoff hitter make, and Lagares must improve upon his .321 on-base percentage if he hopes to develop into a star.
8. How much of a strength will the rotation be?
On paper, the Mets are solid from Nos. 1-5, without even mentioning prospects Noah Syndergaard and Rafael Montero waiting in the wings. Yet can NL Rookie of the Year Award winner Jacob deGrom possibly be as good as he was in 2014? Can Zack Wheeler improve his command enough to develop into the front-line starter scouts believe he can be? Can Bartolo Colon stay healthy at age 42? Then there's that other guy who has not pitched in over a year ... more on him later.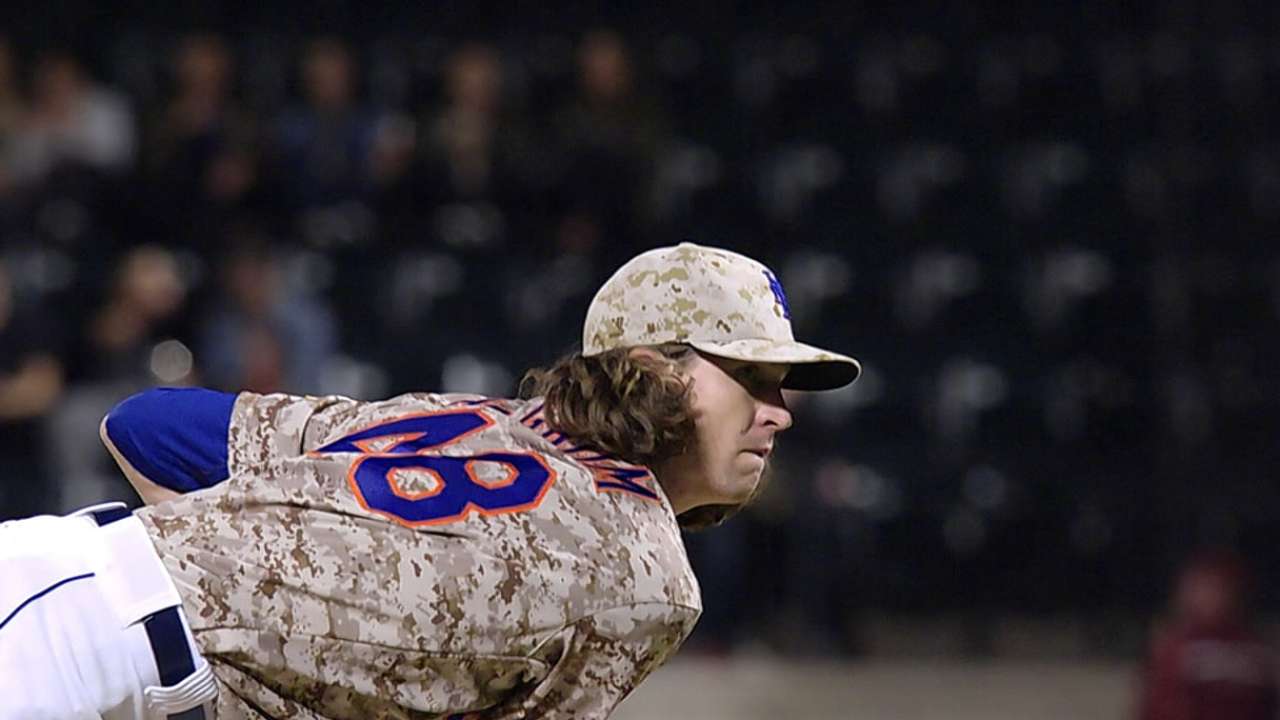 7. Which Travis d'Arnaud is for real?
Over the first half of 2014, d'Arnaud performed poorly enough to earn a Minor League demotion. Over the second half, he reestablished himself as the player who sat atop prospect lists for most of this decade. The Mets are now convinced that d'Arnaud can hit at the Major League level, even if he has yet to do so consistently for a full season. Proving it in '15, while improving his defense, would solve a critical part of their roster riddle.
6. Will Syndergaard be a factor?
The talk of Spring Training, Syndergaard was supposed to debut last summer and thrive almost immediately, as Wheeler and Harvey did before him. But it never happened, as injuries and inconsistency bedeviled him at Triple-A Las Vegas. Now, with a full starting five entrenched ahead of him on the depth chart, Syndergaard has a chance to work on his game in relative anonymity before debuting sometime in the middle of summer. The Mets desperately want him to showcase more of what made him a blue-chip prospect in the first place.
5. Who's at short?
Last winter, the Mets attempted to upgrade from Ruben Tejada but never completed a deal, handing the job back to Tejada and receiving little shortstop production in return. This year, the Mets are looking to upgrade from Wilmer Flores, but once again remain unconvinced they will be able to do so. All the while, Flores has been working out in Port St. Lucie, Fla., hoping to improve his defensive chops and unlock more of his offensive potential. With plenty of scouts still skeptical of his aptitude for the position, Flores may not have endless rope to prove he belongs. And if the Mets find an upgrade in January or February, he may not have much of a chance at all.
4. Is Lucas Duda for real?
Sandy Alderson made the right choice when he kept Duda around last summer, trading Ike Davis to the Pirates. Now, Duda must prove that the 30 home runs he hit last year was not a fluke. Particularly if Granderson and Wright continue to struggle, the Mets will need Duda to serve as a consistent power source in the middle of their lineup. He is confident and ready, fresh off an All-Star tour of Japan. But pitchers will be keying on Duda this summer, forcing him to adapt.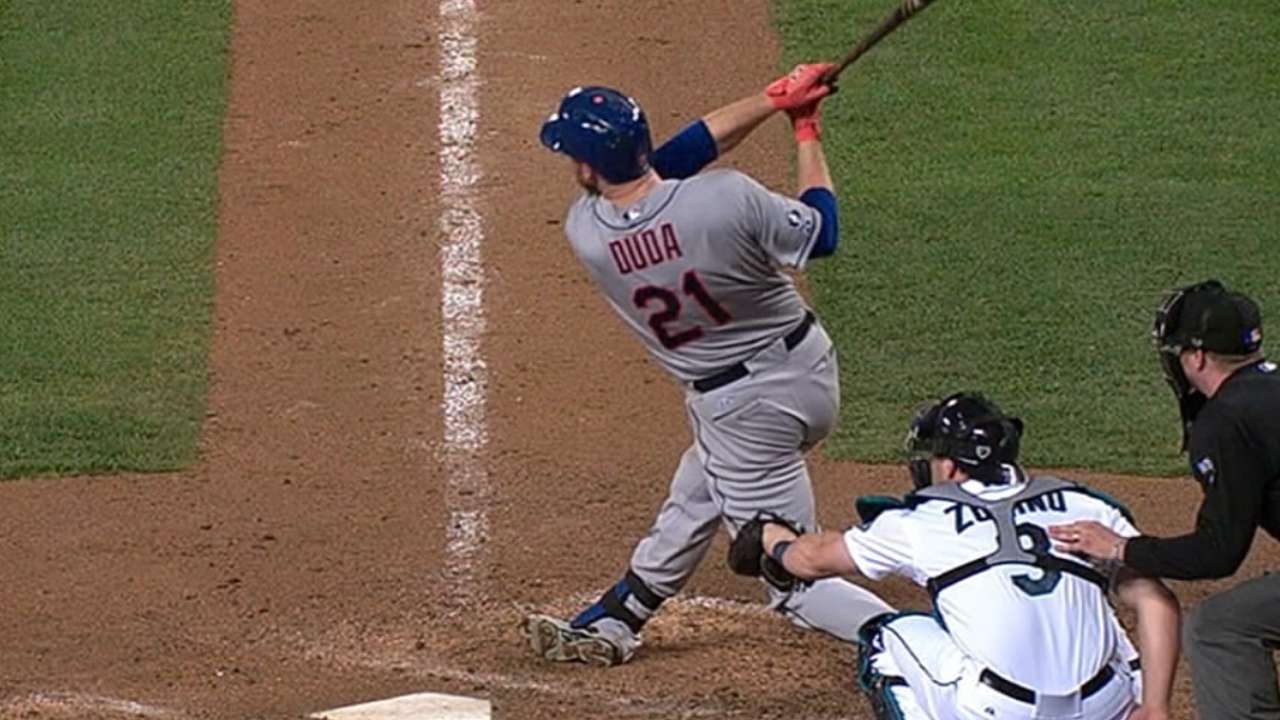 3. How will Granderson rebound?
Much of what the Mets did early this offseason, from their signing of hitting coach Kevin Long to their renovation of the right-center-field fence, revolved around Granderson. Now it's up to Granderson to make good on the final three seasons of his four-year, $60 million deal, after hitting just .227 with 20 homers last summer. He, Duda, Wright and Cuddyer represent the muscle in New York's lineup, with Granderson the furthest removed from his most recent All-Star season.
2. Can Wright star for the Mets' next playoff team?
It has been two years since Wright last hit over .300, three years since he last slugged 20-plus homers, and three since he last enjoyed a full, healthy season. At age 32, Wright could be entering the decline phase of his career, playing as a shadow of his former self while the Mets fulfill their October goals. Or he could be ready to rebound in his early 30s, returning to form as the Mets' No. 3 hitter. Everything depends on the health of a player who remains the heart and soul of this franchise.
1. How good will Harvey be?
The history of Tommy John patients suggests Harvey will be just fine by Opening Day, nearly 18 months removed from surgery. But mid-90s velocity will not be enough for a pitcher who became a superstar once he figured out how to command the baseball. The Mets are counting on Harvey to star once again, but they also will not lean on him too heavily, limiting his innings in his first year back. Rediscovering success will be Harvey's battle. Keeping him healthy and happy will be the challenge of the Mets.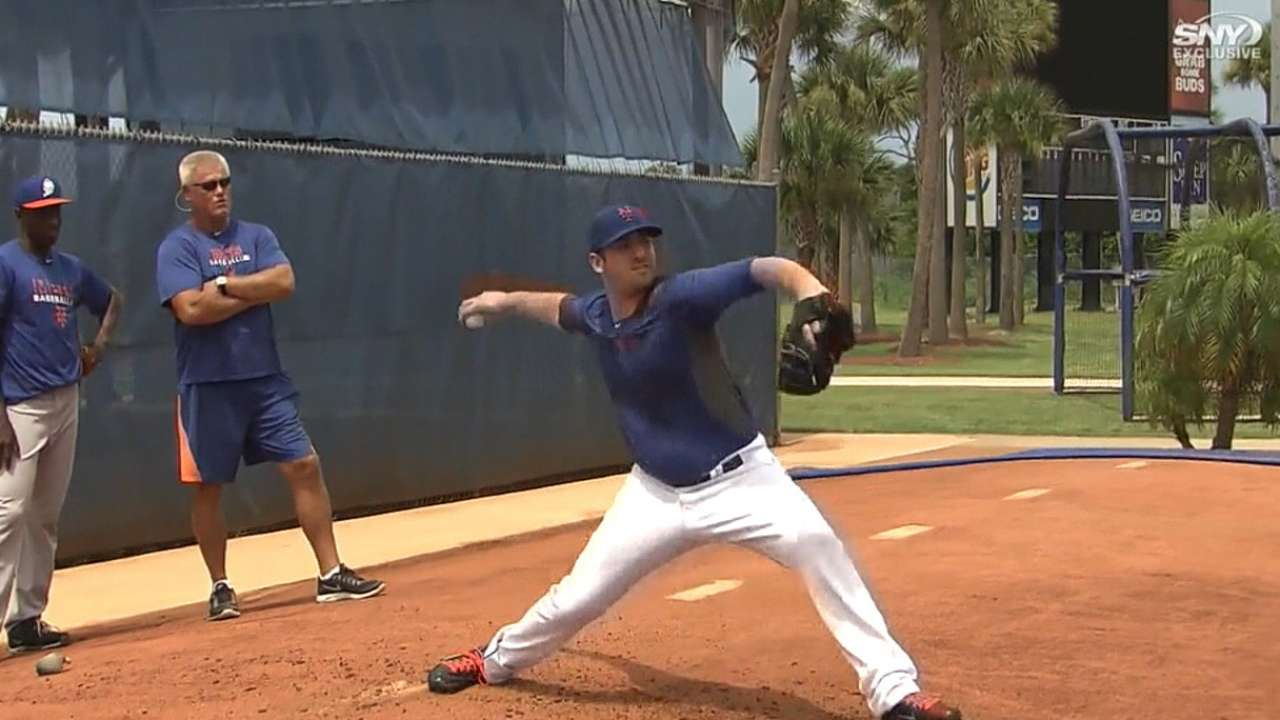 Anthony DiComo is a reporter for MLB.com. Follow him on Twitter @AnthonyDicomo. This story was not subject to the approval of Major League Baseball or its clubs.