Surprises -- both good and bad -- marked Mets' season
Unexpected developments from deGrom's emergence to Wright's injury shaped '14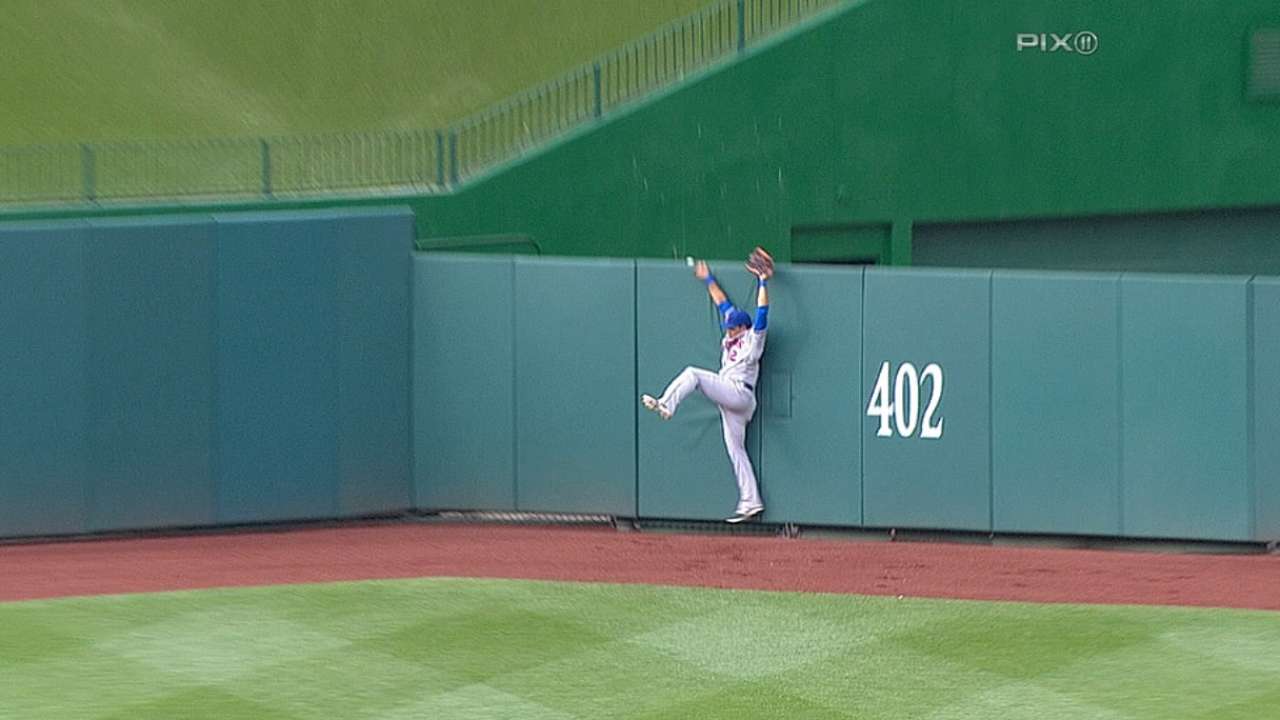 NEW YORK -- Even before 2014 began, plenty of people around Flushing had their doubts. The Mets initially trumped up this year as the grand unveiling for their return to prominence, but Matt Harvey's right elbow injury altered that timeline. The Mets still hoped to compete, of course, but understood it would be difficult without their best pitcher.
What the Mets did not realize was that Curtis Granderson would flounder during his first year in Flushing, David Wright would play through enough shoulder pain to finish with the worst numbers of his career and Bobby Parnell would suffer a season-ending injury on Opening Day, undermining their chances to succeed without Harvey.
Bright spots did exist, from Jacob deGrom's emergence to Juan Lagares' Gold Glove Award-winning season to Travis d'Arnaud's rebound and Lucas Duda's breakout.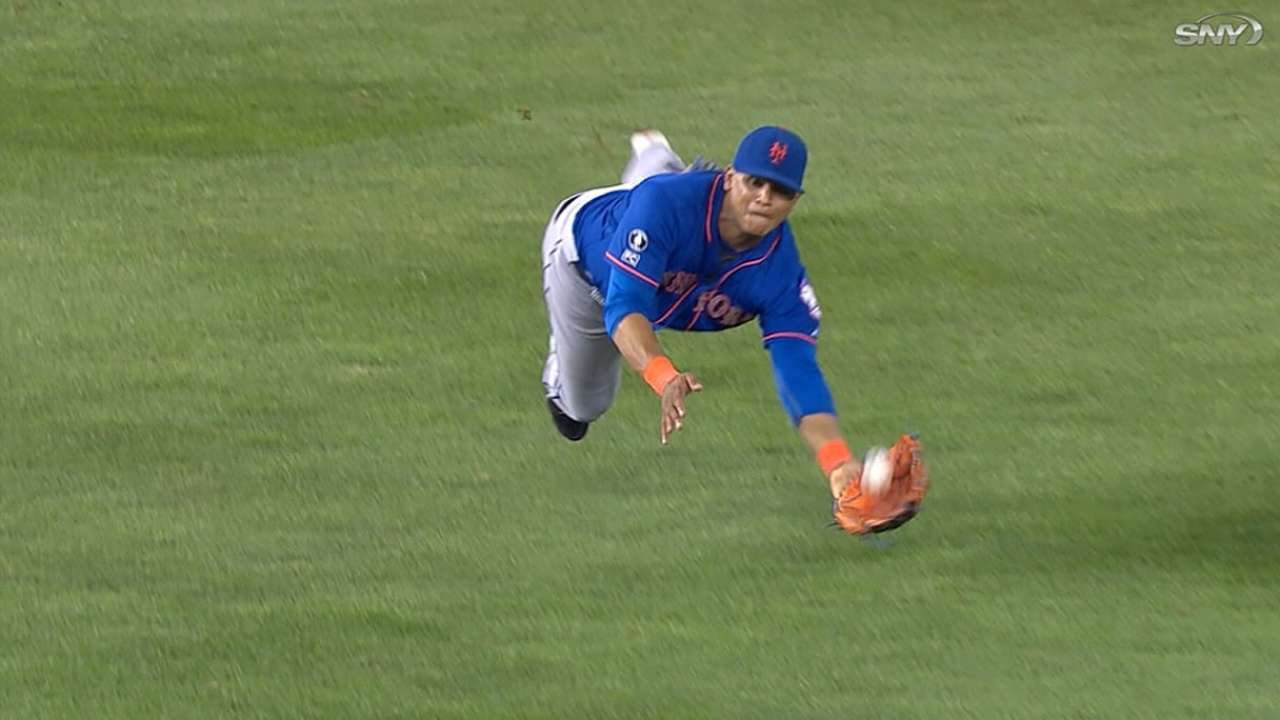 But 2014, in many ways, was about things that did not go quite as the Mets expected:
5. The $60 million slump
When the Mets signed Granderson to a four-year, $60 million contract last December, the move signaled a renewed commitment to spend money and improve the roster. Flying out to the Winter Meetings in Lake Buena Vista, Fla., after his signing, the former Yankee grinned as he quipped that "true New Yorkers are Mets fans."
Little went right for Granderson after that. Suffering through a massive slump in April, the three-time All-Star appeared to turn his season around in May and June, before diving right back into a slump after the All-Star break. He finished with a .227 average and 20 home runs in 155 games, staying healthy -- that was an issue heading into the season -- but doing little to take advantage of it.
After the season, the Mets made several changes to benefit Granderson, hiring his old hitting coach Kevin Long, moving in the right-center-field fence to help him expand his home run total, and signing fellow outfielder Michael Cuddyer to complement him in the lineup. The team hopes for a rebound from Granderson at age 34.
4. Matt, the Mets and the media
Spring Training began with a verbal sparring match between the Mets and Harvey, who was busy rehabbing from Tommy John surgery. The Mets wanted Harvey to spend his time in Port St. Lucie, Fla., where their rehab staff could tend to him on a daily basis. Harvey wanted to work out in New York, where he could lounge with teammates and enjoy his down time away from the park.
The tiff resulted in plenty of tabloid fodder, which the Mets had been hoping to avoid as they looked to compete without their best pitcher. But a compromise eventually cooled off the situation, with Harvey working out at Citi Field when the Mets were at home and in Port St. Lucie when the team was on the road.
That kept everyone pleased, even if Harvey appeared in gossip columns from time to time while surfacing at Rangers games, Knicks games and even Derek Jeter's final night at Yankee Stadium. By that point, Harvey had backed down from his stated goal to appear in a regular-season game by September, as the Mets faded out of contention.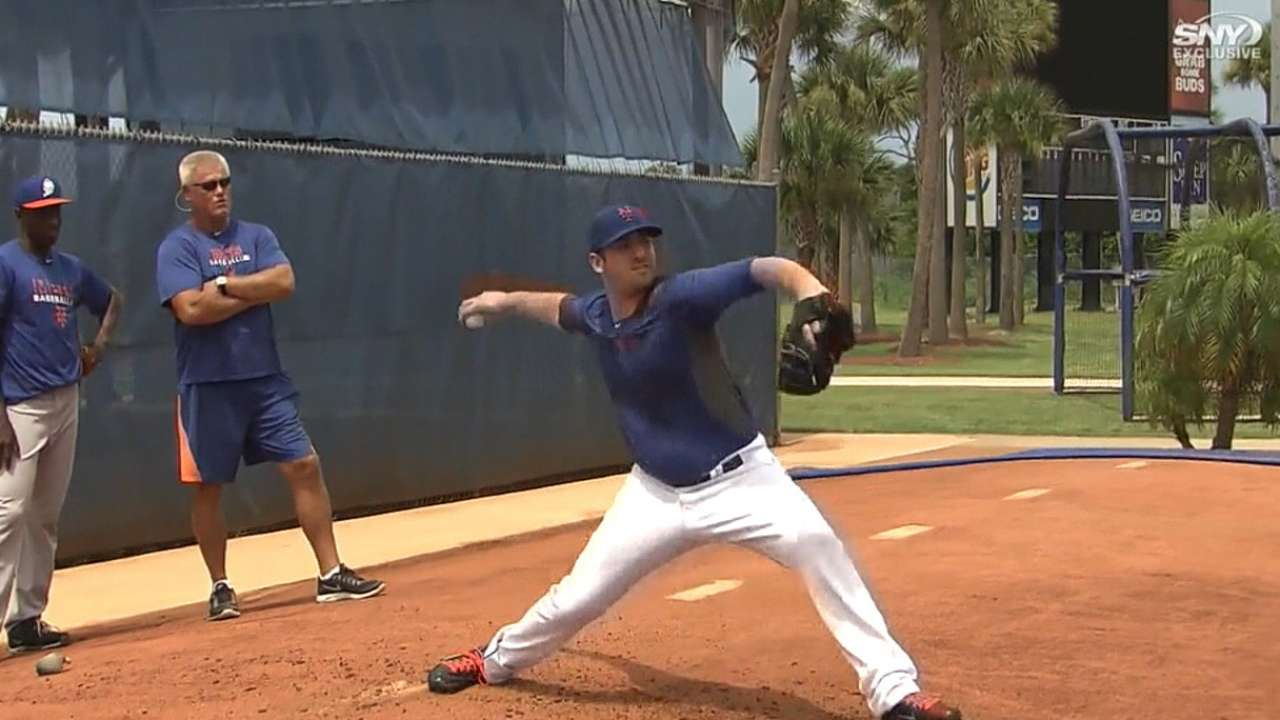 Over the course of the summer, Harvey came to realize what the Mets knew all along: Being ready for Opening Day 2015 was always the ultimate goal.
3. Captain gone missing
Age 31 was not kind to Wright. Though the third baseman spent much of April and May stinging the ball, a run of bad luck dampened his numbers. Then, in June, Wright jammed his left shoulder sliding into a base. He spent the next three months battling various levels of discomfort, all the while insisting he was healthy enough to play.
He was not. Wright finished with the lowest batting (.269), on-base (.324) and slugging percentages (.374) of his career, also hitting a career-low eight home runs. The third baseman finally caved in September, agreeing to shut down for the season in an effort to avoid surgery on his weakened shoulder. Embarking upon a strengthening program, Wright did manage to avoid an operation, though questions remain as to his future outlook.
With Wright entering his age-32 season, the Mets need their captain to hit like the star he has been for most of his career. But there are no guarantees Wright will be at his best whenever the Mets make it back to October.
2. Who's on first?
All last winter, the Mets made it known that they were looking to trade Ike Davis. They wound up keeping him. That set up plenty of Spring Training intrigue, forcing Davis to battle Duda for the starting first baseman's job.
Seven weeks of Spring Training provided little clarity, with Davis and Duda splitting time early in April. Davis, the former first-round Draft pick, even provided the Mets with one of their best in-game moments of the season when he hit a pinch-hit, walk-off grand slam against the Reds on April 6.
It wound up being his final home run for the Mets, who dealt him to Pittsburgh two weeks later and effectively handed the starting job to Duda. All Duda did from that point forward was rake, hitting his career-high 30th home run on the final day of the season. Now firmly entrenched as the Mets' starting first baseman, Duda went to Japan after the season as part of Major League Baseball's traveling band of All-Stars, taking his place among the game's elite sluggers. He is a significant part of the Mets' future plans.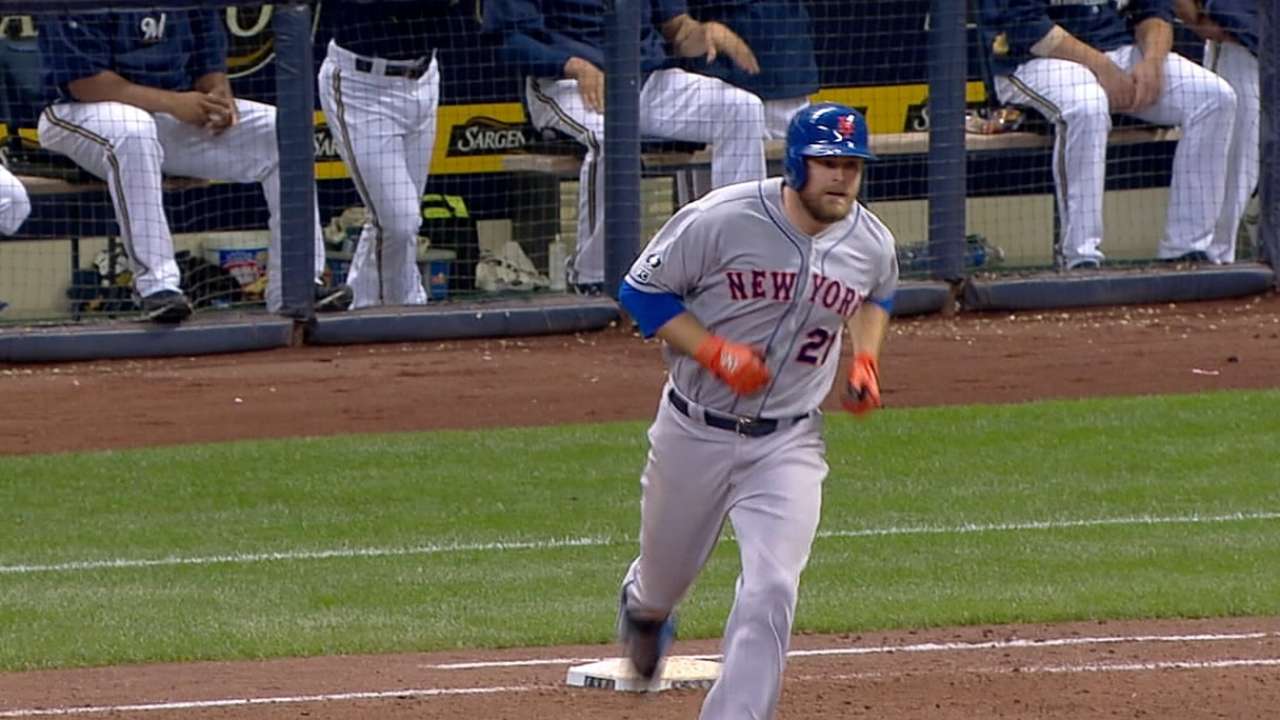 1. Hair we go
Entering Spring Training, deGrom sat ninth on the Mets' starting pitching depth chart behind Dillon Gee, Jon Niese, Bartolo Colon, Zack Wheeler, Daisuke Matsuzaka, Jenrry Mejia, Noah Syndergaard and Rafael Montero. Though he did not come close to making the team, deGrom pitched well enough at Triple-A Las Vegas to earn a mid-May callup as a reliever.
Gee's lat injury forced deGrom to enter the rotation instead, sparking a five-month sprint toward the National League Rookie of the Year Award. Featuring a mid-90s fastball, an unassuming manner and his signature mane of hair, deGrom finished 9-6 with a 2.69 ERA in 22 starts, striking out more than a batter per inning. He was the brightest spot in an otherwise disappointing summer for the Mets, giving them plenty of hope heading into 2015.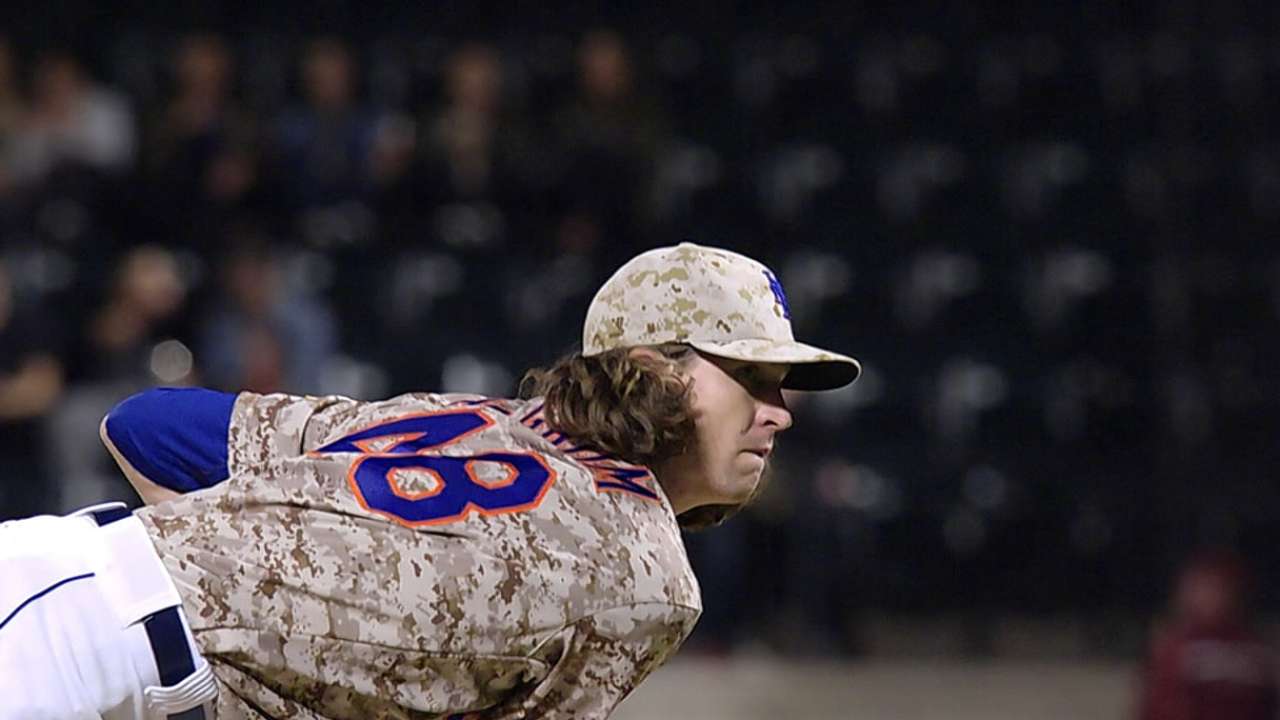 Anthony DiComo is a reporter for MLB.com. Follow him on Twitter @AnthonyDicomo. This story was not subject to the approval of Major League Baseball or its clubs.