Latos embraces homecoming with Marlins
Newly acquired South Florida native hopes to help Miami to return to prominence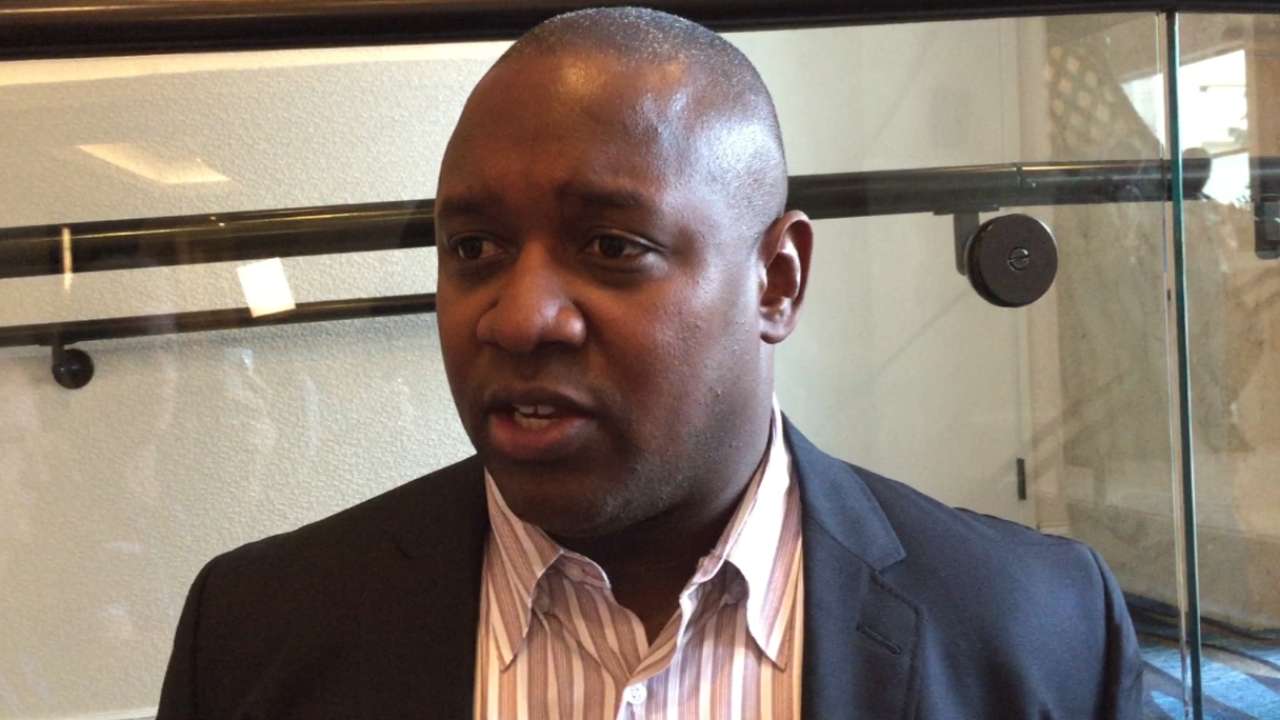 MIAMI -- Mat Latos' playing career is coming full circle. The 27-year-old, who grew up a Marlins fan and played high school and college ball in South Florida, is now looking to help take his hometown big league team to the next level.
At age 5 in 1993, Latos attended the Marlins' inaugural game. And growing up, he regularly rooted on the club at Sun Life Stadium. So when the right-hander learned he was acquired from the Reds at the Winter Meetings last Thursday, he embraced the opportunity to go home.
"I'm very excited," Latos said. "It's a chance for me to go home and to get in some good warm weather. Definitely a great opportunity for me and my family as well. It will be fun to play with a lot of the young talent the Marlins have."
The Marlins believe they are building something special, and they are banking on Latos playing a big part of their resurgence. In "win now" mode, they traded prospects Anthony DeSclafani and Chad Wallach to the Reds for Latos, a top-of-the-rotation candidate.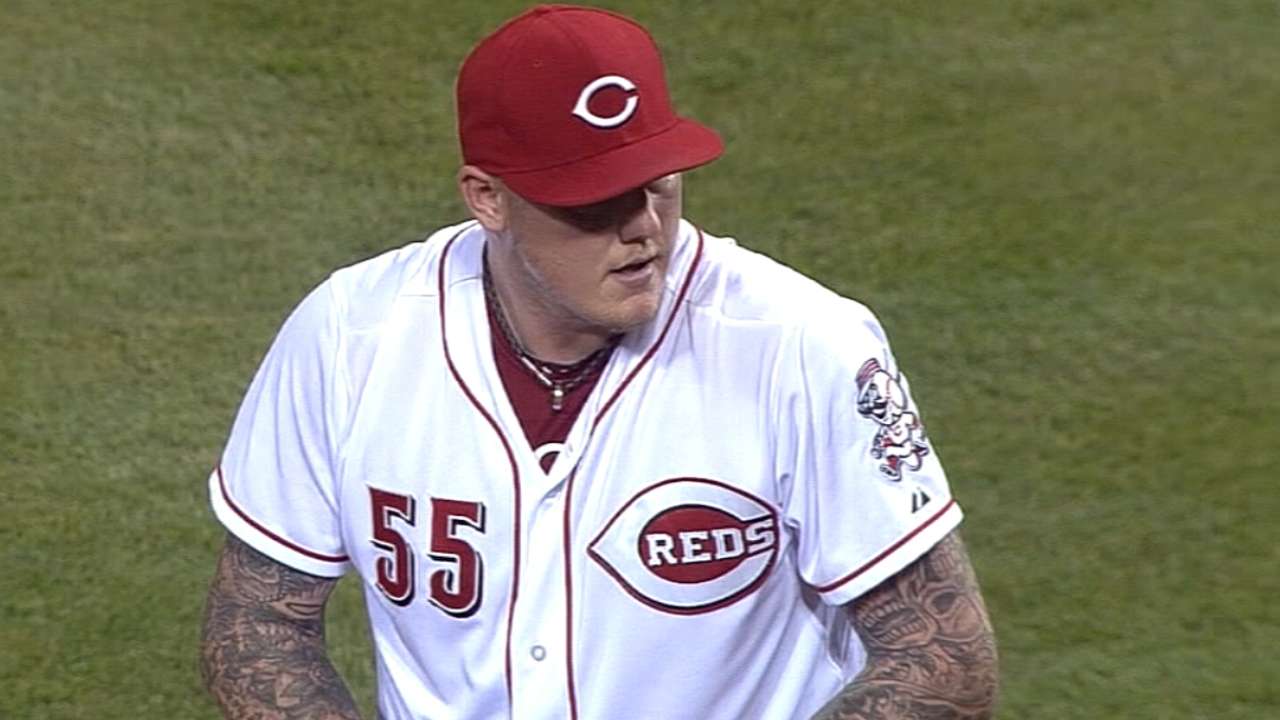 How long Latos' tenure with Miami will be remains unclear because he is eligible for free agency in 2016. What happens long term is not an immediate concern for the club. For now, the focus is firmly on contending next season.
Signing Giancarlo Stanton to a record-setting 13-year, $325 million contract and acquiring Dee Gordon and Dan Haren from the Dodgers are signals the Marlins mean business. Haren's situation is unsettled because he may retire rather than moving away from his family on the West Coast.
No matter what Haren decides, the Marlins are assembling the pieces to make a run in the National League East.
"I think they're serious," Latos said. "You look at what they've done with what they have. You get the right mixture of young talent and those veteran guys for leadership, and you've got a chance to go a long way. And that's what it looks like."
Miami made the push for Latos to help solidify the rotation that anticipates getting even stronger once Jose Fernandez completes his recovery from Tommy John surgery around midseason.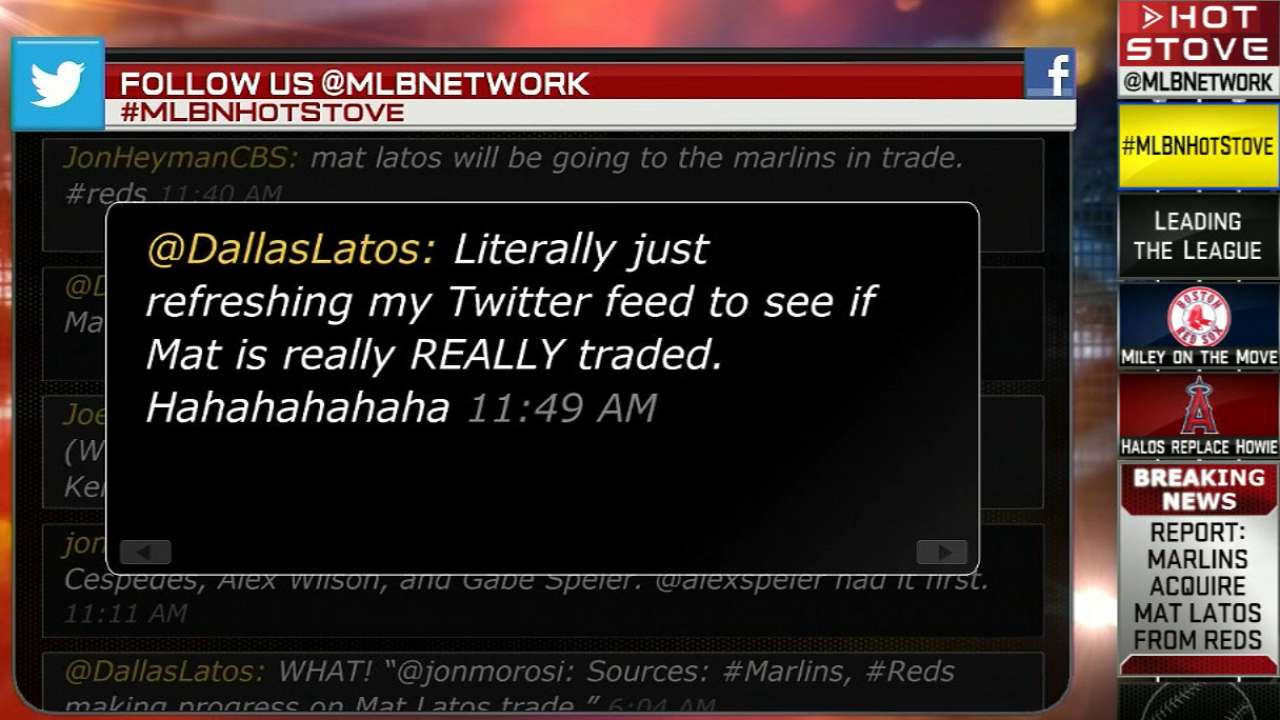 Heading into the Winter Meetings, a primary mission of the front office was to add at least one front-line starter. Latos, 60-45 with a career 3.34 ERA, fits the bill.
Until Fernandez returns, the Marlins now can roll out Latos, Henderson Alvarez, Jarred Cosart, Nathan Eovaldi, Tom Koehler and Brad Hand. Haren may also fall into the mix.
"We think we have a deep rotation," president of baseball operations Michael Hill said. "We have some veterans in Haren and Latos, who can help lead the way and help the Jarred Cosarts and Henderson Alvarez and Nate Eovaldis and Tom Koehlers, help them continue and develop.
"[Latos] keeps our rotation strong as Jose Fernandez continues his rehab. That was the one thing we really wanted to do, to make sure our rotation didn't have a drop-off, and we remain strong until the return of Jose."
Latos' track record is impressive. He attended Coconut Creek High School and Broward College, and was an 11th-round pick of the Padres in the 2006 First-Year Player Draft.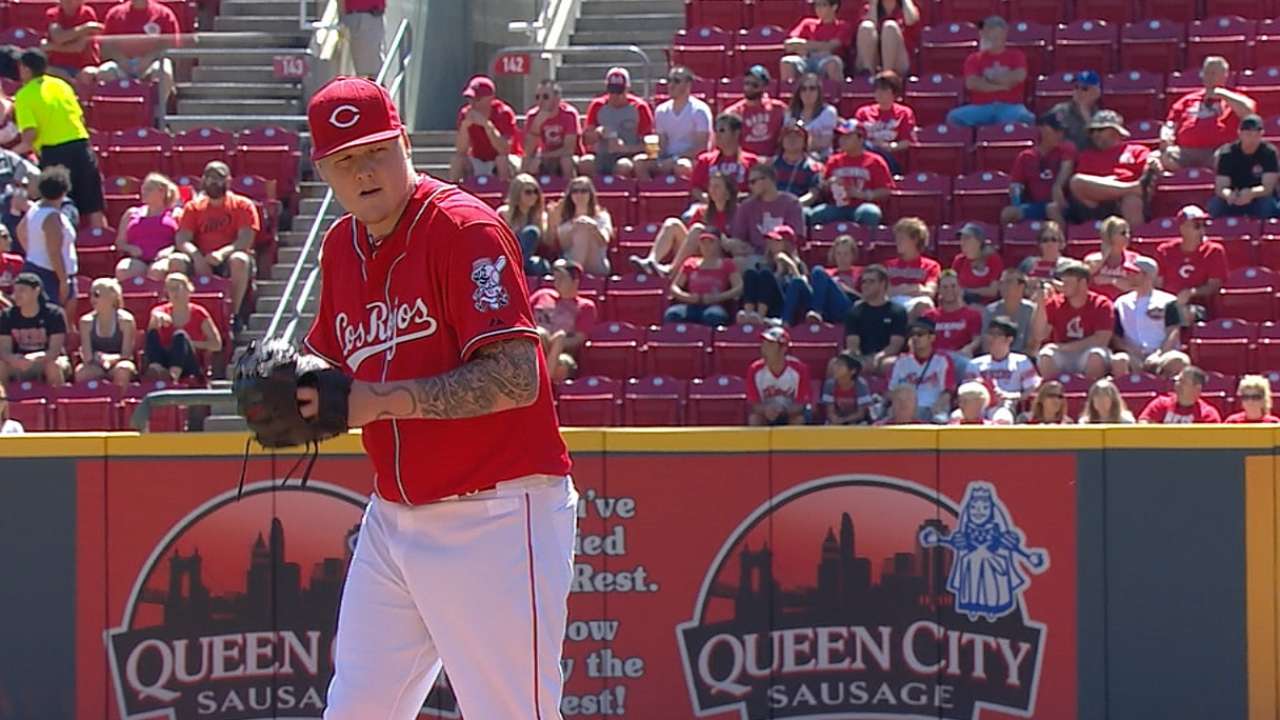 Latos debuted with San Diego in 2009 and was with the club for three years before being traded to the Reds in December 2011. He had a four-year stretch from 2010-13 of making at least 31 starts.
Health, however, was an issue this part year. It started with surgery in October 2013 to remove bone chips from Latos' right elbow. In Spring Training, he underwent surgery to repair the meniscus in his left knee. And in September, Latos was shut down after experiencing a bone bruise in his throwing elbow.
Before pulling the trigger on a trade, the Marlins reviewed Latos' medical records, and came away confident he is healthy.
"No concerns," Hill said. "We did our due diligence and worked through the medical [reports] and are comfortable he will be ready to go in Spring Training, and fit into that rotation and pitch every fifth day."
The elbow procedure cleaned up some loose fragments.
"I pitched half a season with them in there, and it didn't affect me," Latos said.
The knee injury caused Latos to miss substantial time in 2014, but he still was effective in 16 starts, going 5-5 with a 3.34 ERA.
"The knee was just a freak thing, just out there throwing," Latos said. "Four days before Spring Training, I was out throwing and my cleat gets caught, and I wound up turning and tore a little bit of cartilage in my knee. So that's all I've had. I had the cleanup in my elbow and the knee surgery."
Latos is now getting a fresh start in Miami.
Joe Frisaro is a reporter for MLB.com. He writes a blog, called The Fish Pond. Follow him on Twitter @JoeFrisaro. This story was not subject to the approval of Major League Baseball or its clubs.