Source: Padres land big bat in Myers in 11-player swap
Friars also add catcher Hanigan, Minors pitchers, while giving up prospects to Rays, Nationals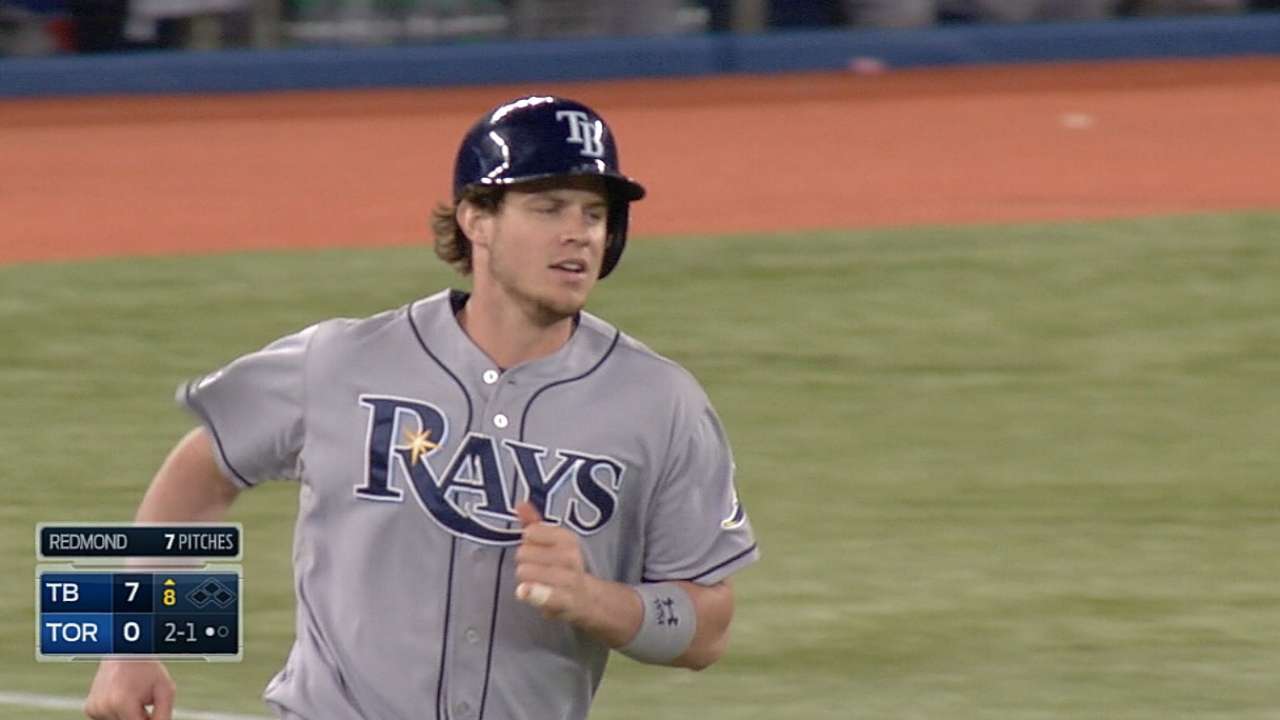 SAN DIEGO -- The Padres' efforts to bolster a weak offense has led them to two very unlikely players -- a two-time National League All-Star slugger and a former American League Rookie of the Year.
Last week, the Padres agreed to a five-player trade with the Dodgers that got them Matt Kemp, though the deal has yet to be announced.
On Wednesday, first-year general manager A.J. Preller swung big again, this time landing Wil Myers from the Rays as part of a wild 11-player, three-team deal between the Padres, Nationals and Rays, a baseball source confirmed to MLB.com.
The deal is pending physicals and the teams have yet to confirm.
• Mayo breaks down every player in the deal
Padres get:
Wil Myers, OF (from TB)
Ryan Hanigan, C (from TB)
Gerardo Reyes, RHP (from TB)
Jose Castillo, LHP (from TB)
Rays get:
Steven Souza, OF (from WSH)
Rene Rivera, C (from SD)
Jake Bauers, 1B (from SD)
Burch Smith, RHP (from SD)
Travis Ott, LHP (from WSH)
Nationals get:
Joe Ross, RHP (from SD)
Player to be named (Trea Turner, SS) (from SD)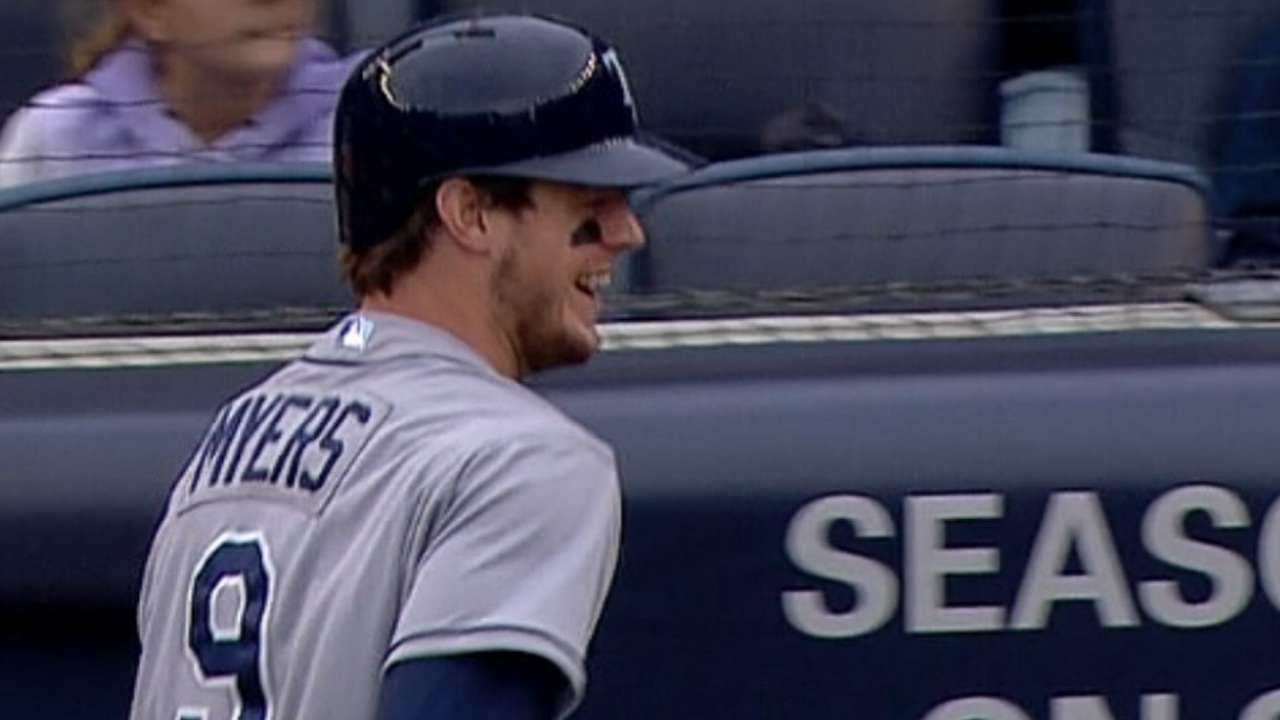 In addition to Myers, the Padres received Minor League pitchers Jose Castillo and Gerardo Reyes and catcher Ryan Hanigan from the Rays, while trading away Minor League pitcher Joe Ross and a player to be named, believed to be shortstop Trea Turner, to the Nationals. Turner, the Padres' top pick in this past June's First-Year Player Draft, can't be traded until next June.
San Diego also traded catcher Rene Rivera, pitcher Burch Smith and first baseman Jake Bauers to the Rays.
For the Padres, the trade was all about getting Myers, the 24-year-old who first tore through the Royals' system, was traded to the Rays and became the AL Rookie of the Year in 2013. His '14 season was waylaid by a fractured right wrist, limiting him to 87 games.
But this is the cost-controlled bat Preller looked to add to the offense, which could get another bat soon, as the team is awaiting the returns on Kemp's physical before moving ahead with the deal agreed upon last week.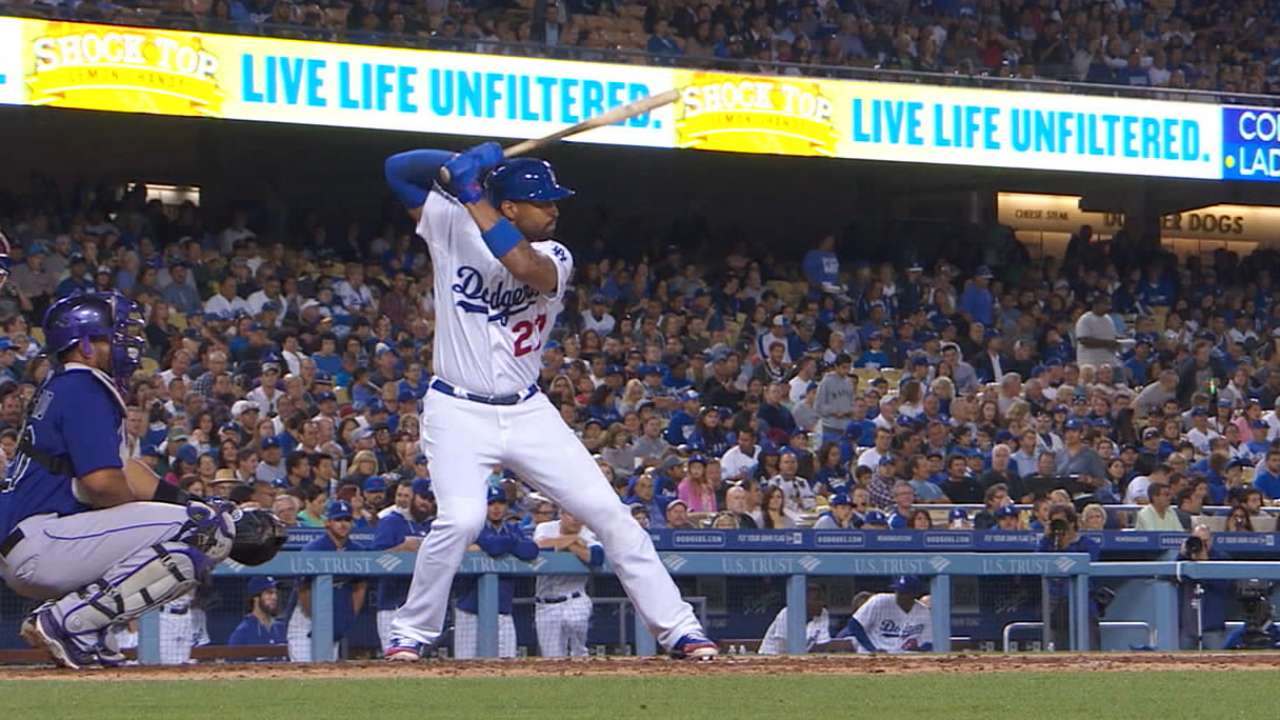 Landing Myers, who turned 24 on Dec. 10, and pairing him with Kemp could give the team's indolent offense from this past season a significant boost for 2015. The Padres ranked last in baseball in about every pertinent offensive category, and they dismissed hitting coach Phil Plantier after the season.
After being honored as the top AL rookie in 2013, a right wrist injury hampered Myers in '14, as he hit .222/.294/.320 with six home runs and 35 RBIs in 361 plate appearances.
Streamer projections on FanGraphs put Myers at .251/.327/.418 with 21 home runs and 72 RBIs, though that was if he remained with the Rays. Dan Szymborski's ZiPS projections have Myers at .266/.335/.441 with the Padres, including an OPS+ of 121 and a 2.5 WAR (Wins Above Replacement).
This is the second major trade these two teams have made this year. In January, under different GMs, the Padres and Rays combined for a seven-player deal that sent pitchers Jesse Hahn and Alex Torres to San Diego.
In Myers, Preller has landed the kind of player that he has talked about this offseason: a cost-controlled position player. Myers wouldn't be eligible for free agency until after the 2019 season.
This is the second time Myers has been traded. He was dealt from the Royals to the Rays in December 2012 in the deal that sent pitcher James Shields to the Royals. Myers spent the first half of 2013 playing in the Minor Leagues before joining the Rays in June.
Myers' struggles this past season can't all be blamed on the wrist injury, as he struggled before it and then hit .213 after returning from the DL. But his sample size at the big league level remains small, his track record in the Minor Leagues was good, and the Padres, apparently, felt there's a lot of upside.
Hanigan, who hit .218 in 2014 with the Rays, will likely split catching duties with Tim Federowicz, a piece in the Kemp deal with the Dodgers, unless the team makes another deal.
Castillo, an 18-year-old left-hander, has a 5.60 ERA in his first 35 1/3 professional innings. Reyes is a 21-year-old right-hander who had a 4.09 ERA in 33 innings in low-Class A last season.
After the addition of Myers -- and when the Kemp deal becomes official -- the Padres will have a real outfield conundrum on their hands, with six outfielders under contract, all making well above the Major League minimum for next season.
Kemp and Myers -- who has primarily played right field in his career -- now join Cameron Maybin, Will Venable, Carlos Quentin and Seth Smith in what has suddenly become a crowded picture.
The club could, of course, move one of those players, with the left-handed-hitting Smith being the most attractive and affordable ($6.5 million) piece for most clubs. Quentin and Maybin each stand to make $8 million in 2015, though they would be tough to move.
But in terms of landing Kemp and now Myers, Preller has stuck to his guns and hung onto the top three arms in his starting rotation -- choosing to build around Tyson Ross, Andrew Cashner and Ian Kennedy and make a run in the National League West. On Tuesday, the team added Brandon Morrow on a one-year deal with the hopes he'll win a rotation spot.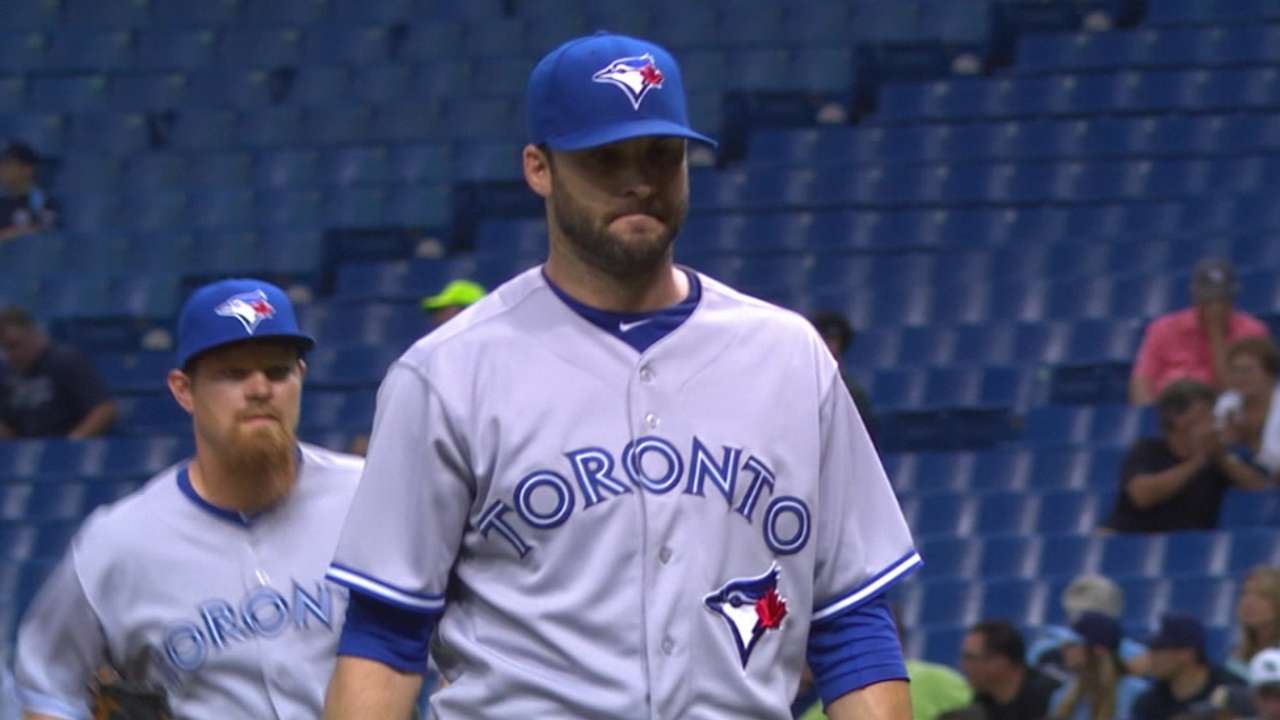 Preller talked last week at the Winter Meetings about trying to keep the starting pitching intact and the prospect of adding offense without sacrificing pitching.
"If you have an imbalance right now, you don't want to flip to too far the other way," he said. "We are trying to get more of a balanced club, and I think an ideal world is to leave [manager Bud Black] with enough pitching and try to find a way to get a few more bats."
Landing Kemp and Myers has achieved that, and the Padres might not be done. They've had discussions with teams about acquiring corner-infield help.
What might have made this deal a little easier, at least in terms of moving prospects -- which is never an easy decision for a general manager or a front office -- is that Preller, who was hired in August, had no real sentimental attachment to any of the players in the system and viewed them as commodities.
"Sometimes you get too close. Looking back on some of the players with the Rangers ... you look back on it with a little different lens now," Preller said last week.
Still, the Padres moved some notable pieces to get Myers. Turner was the Padres' No. 5 prospect, according to MLB.com, while Ross was No. 8, Bauers was No. 14 and Smith was No. 16.
Joe Ross, 21, was the 25th overall pick in the 2011 First-Year Player Draft. He has a 15-18 mark and a 3.90 ERA in his first 299 2/3 professional innings, and he will likely begin the season in Double-A.
Bauers, 19, was drafted in the seventh round in 2013 and had a breakout year in the Midwest League in '14, hitting .296/.376/.414 with eight home runs and 64 RBIs.
Burch Smith, 24, was an undervalued 14th-round pick in 2011. He made his big league debut in 2013, going 1-3 with a 6.44 ERA in 36 1/3 innings. He actually made his Major League debut on the road against the Rays on May 11 of that year, and didn't make it out of the second inning.
Smith missed most of this past season with a flexor muscle issue in his right forearm. He pitched in the Arizona Fall League, going 3-0 with a 5.52 ERA in 14 2/3 innings.
Turner, the 13th overall pick in the 2014 Draft out of North Carolina State, had a big pro debut, hitting a combined .323/.406/.448 in two Minor League stops. He then impressed on the taxi squad in the Arizona Fall League, hitting .400 in 35 at-bats.
Corey Brock is a reporter for MLB.com. Keep track of @FollowThePadres on Twitter. This story was not subject to the approval of Major League Baseball or its clubs.