Inbox: Who will Mariners' biggest surprise be in 2015?
Beat reporter Greg Johns fields questions from Seattle fans this offseason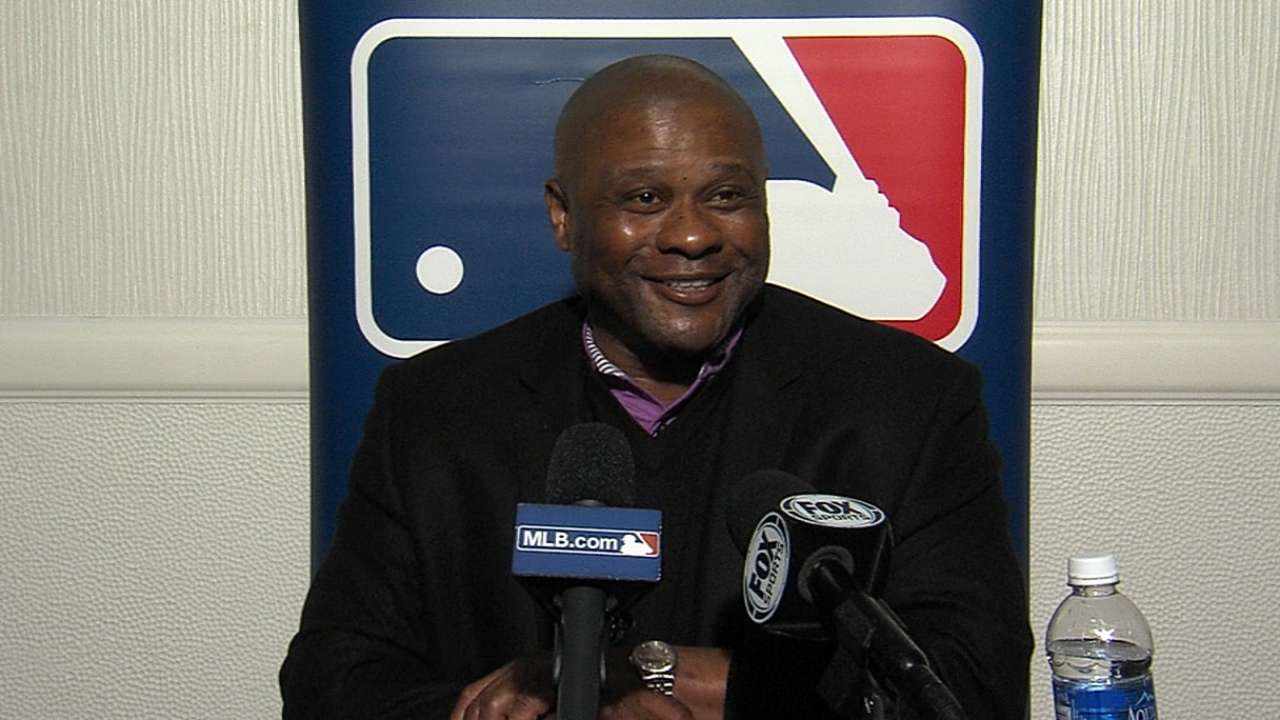 Here's the latest in our Reader Inbox series. You can click here to submit a question of your own.
It seems like every season there is a player or two that really surprise everyone. Who do you think might do that next year for the Mariners?
-- Henry L., Lewiston, Idaho
I expect center fielder Austin Jackson to be a much better offensive player than he showed in the final two months of this past season after being acquired from the Tigers. He could be a much-needed catalyst and pleasant surprise at the top of the lineup now that he'll have time to settle in from the start. Among the youngsters, you just never know. Nobody even knew who Roenis Elias was at this time last year. So I'm looking forward to seeing what young guys like D.J. Peterson, Patrick Kivlehan and John Hicks look like in camp, even if they seem like long shots to make the Opening Day roster as we speak.
With Melky Cabrera no longer available, which route are the Mariners most likely to take with regards to adding a right fielder?
-- Alex C., Seattle
With the limited free-agent outfielders left, it appears increasingly likely they'll make a trade or two to add some experienced platoon-type hitters who can give manager Lloyd McClendon some lineup balance and options. I wouldn't write off James Jones and Stefen Romero in that mix yet either. We all tend to forget they were rookies in 2014 and will be better for their experience. But I do expect general manager Jack Zduriencik to add a veteran or two to that mix in the coming days, even if it's not a blockbuster Justin Upton-type deal.
Zduriencik always seems to bring in a few interesting veteran pitching candidates on non-roster invites to Spring Training. Any candidates like that this year, or are there no roster spots open for that kind of competition?
-- Walt W., Bellevue, Wash.
You never really do know how things are going to work out with pitchers staying healthy in spring, which is how Elias -- a non-roster invite on a Minor League deal -- came out of nowhere in March to win a job in the Mariners' rotation. And Chris Young signed a few days before the regular season and wound up being American League Comeback Player of the Year.
The Mariners haven't announced their non-roster signings yet this offseason, but veteran right-hander Justin Germano has agreed to a deal, and I heard at the Winter Meetings there was interest in bringing back former Mariners reliever Mark Lowe, who spent most of 2014 in Triple-A with the Indians. More names will be added as Spring Training nears.
Is payroll becoming a factor in why the Mariners haven't made a major trade? If they are nervous of losing an Upton or Ian Desmond to free agency next year, is there a way to work out a contract extension before the trade is completed? Or at least have a conversation with the player to see if he would be interested in signing long term?
-- Randall C., Bremerton, Wash.
It's safe to say payroll and contract length are factors in any trade or free-agent signing for any club, not just Seattle. Every team wants as much payroll and roster flexibility as possible, and you can find lots of examples of clubs that signed a bunch of long-term veterans and then struggled mightily to get out from under them later. As for contract extensions, you have to look at it from the players' perspective. Players who are going to hit free agency in a year are almost never willing to forgo that right with their current club, let alone a team they've never been on. It's a lot better to be able to seek bids from 30 teams than be limited to one.
What's up with Franklin Gutierrez? Is he still a Mariner after taking the year off? Are the Mariners interested in him?
-- Elaine M., Puyallup, Wash.
Gutierrez is now a free agent after spending 2014 on the restricted list while sitting out the season to deal with his health issues. The Mariners expressed some interest in bringing him back on a Minor League deal, but they were waiting to see how he did in the Venezuelan Winter League. Gutierrez played his first three games last week for Leones del Caracas, and is taking things slow with his comeback attempt. He homered in his first at-bat, but finished 1-for-9 with a walk in the three games. He was not in the lineup Tuesday night in Venezuela, but is expected to play some later this week.
I like the idea of a trade with the Dodgers for one of their outfielders, but why is nobody talking about Joc Pederson? He's younger, ready for the Majors, and the Mariners could probably just trade one position player prospect for him.
-- Luke K., Ephrata, Wash.
It's pretty simple. The Dodgers like Pederson for the same reasons you do. He's one of their top prospects, he's 22 and is earning the MLB minimum of $500,000 and under team control for six more years. They don't want to give up Pederson. They wanted to unload Matt Kemp and his $107 million contract and still would gladly move Andre Ethier, who is owed $57 million over the next three years and has no starting spot available. The Dodgers have no incentive to get rid of Pederson.
With all the outfield talk, where do you see Dustin Ackley fitting in? Left field? Trade? Bench?
-- Brian M., Courtenay, British Columbia
McClendon plans to keep Ackley in left field and let him continue to grow. He needs to put together a consistent season from start to finish to be the player the Mariners expect, but if he plays as well as he did in the second half the last two years, he'll be the starting left fielder.
Do you think the bullpen will see any change from last year?
-- Siriam, Chennai, India
Seattle's biggest challenge will be deciding who fits into a seven-man bullpen from among the nine current returners, plus Rule 5 Draft pickup David Rollins. I don't see the club adding anyone else to a group that had the lowest ERA in baseball, other than possibly bringing back free agent Joe Beimel. Last year's midseason arrival of Brandon Maurer and the September callup of Carson Smith created a nice surplus of power right-handers, along with closer Fernando Rodney, Danny Farquhar, Tom Wilhelmsen, Yoervis Medina and Dominic Leone. Toss in lefty Charlie Furbush, along with Rollins and Lucas Luetge, and there's a definite surplus, which is why the Mariners could still part with a reliever in a trade.
Greg Johns is a reporter for MLB.com. Follow him on Twitter @GregJohnsMLB as well as his Mariners Musings blog. This story was not subject to the approval of Major League Baseball or its clubs.