MLB.com Columnist
Phil Rogers
Samardzija, Lester are right fits in Windy City
Pair of aces sure to add plenty of spice to City Series rivalry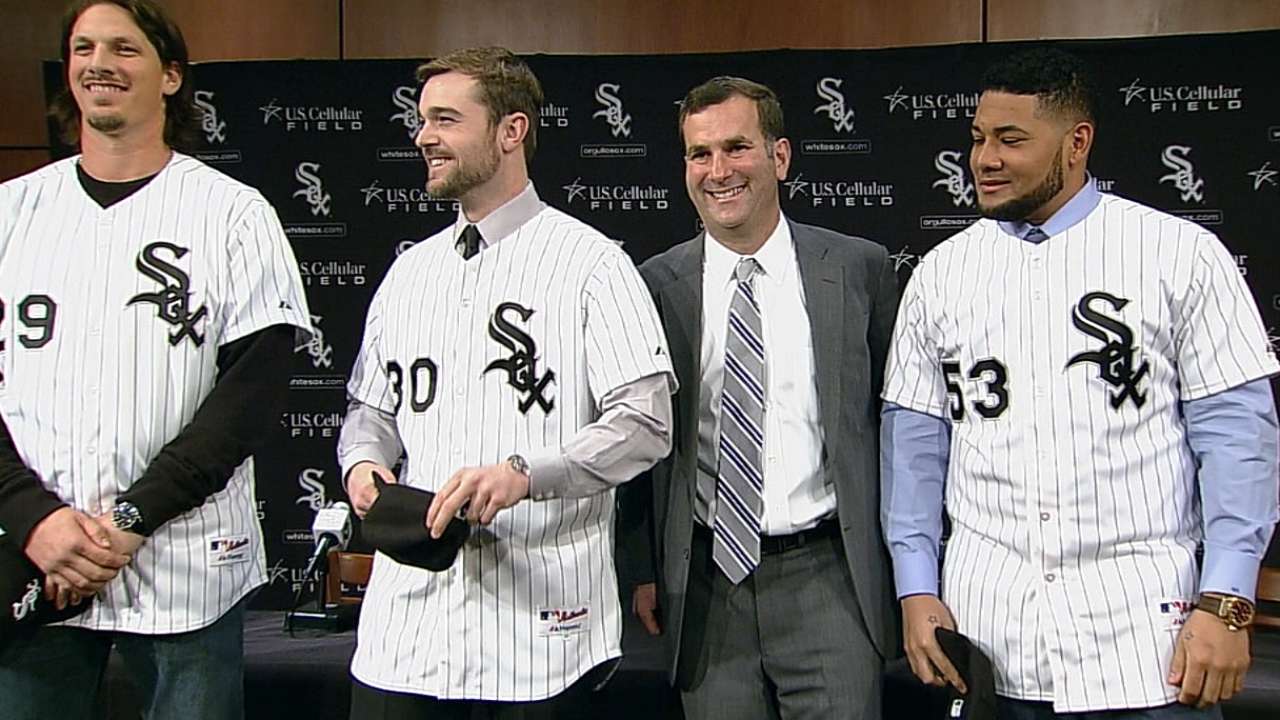 CHICAGO -- With apologies to the late Bob Wills and all Texans, this Hot Stove season has been a tale of the Chicago two step, with the White Sox and Cubs adding aces through a series of calculations and reactions that both teams believe could not have worked out better.
Not only did Jeff Samardzija jump from the A's to the White Sox, with Jon Lester being signed to replace him on the North Side, but the series of events that led them to Chicago bodes well for both teams.
Samardzija was formally introduced as Chris Sale's front-of-the-rotation partner with the White Sox on Tuesday at U.S. Cellular Field, a day after the Cubs hosted a welcome-to-town event for Lester at a tony Michigan Avenue restaurant. It was almost surreal to see Samardzija modeling a White Sox jersey so soon after the former Notre Dame wide receiver put together breakout performances for the Cubs and A's this past season. But it was clear he's thrilled to be on the South Side, with the team he followed since his parents dressed him up in Frank Thomas gear.
Lester called his move to the Cubs "the right fit at the right time.'' So it is with Samardzija and the White Sox, even if it was them who picked him, not the other way around.
At the moment, Samardzija still is on track to be part of next winter's deep group of free-agent pitchers. But the White Sox will attempt to sign him to a long-term contract in advance of an arbitration hearing in February and that effort will be different than any made by president of baseball operations Theo Epstein and the Cubs' front office.
Listening to Epstein talk about Lester on Monday, it was clear he had been targeted by the club for a long time -- most likely since last spring, when the Red Sox did not follow up on Lester's two wins over Adam Wainwright in the World Series with a contract offer that would have kept Lester out of free agency.
While Samardzija was two years away from free agency, Epstein did have talks with agents Mark Rodgers and Sam Samardzija Jr., Jeff's older brother, about an extension. But as the late-blooming right-hander continued to mow down opponents last season, reaching the All-Star break with a 2.78 ERA and ratio of 8.3 strikeouts per nine innings, the Cubs wouldn't match the deal that Homer Bailey signed with the Reds last February -- six years, $105 million.
The Cubs were playing with fire by leaving Samardzija unsigned, but Epstein and executive vice president/general manager Jed Hoyer knew they would need all available resources to land Lester, if they got a chance. Epstein held back a pool of about $25 million he could allocate to player acquisition costs, but a Samardzija signing would have depleted that, and who knows if the Cubs could have even kicked the tires on Lester, the guy they had in some ways grown up with in Boston, if they signed Samardzija?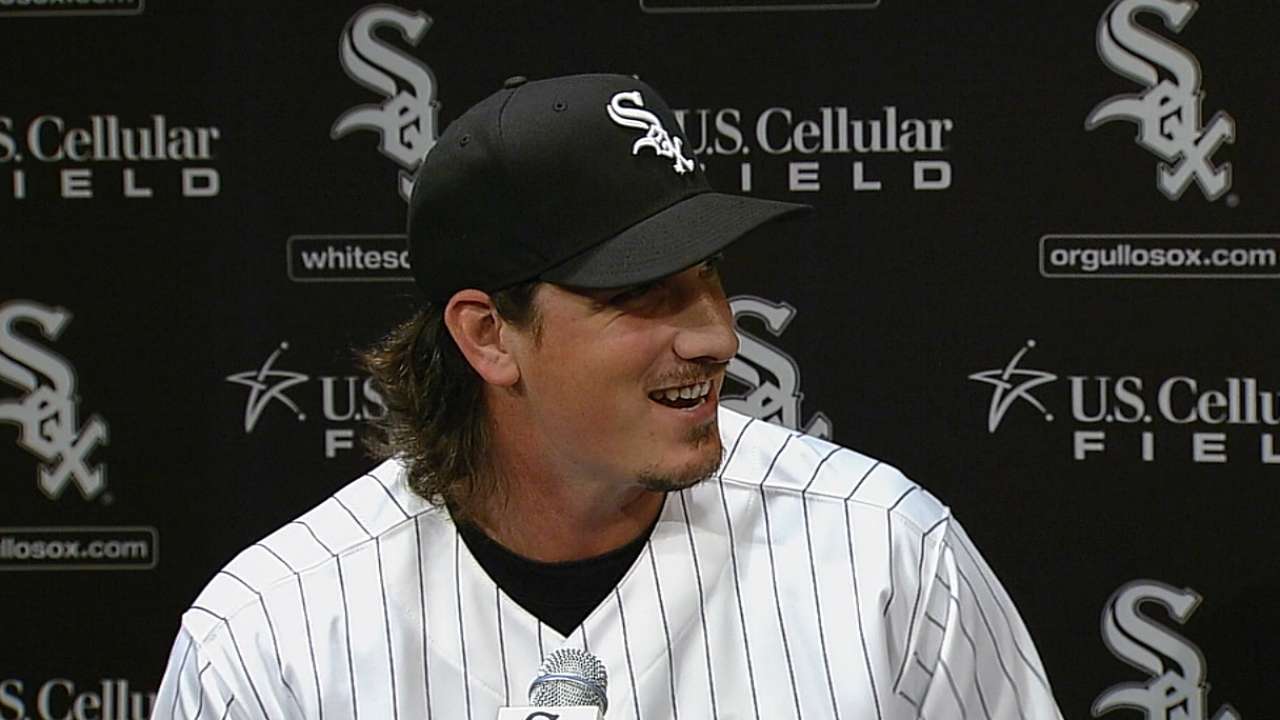 So Epstein decided to lay down his cards in hopes of getting Lester. He received a huge bonus when the A's were so anxious to add starting pitching last July that they dealt the Cubs their No. 1 prospect, shortstop Addison Russell, and another first-round Draft pick in outfielder Billy McKinney to get Samardzija and Jason Hammel (whom the Cubs have reacquired, signing him to a two-year, $20 million contract last week).
That deal went down on July 5. The Red Sox traded Lester to Oakland in a non-waiver Trade Deadline blockbuster on July 31.
Lester has said it would have been much more difficult to leave Boston had the Red Sox not traded him away before they tried to get him back. Epstein was asked if he felt that trade gave him a better shot at getting Lester, and answered that he didn't analyze it that deeply at the time "because we were too busy high-fiving each other'' because Lester -- as a player traded in the last year of his contract -- wouldn't cost the Cubs Draft-choice compensation.
White Sox general manager Rick Hahn wondered if the A's would keep Samardzija for 2015 when his salary could jump from $5.35 million to almost $10 million as a five-plus player. He had long admired him both for his talent and his South Side roots, especially taking note of the towering Samardzija in May 2013.
Samardzija had told reporters covering the Cubs how the City Series games against the White Sox were "the best games of the year, personally,'' and said he loved playing at U.S. Cellular, where he had sat in the upper deck as a kid, with his family driving over from their home in northwest Indiana. Then he mowed down the Sox with a two-hit shutout, after which he talked about what a great day it had been driving to the ballpark "through the smokestacks'' along Lake Michigan from his family's home.
Carl Sandburg couldn't have said it better.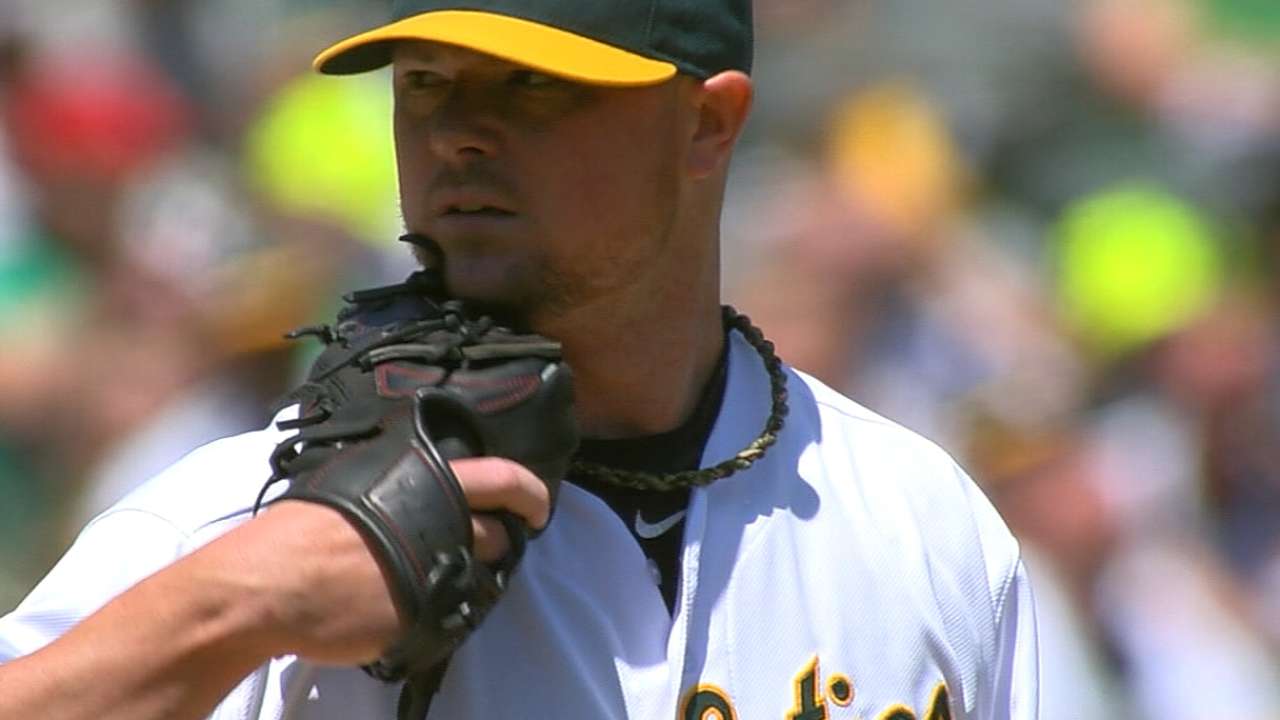 Hahn knew he wasn't going to be able to get Samardzija directly from the Cubs. The politics were too tricky with a cross-town deal. But he quickly let the Oakland front office know of his interest, and, lo and behold, now Samardzija is lined up to start on April 8 in Kansas City, two days after Sale gets the opener.
Samardzija is nowhere near as proven as Lester or even Sale. He had bad timing with the Cubs, moving into the rotation just as Epstein began his patient rebuild, and has only a 26-42 record to show for compiling a 3.86 ERA in 99 career starts. But because Samardzija was 26 before he threw even 35 innings in a Major League season, he's got a low-mileage arm and, seemingly, a long future.
Samardzija is a little too young to have watched LaMarr Hoyt, who won an American League Cy Young Award and almost got the White Sox to the World Series in 1983, but he's got the potential to be that type of impact guy if he stays on the South Side long term. Samardzija is more of an innings guy than Sale at this point in their careers, averaging 216 2/3 innings the last two years, and was never happier with the Cubs than the night of May 5 last season.
Manager Rick Renteria let Samardzija go nine innings in hope of earning his first win of the season. His pitch count climbed to 126. He was a pitcher in full. But the next day Renteria told reporters that he may have made a mistake by extending Samardzija that much, and he was lifted after 69 pitches -- and six shutout innings -- in his next start.
Samardzija was being treated like an asset, not a competitor, and he hated it.
You can bet the White Sox will love it when he goes to the mound with his hair on fire. They've historically done a good job protecting their pitchers too, but manager Robin Ventura isn't afraid to give a starter the reins and let him run.
Samardzija connects with White Sox fans and that's no small thing for the franchise, which saw attendance fall last season even as Jose Abreu won the AL Rookie of the Year Award and led a 10-game improvement in the standings. Hahn said the response of fans since the Samardzija trade and David Robertson signing is one of the reasons that chairman Jerry Reinsdorf signed off on adding Melky Cabrera to the mix.
Nothing is set in stone beyond 2015, but it's easy to see Samardzija on the South Side as long as Lester will be on the North Side. Wouldn't it be great to see them go head to head, representing their new teams?
"Do we play them this year?'' Samardzija asked about the Cubs.
He was kidding. Samardzija will be stoked for the return to Wrigley Field in July. The only way it can be better for Chicago fans is if it turns into an annual experience.
Phil Rogers is a columnist for MLB.com. This story was not subject to the approval of Major League Baseball or its clubs.