Butler, Gray ready for mulligan in 2015
Rockies pitching prospects look to shrug off injury-riddled '14 campaign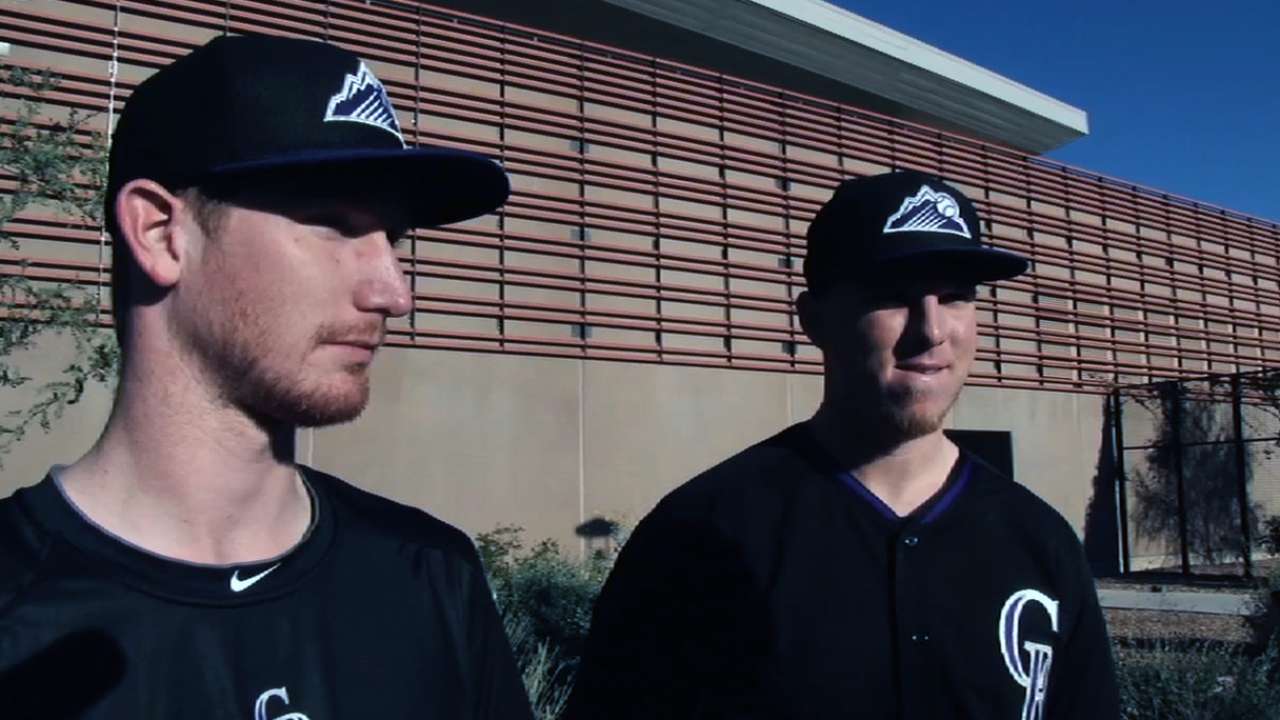 SAN DIEGO -- Rockies right-handed pitching prospects Eddie Butler and Jon Gray plan to make the most of their second chances to make a big splash.
Butler, a supplemental first-round pick in the 2012 First-Year Player Draft, and Gray, the third overall pick in 2013, attended Major League camp for the first time in 2014, and they were expected to be contributors by season's end. Both, however, saw their potential impact washed away because of throwing shoulder injuries -- Butler's after his Major League debut, Gray's at the end of the Double-A season. On the bright side, neither injury was serious enough to require surgery.
The immediate concern for Colorado this offseason is finding pitchers, through trades or free agency, to fill out the 2015 starting rotation. But whether Butler and Gray break out next season or later, the Rockies' pitching future depends in large part on when and whether the two righties -- both 23 -- can develop and stay healthy.
"I want to show the front office, the coaching staff, the trainers and my teammates that I'm ready to go," Butler said. "If they send me down at the end of camp, I'm going to fight to get back. I got a taste of the Majors last year. That's where I want to be."
Added Gray, "Last year, I kind of had the mindset of getting used to what it would be like to be in big league camp. Now I'm going there for a job. I don't want to be counted out."
Butler was selected out of Radford in 2012, and he racked up 143 strikeouts in '13. Gray, from the University of Oklahoma, just finished his first full pro season. However, the Rockies, thin in the starting-pitching department, had hopes both would help the Major League club before the season was done.
Butler was thought to be a little closer because of his extra year of pro experience. He looked electric at times in brief Spring Training appearances, but almost as soon as he began the year at Tulsa, his sinker lost effectiveness. Butler pitched well enough, and the Rockies were injured enough, that he was given his big league debut on June 6 against the Dodgers. He gave up 10 hits in 5 1/3 innings, struck out two and took the loss. When Butler had trouble loosening the arm in the ensuing days, Colorado placed him on the disabled list.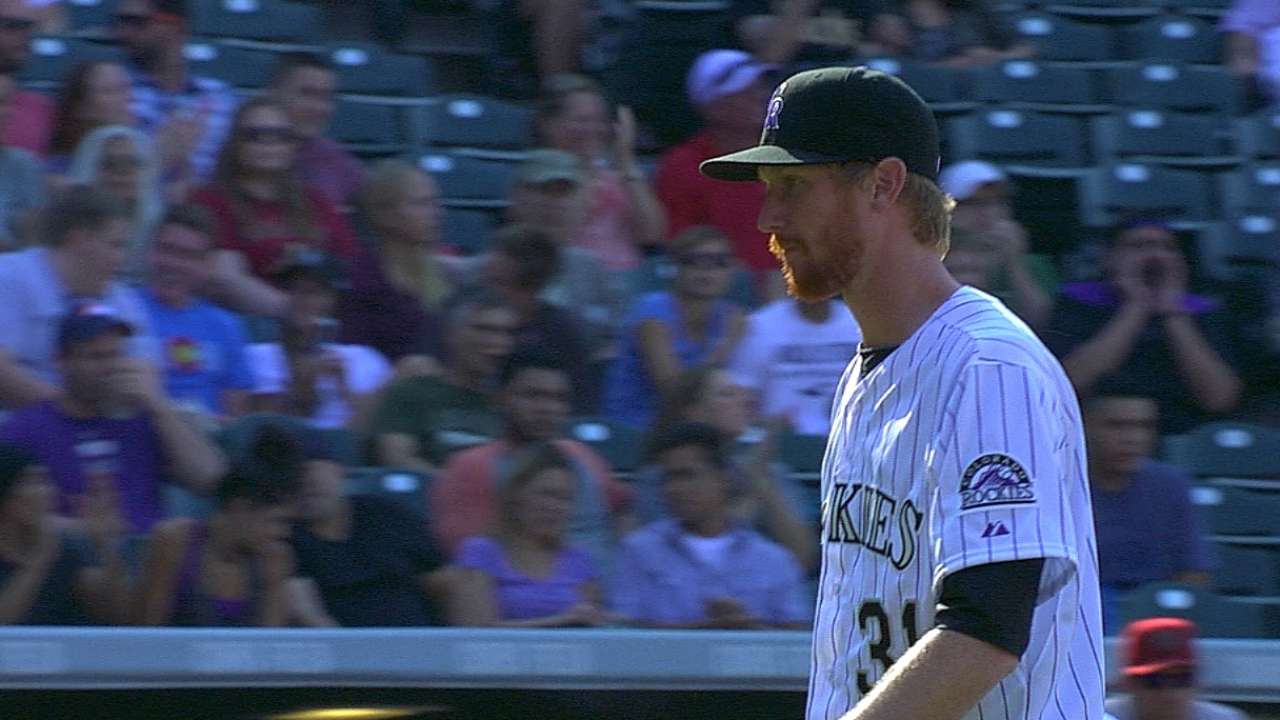 Butler worked his way back through the Minors, with mixed results. He made two more starts for the big club -- a home win over the D-backs on Sept. 20, when he gave up one run on five hits in six innings, and a poor performance against the Dodgers seven days later that saw him yield eight hits and five runs in 4 1/3 innings. Butler's shoulder was sore after the final start, so the Rockies lifted him from his Arizona Fall League assignment.
Butler has spent much of the offseason working out at Colorado's training center in Scottsdale, Ariz. Being with the team's training and conditioning staffs has allowed him to continue some of the exercises he learned while rehabbing during the season. Butler recently began throwing, and he expects to be fine for Spring Training.
"I got hurt the first time, then I rehabbed so hard to get up to the big leagues that I ended up breaking down at the end of the season -- but the second time was just fatigue-caused," Butler said. "I was so worn out. Now I feel like I'm on the right track."
Butler believes leg strength is key to helping him maintain health. Listed at 6-foot-2 and 180 pounds going into 2014, Butler at times dipped into the 170s. Now he is around 190, with hopes that the added leg muscle will make it easier for him to repeat a proper delivery and keep his arm healthy.
"You have to build up your legs if you want to have a good pace, and I can tell that it's happening," Butler said. "Now my thighs touch each other. That's never happened. So I'm definitely a little bigger and stronger."
Size was no problem for Gray, listed at 6-foot-4, 235 pounds, but pitching every five days -- rather than once a week in college -- was new to him. Gray functioned well, going 10-5 with a 3.91 ERA and 113 strikeouts in 124 1/3 innings, 24 starts -- but the workload was physically taxing.
"It was kind of a weird deal. Sometimes I could really feel it and had good velocity, and some days I didn't feel it at all," Gray said. "It was all because of problems with my biceps tendon, because my posture affected the way it had formed."
To help prepare for 2015, Gray has consulted often with strength and conditioning coaches at Oklahoma, and he modified his program. The Rockies also are staying in close contact, and pitching coach Steve Foster may spend time with him.
"It's about not doing many exercises with my arm raised above my head, and working to develop better muscle posture," said Gray, who plans to begin throwing next week and wants to arrive in Scottsdale three weeks early to work with the Rockies' staff.
General manager Jeff Bridich said the struggles of 2014 could be good for both pitchers -- as well as 2011 No. 1 pick lefty Tyler Anderson and righty Chad Bettis, who struggled as a reliever last season but will be given a chance to earn a rotation job.
"If they're able to apply those lessons, stay true to those and stay focused, certainly talent-wise, they should be able to press for starting roles," Bridich said.
Thomas Harding is a reporter for MLB.com. Read his blog, Hardball in the Rockies, follow him on Twitter @harding_at_mlb and like his Facebook page, Thomas Harding and Friends at www.Rockies.com. This story was not subject to the approval of Major League Baseball or its clubs.