Inbox: Who will comprise back end of A's rotation?
Beat reporter Jane Lee fields questions from Oakland fans this offseason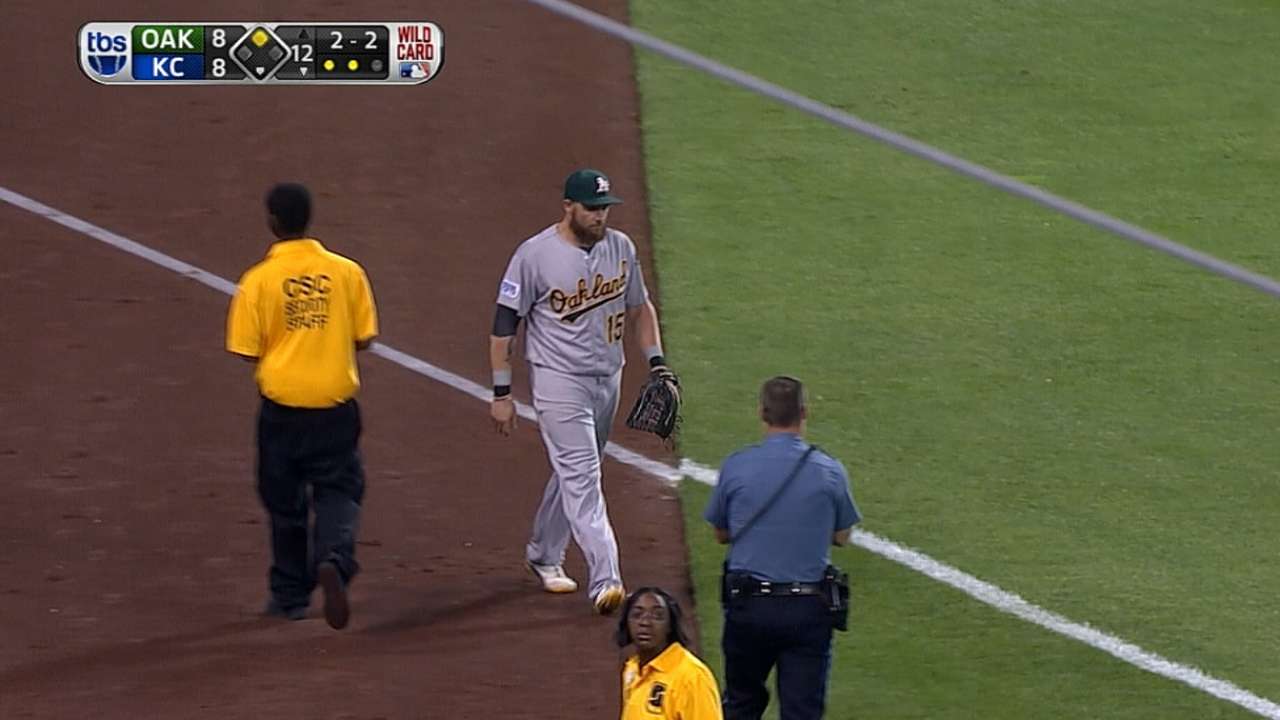 What will the rotation look like in 2015? Out of Chris Bassitt, Sean Nolin and Kendall Graveman, who has the best chance to be in the mix on Opening Day?
-- Chris H., Orinda, Calif.
It's hard to say, since Sonny Gray and Scott Kazmir are seemingly the only two we can consider as certainties at this point. It's very likely that Jesse Chavez and Drew Pomeranz slot in behind them, which would leave one of Bassitt, Nolin, Graveman and Arnold Leon to be the No. 5 starter. But it very much seems like the A's will go into Spring Training open to every possibility, so look for each of the aforementioned to be given an opportunity to make the rotation. The A's typically don't like to make roster decisions purely based on spring performance, but it seems they'll have to do just that next year, given the unfamiliarity that comes with so many new faces.
Every starter not named Gray or Kazmir is a long-relief option, too, so I'd expect nearly all of these guys to be on the Opening Day roster in some capacity. And, by year's end, it wouldn't be a surprise if each will have made at least one start for the big league club.
Could the A's be in the running for a big-name bullpen guy like Rafael Soriano or Sergio Romo?
-- @MoneyballWorks
Despite losing Luke Gregerson to free agency, the A's are still sitting pretty with a strong relief corps. Led by closer Sean Doolittle, their bullpen is also home to Eric O'Flaherty, Ryan Cook, Dan Otero and Fernando Abad. All four are significant setup pieces. That leaves two open slots, one of which I'd think goes to Fernando Rodriguez, who was tendered a contract despite being out of options, signaling a belief in the A's system that he's going to be a key contributor next year. The final bullpen job will be left open for a long-relief arm. That being said, I can't see the A's opening their checkbook for any of the big relief names trolling the free-agent market, when there are clearly other positions in need of an upgrade.
Click here to submit an Inbox question
What are the chances of Adam Rosales coming back to the A's for a utility spot?
-- Janine S., Santa Cruz, Calif.
Slim, considering the rate at which the A's have been collecting middle infielders in recent weeks -- all of which are young and under club control for several years. Rosales, while well-liked among Oakland's front office, doesn't fit this mold, and he's likely destined for a return with the Rangers, anyway. Texas designated him for assignment this month but is reportedly considering re-signing him as a bench option.
The A's already have Eric Sogard and Nick Punto set to platoon at second base, with Joe Wendle waiting in the wings in the Minors, and they are very excited about Marcus Semien, whom they project as their everyday shortstop next year.
Is Stephen Vogt the everyday left fielder, or will Sam Fuld get a lot of at-bats in left field?
-- Patrick P., Komorow, Poland
Vogt will be back behind the plate to platoon with Derek Norris, but the A's still have plenty of left-field options. They're clearly very high on Rule 5 Draft selection Mark Canha, acquired from the Rockies last week. Not only did they give up a valuable prospect in right-hander Austin House just to obtain Canha's Rule 5 rights, but they did so knowing they have to keep Canha on their active roster all season or offer him back to his original team, the Marlins. Canha could ultimately end up seeing the bulk of playing time in left field should he impress in spring, or platoon there with Fuld, while Craig Gentry gets more time in center and right. Should the A's opt not to keep Canha, Fuld and Gentry would likely assume a platoon there.
Seriously, who's on first?
-- Nancy M., Walnut Creek, Calif.
The A's decision to trade Brandon Moss was largely influenced by their acquisitions of Billy Butler and Ike Davis, so expect those two to share the position. Canha is also a first-base option.
Jane Lee is a reporter for MLB.com. This story was not subject to the approval of Major League Baseball or its clubs.