Left elbow surgery to sideline McGee for start of 2015
Balfour, Boxberger and Jepsen likely candidates for temporary closing role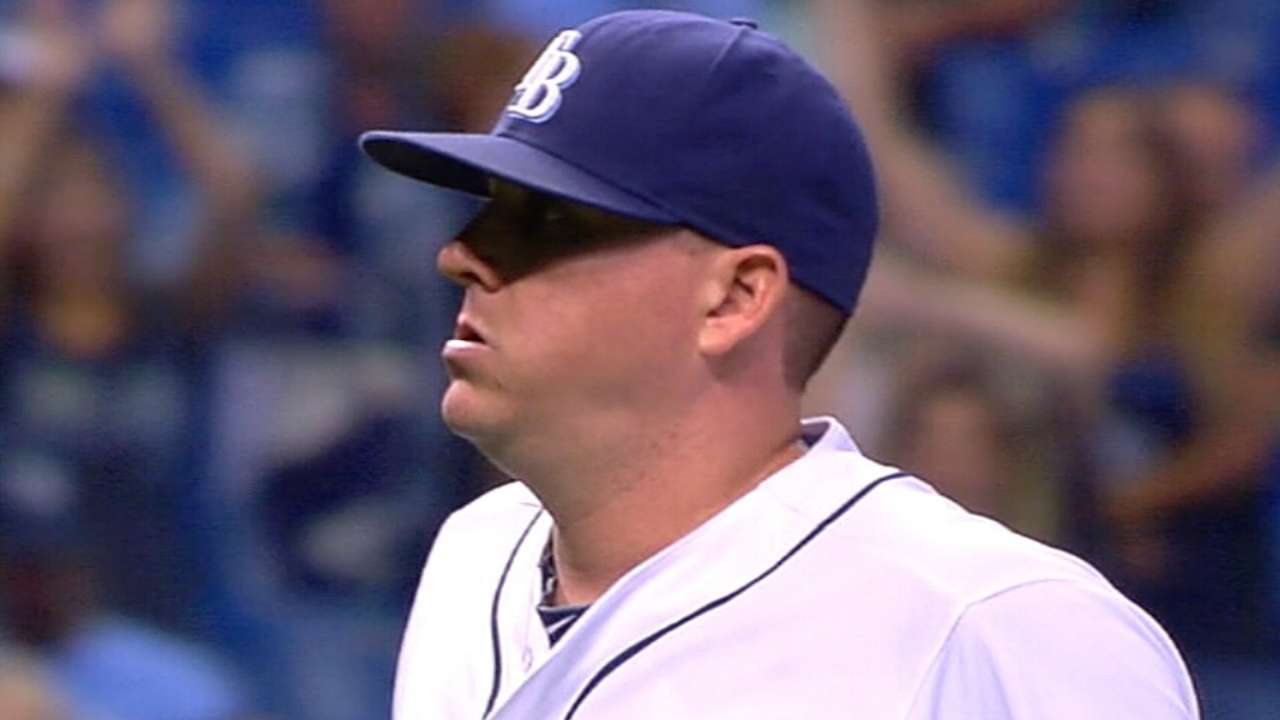 ST. PETERSBURG -- The Rays have been dealt their first major blow of the 2015 season: Jake McGee will begin the campaign on the disabled list.
Tampa Bay announced on Tuesday that McGee had arthroscopic surgery on his left elbow on Friday to remove a loose body. McGee said he is doing fine and a full recovery is expected.
"A few weeks ago, I started working out and it was bothering me a little bit," McGee said. "Then it started bothering me again. It just hurt a little bit and swelled up a little bit on the back. I had an MRI to check it out. There was a big loose body behind the elbow that got in a bad spot."
McGee had Tommy John surgery on his left elbow in 2008. He said this surgery "is not even close to any of that."
"Because everything in there is structurally really good," McGee said. "They checked everything out and took out the bone chip. That made me feel really good about it.
"Everything is really good. I just have to build up the tissue around it and it's good to go."
The Rays have said a thorough timetable for McGee's return will become available during Spring Training. However, the southpaw did have some ideas about his return, particularly after witnessing former Tampa Bay starter Jeremy Hellickson go through the same surgery prior to last season.
Hellickson had surgery to remove loose bodies in January, and he made his first start on July 8.
"I kind of have my own timetable in my mind," McGee said. "I had my surgery a month earlier than him, and it's going to take a month less to get ready, because I don't have to stretch out like a starter does. End of April, early May more than likely."
McGee has not talked to Hellickson, but he will have head athletic trainer Ron Porterfield monitoring his progress.
"It's good to have Ron here," McGee said. "He treated Helly for the same thing last year. So it's still fresh with him."
Not having McGee for even a brief portion of the 2015 season will shift the roles in Tampa Bay's bullpen, since the lefty spent the final 3 1/2 months of the '14 season as the team's closer.
Candidates to step into the closer role will likely include Grant Balfour (who began 2014 as the team's closer), Brad Boxberger and newcomer Kevin Jepsen, whom the Rays acquired Tuesday.
McGee recorded one of the best seasons ever by a Tampa Bay reliever in 2014, going 5-2 with a 1.89 ERA and 19 saves in 73 appearances. Those numbers led the Rays' bullpen and set career highs for McGee in saves, ERA, appearances and innings.
Bill Chastain is a reporter for MLB.com. This story was not subject to the approval of Major League Baseball or its clubs.