Rays land Jepsen from Angels for Joyce
Veteran right-handed reliever reached several career highs in 2014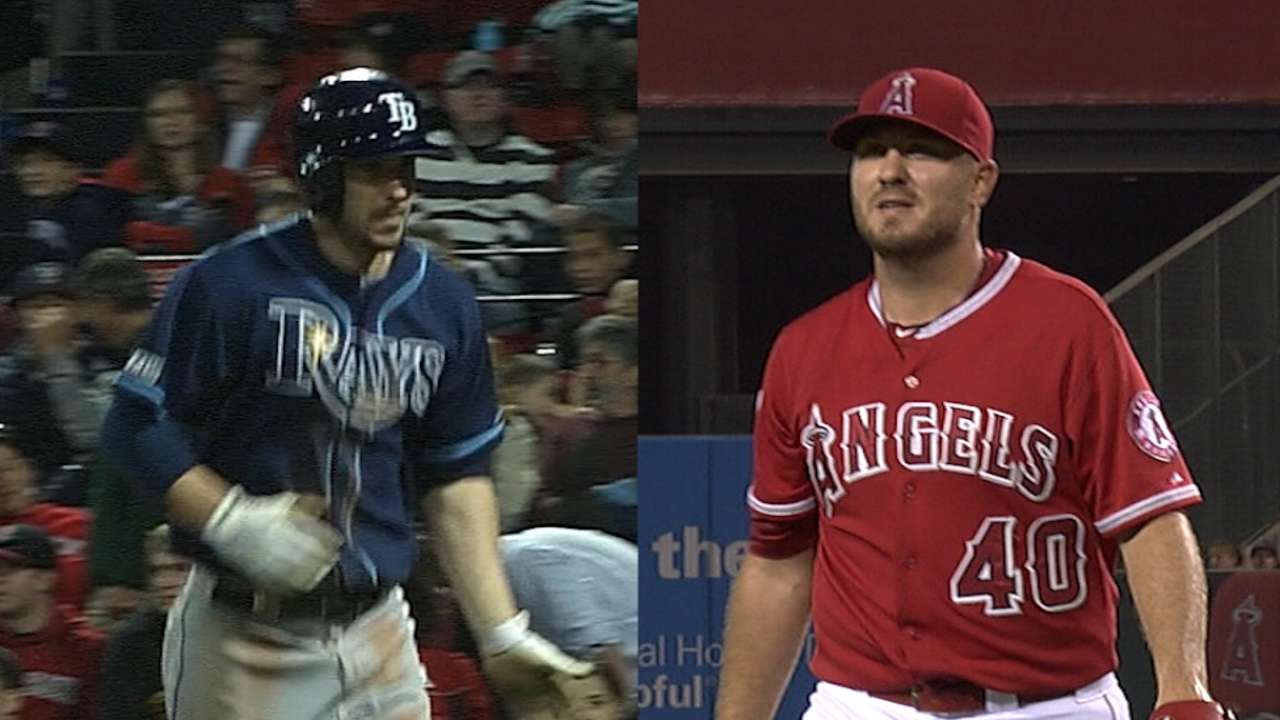 ST. PETERSBURG -- The Rays bolstered their bullpen Tuesday by trading from a position of strength, sending outfielder Matt Joyce to the Angels in exchange for right-hander Kevin Jepsen.
"Matt was an important part of this team for the last six seasons," said Erik Neander, the Rays' vice president of baseball operations. "We appreciate his many contributions to the Rays on the field and the professionalism he brought to the ballpark. We're excited about the experience Kevin brings to the bullpen and his ability to pitch in key moments of the game."
Tuesday's trade made sense for Tampa Bay on two fronts. The team had a crowded outfield at the end of this past season with Joyce, Desmond Jennings, David DeJesus, Kevin Kiermaier, Brandon Guyer and Wil Myers. Of that group, Joyce and DeJesus earn the most money.
Joyce is arbitration-eligible after making $3.7 million in 2014, and DeJesus will make $5 million in 2015.
In addition, the Rays will not have closer Jake McGee at the beginning of next season. The team announced Tuesday that McGee underwent arthroscopic surgery Friday to remove a loose body from his left elbow. The acquisition of Jepsen will help shore up the bullen in McGee's absence.
"Love the high-leveraged situations," Jepsen said. "I feel like that if you're a bullpen guy and if you're not pushing to put yourself in the back end of the bullpen, whether it's the seventh, eighth, ninth inning, then I feel like you don't want it that bad.
"I feel like every single guy in the bullpen ultimately wants to be a closer at some point. Whether or not you ever get that chance or if it ever fills in that way, that's just kind of how the game works out. But everybody I think in the bullpen should want that."
Jepsen said he grew up in Sparks, Nev., near where McGee grew up in Reno, noting they threw together coming up in high school, and in the offseason.
"So I'm bummed to hear about Jake's surgery and glad to hear it's nothing too major," Jepsen said. "He'll be back. Jake's one of those pitchers you can't replace. So bummed he's going to miss the beginning, but glad I'll be able to play with him on the same team for the first time."
Jepsen, 30, had a career-best 2.63 ERA for the Angels in 2014, establishing a career high in appearances with 74, which ranked fourth in the American League. He also established career highs in innings pitched (65) and strikeouts (75), numbers he attributed to some "behind the scenes stuff."
"Last year was kind of the first year I worked with some of our advance scouting and actually took more time putting a game plan together as far as how to pitch," Jepsen said. "If you've done all your homework, it kind of allows you to slow the game down."
Sixty-five of Jepsen's appearances were scoreless, which ranked third among Major League relievers and second in the AL behind teammate Joe Smith (67). Opponents hit just .192 against Jepsen, and right-handed batters hit only .167.
Jepsen allowed a career-high five runs on Opening Day, then pitched to a 1.96 ERA through the end of the regular season, including two separate scoreless streaks, each spanning 19 appearances.
Over seven Major League seasons, all with the Angels, Jepsen is 13-18 with a 3.94 ERA and 271 strikeouts in 315 appearances.
Joyce, 30, hit .254 with nine home runs and 52 RBIs in 140 games for Tampa Bay in 2014. He led the team and ranked eighth in the AL with a .365 on-base percentage against right-handed pitching, and all but one of his starts came against right-handed starters.
The Rays acquired Joyce from the Tigers prior to the 2009 season. While with Tampa Bay, Joyce hit .250 with 76 home runs, 280 RBIs and a .342 on-base percentage. Over seven Major League seasons, he has hit .250 with 88 home runs and 313 RBIs.
Joyce was not surprised by the trade.
"Yeah, I think that's fair to say, obviously, realizing that the game's a business," Joyce said on an Angels conference call. "Looking around, and looking at the Rays organization and how deep they were in the outfield, they had some young talented guys. Knowing the Rays organization, playing for them for six years, I would definitely say that I was anticipating something, whether it was from me or someone else, because obviously, you're probably not going to go into a season with six Major League outfielders."
Jepsen was born in Anaheim and will be leaving for the Tampa, Fla., area, while Joyce was born in Tampa and is headed to Anaheim.
Bill Chastain is a reporter for MLB.com. This story was not subject to the approval of Major League Baseball or its clubs.