New shortstop Lowrie re-introduces himself to Houston
Key addition happy to be back with Astros, optimistic for 2015 season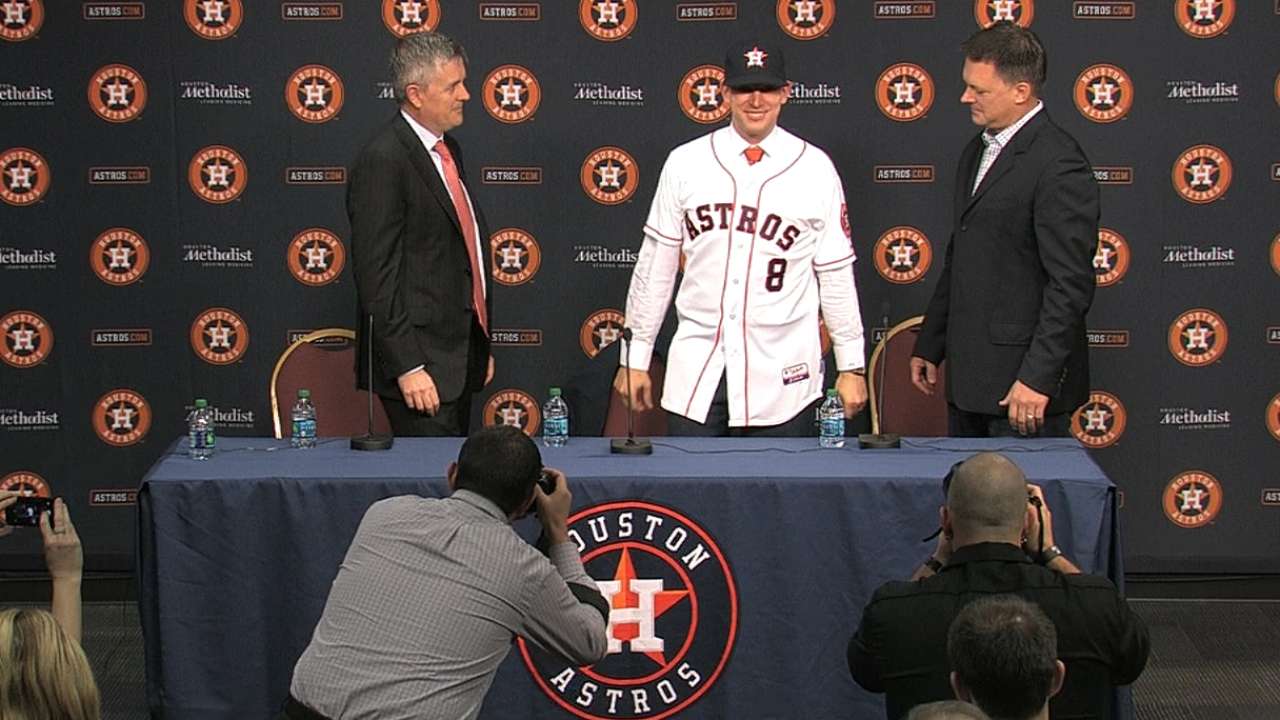 HOUSTON -- Jed Lowrie felt wanted in Houston. And the Astros definitely believe that the switch-hitting shortstop can improve the team in 2015 with his hitting, fielding and leadership.
Houston made pursuing a top-notch shortstop one of its priorities this offseason, and it landed the player it was targeting.
"It was consistent from the get-go," Lowrie said. "When you have a team that is as engaged as the Astros were from the beginning, it makes a big difference. Not only are they willing to invest in you monetarily, but they got a desire to have you be a part of the organization. And that's not always the case in free agency."
On Tuesday, the newest Astro addressed the hometown media after the club agreed to terms with the free agent on a three-year deal. The contract runs through 2017, with Lowrie making $23 million over the three years, and he could make $28 million with a club option for '18.
"It was one of the contributing factors in making the decision," the 30-year-old Lowrie said. "Knowing that this team had pursued you from the beginning and aggressively. Being wanted and knowing where you stand with the organization is a good feeling."
To create room on the 40-man roster, the Astros announced that infielder Gregorio Petit has been designated for assignment.
This will be Lowrie's second go-round with Houston. In 97 games with the club in 2012, he hit a career-high 16 home runs. His .980 fielding percentage that season was tops among National League shortstops. Lowrie's presence makes first-year Astros manager A.J. Hinch's lineup more imposing.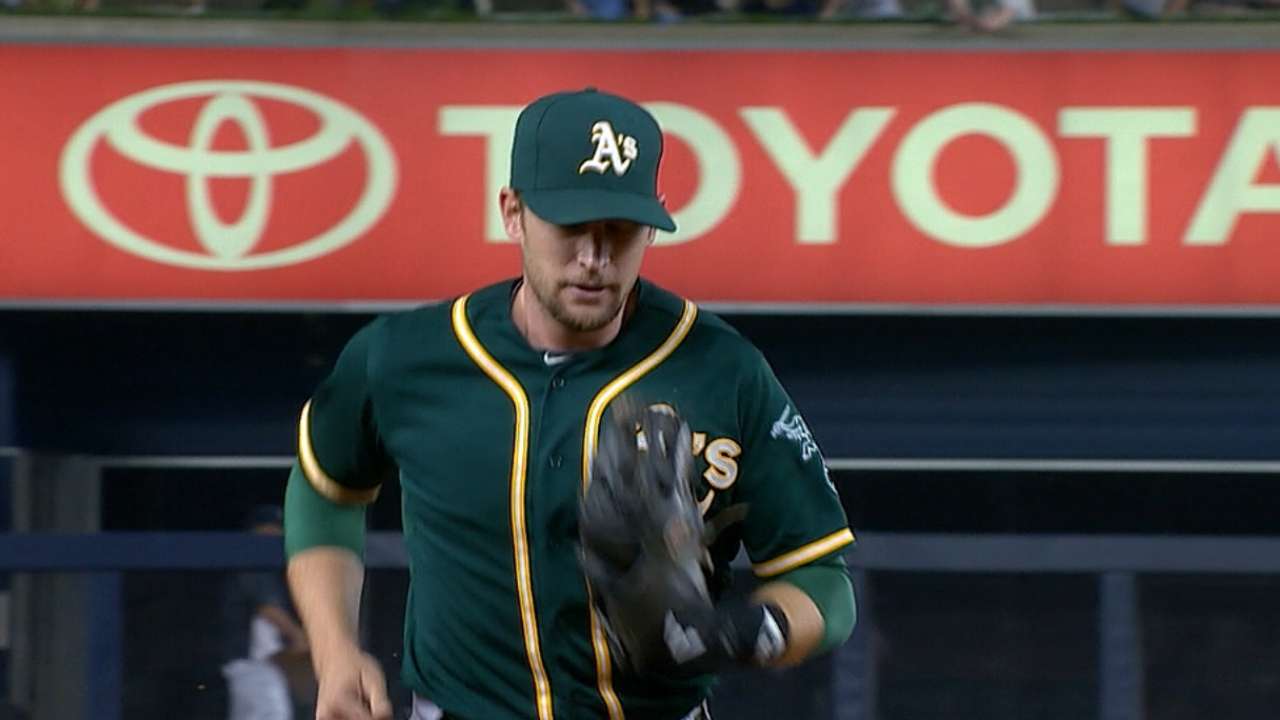 "We expect that type of production," said Astros general manager Jeff Luhnow. "A guy that can hit anywhere. Near the top of the lineup or middle of the lineup, who's going to be able to get on base, drive runs in, and hit the ball out of the ballpark. A switch-hitting guy who plays a premium position defensively. That's exactly what we needed.
"We had our list put together as soon as the season ended and Jed was near the top of that list, and [we] expressed our interest until we got the deal done."
Lowrie was part of Luhnow's first trade as Houston general manager. On Feb. 4, 2013, Lowrie was dealt to Oakland along with right-hander Fernando Rodriguez for right-hander Brad Peacock, outfielder/first baseman Chris Carter and catcher Max Stassi. All three are still with Houston.
"I felt I left a little unfinished business," said Lowrie, who resides in Houston in the offseason. "I'm happy to be back and it's an exciting time to be an Astro."
The Astros have been busy of late in improving the team. Last week, they signed free-agent relievers Luke Gregerson (three years, $18.5 million) and Pat Neshek (two years, $12.5 million with an option).
"There's been improvement since I've joined the organization," Hinch said. "That's refreshing for a manager.
"There's a lot of comfort in knowing that Jed's here. He's a real pro, he's committed to winning. He'll help our team, he'll help our players. He's entering a phase in his career where he can be a leader."
Lowrie likes the direction the Astros are going.
"Look at the young talent that has been acquired, and now the willingness to go out and invest in some veteran players to add to that young talent," Lowrie said. "That's how you sustain success in this game and this is a great place to play.
"[Minute Maid Park] is beautiful. We have a great fan base with a ton of potential. Once we start winning, it will be one of the best environments in the game."
Lowrie spent the past two years with Oakland. His best season came in 2013 with the A's, hitting .290 in a career-high 154 games with 80 runs, 45 doubles, 15 home runs and 75 RBIs.
"It's another step in the right direction to have a deeper lineup; to have his switch-hitting bat somewhere in there is an improvement for us," Hinch said. "His steadiness and how he prepares, his professionalism, what he's done to get to free agency to this point earned him this opportunity. He's a real class guy that will bring a nice presence to our team on both sides of the ball."
Hinch wouldn't say for certain where he envisions Lowrie hitting in the batting order, only to say that Lowrie is the starting shortstop.
"I can see him going in a couple of different areas," Hinch said. "He is a versatile offensive player. There are multiple spots to slot him in and play him every day. I'll sit down with our coaches to see where that fits in the best.
"Whether it's relying on run scoring at the top or maybe more RBI opportunities at the six-, seven-hole. He'll be in there every day. He's going to be a regular for us. We'll find the right spot for him."
Last season, the Astros had a mix at shortstop that included Jonathan Villar, Marwin Gonzalez and Petit while awaiting the arrival of Carlos Correa, the top overall pick in the 2012 First-Year Player Draft and the organization's top prospect. Houston shortstops combined to hit .258 with 14 home runs, 54 RBIs and a .302 on-base percentage in '14.
Richard Dean is a contributor to MLB.com. This story was not subject to the approval of Major League Baseball or its clubs.