Huntington, Hurdle: Alvarez is option No. 1 at first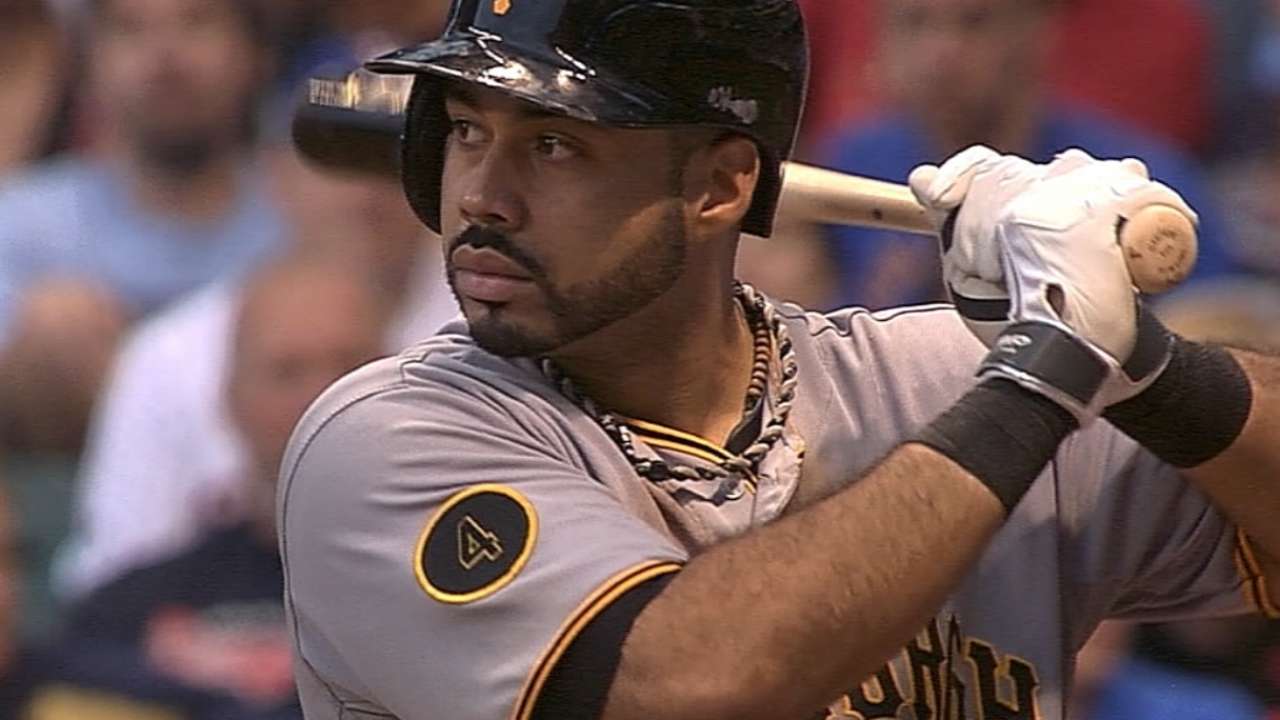 NEW YORK -- Two developments on Monday brought a little more clarity to perhaps the fuzziest inset of the 2015 Pirates' picture: The first-base cast.
Free-agent first baseman Michael Morse reached a two-year agreement with the Marlins, who reportedly had prior trade interest in Pedro Alvarez, among others, for that position.
Pittsburgh GM Neal Huntington did not see that move connected at all to the Buccos' situation, reaffirming that "our plan was, and is, to have Pedro play first base for us next season. Nothing has changed from our perspective."
In another, far subtler move, Andrew Lambo changed his uniform from No. 57 to No. 15, intriguing on three levels.
One, No. 15 belonged last season to platoon first baseman Ike Davis; does Lambo inherit Davis' role along with the uniform?
Two, Lambo is also a lefty hitter; is he viewed as possibly the leading Plan B for regular play at first base if Alvarez indeed gets moved?
Three, Lambo's 2014 Spring Training was essentially ruined by preoccupation with the conversion to first base silencing his bat; did that highlight some of the obstacles now faced by erstwhile third baseman Alvarez, making the Bucs skittish about following through on their plan?
Lambo impressively worked his way back into the Pirates' plans last season, when he followed up a strong Triple-A run (.328 average and .952 OPS, with 11 homers in 238 at-bats) with a solid showing upon his recall.
Significantly, the Bucs added him in late August, to make him postseason eligible, a tipoff on how they have come to value him.
"Andrew has put together two really strong years at Triple-A," Huntington said. "If you look at the numbers at the end of the year, he actually out-played [Gregory] Polanco, Most people don't remember that. At 25 [years old], some look at him as a kind of an afterthought. But he's a player we still like, and [we] believe he could fit in as a nice piece for us."
One thing is for sure, and that is the Pirates will not have a first-base platoon of Alvarez and Lambo; that makes no sense. You might envision them sitting on a see-saw: As one's value rises, the other's declines.
Two months prior to the start of Spring Training, the Bucs still view Alvarez as their best option at first base, hoping that it can work out. That rides less on defensive than mental adjustments.
"Right now, today, Pedro is penciled in to play first base," manager Clint Hurdle said. "Pedro's bat will tell us how much Pedro's going to play. And he'll be given every opportunity to earn an everyday spot at first base. And over time, I think we'll know better how we need to move forward with Pedro.
"If you're out, I'm out," Hurdle added, referring to getting Alvarez to buy into the position switch. "I don't believe Pedro's out by any means, and Pedro has a burning desire to be the best player he can be for the team, and to be a great player. We're going to do everything we can to help him find his way back to a level of production that he feels he's capable of."
At the recent Winter Meetings, Alvarez's agent, Scott Boras, signed off on the planned position switch. That could've been confirmation of Alvarez's limited choices to reignite his career because, normally, Boras goes to war for his clients.
"Whatever you have to do," Boras had said of the move to first base. "You want him to use that power and be a prolific run-producer."
Tom Singer is a reporter for MLB.com and writes an MLBlog Change for a Nickel. Follow him on Twitter @Tom_Singer. This story was not subject to the approval of Major League Baseball or its clubs.