Yankees strengthen rotation, bring back Capuano
Left-hander finalizes one-year deal after making 12 starts for New York in 2014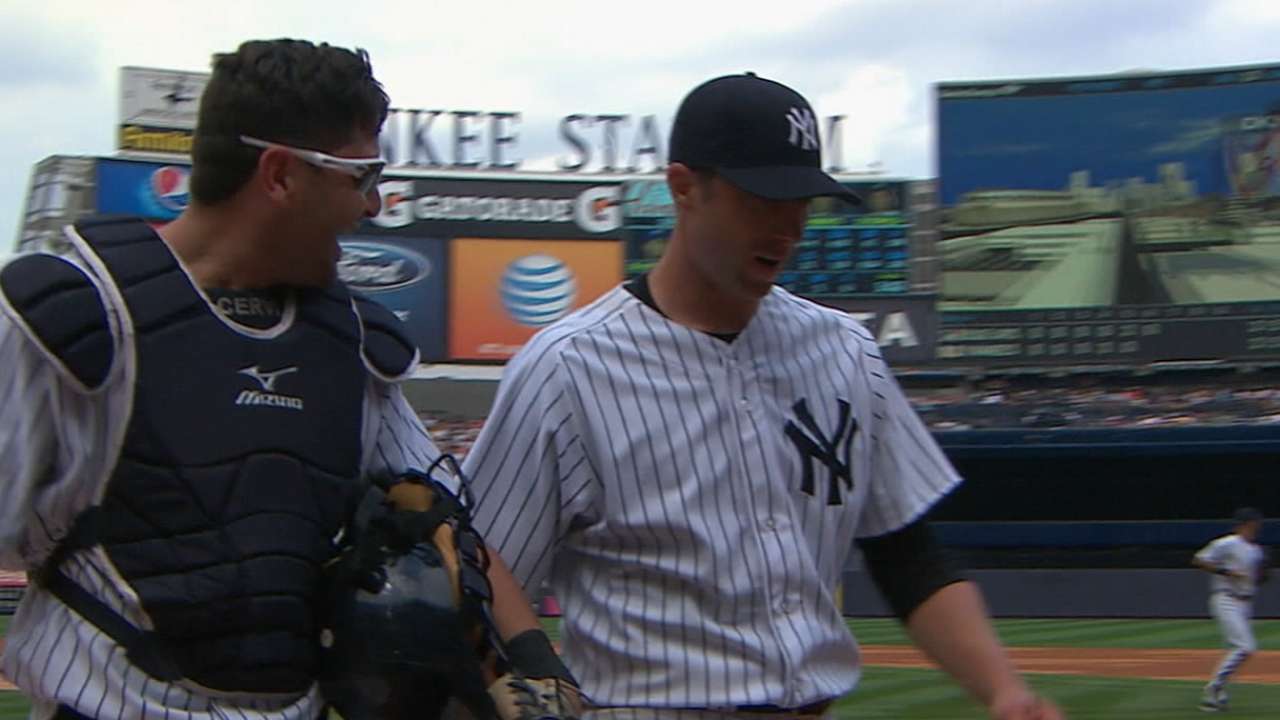 The Yankees added some much-needed depth to their starting rotation on Tuesday, signing left-hander Chris Capuano to a one-year contract. The deal is said to be worth $5 million, according to multiple reports.
Capuano, 36, went 2-3 with a 4.25 ERA in 12 starts for the Yankees this past season after joining the club on July 24.
Capuano began the year by racking up a 4.55 ERA over 28 relief appearances for the Red Sox before being released in early July. He then signed with the Rockies and made four Minor League appearances before the Yankees purchased his rights.
Capuano figures to provide depth and added insurance to a rotation that consists of Masahiro Tanaka, CC Sabathia, Michael Pineda and Ivan Nova -- all of whom have legitimate injury concerns.
Though Tanaka returned for two starts at the end of last season, he still missed two months of action due to a small tear in his right ulnar collateral ligament. Sabathia, meanwhile, is coming off knee surgery, but he is expected to be ready by Spring Training.
Pineda has battled shoulder problems that forced him to miss the entire 2012 season and limited him to just 10 Minor League appearances in '13. He returned to the Majors this past season, going 5-5 with an impressive 1.89 ERA over 13 starts.
As for Nova, he's coming off Tommy John surgery and isn't expected to return until at least May.
As it stands now, Capuano projects to begin the season in the rotation behind Tanaka, Sabathia and Pineda, while right-handers David Phelps, Adam Warren and Bryan Mitchell will likely battle it out for the final starting spot.
Of course, that could all change significantly over the next 3 1/2 months, depending on injuries and other potential transactions. The club has insisted it is not interested in dishing out the massive contract being sought by marquee free agent Max Scherzer, but it remains to be seen whether or not the Yankees are done making additions to the starting rotation after agreeing to bring back Capuano.
Paul Casella is a reporter for MLB.com. This story was not subject to the approval of Major League Baseball or its clubs.