Hometown shows pride for Panik after quick ascension
Suburban New York community takes joy in success of Giants infielder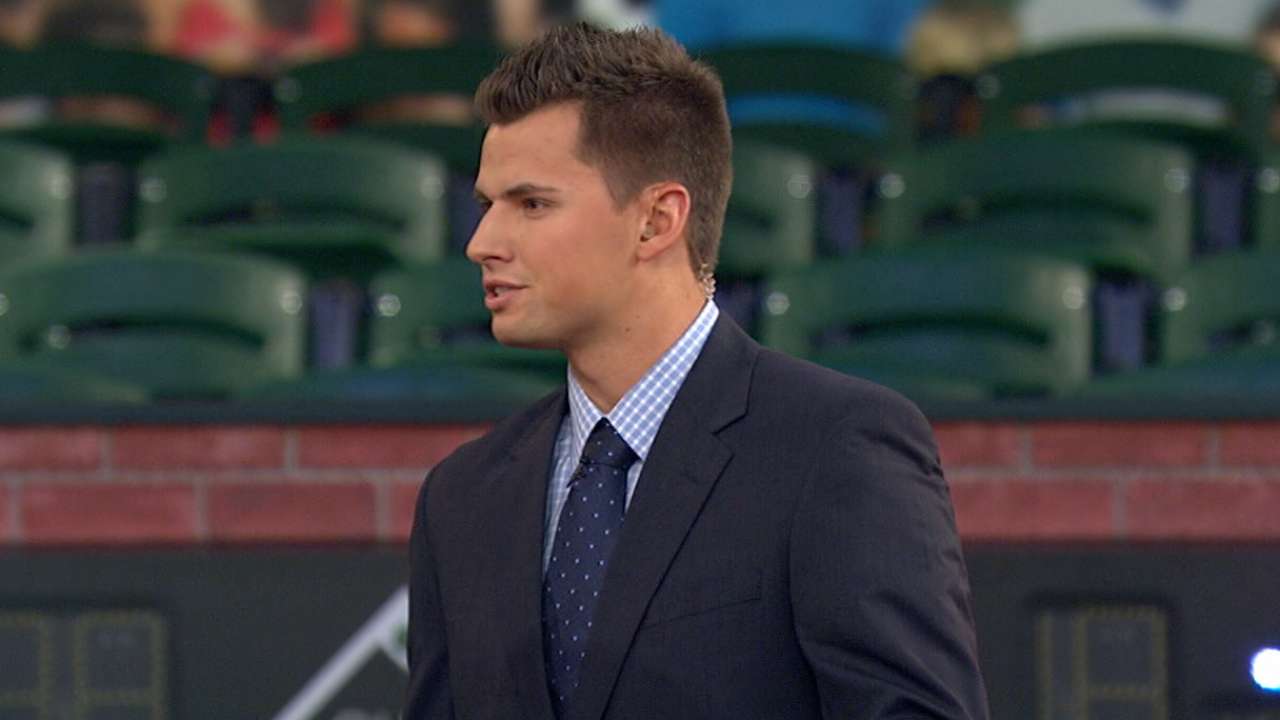 HOPEWELL JUNCTION, N.Y. -- Along Route 82, right before the light at Unity Street, stood a small red sign that told this story -- one of a tiny New York community bursting with pride at the accomplishments of one of its own -- with four words: "Honk for Joe Panik."
Here in Hopewell, a village of sorts within the town of East Fishkill, passers-by obliged. They honked for Joe Panik, Giants second baseman. They honked for Joe Panik, World Series champion. They honked for Joe Panik, their former teammate and student and neighbor and friend.
Panik has been the talk of the town since the Giants selected him in the first round of the 2011 First-Year Player Draft, but never more so than in recent months as he took the local-boy-makes-good narrative several steps further than anyone could have reasonably expected a year ago.
Panik left home in February for Spring Training, more or less set to open the season with Triple-A Fresno, hoping that -- with a strong campaign in the Minors -- he'd get a callup in September. Instead, Panik made his big league debut in June, started at second base for three-plus months, and didn't get a chance to return to Hopewell until November, after the postseason and the parade.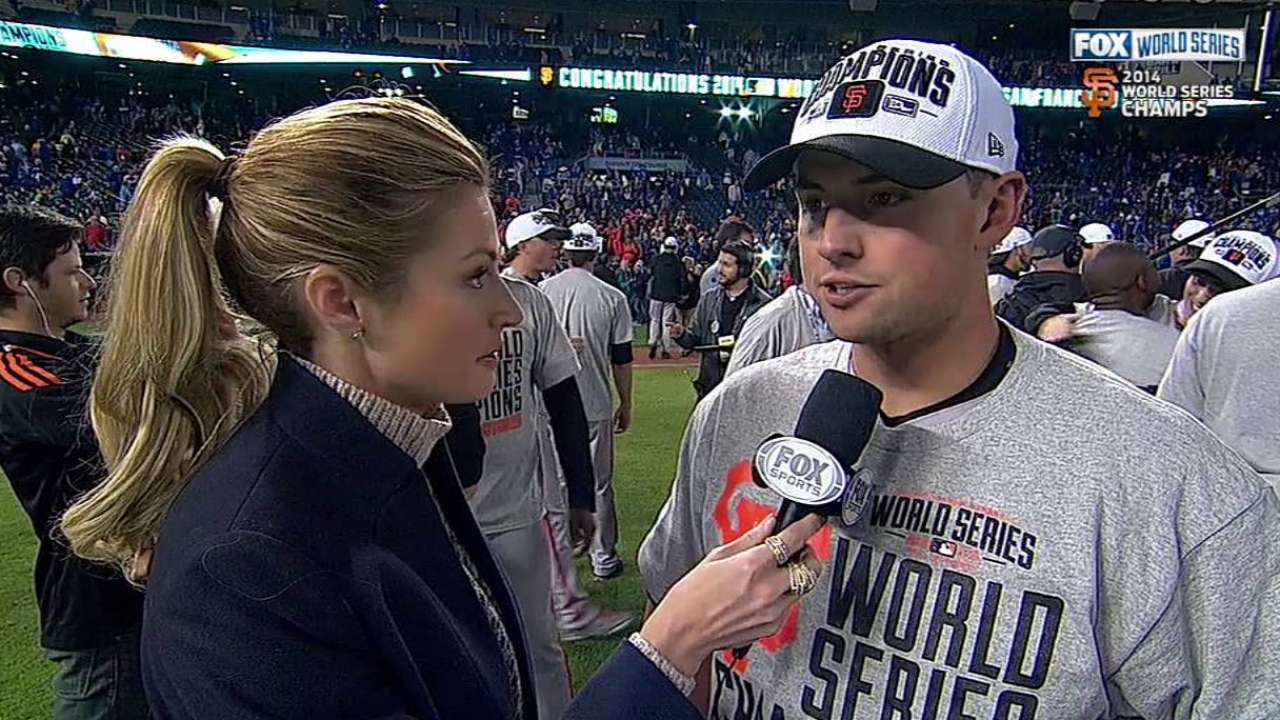 "When you get a local kid who does what he did," said Bill Green, the director of recreation in East Fishkill who has lived there for 45 years, "you adopt him."
The result is a town 90 minutes north of New York City rooting for San Francisco as much as it does the Yankees or Mets; youngsters, some of whom are barely old enough to remember the last New York championship, wearing Panik No. 12 jerseys; and Green, who rooted for the Brooklyn Dodgers as a kid, putting on a baseball cap adorned with the "SF" logo to match his black button-up shirt and vibrant orange tie.
Green broke out that outfit for "Joe Panik Celebration Night" at John Jay High School, Panik's alma mater, last week. It was a chance for the community to honor its favorite son and a chance for the favorite son to see a whole lot of people he hadn't in years.
Outside, an electronic sign flashed a message: "Welcome home, Joe Panik!!!!" Then: "2014 World Series champion!!!!"
Yeah, they were excited, as evidenced by the four exclamation points.
Tom O'Hare, who coached Panik during all five seasons of his varsity career, presented the second baseman with his old high school jerseys, framed and matted for safekeeping. No one has worn them since Panik graduated in 2008. O'Hare tucked them away because even then, he said, "We just knew."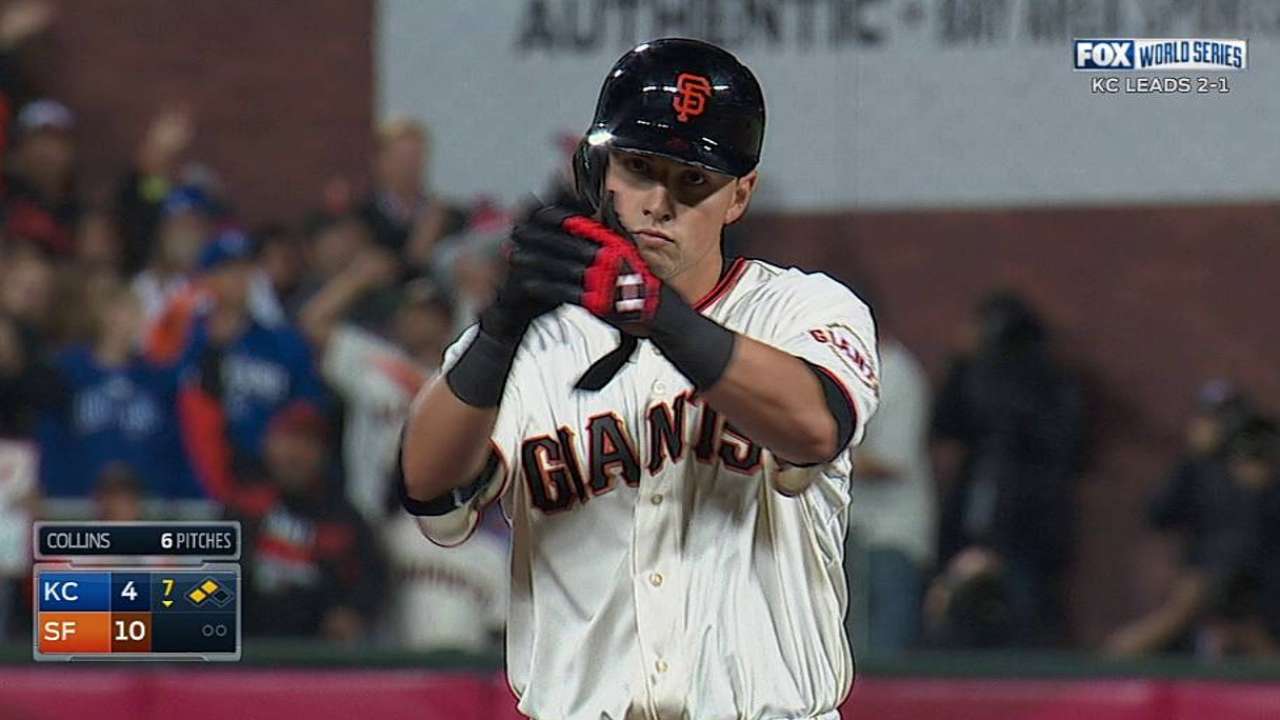 After an hour-long ceremony, during which a lineup of school, town and county officials lauded Panik and recalled his high school years -- he owns three state baseball records, finished in the top 6 percent of his class and was voted "most likely to become an Olympic medalist" by his peers -- most of the several hundred in attendance lined up for a handshake, hug or hello.
So there Panik stood, in the middle of his old high school gymnasium, in a sea of people who love to say, "I knew Joe Panik when …" His navy blue suit, a gift from Pablo Sandoval, matched the school's colors.
There were his Little League coaches and eighth-grade history teacher, former teammates and parents of former teammates, old neighbors and some relatives.
"This is what I wanted," Panik said. "I didn't want anything too big. [I'm] not one to seek out the spotlight. I'm a simple guy. [The organizers] respected my wishes. The people were the ones who have been there for me, and I wanted to share this moment with them."
It served as a fitting conclusion to a frenzied stretch, not only for Panik and the Giants, but for a place that is, in Panik's words, "A nice, small, suburban town … you go into a restaurant, a store, anything, it's run by people from town that own it."
During peak excitement levels back in October, O'Hare couldn't pump gas without somebody stopping him to talk about his former athlete. And that diving stop and glove flip to start a double play in Game 7? It looked plenty familiar to O'Hare, who used to watch Panik regularly rob opponents up the middle as a shortstop.
"It was everywhere," Green said. "Everyone was saying, 'Did you watch Panik? Did you see Panik?' Everybody in the stores, town hall, the library. Everywhere."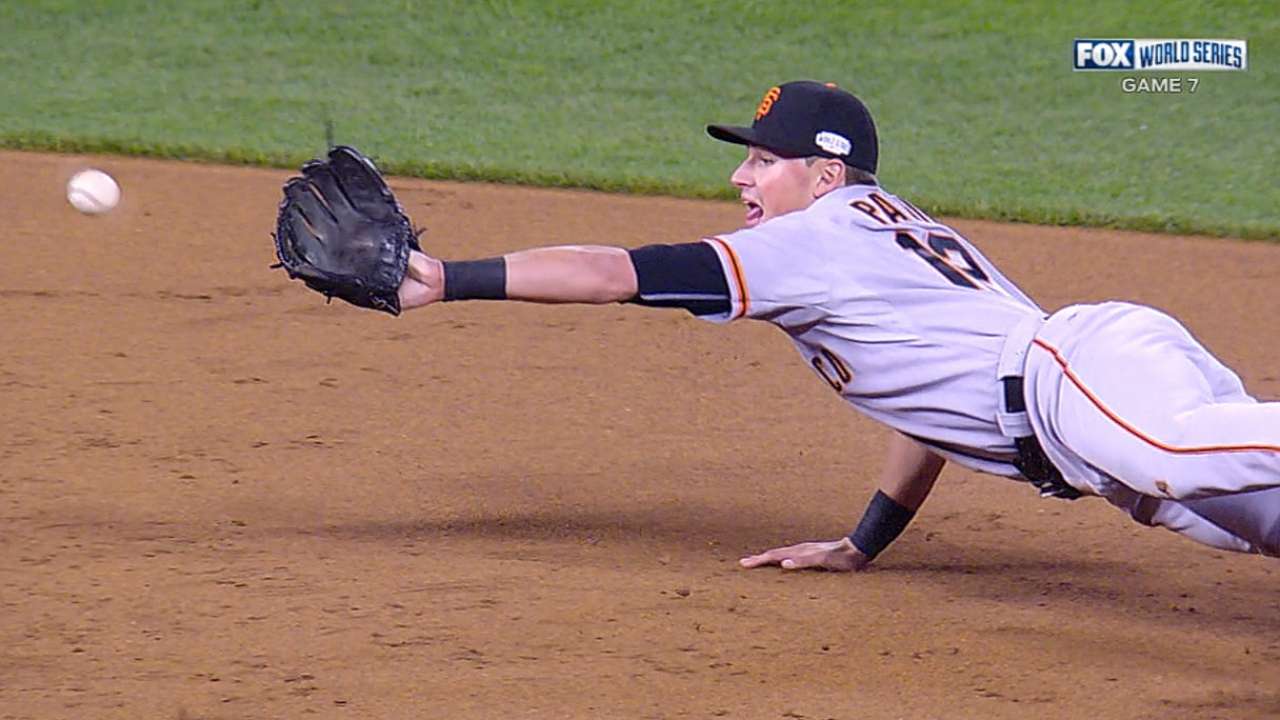 That's Hopewell, complete with a population of 376, according to the last census. Panik is one of them, and they're darn proud of it. They'll even honk to say so.
"I've had a lot of people come up to me -- people I know and people I don't know -- and tell me how excited they were, how they weren't a baseball fan before, how their kids love the Giants now," Panik said.
"That makes me feel good, because I'm still playing a kid's game. I'm playing something I've always loved doing and dreamed about doing. To bring joy to other people and have the support of other people, it's pretty special."
Tim Healey is an associate reporter for MLB.com. This story was not subject to the approval of Major League Baseball or its clubs.