Championship drought? Lester up for the challenge
Reunion with Epstein has lefty excited to steer Cubs back to World Series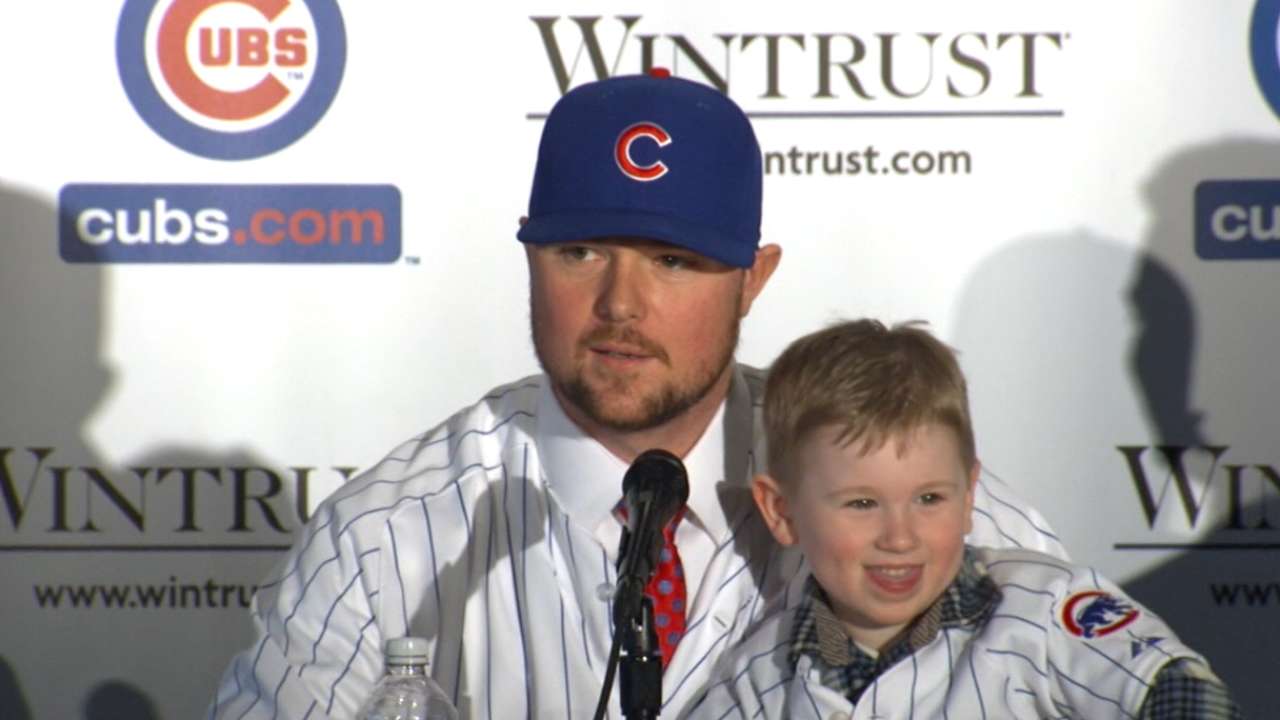 CHICAGO -- In 2004, Jon Lester was pitching for the Red Sox's Class A Sarasota affiliate and could only watch that October as the parent club ended an 86-year drought to win the World Series.
"I saw how it transformed [the Red Sox] organization," Lester said Monday. "[After that] you're expected to win in the Minor Leagues. I saw how that transformed players, how it transformed the coaching staff, trainers, everybody. I think that excitement was definitely added to the top of the list for me. To be a part of something like that would be truly special and truly unbelievable, and that's our goal to do that."
Lester, who eventually did win a World Series with the Red Sox in 2007 and again in '13, has taken on a new challenge, and that's to help the Cubs win a championship for the first time since 1908. That fact, which haunts Cubs fans, helped sell Lester on Chicago.
"Absolutely," Cubs president of baseball operations Theo Epstein said Monday. "The fact that we haven't won in so long helps define who we are and adds meaning and resonance to what we're trying to accomplish here, and I think it attracts players who aren't afraid of that challenge and want to be here for the right reasons and it definitely attracted Jon Lester."
That challenge, plus a six-year, $155 million contract from the Cubs, helped convince Lester to sign up for the task. He said it was easier to make the move after pitching for the Athletics for two months following a July 31 trade. Lester had spent his entire career with Boston, most of those years with Epstein as the general manager.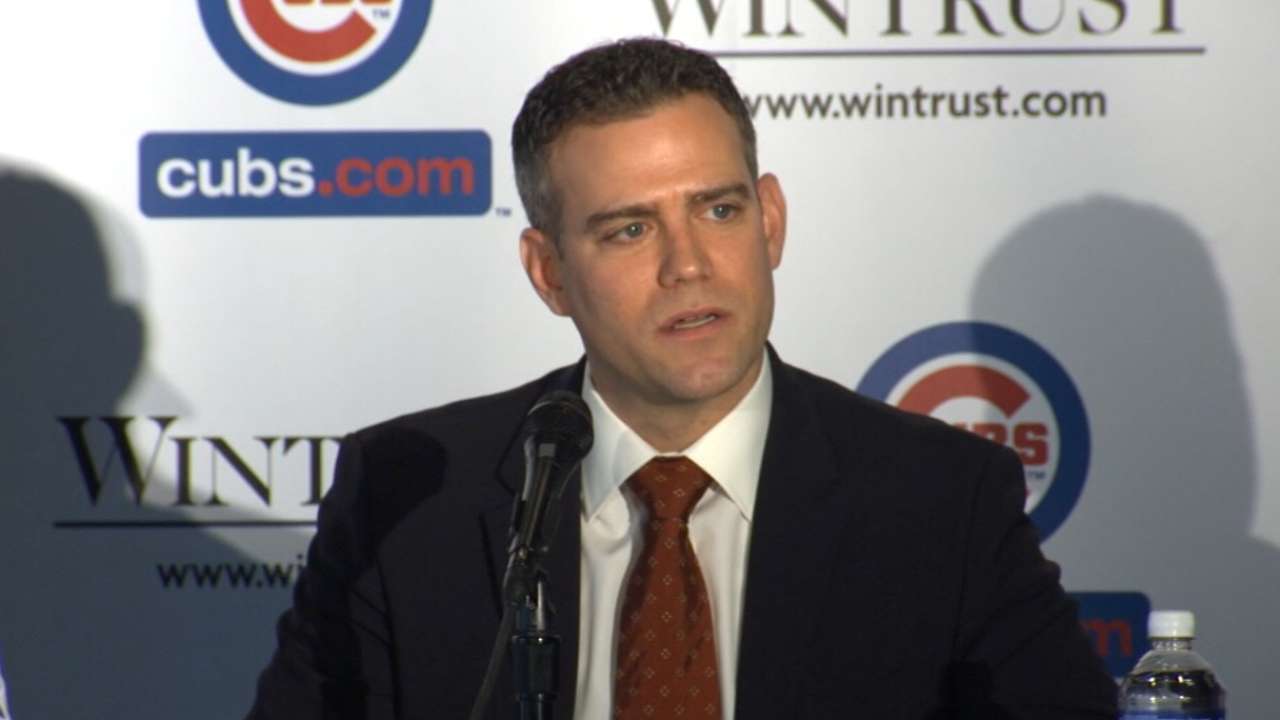 The Red Sox, who dealt the lefty to the A's along with Jonny Gomes for Yoenis Cespedes, tried to bring Lester back. He said he wasn't angry at being traded and that it didn't affect his decision.
"I think it helped prepare me for this situation, as far as preparing myself to pitch in another uniform," Lester said. "If it didn't work out to where I went back to Boston, I knew I could perform in another uniform in another city for another organization. I know that seems kind of stupid or, like, it's done every day. For me, it was very difficult when you're drafted by these guys and you're groomed by these guys for 12 years to put on a different uniform. That was a little hard."
Lester went 6-4 in 11 starts with the A's, and was roughed up in the Wild Card Game, giving up six runs to the Royals. Then came the offseason and the recruiting by the Cubs, Red Sox, Giants and Braves, among others.
"I got a good sense of how crazy these fans are about their @Cubs baseball." - @JLester31. pic.twitter.com/YFLlLDPA0R

- MLB (@MLB) December 15, 2014
The Cubs had a tough sell. Besides not winning a World Series in 100-plus years, they haven't had a winning season since 2009 and have finished fifth in the National League Central the last five years. The roster is stocked with young talent but there will be growing pains. Epstein made that clear in his sales pitch.
"We were very honest," Epstein said. "We sat down and said, 'As far as 2015, here are the good things about the Cubs, here are some of the good things you're going to enjoy, and here are some of the things that are challenges for 2015. We want you but we want you to come here with eyes wide open.'"
It wasn't that Epstein would give another free agent a different message, but because he knows Lester so well, it was a little easier to be as honest. How friendly are they? When Lester was shown a model of renovated Wrigley Field, the Cubs had his batting average on the scoreboard. Lester is 0-for-36 lifetime in the regular season.
"We teased him about it," Epstein said.
But Epstein and general manager Jed Hoyer also talked to Lester about the future.
"Most of the time, when you talk to [general managers] and talk to guys about players, ... 'This is what he can possibly do,'" Lester said. "It wasn't like that with [Epstein and Hoyer]. It was, 'This guy will do this, this guy will do that. We believe in these guys.' That resonated with me and stuck with me more than anything, just how much they believed in each individual guy and how they believed they'd be All-Stars every year and take them to World Series."
Hiring Joe Maddon as manager, then signing Lester, certainly sends a signal that the Cubs intend on competing.
"We want players here who see the merits of what we're doing, who are motivated as Jon was, with the chance to do something special and win a World Series with the Cubs," Epstein said. "There's a lot to sell players on -- great city, great fan base, historic ballpark, but most importantly, the single greatest pursuit left in sports. It kind of sells itself."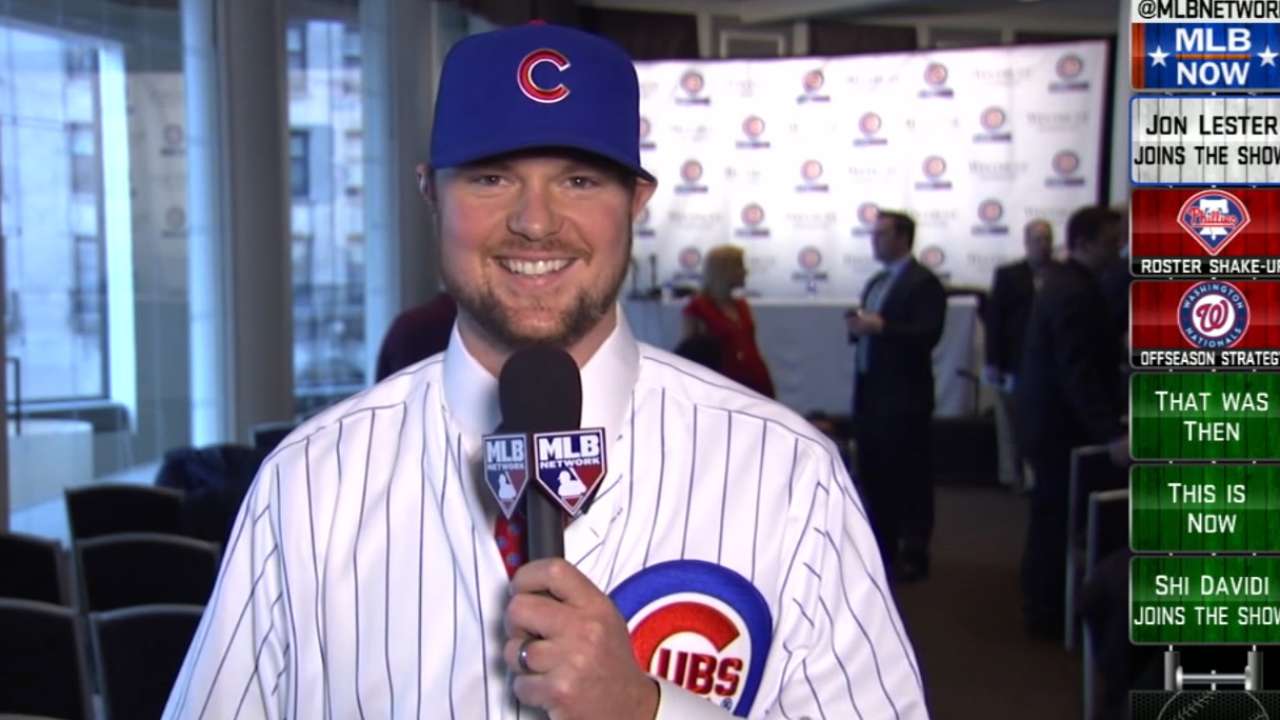 Lester and Epstein discussed the impact the '04 Red Sox had on the city of Boston and its fans. That year, the Red Sox added Curt Schilling to the mix. Epstein said Lester finished the sentence. He could be that guy.
"He's certainly aware of what '04 meant and wants that for this team and himself here going forward in Chicago," Epstein said.
Lester's also aware of Cubs history, the near-miss in the 2003 NL Championship Series, and so-called curses. He knows all about the legend of the billy goat.
"We'll do what we need to do," Lester said. "If we have to bring some goats around, we'll do that."
Carrie Muskat is a reporter for MLB.com. She writes a blog, Muskat Ramblings, and you can follow her on Twitter @CarrieMuskat. This story was not subject to the approval of Major League Baseball or its clubs.