Rios excited to join 'impressive' Royals
Club signs speedy outfielder to one-year deal, expects him to fit in well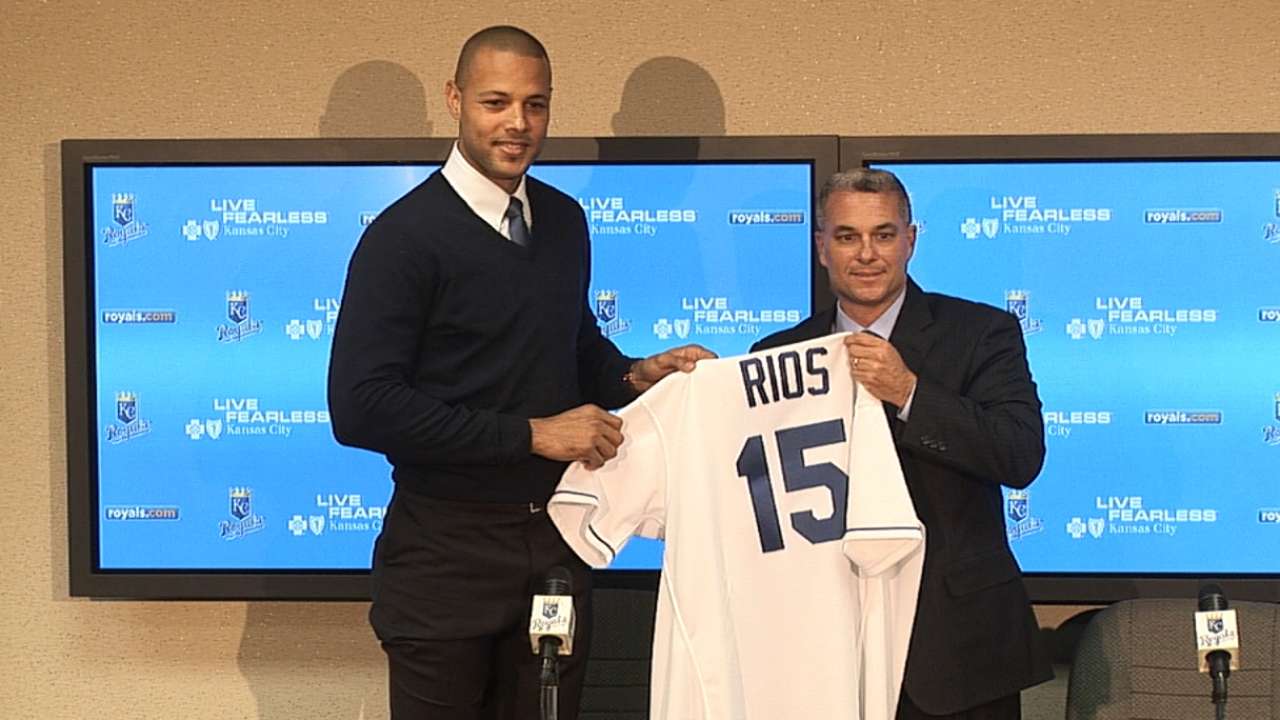 KANSAS CITY -- The Royals feel as if veteran outfielder Alex Rios will be a perfect fit in Kansas City, blending in seamlessly with their style of play in the outfield. If Rios, who turns 34 in February, can bounce back from a 2014 season mired with injuries, it will give the Royals the outfield help and bat in the middle of their lineup they've been searching for this winter.
On Friday, the club officially announced that it had signed Rios to a one-year contract that includes a mutual option for the 2016 season and introduced him at a news conference later that day.
"He fits our ballpark and our style of play," Royals general manager Dayton Moore said. "He's going to be able to range well for us in the outfield. He's going to give us more power. ... He's going to blend in naturally with this group of players and provide us with leadership and experience. And again, the athleticism really fits our style of play."
Rios spent last year with the Rangers, hitting .280 with four homers and 54 RBIs in 131 games, and he said on Friday that he was hindered by a bad right ankle and swollen right thumb for much of the year. He said he is now feeling 100 percent healthy.
"That's one of the most important tools that a ballplayer has, his hands," Rios said. "When you have an injured hand, I believe that it does affect the way you swing and it affects the way you go about your business every day.
"Now I'm 100 percent, and I think that that's going to get me back to my original form."
The Royals sure hope so. Kansas City has been on the lookout for an outfielder in the wake of right fielder Nori Aoki becoming a free agent and Josh Willingham retiring.
Rios was introduced as No. 15, the second time the team has introduced a player this week with that number, the other being Kendrys Morales. Rios said Morales let him have it, although the terms of the deal have not been discussed.
Per team policy, the Royals also did not reveal the terms of Rios' contract. Multiple reports, however, have Rios set to earn $11 million guaranteed next season.
Rios has spent his entire 11-year career in the American League, including five seasons in the AL Central with the White Sox. He's a two-time All-Star (2006, '07) and has double-digit home run totals in nine of his seasons.
Part of the reason Rios said he ultimately decided on playing for the Royals next season was because of what he saw in October, when the Royals ran through the AL en route to the pennant, which Rios called "impressive and a great story."
"I'm very glad to be here," he said. "I see that this is a young group of guys moving forward in the right direction. I think that it was the right fit for me at this time. This is a team with a lot of energy. I think that I'm going to absorb that energy and it's going to improve my game."
Jamal Collier is a reporter for MLB.com. Follow him on Twitter at @jamalcollier. This story was not subject to the approval of Major League Baseball or its clubs.