Angels looking for rebound season from Hamilton
Injuries contributed to disappointing '14 production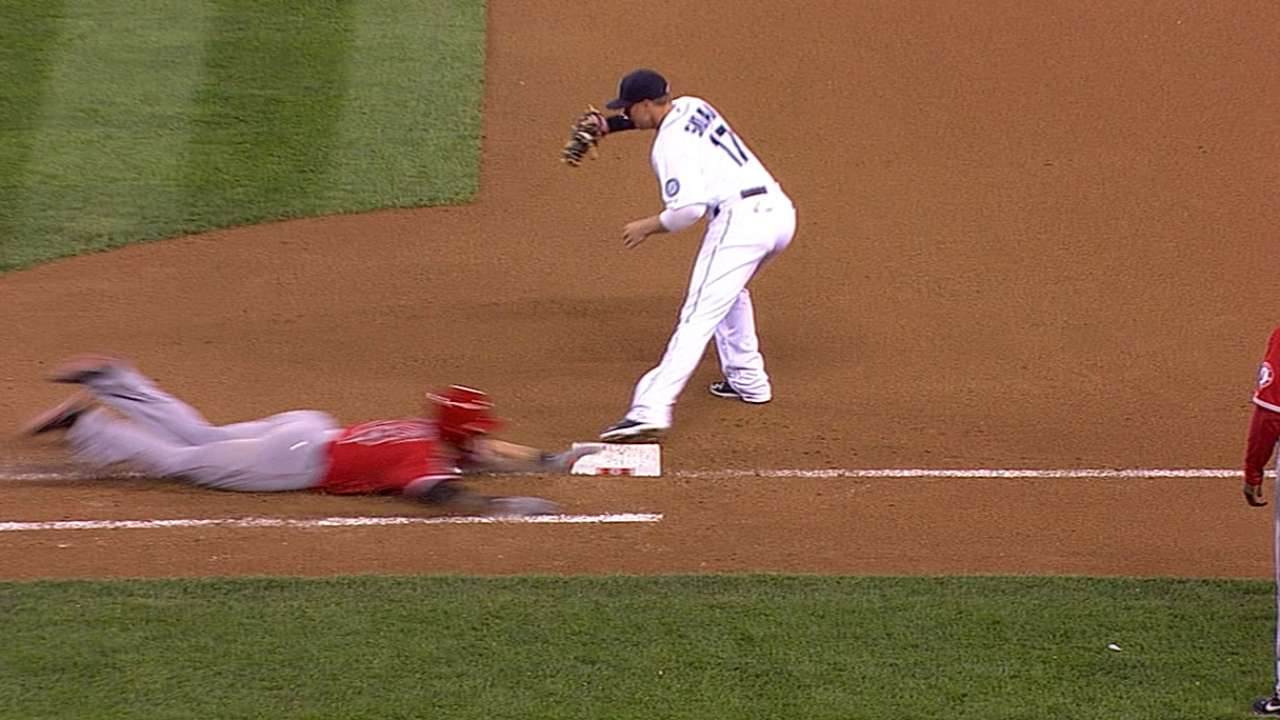 ANAHEIM -- There was the last seven weeks of the 2013 season, a 44-game stretch that saw Josh Hamilton hit .327/.384/.500 to lift his spirits as he braced for the winter, and the first eight games of 2014, when he hit .444/.545/.741 to provide hope for a potential bounce-back year.
"We have seen good versions of Josh," Angels general manager Jerry Dipoto said. "We just need to figure out how to make that a longer window."
Dipoto said that last Monday, on the first full day of the Winter Meetings in San Diego. Two days later, he sent second baseman Howie Kendrick to the Dodgers for pitching prospect Andrew Heaney, then noted two ways the Angels can make up for Kendrick's absence in the lineup: David Freese replicating his last four months over an entire season, and Hamilton finally getting right.
The 2015 season is in many ways a make-or-break year for Hamilton; proof he can still be a force or an indication that he'll never be the same again.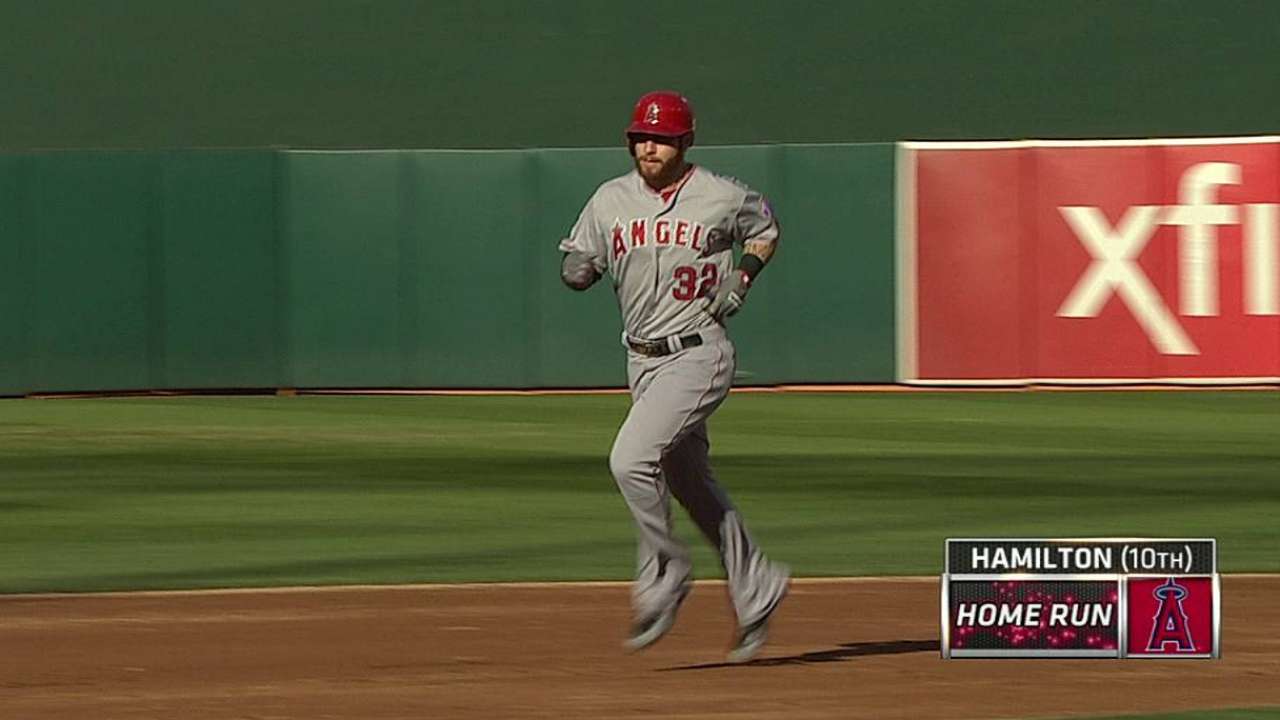 He'll turn 34 on May 21, will be in the third season of a five-year, $125 million contract and will be the highest-paid player on the Angels, set to make $25.4 million on a back-loaded deal.
Hamilton's slash line in his first two years with the Angels was .255/.316/.426, after posting a .305/.363/.549 mark while starting five straight All-Star Games from 2008-12. He stayed healthy throughout 2013, but had career lows in batting average (.250) and on-base percentage (.307). In 2014, he played in only 89 games, struck out 108 times, batted .263, managed 10 home runs -- none of them at home -- and went 0-for-13 in an American League Division Series sweep to the Royals.
Angels manager Mike Scioscia said he had "no particular message" for Hamilton when the season ended.
"He gets it," Scioscia added. "He understands it. He wants to achieve. I don't think there's anybody that was more disappointed with his performance last year. A lot of it was because he missed so much time with the thumb injury. He wants to contribute. He understands how important he is to us. And he'll be ready to go in Spring Training. He'll be better."
It's impossible to know just how much Hamilton was truly affected by the left thumb injury that occurred on a head-first slide into first base on April 8 and put him out for nearly two months, but the numbers point to some correlation.
Hamilton batted .247 and went on two separate 20-plus-game homerless droughts over the next 80 games. Then came ailments to his right shoulder and right side, forcing him to spend all of September rehabbing and prompting him to play in the postseason without any feel for live pitching.
"Obviously, he didn't have a great finish to the season, and it was fairly uneven throughout, but Josh is still a gifted athlete," Dipoto said. "When he's right and he's clicking, he can do things a lot of guys just can't do. We need to find out how to get to that point 100 percent of the time. That's where the front office, the coaching staff, the Angels family comes in."
And that's where Johnny Narron may help.
Narron, a lifelong friend who served as Hamilton's accountability partner in his first five years in the big leagues, was recently hired as the hitting coach for the Angels' Triple-A affiliate. And while Dipoto pointed to Narron's three prior years as the Brewers' hitting coach as the reason he got the job, there's no denying that Narron can be an important voice for Hamilton in Spring Training.
"He knows Josh's swing, and what it looks like when it's going at his best," Dipoto said. "He understands how to talk to Josh about the physical act of hitting."
The key for Hamilton is "getting back to simplicity," Scioscia said. Hamilton spent last offseason gaining about 20 pounds to get back to his normal playing weight and working with a functional movement coach to help regain his swing, but Dipoto said there's "nothing special or significant" Hamilton is working on this offseason.
"He's just getting ready for a season," Dipoto added.
The Angels hope it's a much better one.
"He'll come in, he'll work, he'll be ready to play," Dipoto said. "I know he left on a sour note, but I have no doubt that Josh went home and he's getting himself prepared to play baseball. It's what he does."
Alden Gonzalez is a reporter for MLB.com. Read his blog, Gonzo and "The Show", and follow him on Twitter @Alden_Gonzalez. This story was not subject to the approval of Major League Baseball or its clubs.