Varvaro's Braves tenure may be at an end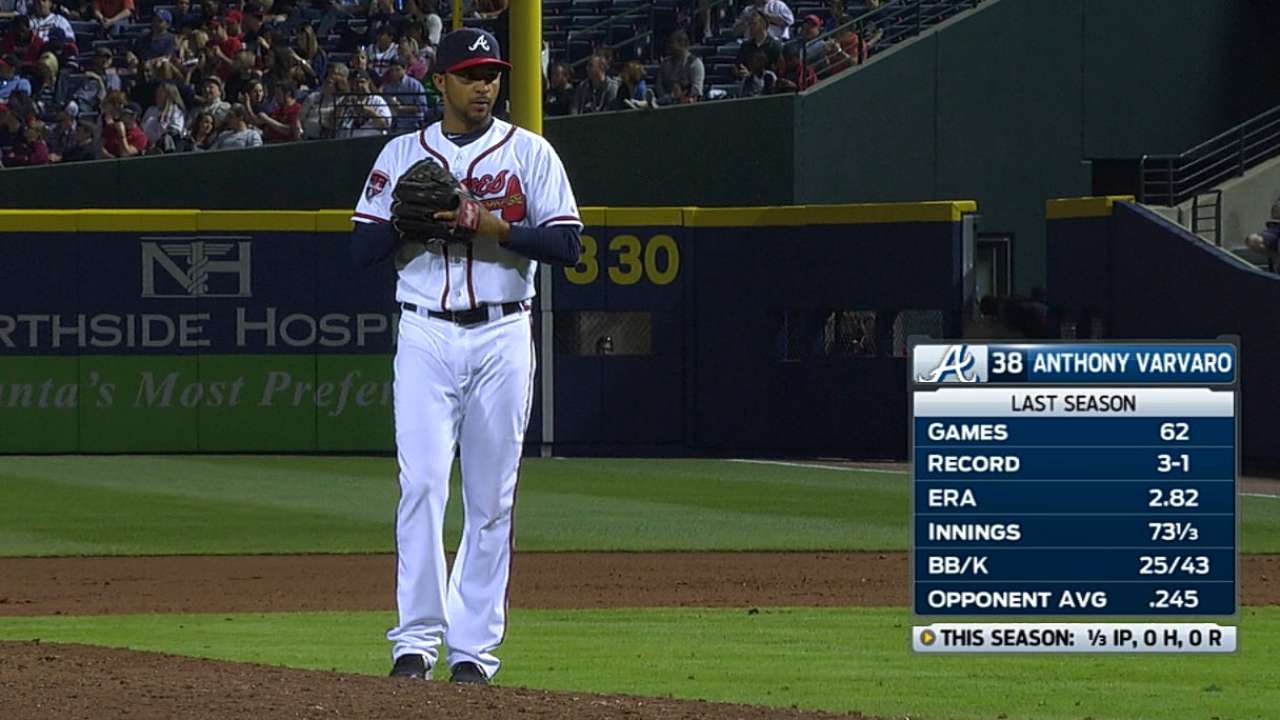 Anthony Varvaro proved to be a solid find when the Braves claimed him off waivers before the start of the 2011 season. But the right-handed reliever might soon find himself as part of a new organization.
Early Monday evening, the Braves officially announced the completion of the one-year, $3 million deal they struck with Alberto Callaspo last week. Varvaro was designated for assignment to create a roster spot.
As this transaction was being announced, one industry source indicated that Varvaro would likely soon be traded. The Braves have to trade, release or send Varvaro to the Minors within the next 10 days.
After enjoying a few brief stints with Atlanta during the 2011 and '12 seasons, Varvaro established himself as a Major Leaguer the past two seasons. The 30-year-old right-hander produced a 2.74 ERA over the 123 appearances he combined to make in '13 and '14.
The Braves opted to pick their spots with Varvaro instead of allowing him to serve as one of closer Craig Kimbrel's top setup men on a consistent basis. His versatility proved valuable as he provided long relief appearances when needed and proved capable when called upon in clutch situations.
Varvaro seemed to become expendable as the Braves began to reconstruct their bullpen this winter with the additions of Jim Johnson and Michael Kohn. Kimbrel, Johnson, David Carpenter, Shae Simmons and James Russell are expected to account for five of the seven bullpen spots at the start of the 2015 season. If Kohn throws strikes, he will undoubtedly fill one of the two remaining vacancies. Luis Avilan and Chasen Shreve are currently in position to battle for the left-handed-specialist role.
Callaspo was signed to serve as a short-term solution at second base until Jose Peraza is deemed ready to play at the Major League level. The 31-year-old infielder will be looking to bounce back after hitting .223 with a .580 OPS in 127 games with the A's this past season.
Mark Bowman is a reporter for MLB.com. This story was not subject to the approval of Major League Baseball or its clubs.