MLB.com Columnist
Hal Bodley
Cash ready to hone craft as first-time skipper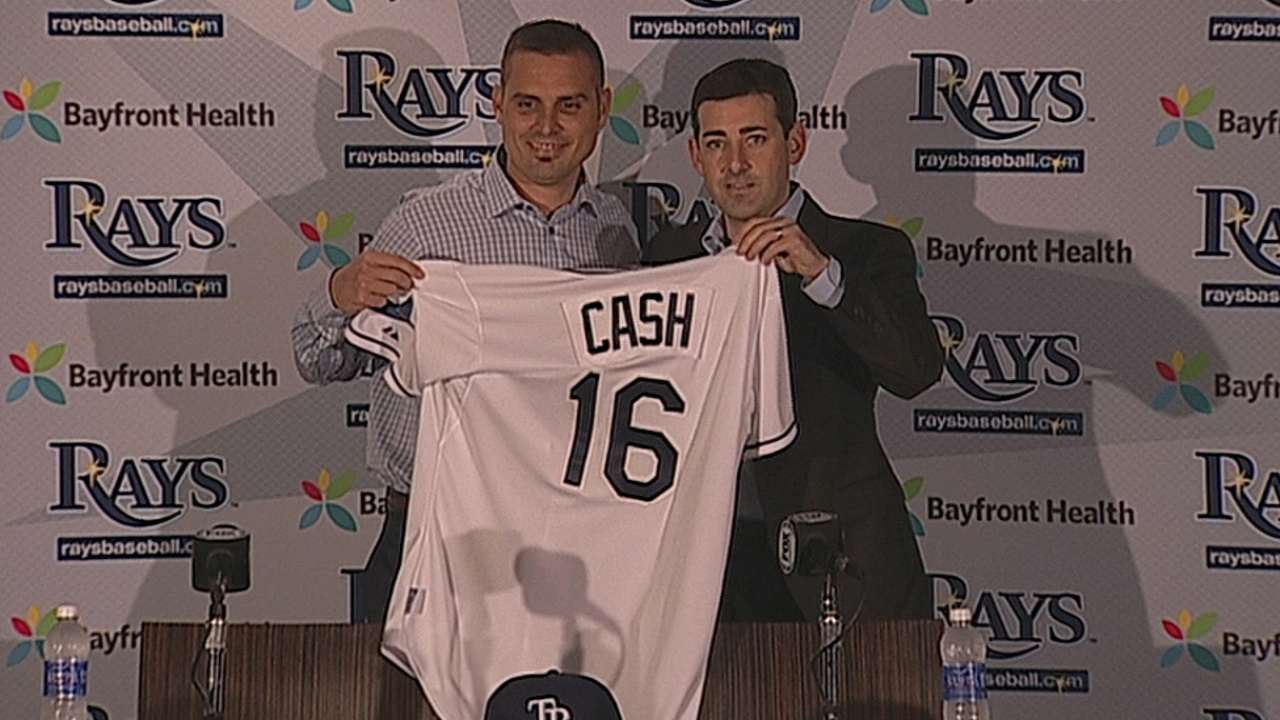 ST. PETERSBURG -- For the past 10 days during the honeymoon that has been Kevin Cash's coronation as Tampa Bay Rays manager, he's been walking and posing non-stop in front of TV cameras, talking into reporters' tape recorders and acting humble and excited to a battalion of well-wishers.
Adjectives have flowed from the young man's mouth that would make a thesaurus proud. It's been all about the emotions of getting the job that the iconic Joe Maddon owned for nine years, returning to Kevin's hometown of Tampa and you can fill in the blanks.
But what about the Xs and Os of managing a baseball team, a big league juggernaut that is expected to contend in the rugged American League East?
"It's an incredible honor to be named a Major League manager," Cash said. "I don't think you can quantify doing that or getting to do that in your hometown. So, it's incredibly special, a joy to get back home.
"That being said, it's about time to get to work. It's go time now."
This is one of those moments that the Major Leagues' youngster manager -- he just turned 37 -- cannot be blamed for enjoying every second of.
Cash conceded that since he was appointed on Dec. 4, his life has been a blur -- the announcement media session, the circus-like atmosphere of last week's Winter Meetings in San Diego and Monday's formal introduction at Tropicana Field.
Cash said after all the TV lights and tape recorders have been turned off this winter, "I'll probably sit down with my wife Emily and laugh about some of the things I said."
But what Cash really must do is, as he says, put all the hoopla behind and put on his game face.
The former backup catcher, scout and bullpen coach has never managed a baseball team at any level.
As Rays president Matt Silverman has repeated, Cash has all the smarts, baseball knowledge and energy needed to skipper a team. He's great with analytics, builds strong relationships and undoubtedly has a talent to motivate.
But Cash has never managed a baseball game.
Often, running a team during a game can be like a speeding roller coaster. It can become extremely fast; experienced managers have a knack for not letting it get ahead of them.
At times, managing is like a game of chess. Certain moves are crucial to the outcome.
I asked Cash because he's never managed what the most difficult or what his biggest adjustment will be.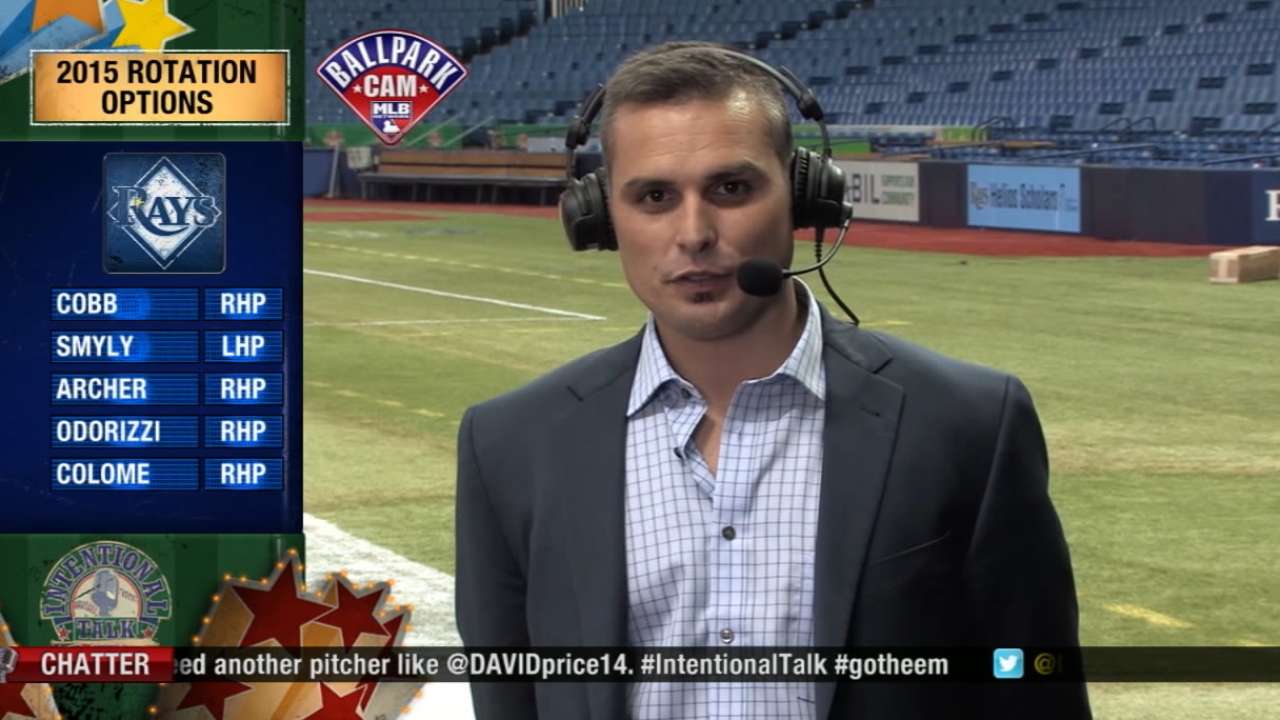 "First of all, I -- we -- have to build the trust of the players," Cash said without hesitation. "The relationships in the clubhouse are very shrine-like. We spend so much time in there.
"We've got to get that down, and once we get that down it seems like a lot of the other stuff will fall into place. I've been extremely fortunate to be around managers like Terry Francona. I see how he does it, the value he brings and the energy level he possesses in the clubhouse. The players buy into that and take it onto the field. But you have to be your own person."
Later Monday afternoon, Cash sat in the Tropicana Field dugout that will be his new home.
Back to the Xs and Os.
"When I get to Spring Training in February that will become a priority with the exhibition games," Cash said.
The Rays' first Grapefruit League game on March 5 is against the Baltimore Orioles. The opposing manager will be Buck Showalter, one of the best in the business -- 2014's AL Manager of the Year.
And if that isn't intimidating enough, when the Rays open their season on April 6, once again it will be Showalter and the Orioles. And on June 19, Cash will face the Indians' Francona, the mentor-manager he says he learned so much from. Kevin was their bullpen coach the past two seasons.
Words are cheap, but Cash doesn't appear to be intimidated by the unknown. His coaching staff, minus the yet-to-be-named bench coach, is in place. His job building relationships in the clubhouse should be easy because the atmosphere there is already outstanding.
With Alex Cobb, Chris Archer, Jake Odorizzi and Drew Smyly, the Rays will have arguably the best rotation in their division. And it will get even stronger when left-hander Matt Moore returns by June after recovering from Tommy John surgery.
Several of the offensive pieces had poor seasons in 2014, a fact that cost the Rays numerous games. If they return to career norms coupled with the great pitching staff this team definitely will contend.
That could place even more pressure on the rookie manager.
"I don't know if there are expectations," Cash said. "I do like capabilities. It was a 77-win team last year. As Matt Silverman told me at the Winter Meetings last week, it could easily have been an 85-87 win team. And if you get that in this division, you're a contender."
Odorizzi and former catcher Toby Hall were on hand while Cash talked. They seemed impressed.
And as the new manager later sat in the dugout on Monday afternoon, Cash talked about how a player in his role has to work so much harder to make it.
"You're forced to learn more to stay in the Major Leagues," Cash said. "And it goes the same way with building relationships. Unfortunately, sometimes players that aren't superstars have to go a little more out of their way to connect with people.
"And then to compound that with a backup catcher role you're constantly communicating with pitchers. From that aspect you definitely learn more. You go out of your way to learn the game."
Cash says what Maddon did during his nine years "was incredible, but I think you have to be you own person a little bit. You take bits and pieces from managers I've been fortunate enough to come across. Ultimately, it comes back down to the relationship with the players, valuing their opinions and getting their trust. And once you get to know them putting a plan in place."
So, for now, Cash is thankful the TV lights and tape recorders will be shut down for a spell.
That will give him time to work on the Xs and Os, the real reason he was hired.
Hal Bodley is the senior correspondent for MLB.com. Follow him @halbodley on Twitter. This story was not subject to the approval of Major League Baseball or its clubs.