MLB.com Columnist
Mike Bauman
Brewers' gesture a testament to Selig's Milwaukee legacy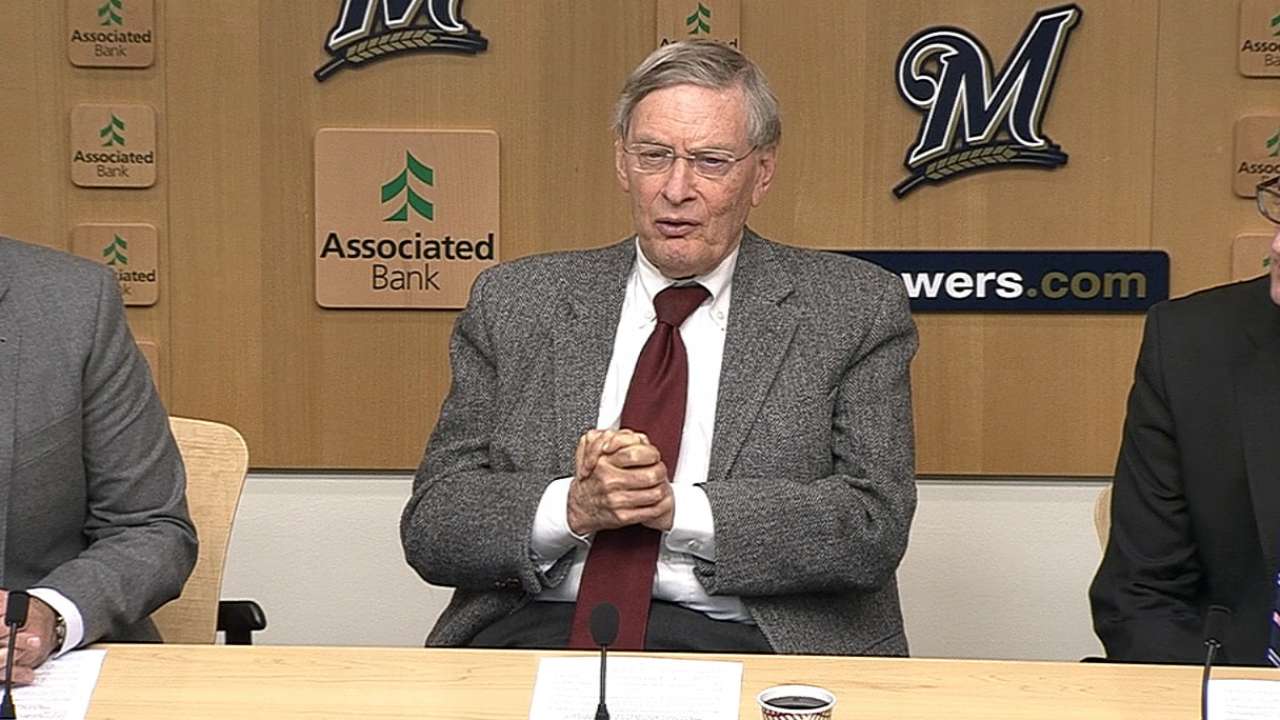 The Brewers honoring Commissioner of Baseball Bud Selig with the "Selig Experience" at Miller Park is a completely suitable act. Major League Baseball's continuing presence in Milwaukee is essentially the "Selig Experience."
The Brewers Monday announced plans for a 1,400-square-foot exhibit inside Miller Park honoring Selig. The exhibit will be anchored by a multimedia presentation that tells the story of Selig's role in bringing big league baseball back to Milwaukee in 1970, and his later efforts to grow the game's popularity in Wisconsin. It's part of the Brewers' ongoing effort to honor the founder of their franchise. Selig will be stepping down as Commissioner in January after more than 22 years on the job.
If not for Selig's efforts, there wouldn't have been a Major League team in Milwaukee for the past 44 years. When the Braves departed for Atlanta after the 1965 season, Selig organized a group of local business leaders to attract another team to Milwaukee.
There were a series of setbacks in this effort, but Selig persistently stayed on the case and on March 31, 1970, a bankruptcy court awarded the Seattle Pilots to Selig and his investors. Eight days later, the Brewers were at County Stadium playing the California Angels.
Selig has said repeatedly that despite all of his accomplishments in baseball since, returning baseball to Milwaukee remains his proudest achievement. And it was a tribute to his commitment, both to the game and to the community.
Selig, 80, is a lifelong Milwaukeean, who has maintained an office in Milwaukee throughout his tenure as Commissioner. Part of the multimedia presentation in his honor at Miller Park will be a 3D encounter with Selig as Brewers president, featuring an authentic reproduction of his County Stadium office.
If this reproduction is actually authentic, what fans are going to see will be an office that would more accurately be described as cramped rather than palatial. This was truly a small-market franchise, and Selig wouldn't waste precious funds on his own creature comforts. And again, if accuracy is preserved, a desk that seems to have been flooded with various papers will be in evidence.
All of the contemporary Brewers are in much more comfortable quarters now, and Selig is responsible for that as well. He saw the need for a ballpark that would generate more revenues for the franchise. He saw the need for a facility with a retractable roof, so that when winter seemingly stayed through April, or when September weather became more like December, fans could still attend a baseball game in reasonable comfort.
Selig's vision became Miller Park, opened in 2001, and known by many in Milwaukee as "the House That Bud Built." It didn't happen without a long and sometimes acrimonious political struggle, but typically, Selig's perseverance on behalf of his team and its fans never wavered.
Brewers principal owner Mark Attanasio has persisted on his own to make certain that Selig's legacy lives on at Miller Park. There is already a statue of Selig outside the park, and the Brewers have announced that they will retire No. 1 in his honor.
That's a considerable amount of honor for one individual. But in this case, there is absolutely nothing excessive about it. Without Bud Selig, there is no Miller Park and for that matter there is also no baseball team to play there. Baseball in Milwaukee has truly been for the last four-plus decades the "Selig Experience."
Mike Bauman is a national columnist for MLB.com. This story was not subject to the approval of Major League Baseball or its clubs.