Streaking Valera highlights week in winter ball
Cards' No. 19 prospect on eight-game hitting streak, scored three runs Sunday in Venezuela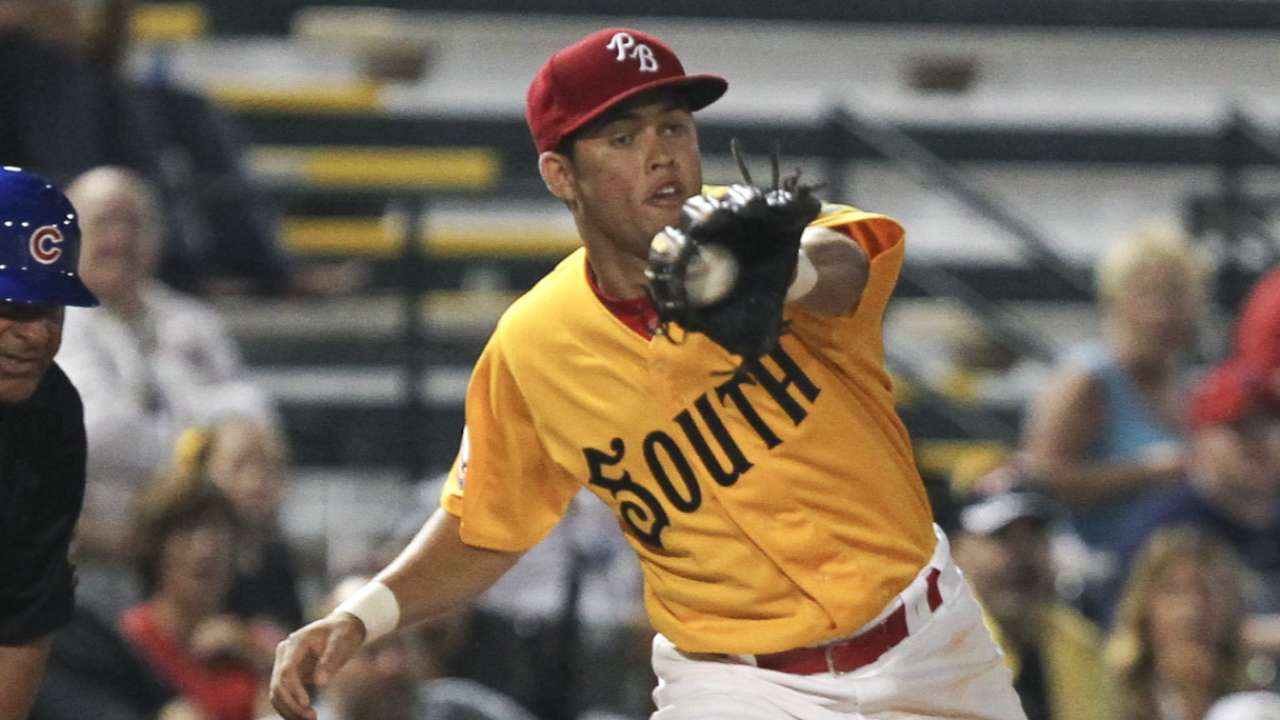 As Major League Baseball's annual Winter Meetings stoked the Hot Stove last week, winter ball action continued throughout Latin America. As usual, several top prospects took center stage.
Below is a look at how some of the top prospects in Winter Leagues play are faring.
• Playing in the Arizona Fall League delayed Breyvic Valera's arrival in his native Venezuela for winter ball, but all he has done is hit since returning to his homeland three weeks ago. Playing for Bravos de Margarita, the 22-year-old recorded at least one hit in all six games he played last week and now has an eight-game hitting streak. He capped his week by going 4-for-4 with a double, a walk and three runs Sunday. Valera, the Cardinals' No. 19 prospect, is hitting .377/.433/.443 and has scored 14 runs in 15 games for Margarita. He has primarily been a second baseman during his Minor League career, but has seen significant time in center field this winter.
• Left-hander Edwin Escobar, the Red Sox's No. 8 prospect, has been a starting pitcher in the Minor Leagues, but has found success this winter as a reliever for Cardenales de Lara in his native Venezuela. He threw 1 2/3 scoreless innings in two appearances last week, extending his scoreless streak to seven games. In 15 appearances this winter, he has a 3.38 ERA and has struck out 10 batters and walked six in 13 1/3 innings. The Red Sox acquired Escobar from the Giants in July as part of the Jake Peavy deal. The 22-year-old made his Major League debut a month later, appearing in two games for Boston.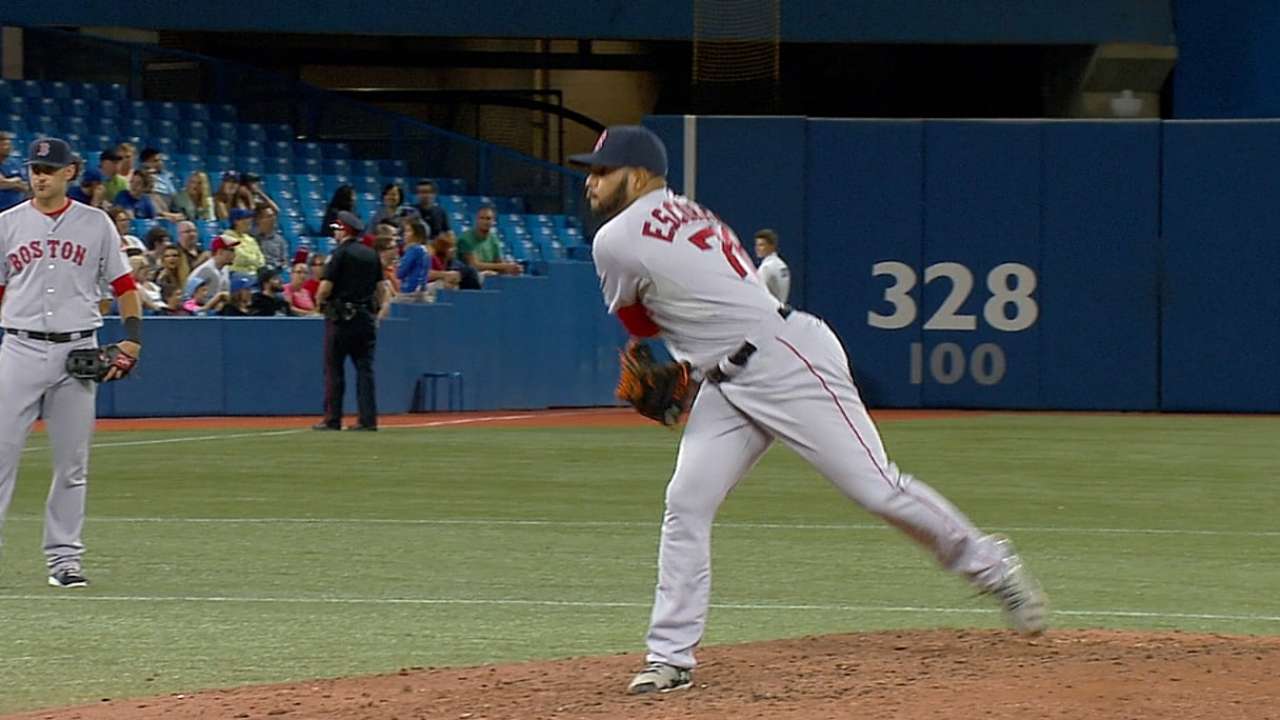 • Friday, a day after the Rangers selected him in the Rule 5 Draft, Delino DeShields played what might have been his best game of the winter for Cangrejeros de Santurce in Puerto Rico. The 22-year-old outfielder hit his first two home runs of the season and drove in five runs. DeShields, the Rangers' No. 9 prospect, is hitting .236/.330/.360 with nine stolen bases in 25 games this winter. As a Rule 5 pick, he must stay on the Rangers' 25-man roster throughout the 2015 season or he will be offered back to the Astros for half of the $50,000 Draft price.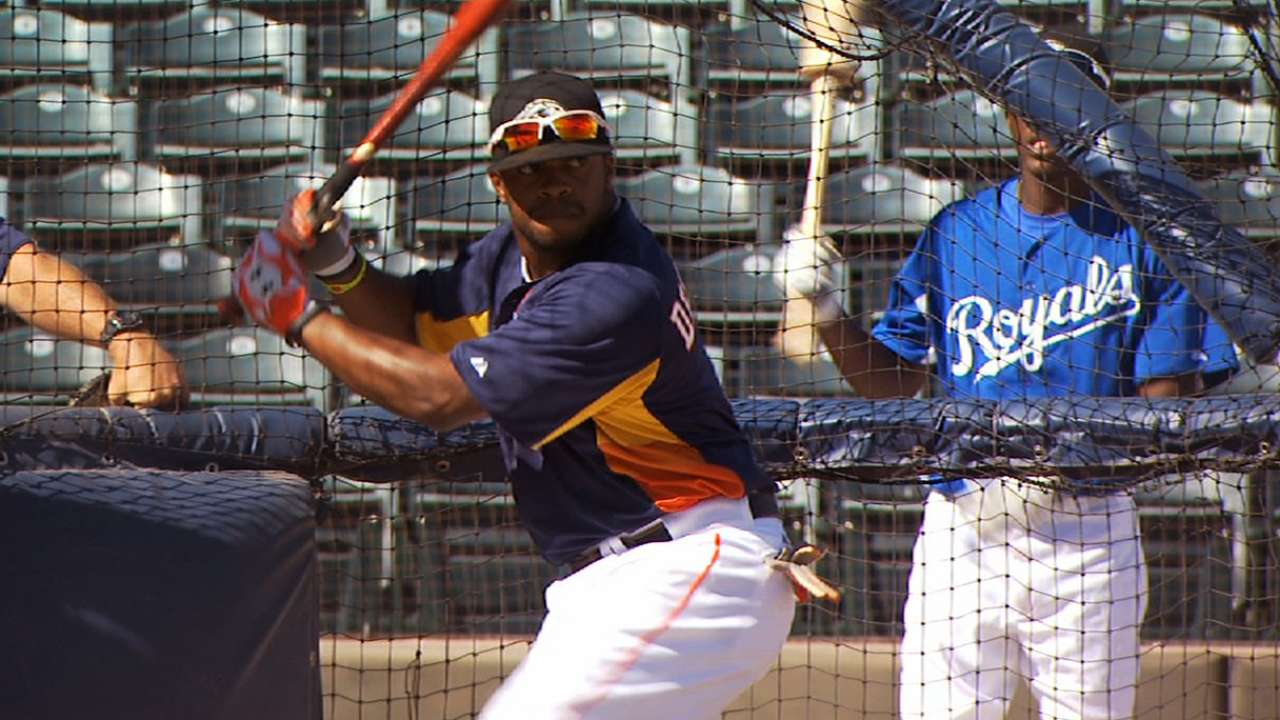 • Right-hander Miguel Almonte, the Royals' No. 5 prospect, delivered his best start of the winter Tuesday for Gigantes del Cibao in the Dominican Republic. The 21-year-old threw five scoreless innings and struck out seven batters and earned the victory as Cibao routed Licey, 11-0. He scattered three hits and walked none. Almonte, ranked No. 87 on MLBPipeline.com's Top 100 Prospects list, has pitched in four games since returning to his native Dominican Republic after playing for Peoria in the Arizona Fall League. He is 2-1 with a 1.40 ERA. He has struck out 19 batters and walked six in 19 1/3 innings.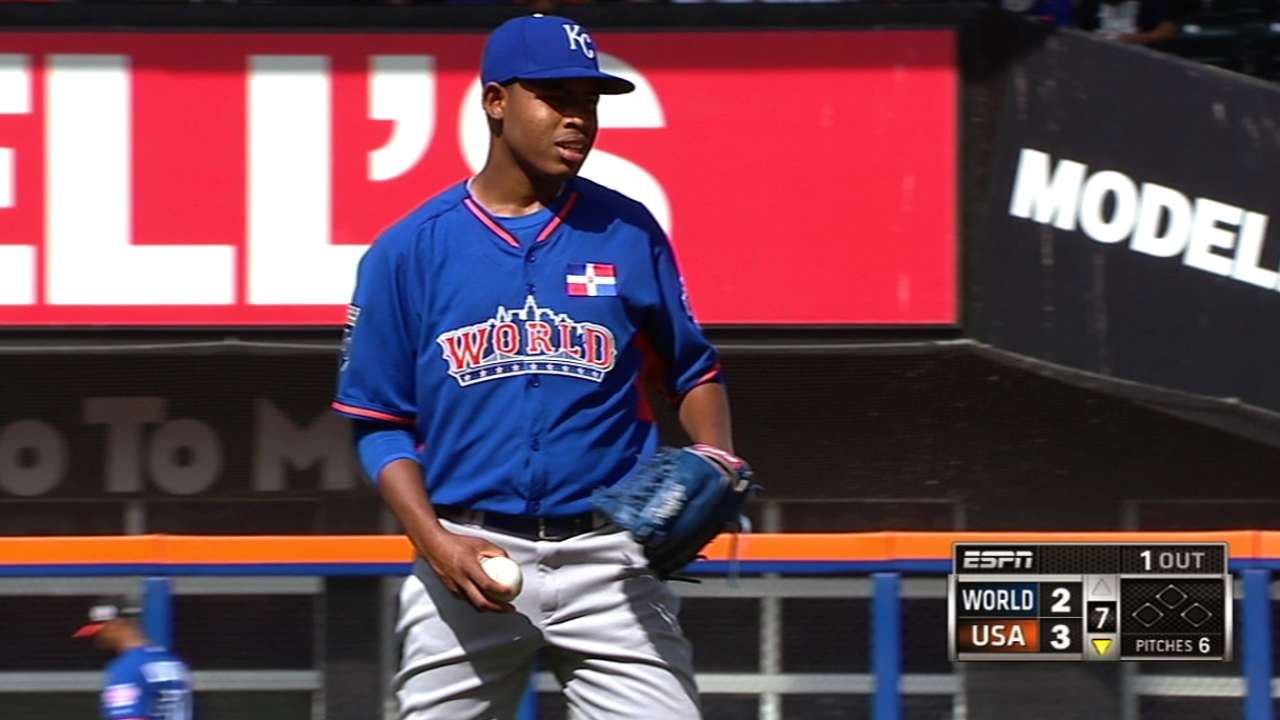 • Outfielder Cesar Puello returned home to the Dominican Republic this winter after a tough season at Triple-A Las Vegas, where he hit .252/.355/.393 with seven home runs in 105 games. He hasn't played much for Toros del Este, appearing in five games this month, but made the most of his chances last week. On Friday, Puello, the Mets' No. 13 prospect, helped lead Este to an extra-innings victory, going 5-for-6 with a home run, a double, three runs and three RBIs. He hit another home run Sunday, finishing that game 1-for-3 with a walk, two runs and a stolen base. The 23-year-old is hitting .353/.389/.588 with two home runs and five stolen bases this winter.
• Shortstop Jorge Polanco, the Twins' No. 7 prospect, made a stunning jump from the Florida State League to the Major Leagues this season and is continuing his impressive year this winter in his native Dominican Republic. Playing for Leones del Escogido, Polanco is hitting .333/.408/.483 in 22 games this winter. The 21-year-old went 8-for-20 in five games last week, highlighted by a three-hit game Sunday.
Teddy Cahill is a reporter for MLB.com. Follow him on Twitter at @tedcahill. This story was not subject to the approval of Major League Baseball or its clubs.