MLB.com Columnist
Bernie Pleskoff
Scouting profile: Angels infield prospect Eric Stamets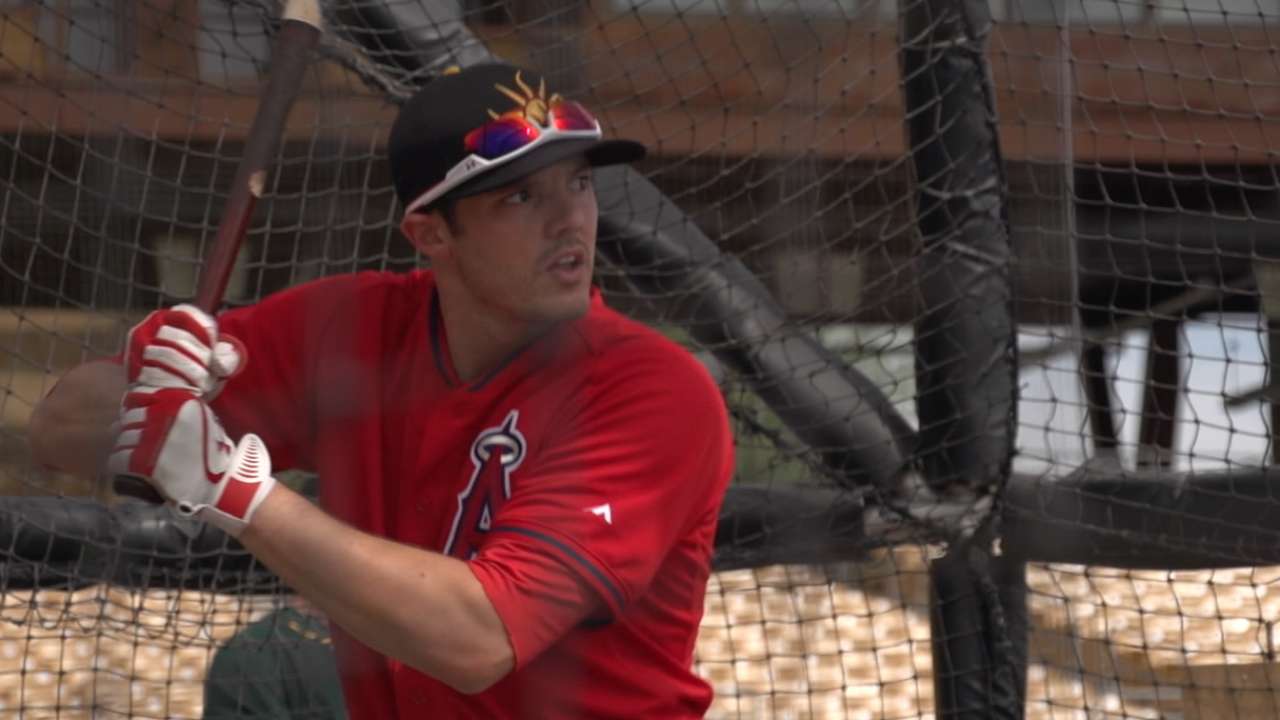 Los Angeles Angels infielder Eric Stamets was a three-sport athlete at Scioto High School in Dublin, Ohio. He played baseball, basketball and football, and he hit .541 with a 15-for-15 success in stolen bases as a senior.
Wanting to play baseball in a small school environment, Stamets was a standout shortstop for the University of Evansville. He was a first-team Freshman All American selection and went on to excel in both offense and defense throughout his career. As a junior, he hit .316 and stole 30 bases. But it was his defense at shortstop that sparked scouts' interest in Stamets.
The right-handed hitter is 6-foot and 190 pounds. The Los Angeles Angels selected him in the sixth round of the 2012 First-Year Player Draft. He is now No. 18 on the Halos' Top 20 Prospects list. He may well be the best defender and fastest player in the Angels' organization.
Stamets has progressed very well in the Halos' organization. Having completed three seasons, he has a composite batting average of .265 with 34 stolen bases in 41 attempts.
Stamets began his professional career playing in 62 games at Class A Cedar Rapids in the Midwest League. He hit .274 in 267 plate appearances. He struck out only 35 times.
In 2013 as a 21-year-old, Stamets was promoted to Class A Advanced Inland Empire, where he finished with a .281 average in the California League. A minor leg injury cost him some development time during the season. That was followed by a batting average of .235 this past season at Double-A Arkansas. Stamets missed the entire month of May with a lacerated finger.
To make up for his lost at-bats, Stamets played in the recently concluded Arizona Fall League. After I had heard so much about his "defense first" ability, I was pleased to see his approach at the plate. Make no mistake, Stamets is an outstanding defender, but he held his own at the plate in Arizona.
Stamets had 61 at-bats in Arizona. He hit a respectable .279 with only seven strikeouts. His contact hitting was a feature of his offensive approach. Stamets showed a short, quick swing and good hitting mechanics. He doesn't have much power, but he has the capability to hit the gaps for a double. All in all, he can be classified as primarily a singles hitter at this point, but that certainly might change with time.
Stamets has very good hand-eye coordination and has good pitch recognition. He doesn't get himself out swinging at pitches he knows he can't reach or drive. Stamets' plate discipline leads to good decisions. He rarely swings and misses. Hitting the ball on the ground and bunting allow him to use his good speed to get infield hits.
Stamets' defense fulfilled his advance billing. He played seven games at shortstop, four games at third base and two games at second base. In Stamets' 59 defensive chances, he made only one error. I saw his quick feet, excellent reaction time, and very good range. His arm is strong and accurate, and he makes every play look easy.
Stamets is the type of infielder that glides to the ball with little to no effort. He has range to both sides as well as coming in on the ball. Stamets' quick first step and superb agility are features of his defensive game. His arm strength and accuracy are well above average. I believe he is already capable of playing Major League quality defense.
If Stamets continues to progress offensively, he will be more than capable to assume a full-time middle-infield role. I like him best at shortstop, where he can help his pitcher the most by being the anchor of the infield. Without a doubt, Stamets can play second base as well. I am not certain he will ever have enough power to be a full-time third baseman.
With the potential for more power while still retaining his ability to put the ball in play, and more improvement in his offensive game to come, Stamets may have the right combination of skills to claim a regular starting role in the Angels' infield.
Bernie Pleskoff has served as a professional scout for the Houston Astros and Seattle Mariners. Follow @BerniePleskoff on Twitter. This story was not subject to the approval of Major League Baseball or its clubs.