Young trio ready to make impact for Nationals
Taylor, Barrett, Treinen got a taste of Majors in 2014, set to take next step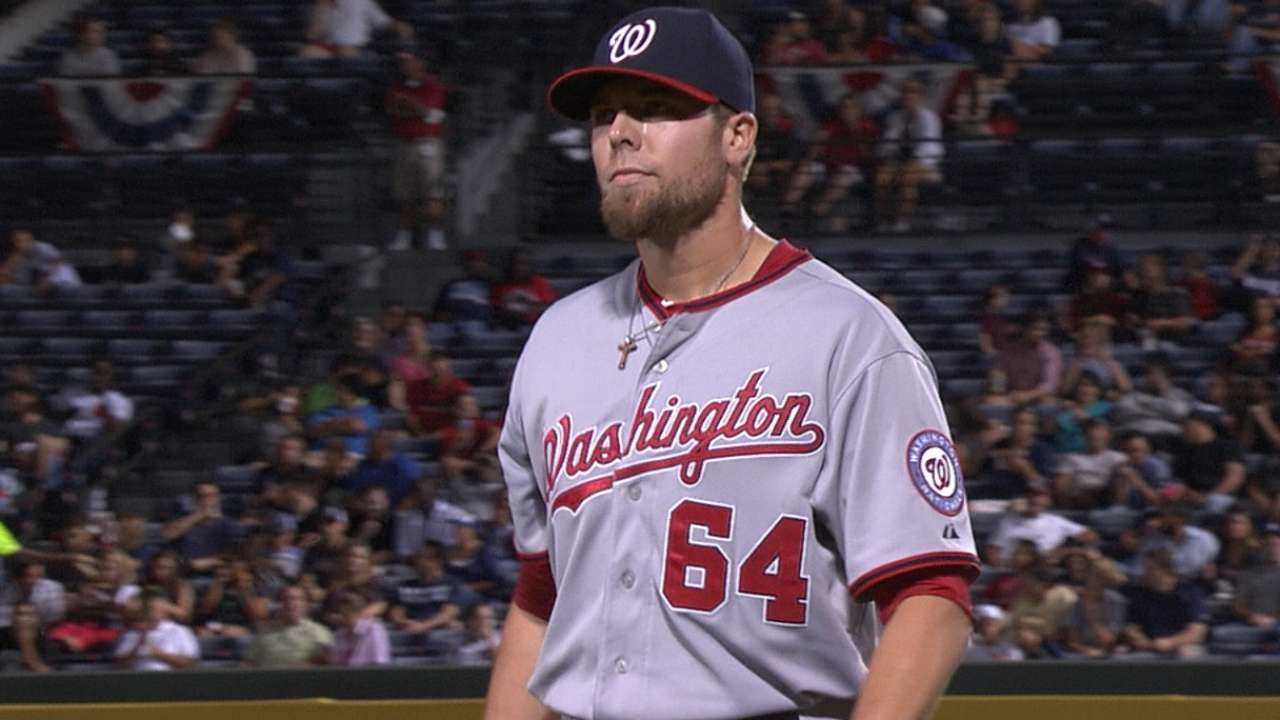 Two of the Nationals' youngest players already are two of their best, so nobody will have to wonder about Bryce Harper's or Anthony Rendon's role on the 2015 club. The future is a bit less certain, but potentially still quite bright, for another group of Nats who debuted last season and will go into '15 looking to carve out more prominent spots.
Right-handers Aaron Barrett and Blake Treinen and outfielder Michael Taylor all contributed in their first tastes of the big leagues. This season should offer more chances.
Another promising young player, outfielder Steven Souza Jr., was sent to Tampa Bay as part of Wednesday's three-team, 11-player deal. That could help Taylor get some more playing time this season, though a starting job likely remains an injury or two away, as the outfield is set.
But Taylor still is positioned as the Nats' center fielder of the future, with Denard Span having one year left on his contract. He made huge strides as a 23-year-old in 2014, hitting .313/.396/.539 with 22 homers and 34 steals in 98 games at Double-A Harrisburg before brief stints for Triple-A Syracuse and Washington.
He probably could use some more seasoning, as he's played only 12 Triple-A games and continued to pile up strikeouts last year. He whiffed 17 times while going 8-for-39 with one homer for the Nats and said that putting the bat on the ball more has been his biggest focus this offseason.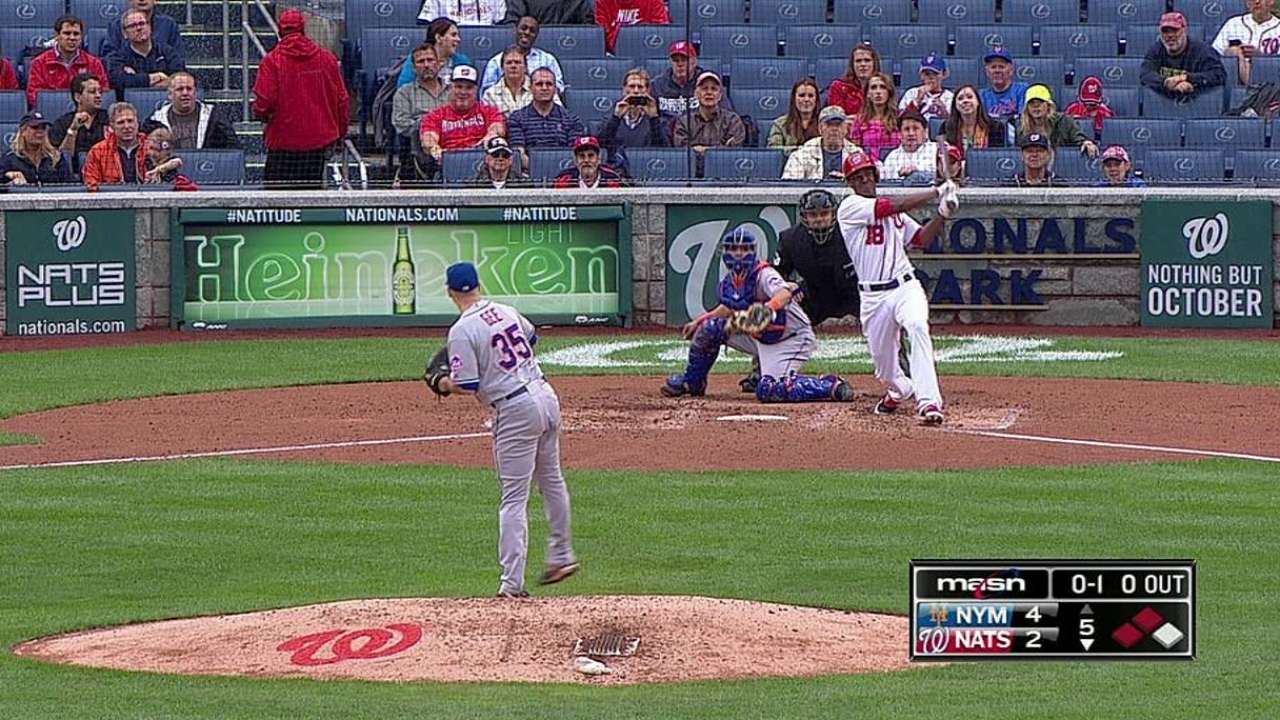 "I think it's more of a mind-set adjustment," Taylor said at Saturday's NatsFest. "I have a two-strike approach, it's just that having a plan doesn't always work out. Executing is part of it. But the more at-bats I get and the more comfortable I become with two strikes, it should feel the same as with one strike or whatever."
Barrett made the biggest impact of any Nats rookie last season, pitching his way onto the Opening Day roster as a dark-horse candidate and spending most of the season as a key part of the bullpen. At 26, he posted a 2.66 ERA and struck out 49 over 40 2/3 innings.
His season ended with a wild pitch that sent home the Giants' go-ahead run in Game 4 of the National League Division Series, but he hasn't run from that setback and is using it as fuel this offseason.
"That's why I was on the playoff roster, for that reason right there," Barrett said. "I was ready to go, and it just didn't go the way I wanted. I take responsibility for it."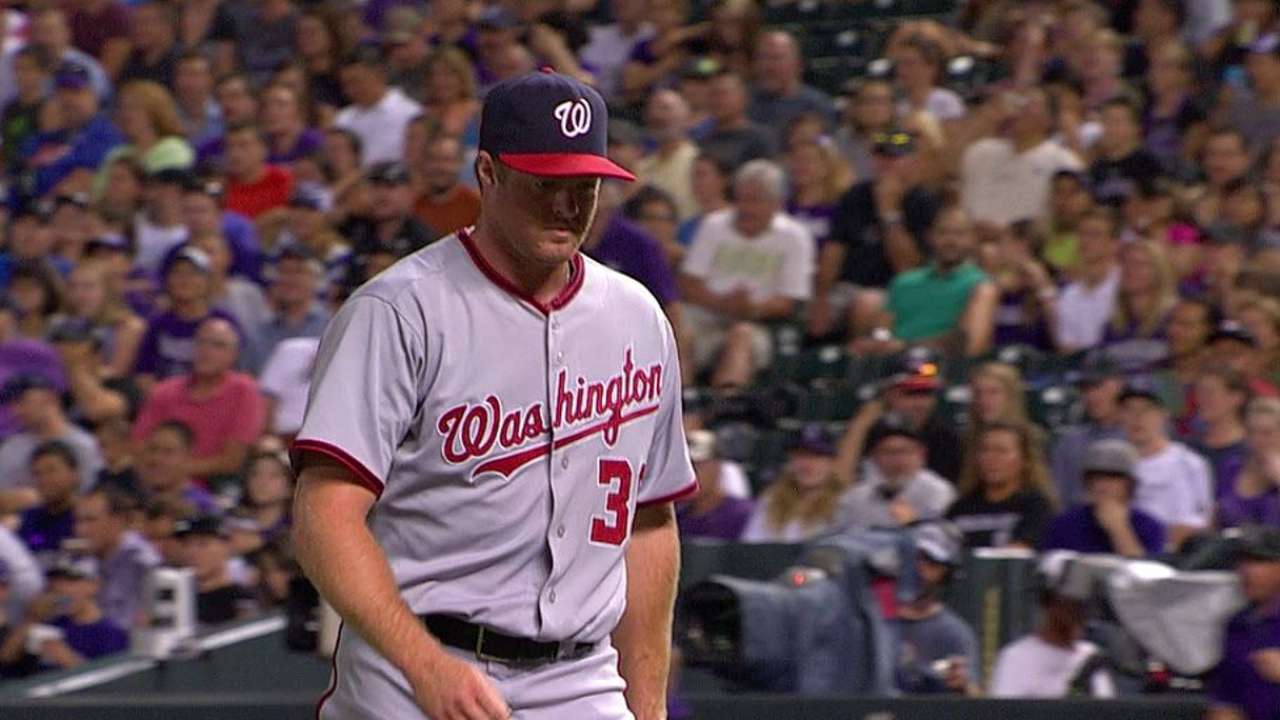 He wants to come back in 2015 with better command after walking 4.4 batters per nine innings, and a better changeup to combat lefties, who hit .275 off him.
Whereas Barrett will enter Spring Training with a clear role in the bullpen, 26-year-old sinkerballer Blake Treinen is coming off a season that saw him enjoy success as both a starter (3.00 ERA in seven outings) and a reliever (1.23 ERA over 14 2/3 innings).
Although Treinen isn't projected to make the rotation, manager Matt Williams wants him to prepare for that in case a need arises. As of now, Treinen probably would be one of the primary options to step in, along with two other young righties -- Taylor Jordan and prospect A.J. Cole.
"You can't look at it in a negative way," Treinen said of his ability to fill either spot. "To me it's a blessing, because I could never have [gotten] a chance up in the big leagues, so whatever role they give me, I'm going to try to excel in."
Like Barrett, Treinen showed a big platoon split last season -- lefties hit .337 off him -- and he is trying to sharpen his changeup. It's a pitch he's gained a better feel for and more consistency with since joining the Nats in a January 2013 trade.
"I'm not a guy that's known for a changeup, so I just want to get to the point where it's something that's in the hitter's mind that could come at any time," Treinen said. "It's such a good pitch in baseball that it's kind of dumb not to have it if you're going to be a starter."
Andrew Simon is a reporter for MLB.com. Follow him on Twitter @AndrewSimonMLB. This story was not subject to the approval of Major League Baseball or its clubs.