Inbox: When will Rollins trade officially happen?
Phillies beat reporter Todd Zolecki answers questions from fans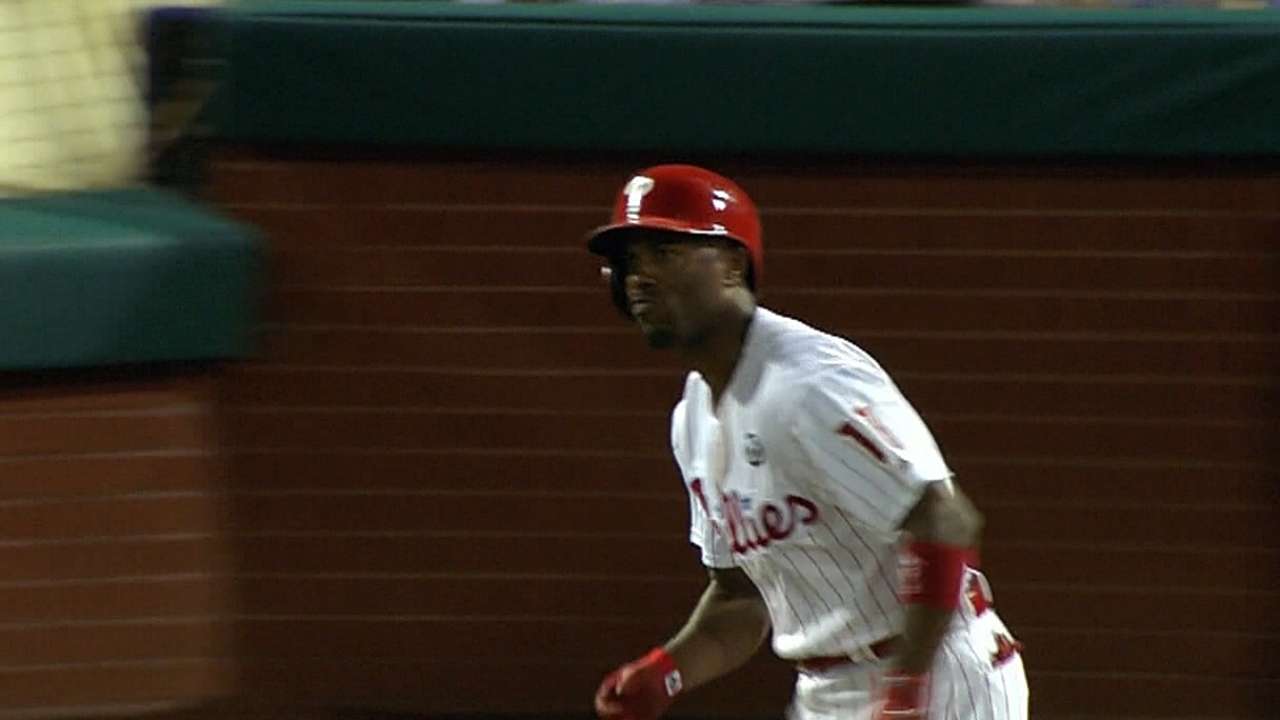 When is Jimmy Rollins going to be traded?
-- Tyler T., Las Vegas
It is only a matter of time. The holdup is the Padres-Dodgers trade, which has Matt Kemp and millions of dollars headed to San Diego. One of the prospects the Dodgers will receive from the Padres will be flipped to the Phillies, but Kemp has to take his physical first. Once that happens -- assuming he checks out OK -- the trade will be announced, and one of the most influential players in Phillies and Philadelphia sports history will be headed to Los Angeles. Expect that to happen this week. The Phillies are getting two Minor League pitchers in return: right-hander Zach Eflin (currently with the Padres) and left-hander Tom Windle (Dodgers). MLB.com ranked Eflin as the No. 10 prospect in the Padres' organization, while Windle ranked as the No. 7 prospect in the Dodgers' organization.
Click here to submit an Inbox question
Once Rollins is traded, who is next?
-- Clete T., Birmingham, Ala.
A team could cave and finally give the Phillies the top prospect(s) they seek for Cole Hamels. But that is the only way Hamels is traded -- if the Phils receive at least one blue-chip prospect. The Phillies are not going to hand their best player to anybody for a few second-level prospects. That caving team could be the Red Sox. They just spent a ton of money to sign Hanley Ramirez and Pablo Sandoval. They just acquired starting pitchers Wade Miley, Justin Masterson and Rick Porcello. They are nice pitchers, but none of them are aces. None of them can anchor a rotation. One wonders if the Red Sox will ultimately say, "OK, we have to get an ace into this rotation. Let's give the Phillies the player they want." If Hamels is not traded, I think Marlon Byrd is the most likely Phillies player to move. Too many teams need power, and Byrd is one of the only options available.
Ruben Amaro Jr. said Ryan Howard's salary won't determine his playing time if he is back in 2015. Why the change of opinion?
-- Jim S., Philadelphia
It is pretty simple, really. When Amaro torpedoed Ryne Sandberg's desire to play Darin Ruf more at first base in the second half of 2014, Amaro did it because he was trying to drive up Howard's value. Even if there was only a 10-percent chance they could trade Howard in the offseason, it would drop to zero if Howard rode the bench. So they hoped Howard would play, get hot, finish the season with 100 RBIs and look good enough in the offseason to a team needing a first baseman/designated hitter. The Phillies are willing to eat a large chunk of the $60 million owed to Howard, but if they cannot find a match, they're prepared to finally give others a shot. That could mean a true platoon at first base with Howard and Ruf, or just less playing time for Howard.
Do you think Ken Giles will close next season if Jonathan Papelbon is back?
-- Jenny B., Minneapolis
Sandberg said at the Winter Meetings that if Papelbon returns in 2015 and he is pitching well, he will be the Phillies' closer. Some think Giles deserves a shot, but I'm not sure why there is such a rush to make it happen. If Giles is going to be a successful closer, I'm not sure it matters that it happens next season or in 2016. His time is going to come.
Todd Zolecki is a reporter for MLB.com. This story was not subject to the approval of Major League Baseball or its clubs.