MLB.com Columnist
Jim Callis
Inbox: How optimistic can Blue Jays be about Hoffman?
Jim Callis responds to fans' questions about baseball's top future stars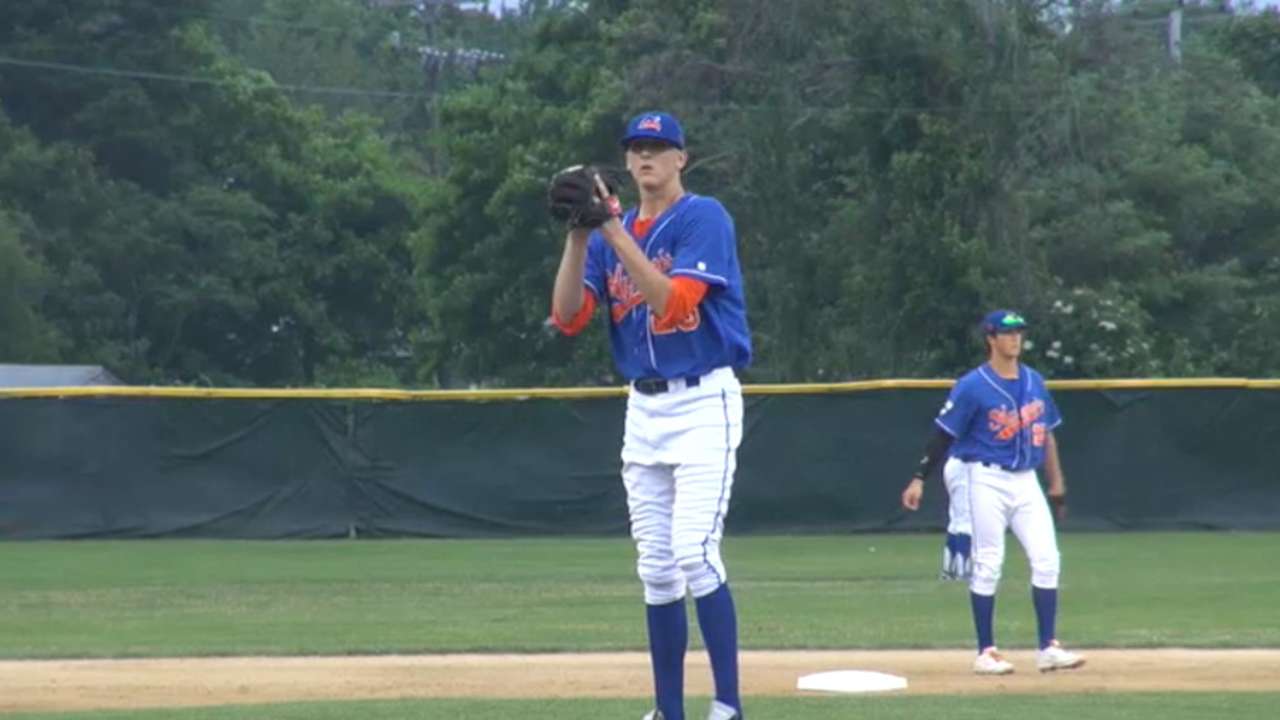 At MLBPipeline.com, we've been busy making our lists and checking them twice. There was a lot of trade activity at the Winter Meetings, and every time a deal happens, we adjust the appropriate team Top 20 lists at Prospect Watch. We're still waiting for the Dodgers' moves to send Matt Kemp to the Padres and acquire Jimmy Rollins from the Phillies to become official, and then we'll update those Top 20s as well.
Our next big project is to determine our Top 100 Prospects list for 2015. We're in the preliminary stages of putting those rankings together and will unveil them in the second half of January. This is my last Pipeline Inbox before Hanukkah and Christmas, so happy holidays to everyone!
How optimistic can Blue Jays fans realistically be about right-hander Jeff Hoffman? What's his realistic outcome, floor and ceiling?
-- Michael D., Toronto
Hoffman had a chance to go No. 1 overall to the Astros in the 2014 First-Year Player Draft and likely wouldn't have gotten past the Cubs at No. 4 had he not injured his elbow in late April and required Tommy John surgery. Teams obviously prefer that their first-round picks don't have elbow reconstruction on their résumés, but with his talent and the track record of Tommy John surgery, there's plenty of cause for optimism.
A healthy Hoffman had a mid-90s fastball capable of hitting 98 mph, a big-breaking curveball and a deceptive changeup. He showed the potential for two plus-plus pitches and a third plus offering, combined with a good pitcher's frame and projected solid command.
Hoffman has a ceiling of a legitimate No. 1 starter and that hasn't changed. Though Tommy John surgery comes with no guarantees, so many pitchers have regained their stuff afterward that there's no reason to think he won't as well. Barring further injury, he should become at least a mid-rotation starter for the Blue Jays.
The only significant change to Hoffman's outlook is his big league ETA. He might have reached Toronto before the end of 2015 if he hadn't been hurt. Now 2017 is a more realistic goal.
I generally think it's unfair to compare two players just because they're from the same country, but in the case of Cuban outfielders Rusney Castillo (Red Sox) and Yasmany Tomas (Diamondbacks), I believe it's fair because they're in the same situation (just came over to the United States and signed fat contracts, but their skill is unproven at the Major League level). Who is likely to make more of an impact in 2015?
-- Sean T., Los Angeles
Castillo signed a seven-year, $72.5 million contract with Boston in August, then hit two homers and stole three bases in a 10-game cameo with the Red Sox in September. Tomas agreed to a six-year, $68.5 million pact in November. Those are the two largest guarantees ever for Cuban defectors, surpassing the six-year, $68 million deal the White Sox gave Jose Abreu in October 2013.
Chicago has no regrets after watching Abreu hit .317/.383/.581 with 36 homers and lead the big leagues in slugging. While Arizona and Boston are counting on Castillo and Tomas stepping right into their lineups and contending for Rookie of the Year awards, they aren't expected to pound pitchers like Abreu did. Castillo is the better bet for 2015.
Tomas, 24, has well above-average raw power and should hit more home runs, but there are some questions about his swing and his ability to hit quality pitching. Castillo, 27, is a more well-rounded player with better hitting and on-base skills as well as much more speed and defensive value. While he doesn't have Tomas' strength, Castillo has average pop and could produce 15 homers.
How does Twins outfielder Eddie Rosario's bat translate to the big leagues?
-- Dan M., Rosemount, Minn.
Rosario had a rough 2014 regular season, missing 50 games with a suspension after a second positive test for a drug of abuse and hitting .237/.277/.396. He got back on track in the Arizona Fall League, where he almost won the batting title and looked more like the player who entered the year with a career .307/.358/.510 line in the Minors.
The question with Rosario isn't whether he'll hit in the Majors -- he has quick wrists and a knack for making consistent hard contact -- but whether he'll do enough else to profile as an everyday player. While the 23-year-old spent most of 2012 and 2013 at second base, he's not a fluid infielder and fits best in the outfield, where he logged most of his time this year. Though he has good outfield instincts, his average speed has him destined for a corner and he doesn't have the power desired at that position.
Rosario could wind up hitting for a high average but with so-so on-base and slugging numbers, which could make it hard for him to claim a job in Minnesota's lineup. The Twins' outfield of the future likely will comprise of Oswaldo Arcia, Byron Buxton and Danny Santana, so Rosario may have to settle for a utility role or hope for a trade.
Do you think Vanderbilt right-hander Carson Fulmer's height will be an issue that affects where he ends up being selected in the 2015 Draft?
-- John K., Oakmont, Pa.
On one hand, Fulmer has a 93-97 mph fastball and a power curveball and starred as a starter on Vanderbilt's College World Series championship team and with the U.S. collegiate national squad in 2014. On the other, he's 5-foot-11 and 195 pounds, which leads to worries as to how well he'd hold up taking the ball every fifth day in a big league rotation.
Size isn't everything -- Tim Lincecum has won two Cy Young Awards and three World Series rings with the Giants while listed at 5-foot-11 and 170 pounds -- but bigger pitchers generally maintain their stuff more easily and deeper into games, which is essential for a starter. Fulmer throws with a lot of effort and some scouts think he'd be better off channeling his energy into closing games. If he had an easier delivery, they'd feel better about his chances of sticking in a rotation.
Despite the debate over his future role, Fulmer ranks No. 12 on MLBPipeline.com's Draft Top 50 and should go in the upper half of the first round. Our list features another Vanderbilt righty at No. 4 in Walker Buehler, and he's also undersized at 6-foot-1 and 160 pounds. Buehler has a deeper repertoire and better command than Fulmer, and he also has smoother mechanics.
Jim Callis is a reporter for MLB.com and writes a blog, Callis' Corner. Follow @jimcallisMLB on Twitter. This story was not subject to the approval of Major League Baseball or its clubs.