MLB.com Columnist
Bernie Pleskoff
Scouting profile: Brewers outfield prospect Tyrone Taylor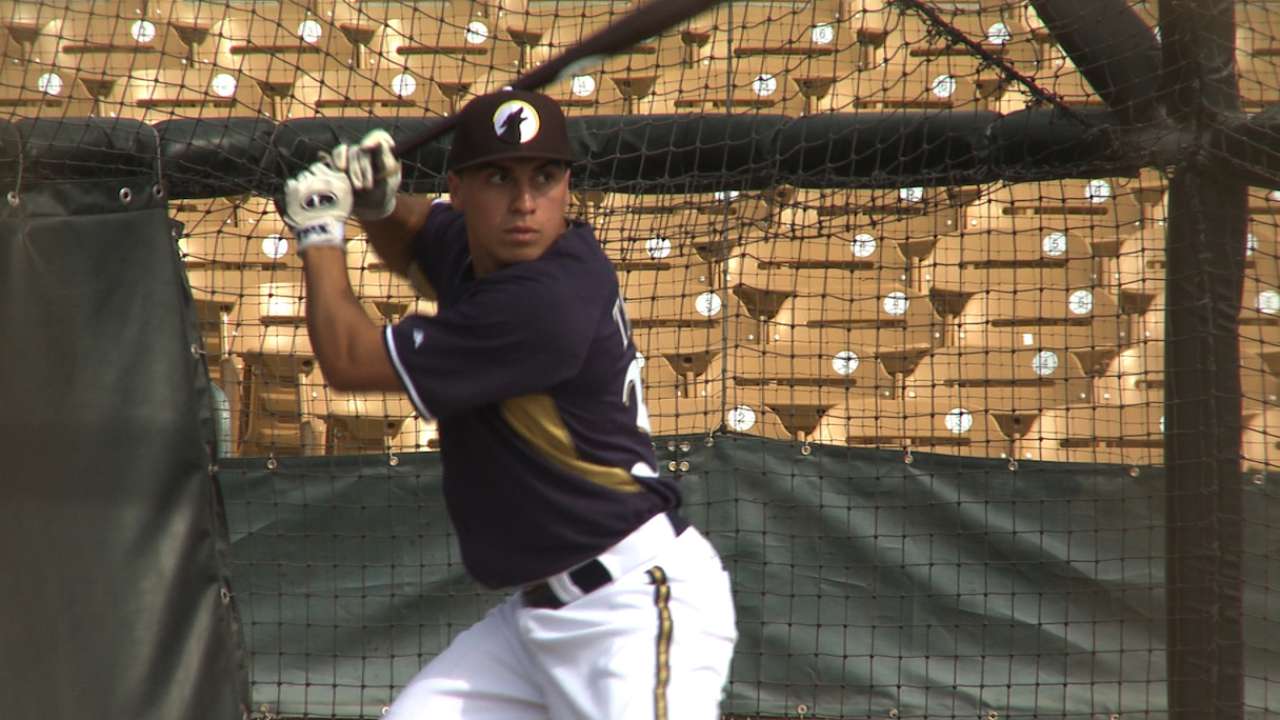 Outfielder Tyrone Taylor -- the Brewers' top-ranked prospect, according to MLB.com -- may have had a career as a football player. The two-sport standout from Torrance (Calif.) High School ran for 1,521 yards, and averaged 7.8 yards a carry in his senior year. He also caught 25 passes for 425 yards and 11 touchdowns. Overall, he scored 20 touchdowns.
As outstanding as he was in football, he really opened eyes playing baseball. In his senior year, Taylor hit .488 with four home runs, 29 RBIs and 28 runs scored. That was even better than his .472 junior year batting average.
Taylor could have attended Cal State University Fullerton on a baseball scholarship. Instead, when the Brewers selected him in the second round of the 2012 First-Year Player Draft, he signed his contract and became a professional baseball player.
Taylor is a 6-foot, 185-pound right-handed hitter. He has outstanding speed with first-step quickness. Currently playing center field at the age of 20, he may grow beyond his current frame and actually fit just as well as a game-changing corner outfielder.
Taylor had tremendous success as a rookie in 2012. He began his career hitting a combined .387 for the Brewers Rookie League teams at Helena in the Pioneer League (.385) and then playing for the summer Brewers Arizona League team (.389). He had a total of 83 plate appearances, a small sample size but an indication of things to come with his solid hitting tool. In those limited at-bats, Taylor managed to smoke nine doubles, three triples and two home runs. Of equal importance to his batting average was the fact he struck out only 11 times. A wrist injury cost him some playing time.
From the time Taylor began his career, he showed an ability to hit for average and use his above-average speed. Over his first three seasons in Minor League baseball, Taylor has 48 stolen bases. He has been caught stealing 17 times, and that is an area for improvement.
Taylor projects to be a top-of-the-order leadoff hitter. He has a career on-base percentage of .339. He has quick, sprinter-type acceleration out of the batter's box. He still has to learn the techniques and mechanics of stealing bases, as his success rate is not what it will become. Like every other baseball skill, repetition and experience will help convert his usable speed to practical results. Even though it is not totally refined, his speed is a tremendous asset in center field as well as on the bases. He covers a great deal of ground and closes on balls hit in the gaps very quickly.
I had an opportunity to scout Taylor in the recently concluded Arizona Fall League. Taylor played 18 games in center for the Glendale Desert Dogs. He handled 48 chances without making an error. Offensively, Taylor hit .271 in 93 plate appearances. He stole three bases in four attempts. Taylor made the AFL West Division Fall Stars team.
Strong for his size, Taylor has a chance to be a true five-tool player. His power may be his last tool to develop. He is aggressive at the plate and at times gives away at-bats to the pitcher. As a young, raw player, Taylor needs to improve his pitch recognition and patience at the plate. He has to work more counts and be more selective. He already has an outstanding walk rate, and increased patience will improve that category as well. Those improvements will come with more development time and repetition.
Taylor's contact ability could yield more balls landing over the fence as he continues to develop. His short, quick stroke features a barrel of the bat approach and an ability to center the ball up the middle of the diamond. It would not be surprising if Taylor ultimately becomes a player that hits 17- 20 home runs per season.
Despite still being a few years away, Brewers have a player with a projectable, exciting future in Taylor. His appearance in the Arizona Fall League demonstrated the confidence the team has in his ability.
Bernie Pleskoff has served as a professional scout for the Houston Astros and Seattle Mariners. Follow @BerniePleskoff on Twitter. This story was not subject to the approval of Major League Baseball or its clubs.