Inbox: Evaluating Red Sox's return for Cespedes
Beat reporter Ian Browne fields fans' questions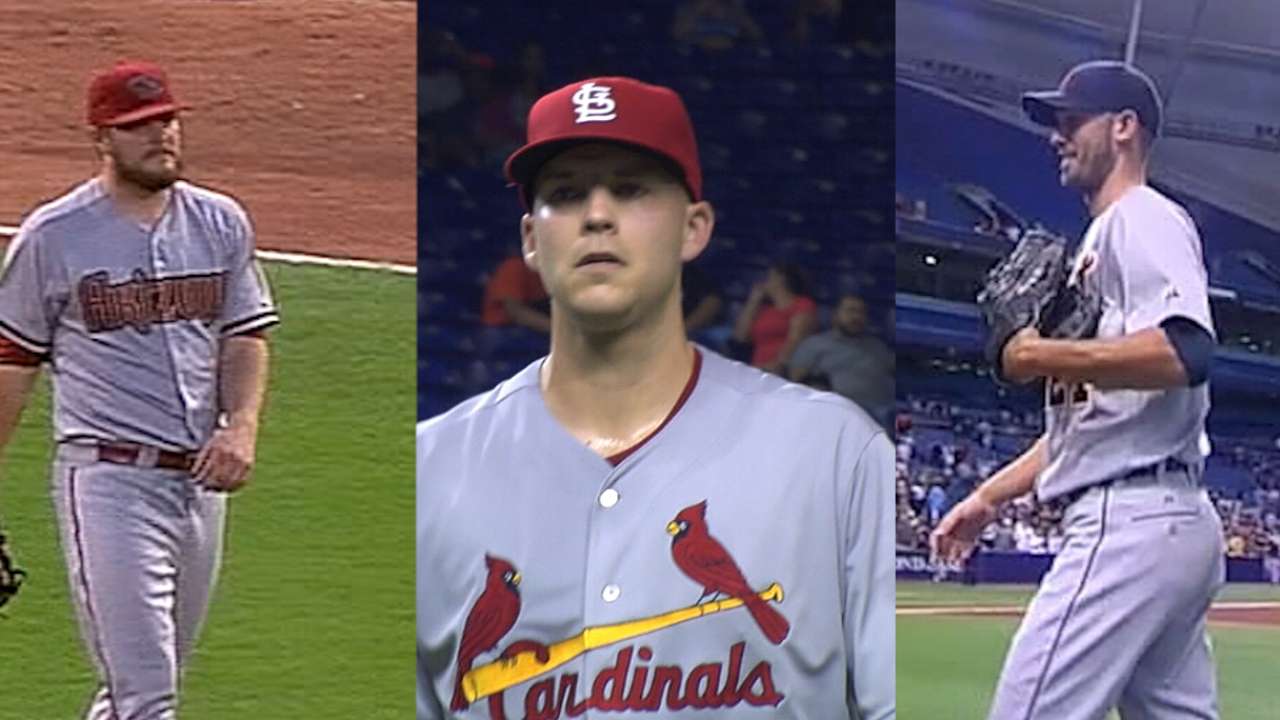 What do you make of the Rick Porcello-Yoenis Cespedes trade? I know Porcello is a bit underrated and has a big upside, but I expected the Sox to get a more exciting return, given all the trade rumors on Cespedes.
-- Seth H., Brooklyn
I like the trade. As soon as the Red Sox got Hanley Ramirez to play left field for the next four seasons, there was no longer was much of a fit on the roster for Cespedes. There was a glaring need for more pitching, particularly after Jon Lester signed with the Cubs. Porcello is coming off a 15-win season and isn't even 26 years old yet, despite being just a year away from free agency. General manager Ben Cherington spent a lot of time discussing Cespedes with all interested parties, and Porcello was the return that he liked the best. If the Red Sox can sign Porcello long-term, I'll like the trade even more.
What is the deal with James Shields? He's been quiet this offseason. Have the Red Sox talked to him yet?
-- Noah M., Lebanon, N.H.
Shields lives in the San Diego area and he visited with several teams during the Winter Meetings, including the Red Sox. He would be a nice piece for the rotation, but there could be plenty of competition for his services, most notably from the Giants. Keep an eye on this one, as Shields is really the only premier starting pitcher on the market aside from Max Scherzer, who is all but certain to be out of Boston's price range.
Click here to submit an Inbox question.
Who are the top prospects in Boston's farm system right now aside from Henry Owens?
-- Michael, Willingboro, N.H.
Catcher Blake Swihart, the club's No. 2 prospect, is the guy we keep hearing about. The Red Sox will get a good look at him in Spring Training to see how close to Major League-ready he is. Lefty Eduardo Rodriguez is the man the Sox got in the Andrew Miller trade with the Orioles and he's always had intriguing stuff. Another lefty to watch is Brian Johnson, who has climbed up the farm system in impressive fashion despite not getting the hype as some of the other prospects. Matt Barnes is probably the most promising righty pitcher in the farm system. Shortstop Deven Marrero is already a plus defender, but the jury is out on how much he will hit.
With Pablo Sandoval and Hanley Ramirez signed to play third and left, where do you see Brock Holt -- who had a very good season -- playing in 2015?
-- Mike K., Pittsburgh
Look for Holt to play here, there and everywhere. He is the definition of a super-utility man, and one who possesses a good left-handed bat. Last year, Holt played everywhere but pitcher and catcher. I would expect the same to be true this year. I don't think it's out of the realm of possibility that he could get 250 to 300 at-bats in that role.
If Will Middlebrooks is not traded, do you see him working on a new position in the Minors? Perhaps first base, where it might keep him more healthy? I still think he has great potential.
-- Jeff C., Las Vegas
I do believe Middlebrooks will work on other positions in the Minors this season, as it only increases his value to other teams and the Red Sox. It's too early to give up on Middlebrooks. Power is perhaps the hardest commodity to find in today's game, and he has that.
With the Red Sox without a viable option at backup catcher, do you see them looking at Jose Molina? He is 39, but they could get him cheap and he could serve as a mentor for the younger guys behind the plate.
-- Cory E., Manchester, N.H.
If the Red Sox were going to go down the road of bringing in an older backup whose main specialty is defense, I'm guessing they would re-sign David Ross. Not only is Ross considered a leader, but he is already familiar with several pitchers on the club. There's still a chance they will trade for a backup who hits left-handed. There isn't a whole lot in terms of catchers available in free agency.
With a surplus of talent around the diamond for the Sox, would it be a possibility for Mike Napoli to catch while moving Sandoval to first and Hanley to third?
-- Trey Y., Fort Myers, Fla.
Napoli's catching days are behind him. Given the hip condition he had when he first signed with the Red Sox, I don't think Napoli will ever catch again, unless it was an extreme emergency situation inside of a given game. Also, the Red Sox still like Sandoval's defense at third and they are looking forward to seeing how Ramirez makes the transition to left field.
Ian Browne is a reporter for MLB.com. Read his blog, Brownie Points, and follow him on Twitter @IanMBrowne.
This story was not subject to the approval of Major League Baseball or its clubs.