MLB.com Columnist
Bernie Pleskoff
Scouting profile: A's shortstop prospect Daniel Robertson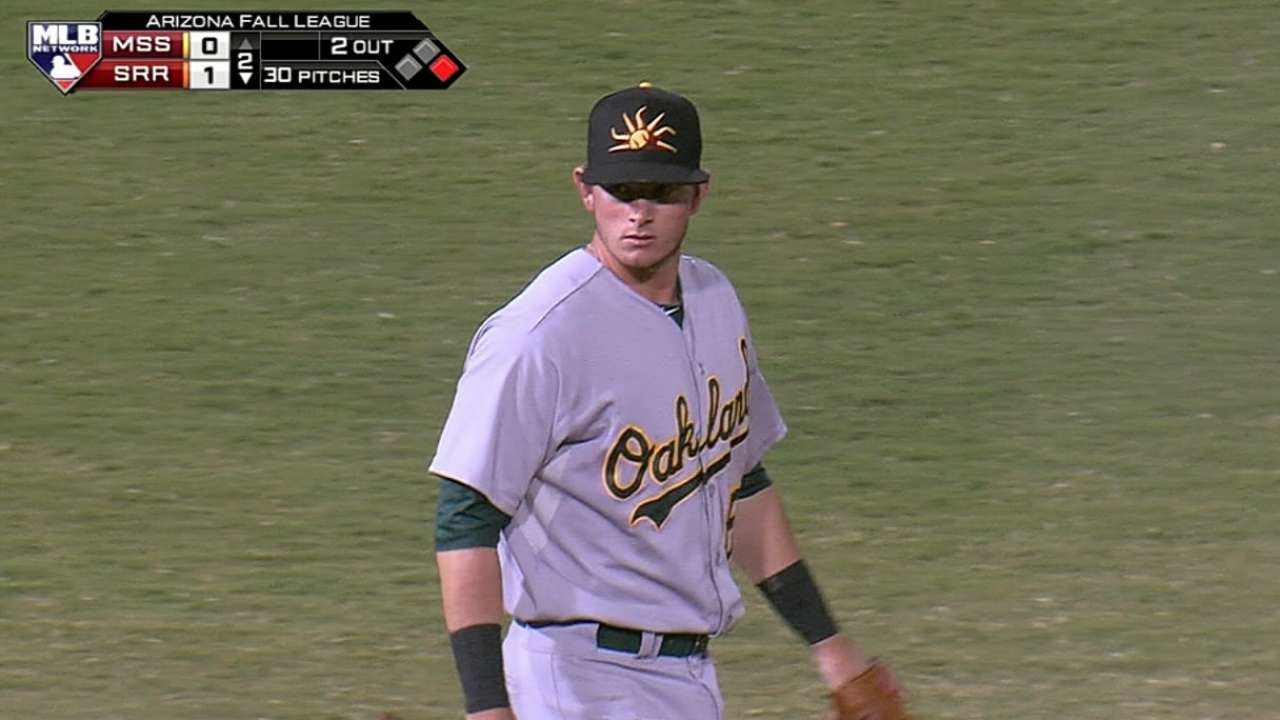 Oakland Athletics infielder Daniel Robertson -- the club's top-ranked prospect according to MLB.com -- had an outstanding career at Upland High School in Southern California. In his senior year, he hit .560 with six home runs and 41 RBIs. He had converted to playing shortstop after playing third base in his first three years. In his final season he also walked 29 times in 28 games while striking out only six times. He signed a letter of intent to attend UCLA.
In the 2012 First-Year Player Draft, the Athletics chose standout prospect Addison Russell with their first selection at No. 11 overall. Then the team picked Robertson with a supplemental selection at No. 34. He signed a contract and began playing professionally with the Athletics' Arizona League club in the summer of 2012. He later moved to the team's Class A Short Season Vermont club to finish the season. He finished his rookie year hitting a combined .241 with 12 doubles, two triples and five home runs. He drove in 30 runs.
After playing well at Class A Beloit in 2013, Robertson hit .310 in 642 plate appearances this past season at Class A Advanced Stockton in the California League. His season included 37 doubles, three triples and 15 home runs. He had served notice that his bat was very legitimate and that his power was emerging.
I watched Robertson play in the recently concluded Arizona Fall League. He easily made my list of top players I scouted during the autumn season. He finished the Fall League with a batting average of .310. Among his 22 hits were a double and a home run. He hit consistently from the beginning to the end of the season, getting on base and scoring 13 runs for his Mesa Solar Sox club. I believe hitting for average to be his best overall tool.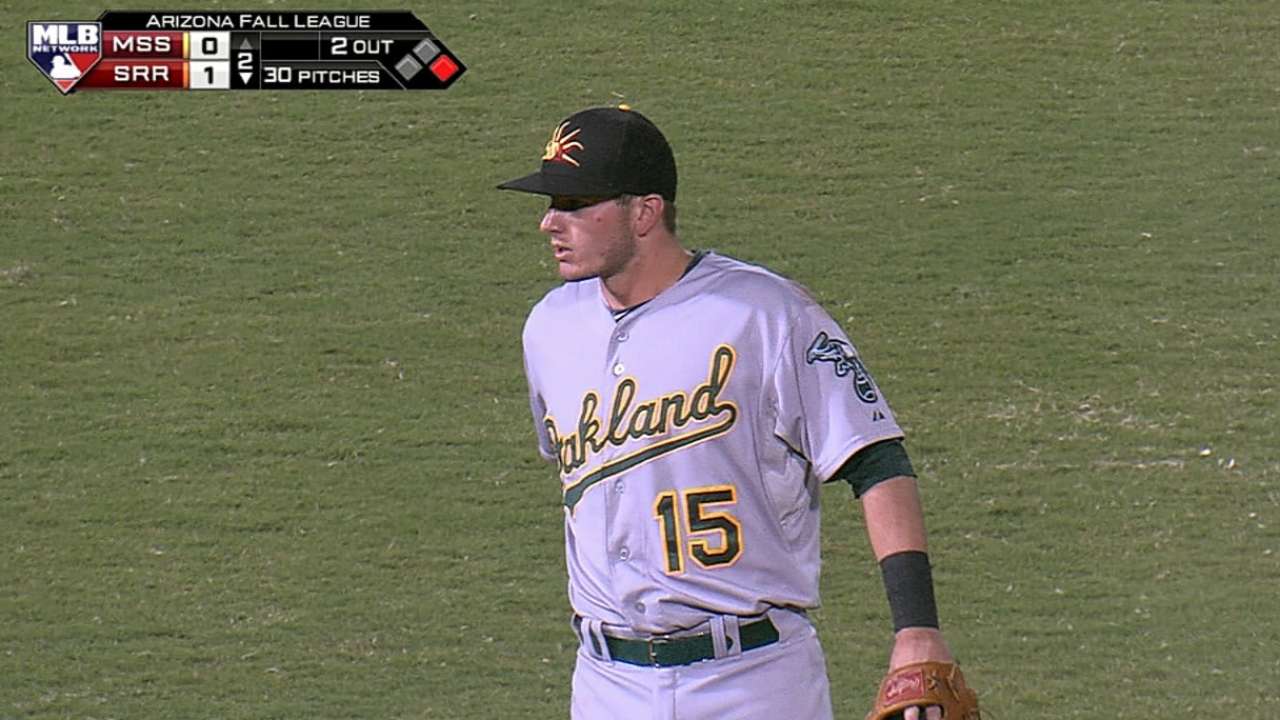 Robertson is a 6-foot, 190-pound agile and able infielder, but his bat is his most refined tool. A good athlete, the right-handed hitter is still only 20 years old and has the possibility of adding more muscle and strength to his frame.
Offensively, Robertson has quick hands and a very uncomplicated short, compact swing. He has the ability to drive the ball to the gaps with quick wrists and strength in his forearms. With a strong and balanced body, Robertson projects to hit double-digit home runs. For now, however, his advanced offensive strength comes from using the entire field with his line-drive stroke. I was impressed by Robertson's ability to disdain a longer swing and temptation to drive the ball over the fence. That showed his mature and advanced hitting approach.
Throughout his career to date in parts of three seasons, Robertson has shown consistency at the plate by hitting very well against both right- and left-handed pitching. But he really punishes lefties. This past year, he hit .304 against righties but .326 against left-handed pitching. His smooth swing and very good pitch recognition are primary factors that contribute to his success.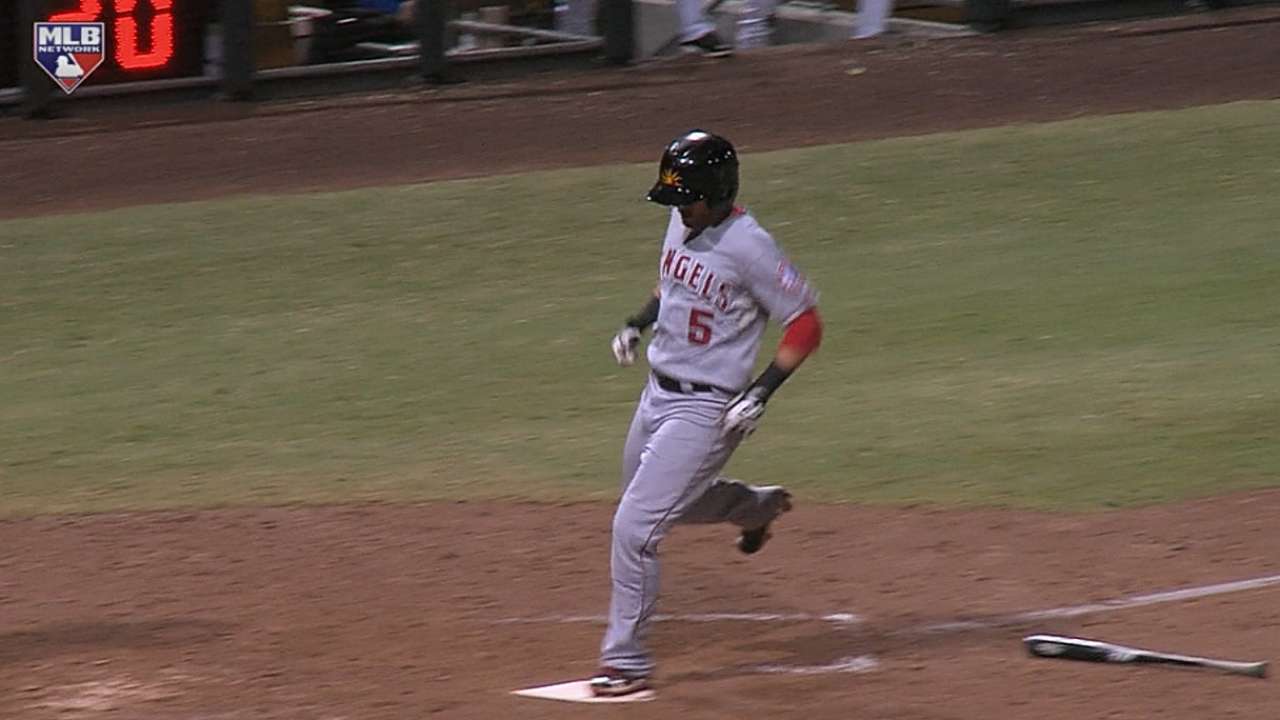 Robertson has a very good sense and feel for the game. He takes a mature approach to the plate and to the field as a defender. Some scouts feel he projects better as a third baseman because of what they perceive to be limited range. To the contrary, I was impressed with his range, his quick, soft hands and his strong and accurate arm while playing shortstop. He has a nice first step and is well aware of where the ball is hit, anticipating his defensive response with good results. I think he has the ability to remain a shortstop, or if needed, move to third base if the team's needs so dictate. But he can certainly play shortstop well.
The Athletics selected Robertson for his bat, not his ability to run. While he doesn't have much speed, his sound fundamentals lead to good baserunning with few mistakes. He isn't likely to steal many bases, but he won't clog the bases either.
Robertson brings the Athletics a solid hitter with an ability to play effectively at either shortstop or third base. He can complement an offense with a solid on-base percentage and an ability to drive in runs.
Bernie Pleskoff has served as a professional scout for the Houston Astros and Seattle Mariners. Follow @BerniePleskoff on Twitter. This story was not subject to the approval of Major League Baseball or its clubs.