Melky, White Sox have 3-year deal
Outfielder expected to hit second behind Eaton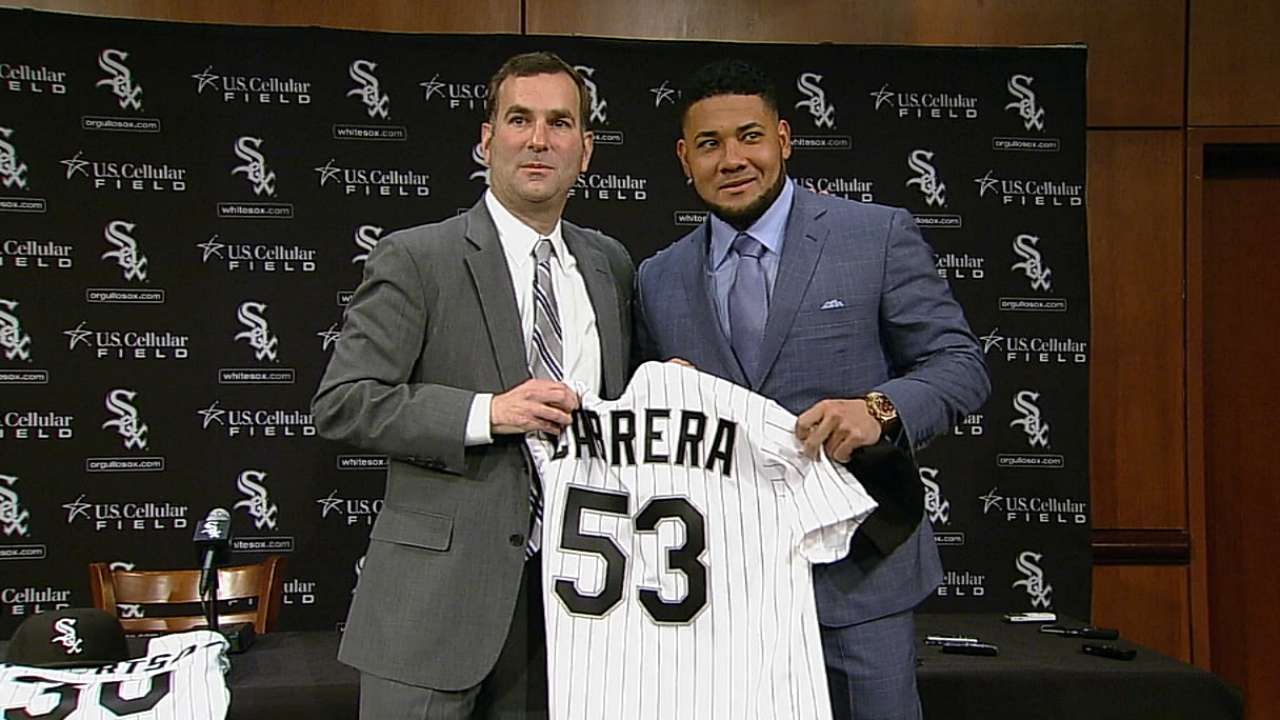 CHICAGO -- Two primary reasons stand out for the White Sox being able to announce a three-year, $42 million deal with Melky Cabrera on Tuesday morning, prior to the afternoon news conference at U.S. Cellular Field introducing the switch-hitting outfielder, Jeff Samardzija and David Robertson.
Those reasons are White Sox chairman Jerry Reinsdorf and an excited, confident White Sox fan base, who have responded positively to this flurry of offseason moves.
"First and foremost, Jerry Reinsdorf giving us the latitude to aggressively pursue Melky when it became clear to us that there was a realistic chance of signing him," said White Sox general manager Rick Hahn during a conference call, addressing going over budget to add Cabrera, who will earn $13 million in 2015, $14 million in 2016 and $15 million in 2017. "And I think the second factor which gave Jerry a level of comfort with being so aggressive is the response that we have received from Sox fans so far this year in response to our moves.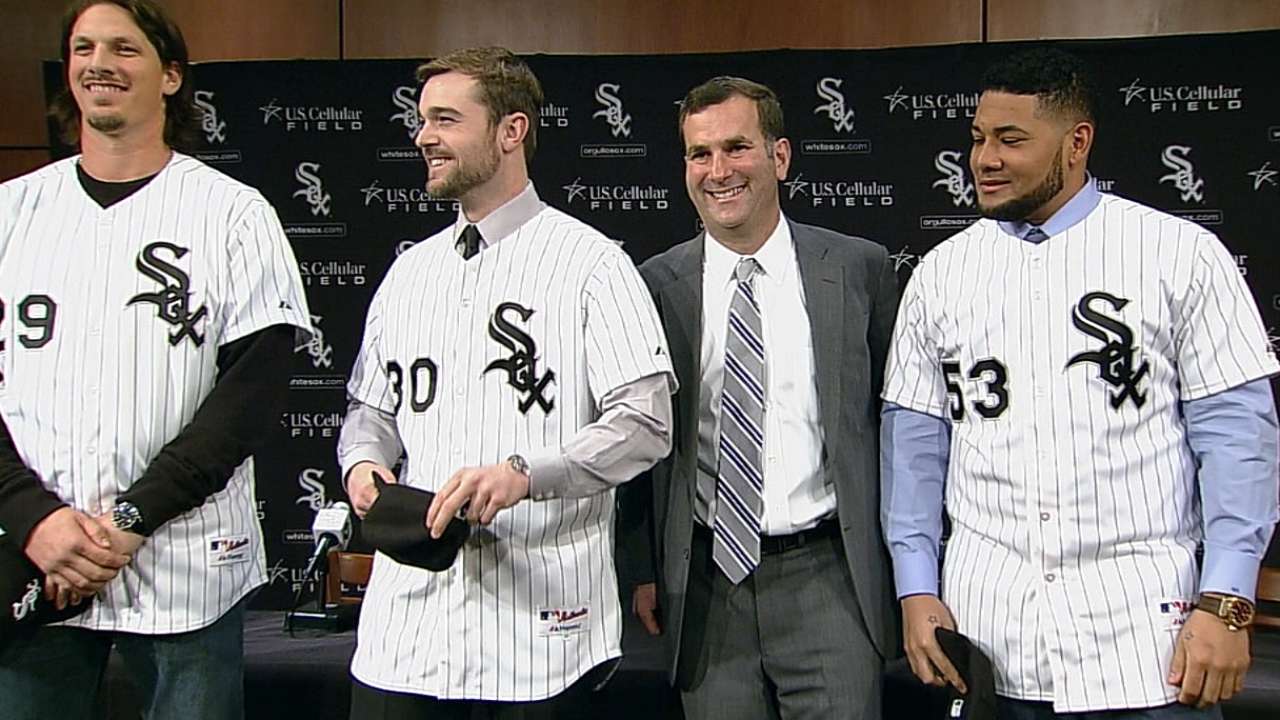 "Things have gone well so far from a sales standpoint, which played a role in Jerry allowing us to go beyond our originally targeted payroll. As we sit here today, we're beyond where we expected to go in terms of the 2015 payroll. That is, again, a direct result of Jerry saying he saw the fit, he understood what we wanted to do and in the end gave us the flexibility to convert on the deal."
Cabrera, 30, not only provides the White Sox an upgrade offensively and defensively in left field, but also fits perfectly into the No. 2 spot of the White Sox lineup behind Adam Eaton. He hit .301 with a .351 on-base percentage and a .458 slugging percentage for the Blue Jays in 2014, to go along with 16 homers and 73 RBIs.
"I can play and hit any position in the lineup," said Cabrera through translator and White Sox Spanish language broadcaster Hector Molina. "I just want to play and be happy and help the team."
Of Cabrera's 171 hits last season, 54 went for extra bases. His .310 (129-for-426) average vs. right-handed pitchers ranked seventh in the American League, while he is a career .336 hitter with 10 doubles, seven homers, 24 RBIs and a .957 OPS over 34 games as a visitor at U.S. Cellular Field.
His 581 strikeouts over 4,857 career plate appearances reinforces Hahn's point that Cabrera is a tough out.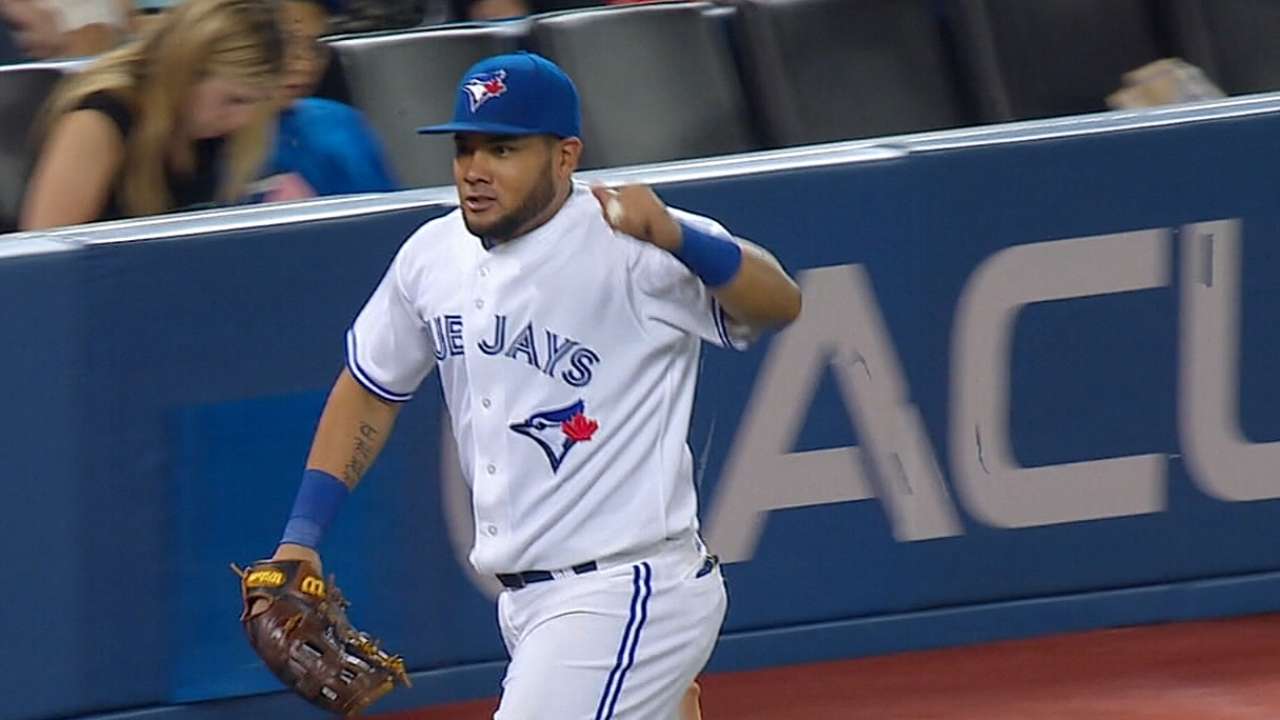 "Obviously, given his switch-hitting ability, he balances us out nicely," Hahn said. "He's a guy who, along with Adam Eaton, will help set the table nicely given his ability to get on base on a fairly consistent basis in front of the heart of the order and provide more RBI opportunities for [Jose] Abreu, [Adam] LaRoche and Avi [Garcia].
"The addition of Melky will keep the line moving and create more run-scoring opportunities for our lineup. He battles and has a knack for barreling up the ball and driving it to all fields. He's really a very fine fit for us given what we needed for this lineup."
Moving Cabrera into the lineup's two slot allows Alexei Ramirez to hit in a lower, run-producing spot that he prefers. Cabrera confirmed there was the possibility of a four-year offer that he left behind, but his free-agent addition completes one of the more impressive and important weeks in recent memory for the White Sox.
They acquired Samardzija in a six-player deal with the A's to give the team an elite 1-2 punch at the top of the rotation along with Chris Sale. They added Robertson as closer via a four-year, $46 million free-agent deal, and they picked up left-handed reliever Dan Jennings in a trade with the Marlins.
All four of these moves, including Cabrera, followed the addition of left-handed reliever Zach Duke to open the Hot Stove maneuvers and the addition of first baseman/designated hitter LaRoche. The White Sox did a tremendous job of speeding up their reshaping process, while becoming a legitimate contending team in '15. They did so by hitting on their top target at each spot, while also filling the veteran leadership void.
"Frankly, I do think we probably have had a roll here that if you had told me six weeks ago we'd been able to convert on I probably would have been a little surprised by," Hahn said. "It's what we set out to do.
"It's what Jerry and [executive vice president] Kenny [Williams] wanted to see from all of us and the fact we've been able to convert on it makes us real pleased. But the attitude we have down the hall in our department is we should feel good about what we've done, but it's on to the next one now."
Left fielder Dayan Viciedo stands as the odd man out. Hahn said Tuesday that Viciedo still has a role on the White Sox, but clearly his available at-bats will be diminished. That prospect could lead to a team with more full-time at-bats pursuing Viciedo, with Cabrera taking over in left.
"In the process, there was a lot of teams interested in me, but it was a family decision," Cabrera said. "I talked to my wife and the rest of my family and we decided that we would come here because it's a good talented team, good ballplayers. They contracted other players and that makes it more interesting."
Scott Merkin is a reporter for MLB.com. Read his blog, Merk's Works, and follow him on Twitter @scottmerkin. This story was not subject to the approval of Major League Baseball or its clubs.