Chicago hope: Cubs introduce Lester
Left-hander excited to be in Chicago after rave reviews from Hammel, Samardzija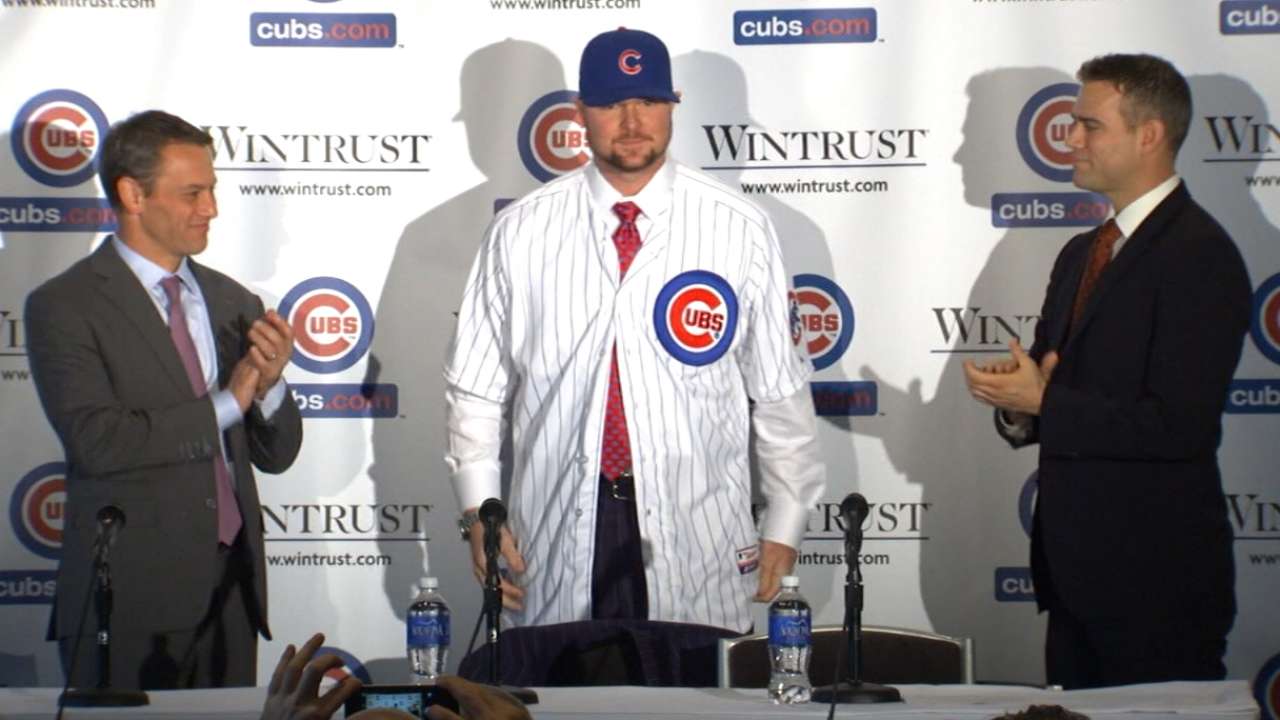 CHICAGO -- The Cubs formally introduced Jon Lester on Monday, and they can thank Ryan Dempster, Kerry Wood, Anthony Rizzo, Jason Hammel and Jeff Samardzija for helping sell the left-hander on coming to Chicago.
Lester agreed to a six-year, $155 million contract last Tuesday, but needed to pass a physical to make it official. He did that, and showed off his new No. 34 Cubs jersey for the first time at Spiaggia restaurant in downtown Chicago on Monday afternoon.
"This is a very, very significant day for the Cubs for a lot of great reasons," president of baseball operations Theo Epstein said. "Obviously, we get better on the field as Jon is the perfect pitcher to lead our rotation for where we want to go. We get better in the clubhouse with Jon's character and work ethic and his ability to perform at his best when the games matter most, which sets a great example for our players.
"This signing really marks a transition of sorts for the Cubs, the start of a period where we are clearly very serious about bringing a World Series to the Cubs and the people of Chicago," Epstein said. "It's a great day for our fans. They've been so patient with us, incredibly patient, over the last few years, and they truly deserve a pitcher and a person of this caliber to call their own."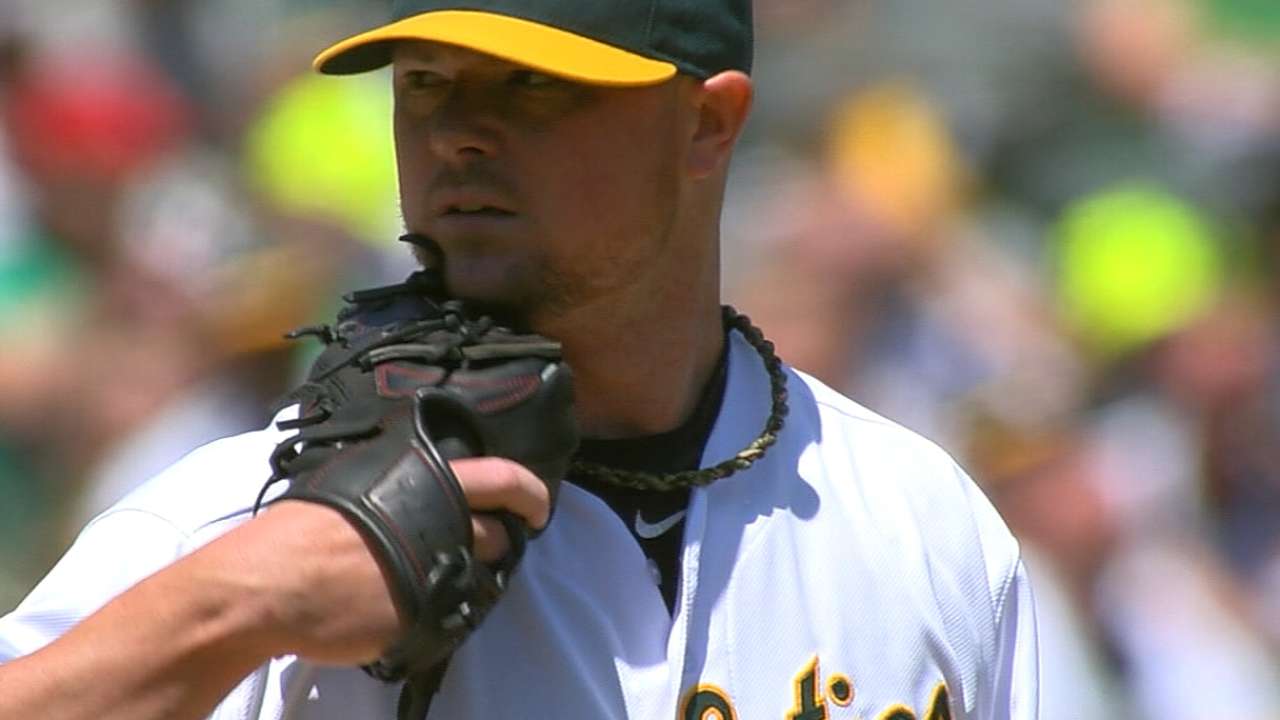 Lester, who picked No. 34 because he is a fan of Wood, admires Chicago Bears legend Walter Payton, as well as Nolan Ryan, did his homework, talking to everybody and anybody with a connection to the Cubs.
What was the one thing Lester wanted to know?
"If everything I was hearing was true as far as winning," Lester said. "Are these guys close? That was my question to Jeff. Are they close? Are they there? Getting information from him, getting information from Hammel, and talking to 'Demper' -- obviously, 'Demp' has his roots here, this is his home."
Dempster, who recently retired and took a job in the Cubs' front office as a special assistant to Epstein and general manager Jed Hoyer, was Lester's teammate in Boston in 2013. It wasn't that Dempster recruited Lester.
"[Dempster] stepped out of the Cubs' front office and talked to me like a normal guy, like he played with me on the Red Sox," Lester said. "I was able to pick his brain quite a bit on the city, on living situations, on a lot of different issues that I couldn't talk to Samardzija or Hammel about."
Lester, Hammel and Samardzija were teammates for two months on the Athletics. The Cubs had sent Hammel and Samardzija to Oakland in a July 4 package, while the Red Sox dealt Lester and Jonny Gomes to the A's on July 31 for Yoenis Cespedes.
Hammel, 32, formally introduced on Friday after signing a two-year contract to return to the Cubs, said Lester was curious about Chicago. Lester, who turns 31 in January, knows Epstein well; the two were together in Boston.
"I think the Theo-Jon bromance was going to happen anyways," Hammel said. "But [Lester] was definitely interested, and he was picking our brains all the time."
"I asked a lot of questions to a lot of different guys about a lot of different teams and organizations and having Jason Hammel and Samardzija there," Lester said. "Just wanted to get their feel for what Chicago brought and what made them happy here. They had nothing but good things to say about it, both on the city standpoint and the organization standpoint."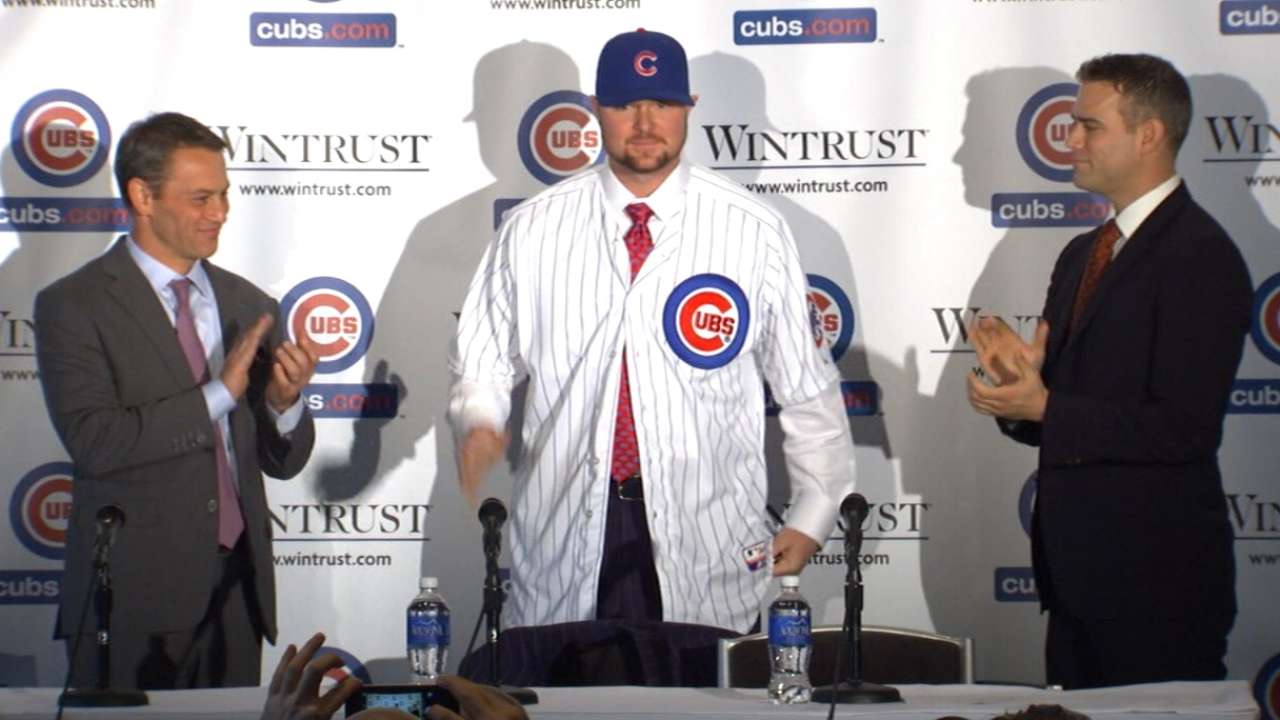 The addition of Lester certainly gives the Cubs' rotation an ace. A two-time World Series champion, Lester now leads a staff that includes Hammel, Jake Arrieta, Travis Wood, Kyle Hendricks, Tsuyoshi Wada, and Felix Doubront.
"You see a lot of things going on right now," Hammel said of the Cubs. "It's not just shtick. It's not just flash. They're making a commitment to winning here. It's important that it's not, 'We're just trying to surprise people.' This is a commitment to winning."
Epstein, Hoyer and Lester all won a World Series in Boston in 2007. Could they do that with the Cubs?
"It definitely makes it more believable to everybody else in that room," Cubs manager Joe Maddon said last week. "I'll stand up and make the same speech [to the players] regardless, but when you have it backed up by that particular kind of presence, it adds to it. I can't deny any of that. Having people like that in the room definitely helps other guys believe this is possible."
Lester's deal is the largest in Cubs history, topping Alfonso Soriano's eight-year, $136 million deal.
Carrie Muskat is a reporter for MLB.com. She writes a blog, Muskat Ramblings, and you can follow her on Twitter @CarrieMuskat. This story was not subject to the approval of Major League Baseball or its clubs.