MLB.com Columnist
Megan Zahneis
At just 15, baseball blogger Nadel already a hit
Accomplished youngster adds published author to growing list of achievements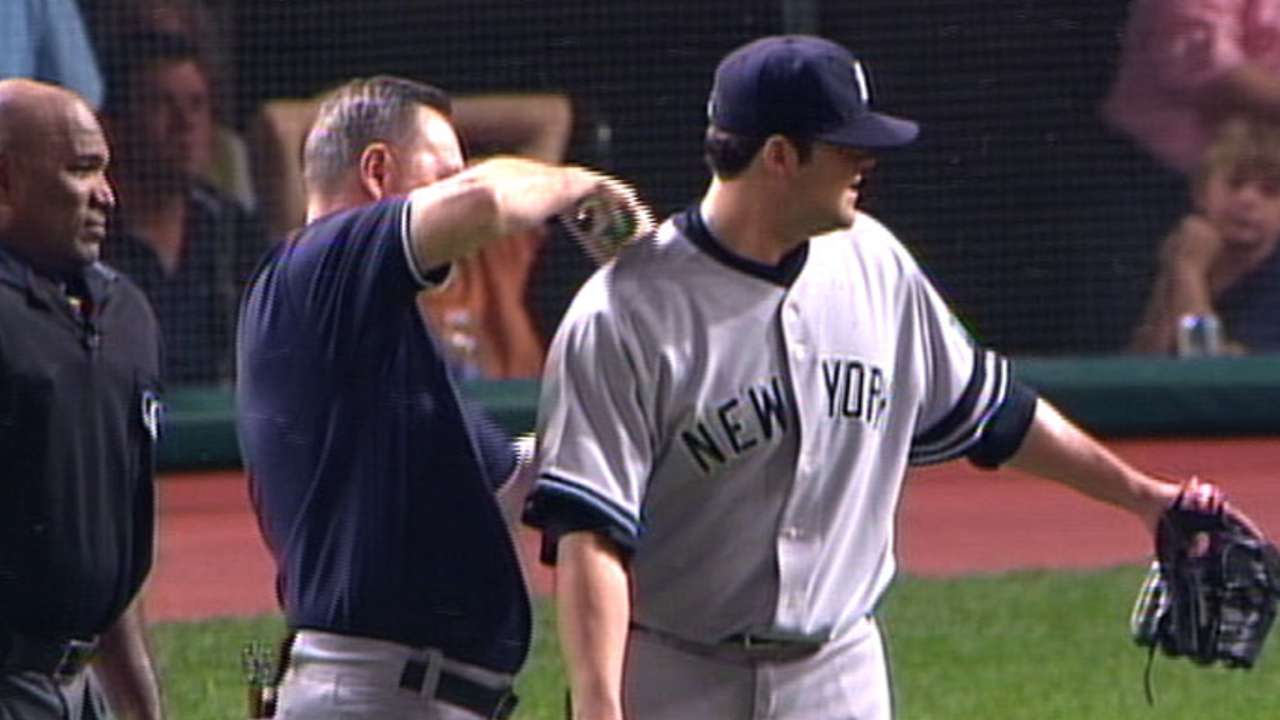 Desperate for gift ideas for the baseball lover in your life?
Well, here's a no-brainer for you -- grab a copy of "Amazing Aaron to Zero Zippers: An Introduction to Baseball History." It's available on Amazon and in the iTunes and Nook stores. Hall of Famer Jim Palmer also penned the foreword. You can get this virtual stocking stuffer (print editions are forthcoming in time for Spring Training) for less than $5.
Better yet, the proceeds are being split four ways between a quartet of baseball-related charities. All proceeds from the book will be donated to the Jackie Robinson Foundation, the ALS Association, the Baseball Hall of Fame Foundation, and the Turn Two Foundation.
That is all very impressive. But perhaps the most unique aspect of this compendium of baseball knowledge is found in its byline, which reads, "By Matt Nadel, Creator of 'Baseball with Matt'/MLB.com's youngest baseball history Pro blogger."
That's right, Nadel is a published author-blogger -- and the youngest person ever to attain the status of "Pro" on the prolific MLBlogs blogging platform.
How young is "youngest," exactly?
Try 15 years old.
At 15, the aspiring broadcaster has a resume that rivals that of most bloggers twice his age. Nadel has been featured by MLB Network, Sports Illustrated, The New York Post, Mashable and more. He has over 6,500 YouTube channel views and 5,000 Twitter followers. His blog "Baseball with Matt," where he chronicles for young fans "all the buzz on what wuzz," has over 130,000 hits since its inception in April 2012, and hit the Top 50 on MLBlogs' overall traffic in 2013 to boot.
To hear Nadel tell it, none of this was ever supposed to happen. He was just a young Yankees fan growing up in New Jersey.
"I grew up with [Derek] Jeter and the Yanks winning a lot of [American League] East titles," said Nadel. "I guess my love for baseball started [when I was], I want to say six or seven, when the Yankees were in the American League Division Series against the Cleveland Indians.
"Although they lost, I automatically fell in love with the Yankees and the game of baseball."
And so it was. Nadel, at 10, started devouring whatever biographies of baseball greats he could get his hands on. It started with the most famous men to wear Yankees pinstripes -- Babe Ruth, Lou Gehrig, Joe DiMaggio, Mickey Mantle -- and expanded to include the likes of Walter Johnson, Hank Aaron, Jimmie Foxx, Christy Mathewson and Warren Spahn.
"I kept on getting names, and I kept on reading these biographies, and I kept on reading more and more about baseball history. Because once you get into baseball history, you can't go back," Nadel said. "I have been infatuated with the sport's history since I was in sixth grade. And I can't get over how great this sport's history is.
"I think baseball history is the best history of any major American sport -- because one, it's the longest; two, it's the most exciting; and three, it just ties in the most with American history. I really like that about the sport and, ultimately, baseball is just awesome. It's America's pastime for a reason."
Now, Nadel has put all his years of baseball research into one place. At 177 pages, "Amazing Aaron to Zero Zippers," a Summer Game Books title, condenses the best of baseball history into 26 short chapters -- each alliteratively titled to match a topic. Open the table of contents and you'll find chapters like "Cantankerous Cobb: Ty Cobb" or "Excruciating Errors: Famous Errors in Baseball History" as well as "Kings of K: The Greatest Strikeout Pitchers Ever" and "Unbelievable Underdogs: Baseball's Greatest Upsets."
The book is geared primarily toward kids and baseball novices.
"Even though it's really geared to anyone, my blog is mainly about kids, so I really wanted [the book] to be kid-friendly -- and what's more kid-friendly than an alphabet book?" Nadel said. "So I decided to do that, to do an alphabet book. So then I just wanted to come up with as many topics as possible and try to fill them in -- each to match a letter of the alphabet."
"Amazing Aaron to Zero Zippers" is hard to pigeonhole into one genre or another -- it's a bit of a textbook, a bit of an encyclopedia and a bit of a story, all in one.
"Each chapter, obviously, is going to give a bunch of facts and information like an encyclopedia," Nadel said, "but also, it gives stories and a lot of those stories are awesome. It might be a little bit of an encyclopedia, but it might be a little bit of a novel or a nonfiction book. But it's my book, and I want to teach people about baseball history -- and I think in this book, it does exactly that."
Squeezing several centuries of baseball history into less than 200 pages is a considerable challenge.
"You can't really put all the biggest moments in baseball history in a single book, but I think you put in some of the big numbers and some of the moments that were a little bit smaller that some people may not know," Nadel said. "All that mattered was what was going to catch the reader's eye and, ultimately, I think that the reader's eye will be caught a lot."
Given the success of "Amazing Aaron" -- it once reached the top of the baseball-history selection curated by Amazon -- is another Nadel book on the way?
Not necessarily.
Right now, Nadel's main priority is blogging.
Oh, you know, and homework.
Nadel tries not to get too caught up in his new-found fame -- he rebuffs any suggestion of being a trailblazer for other kids who dream of sports journalism and Internet writing.
"I wouldn't call myself a trailblazer, because I only have 130,000 views on my blog. It's not like I have over 10 million," Nadel said. "I'm very thankful for each one of those 130,000, but I wouldn't consider myself a trailblazer. But I do like to think of myself as someone who can inspire young kids, even somewhere [else] in the world.
"Writing about sports, it's been my dream, really, since about seventh grade -- when I started thinking it would be a good idea [to start] a baseball-history blog. ... I would say [I consider myself] someone who inspires."
And aside from the charity earnings, he really doesn't care how many copies "Amazing Aaron" sells.
"You know what?" said Nadel. "Either way -- if I sell one copy, if I sell a million -- as long as I remember that I published a book when I was 15 years old, when [I am] looking back on my life when I'm older, I'm going to be happy."
Meggie Zahneis, winner of the 2011 Breaking Barriers essay contest, earned the job of youth correspondent for MLB.com in the fall of '11. This story was not subject to the approval of Major League Baseball or its clubs.