Healthy Fujikawa eager to earn key role in Rangers' bullpen
Coming off injury-shortened seasons, righty signs one-year deal with club option for '16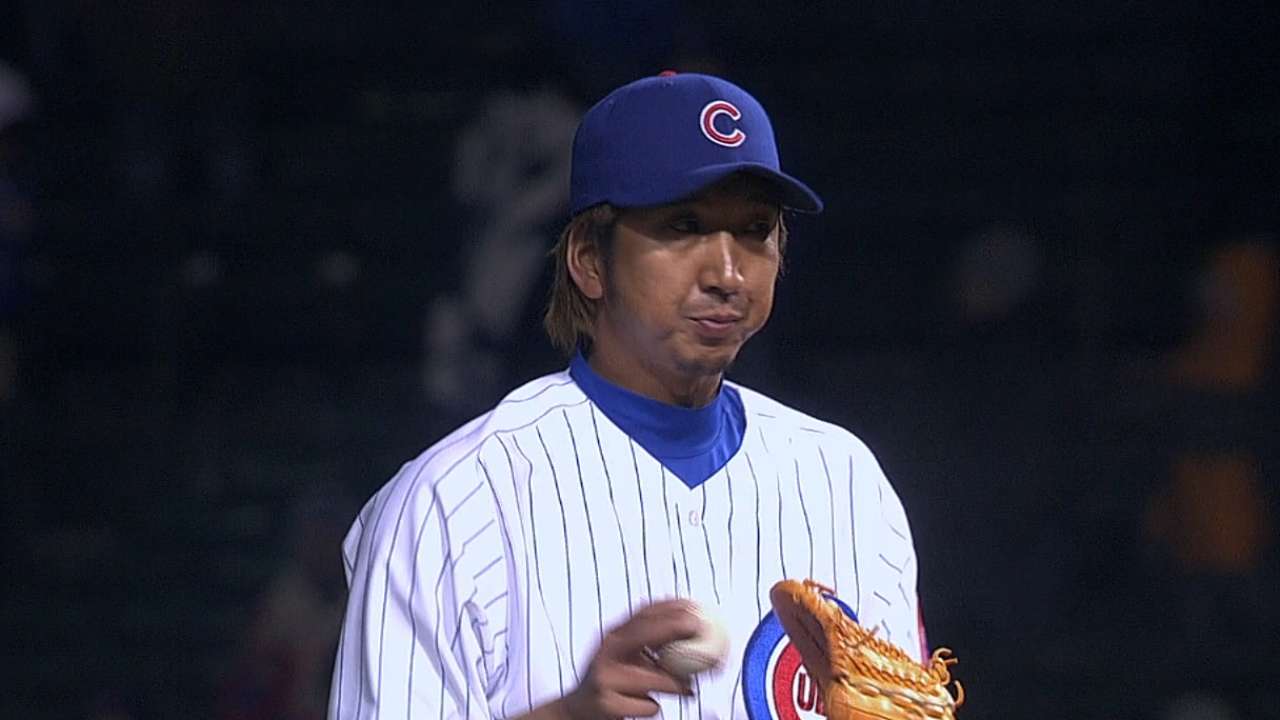 ARLINGTON -- The Rangers added another option for the back end of their bullpen Tuesday, signing free-agent right-hander Kyuji Fujikawa to a one-year Major League contact for 2015 with a club option for 2016.
Neftali Feliz is the Rangers' closer, so Fujikawa will go into Spring Training as a potential one-inning setup man. He will receive a base salary of $1 million with the opportunity to earn incentives. The deal will be official once the Rangers clear a spot on their 40-man roster.
Fujikawa missed most of the last two seasons after having Tommy John surgery on his right elbow. He made his Major League debut with the Cubs in 2013 and made 27 total appearances in two seasons in Chicago. Fujikawa, 34, had elbow surgery on June 11, 2013.
Fujikawa said Tuesday on a conference call that he is stronger physically than he was before he was shut down by the Cubs after 12 appearances.
"It's a lot better than before I had my surgery," Fujikawa said through interpreter Kenji Nimura. "I got hurt early in season with the Cubs. It lingered a little bit. My arm feels a lot better than before I had surgery."
The Rangers scouted Fujikawa extensively in Japan and made a posting bid for him before he signed with the Cubs before the 2013 season. The Rangers liked him at the time because of his makeup and because he's a strike-thrower, and that hasn't changed, general manager Jon Daniels said Tuesday.
"He's a really good fit for our bullpen," Daniels said. "He's a veteran. He's a strike-thrower. He has the ability to manipulate the ball."
Fujikawa was 1-1 with two saves and a 5.04 ERA with the Cubs. He went 14 months in between appearances for Chicago, returning in August and posting a 4.85 ERA in 15 outings this past season.
Fujikawa pitched for 12 seasons for the Hanshin Tigers in Japan's Nippon Professional Baseball Central League, where he was a standout reliever. Fujikawa was 42-25 with 220 saves and a 1.77 ERA in 562 appearances in Japan. He had 201 saves for Hanshin from 2007-12, ranking second in NPB.
He said Tuesday he sees no reason he can't return to form.
"I'm very confident that I can continue to be as successful as I was in Japan," Fujikawa said. "As long as I'm healthy, I believe I can continue to be successful."
Left-handed pitcher Scott Barnes and right-hander Ben Rowen were designated for assignment as the Rangers made roster space for Fujikawa and Colby Lewis, whose contract became official.
The Rangers acquired Barnes via a waiver claim from the Orioles on Dec. 8. In 25 games, one start, for Triple-A Columbus, Barnes went 3-2 with a 3.69 ERA this past season.
Rowen appeared in eight games with the Rangers in 2014 and allowed four runs in 8 2/3 innings. Rowen also made 34 appearances for Triple-A Round Rock, where he went 3-0 with a 3.45 ERA.
The Rangers also signed two players -- infielder Tommy Field and first baseman Kyle Blanks -- to Minor League contracts with invitations to Major League Spring Training.
Field, 27, split the 2014 season with Triple-A Salt Lake and Indianapolis in the Angels and Pirates' systems, hitting seven home runs and adding 42 RBIs in 90 games.
Blanks, 28, combined to bat .309 with two homers and seven RBIs in 26 games for the Padres and Athletics in 2014.
Todd Wills is a contributor to MLB.com. This story was not subject to the approval of Major League Baseball or its clubs.