Astros introduce upgrades to back end of bullpen
Gregerson, Neshek officially join club; Houston not ready to announce closer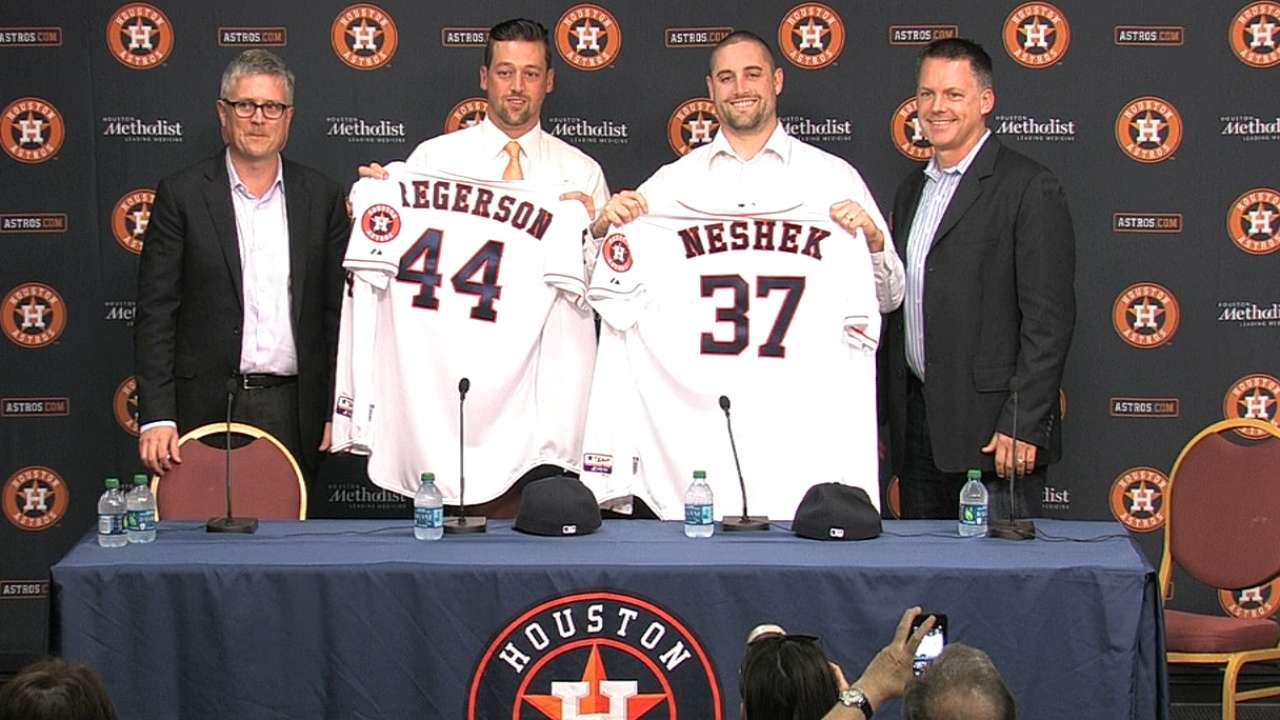 HOUSTON -- It only took two questions into Friday's news conference at Minute Maid Park to introduce new Astros relief pitchers Luke Gregerson and Pat Neshek for someone to ask manager A.J. Hinch who was going to be the closer in 2015.
The Astros aren't ready to anoint a closer just yet from among the new faces and incumbent Chad Qualls, but the signing of the veteran right-handers represent a significant upgrade in options at the back end of the bullpen and satisfy the club's biggest offseason need.
Gregerson and Neshek were introduced to the media and spoke about relationships, the excitement of coming to a young team and being eager to protect late leads. The Astros have blown a league-high 73 saves the past three years and had the highest bullpen ERA in baseball at 4.69 in that span.
"We talked at the beginning of this offseason [that] our primary goal going into next year was to improve the bullpen, to provide some arms that will allow us to win the games we're supposed to win," Houston general manager Jeff Luhnow said. "That was probably objective No. 1 this offseason. We had both [Gregerson and Neshek] on our list and identified them as top targets."
Luhnow hinted Gregerson is the likely candidate to close. The Astros' bullpen returns right-hander Josh Fields and lefties Tony Sipp and Darin Downs, among others, so pitching coach Brent Strom's bullpen has gone to a luxury from a weakness.
"I know the spotlight is on these guys, but Sipp, Fields, Qualls and [Jose] Veras, too, to some extent if he comes back, it's an exciting time right now," Strom said. "The ninth inning becomes the thing that everybody talks about, but the games are lost in the seventh and eighth just as much, many times. I'm really excited to have them here."
Gregerson signed a three-year, $18.5 million deal with incentives. He'll make $6 million in 2015 and $6.25 in '16 and '17, but his salary can increase each one of those seasons by $250,000 for reaching 45, 50, 55 and 57 games finished. If he has 100 games finished in '15 and '16, he'll get an additional $500,000 in '17, making it a possible $7.75 million he could earn that year.
"Right now, [who's going to be the closer] is wide open, but we do feel like he's got a real good chance to be the guy that's pitching in the ninth inning," Luhnow said. "He's earned the right to do that, but it's a decision I'm going to leave up to A.J. to figure out to win as many games as possible. He's got attractive options, and it's nice to know you have more than one choice."
Gregerson, 30, has been waiting for a chance to close after pitching ahead of Heath Bell and Huston Street in San Diego and Sean Doolittle in Oakland last year. Last season, his first with the A's after five with the Padres, he went 5-5 with a 2.12 ERA in 72 outings. He has made at least 61 appearances in each of his six big league seasons, and at least 72 in five of them.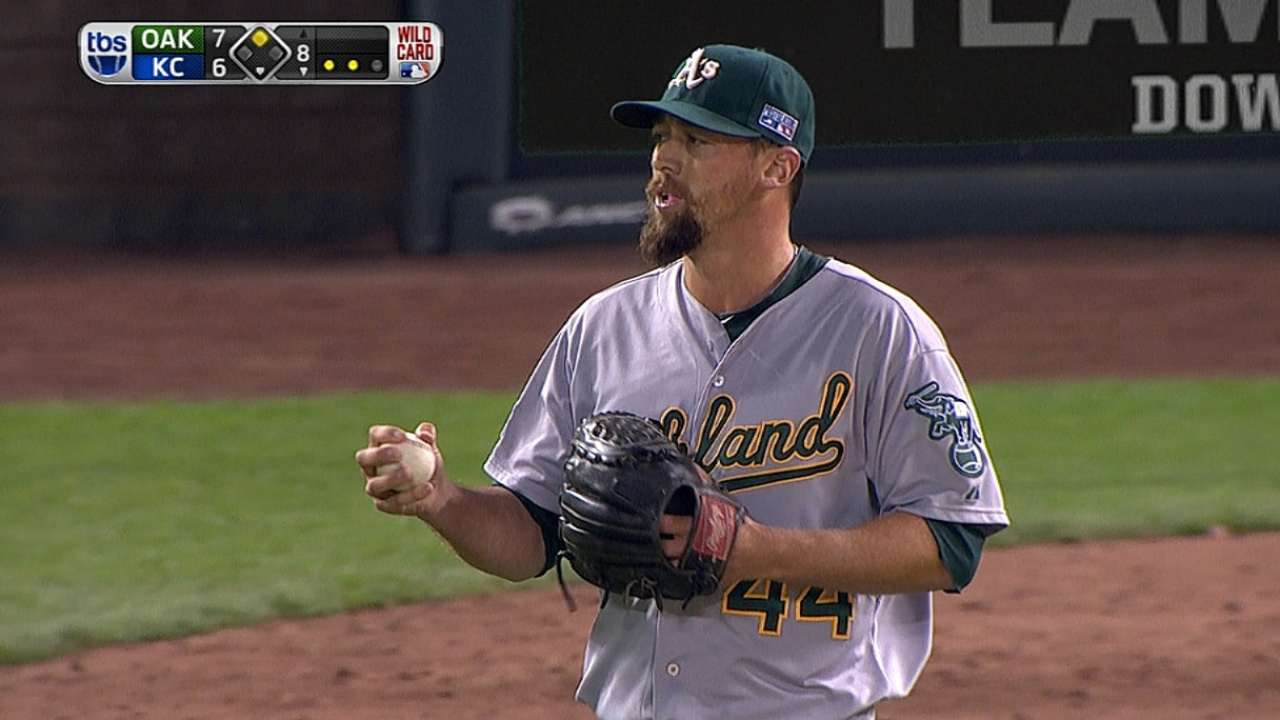 "The ninth inning doesn't really matter," said Gregerson, who was drafted by Luhnow when he was with the Cardinals in 2006. "I think they're all big, pressure situations, and you have one job to do and that's to get guys out. When you can do it in the seventh, you can do it in the eighth, and you can do it in the ninth, as well. Whatever they have going for me, Pat and Chad, we're here to win, we're here to pitch, we're here to get outs. That's what we get paid for."
Neshek, 34, is a great story in perseverance. The side-armer has overcome Tommy John surgery and two years ago lost a child shortly after he was born. Last year, the only offer he had was a Minor League deal from the Cardinals, and he turned into an All-Star. He went 7-2 with a 1.87 ERA in 71 games with 68 strikeouts in 67 1/3 innings.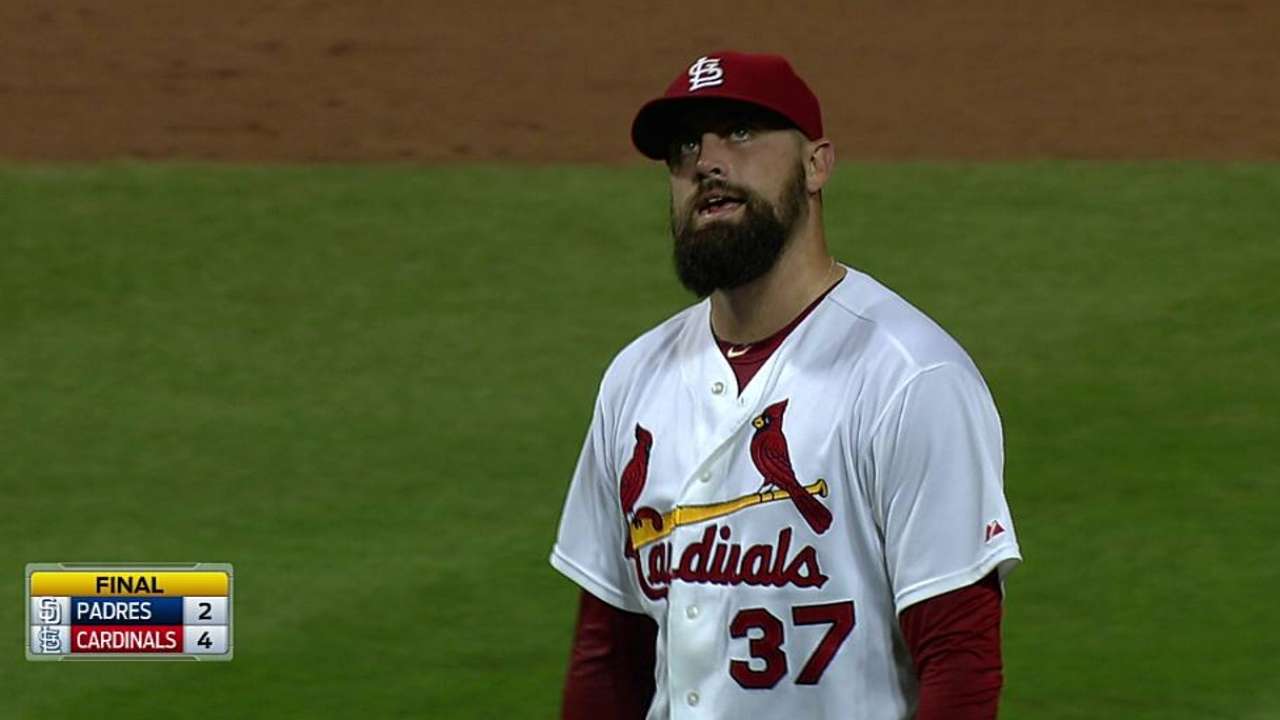 "When I was with the A's [in 2012-13], I threw all sliders and didn't really know I had [an All-Star season] in me or not," Neshek said. "Last year, I'm on the verge of not having a job ever again, and I said, 'I'm going to throw my fastball a lot and see where that takes me.' I started off slow in spring. I was hitting 89, 90 [mph], and by the end of the year, 94, 95.
"It was a process, you know? That was a big motivating factor for me was the lack of offers."
Neshek, who lives an hour away from the Astros' Spring Training home of Kissimmee, Fla., parlayed his 2014 success into a two-year, $12.5 million deal with a club option.
"That was one of the biggest factors for me in signing over here -- being around quality pitching," said Neshek, who was on the 2011 Padres with Gregerson and Qualls. "I know Chad and they mentioned that Luke was going to sign, and I didn't know if he was or wasn't. That played a big role for me. Just having quality guys in the bullpen makes all of our jobs easier."
Hinch said the best night sleep he's had since he was hired in September came after the Astros closed the deal with Gregerson and Neshek.
"Next to these two, I'm probably the happiest guy possible," Hinch said. "To add these two reliable arms that are used to getting outs at the volatile and critical times is certainly a luxury for us. I'm thrilled to add both of them. I've got a little bit of history with them. I trust them as human beings, I trust the heartbeat in both of them and their ability to pitch in any situation."
Brian McTaggart is a reporter for MLB.com and writes an MLBlog, Tag's Lines. Follow @brianmctaggart on Twitter. This story was not subject to the approval of Major League Baseball or its clubs.