MLB.com Columnist
Jim Callis
Heaney tops 10 best prospects in Meetings trades
Left-hander lands with Angels; DeSclafani, Eflin among talent with new homes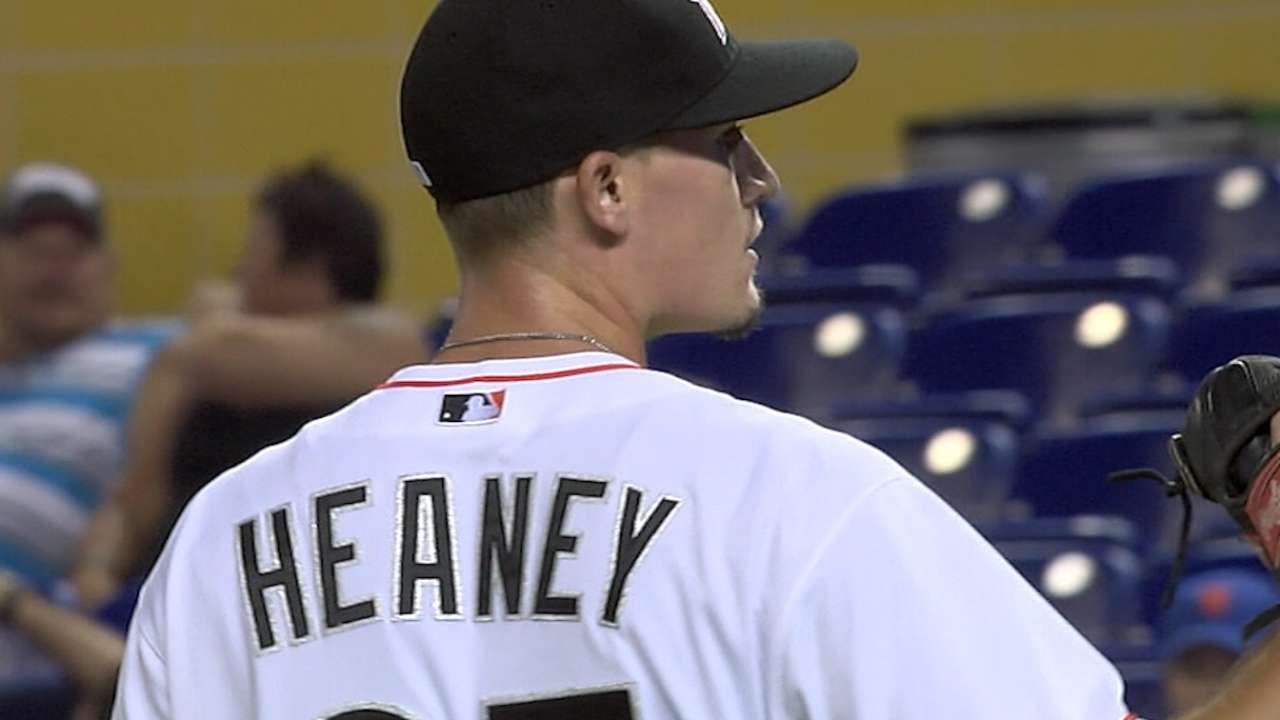 SAN DIEGO -- Trade activity at the Winter Meetings started slowly. There was one deal on Monday, sending Brandon Moss to the Indians, and two on Tuesday, with Jeff Samardzija heading to the White Sox and Miguel Montero to the Cubs.
Over the last two days, it sped up like Dee Gordon -- which was appropriate, because the stolen-base champ became a Marlin in one of five trades consummated on Wednesday. That number would be eight if we included reported-but-not-yet-officially-announced deals that will make Matt Kemp a Padre, Wade Miley a Red Sox and Jimmy Rollins a Dodger.
Teams cleared out of San Diego on Thursday but still found the time to complete four more deals (five once the Rangers announce their acquisition of Ross Detwiler).
In addition to big league stars changing addresses, a number of talented prospects also found new homes. Below is our ranking of the 10 best prospects who got swapped at the Winter Meetings, starting with one so coveted he got swapped twice. (Note: Prospects are defined as players who still have Rookie of the Year eligibility.)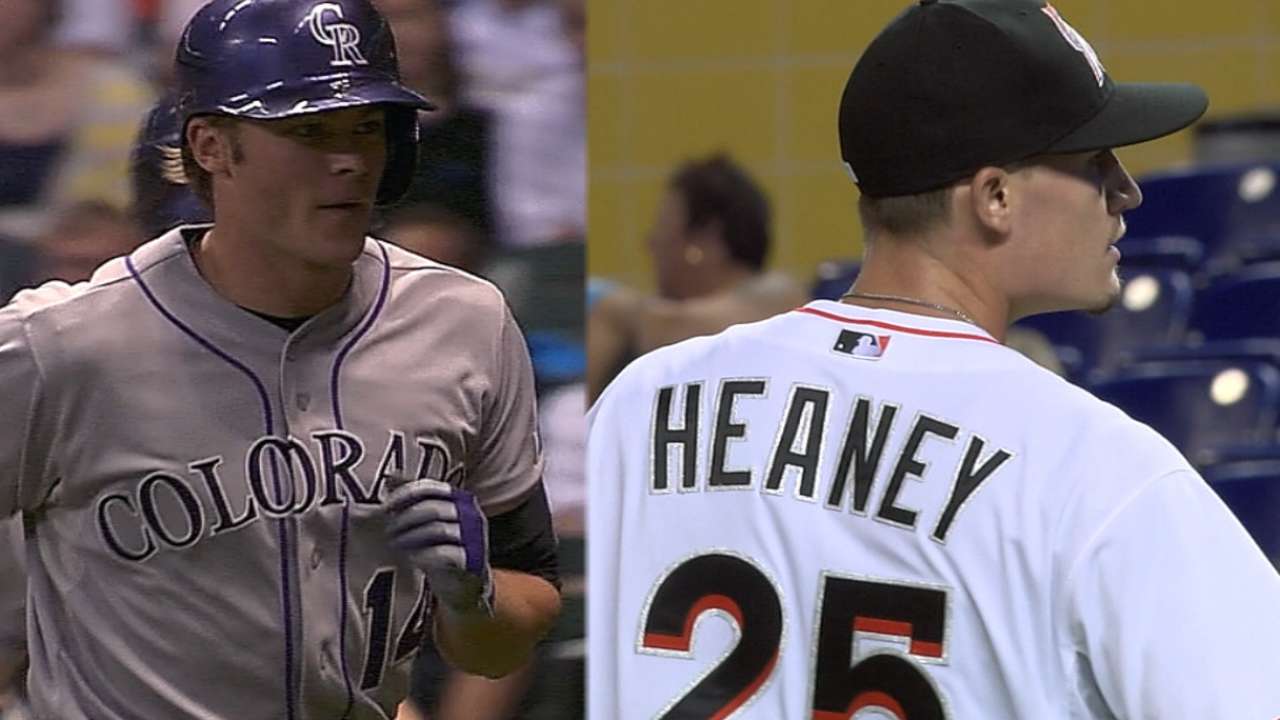 1. Andrew Heaney, LHP, Angels (from Dodgers from Marlins). Part of a seven-player trade that sent Gordon to Miami, Heaney almost immediately got flipped from one Los Angeles team to another straight up for All-Star second baseman Howie Kendrick. The 23-year-old Heaney struggled in his big league debut in 2014, but the ninth overall pick in the 2012 First-Year Player Draft is a lefty starter with three plus pitches (fastball, slider, changeup) and the ability to command them when he's at his best. He'll factor into the Angels' 2015 rotation and could be a No. 2 starter at his peak.
2. Anthony DeSclafani, RHP, Reds (from Marlins). Included in Miami's blockbuster Jose Reyes /Mark Buehrle trade with Toronto two years ago, DeSclafani netted Mat Latos for the Marlins this time around. As with Heaney, DeSclafani's sometimes-rocky 2014 big league debut doesn't detract from his promise. He attacks hitters with a solid fastball/slider combination and pounds the strike zone, traits that should eventually help the 24-year-old settle into the middle of Cincinnati's rotation.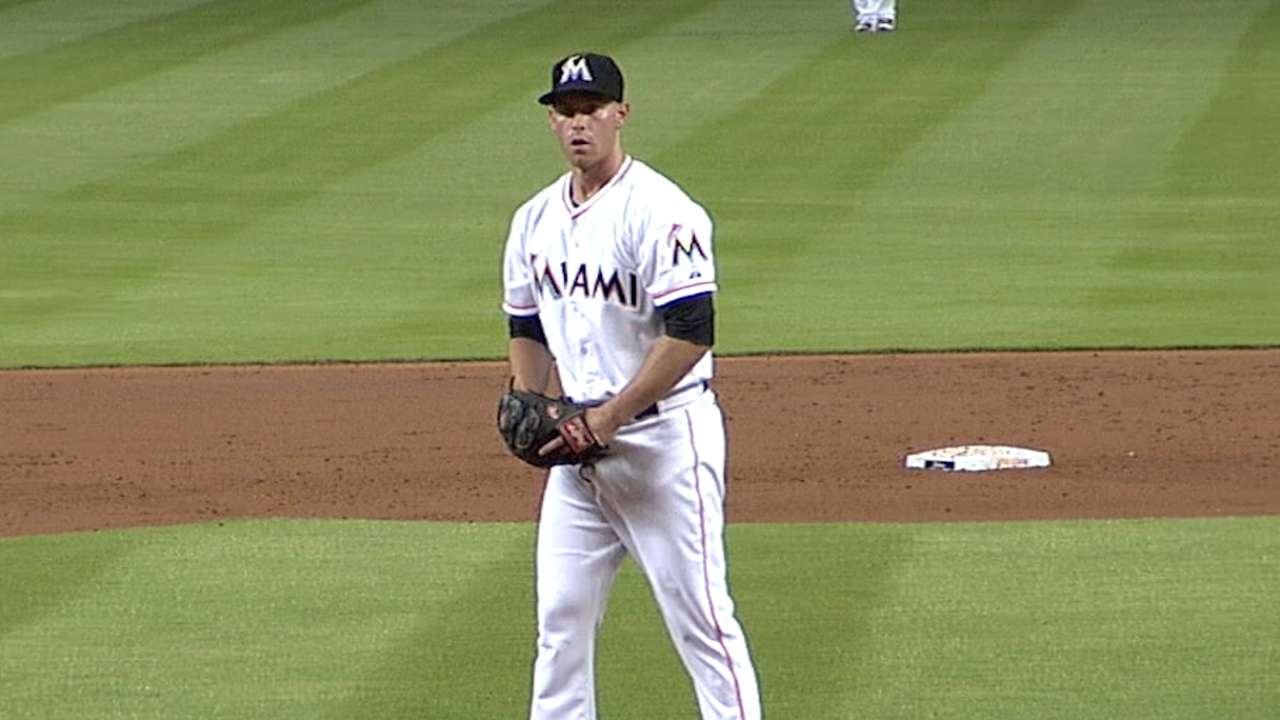 3. Zach Eflin, RHP, Phillies (from Dodgers from Padres). Once Los Angeles completes the Kemp deal and gets Eflin from San Diego, it's expected to send him to Philadelphia for Rollins. The 33rd overall pick in the 2012 Draft, Eflin isn't overpowering but has advanced feel for his changeup, a solid fastball and a decent slider. He's more polished than the typical 20-year-old and profiles as a possible No. 3 or 4 starter.
4. Jonathon Crawford, RHP, Reds (from Tigers). After using Rick Porcello to get Yoenis Cespedes from the Red Sox, Detroit plugged the hole Porcello left in its rotation by trading Crawford and Eugenio Suarez to Cincinnati for Alfredo Simon. Crawford, 23, was the 20th overall selection in the 2013 Draft. He can reach 96 mph with his fastball and unleash some plus sliders at times, but he doesn't always repeat his delivery and lacks consistency with his secondary pitches and control. He could wind up as a mid-rotation starter or a late-inning reliever.
5. Tom Windle, LHP, Phillies (from Dodgers). The other half of the reported package for Rollins, Windle will take over from Jesse Biddle as the most promising lefty in the Phillies' system. A second-round pick in 2013, the 22-year-old Windle has a solid 88-94 mph fastball and a slider that grades as a plus pitch when it's on. Scouts don't love his delivery, questioning whether it will prevent him from refining his changeup and command so he can remain a starter.
6. Jeferson Mejia, RHP, D-backs (from Cubs). Putting Mejia, part of the Montero deal, this low may prove to be too conservative, because he could have more upside than anyone on this list besides Heaney. Signed for $850,000 as part of Chicago's aggressive international spending in 2013, the 20-year-old Mejia isn't much fun for batters. He already can deliver fastballs up to 97 mph from his 6-foot-7 frame, and his hard curveball and changeup show promise as well. He's at least three or four years away from the Majors but could be a monster when he gets there.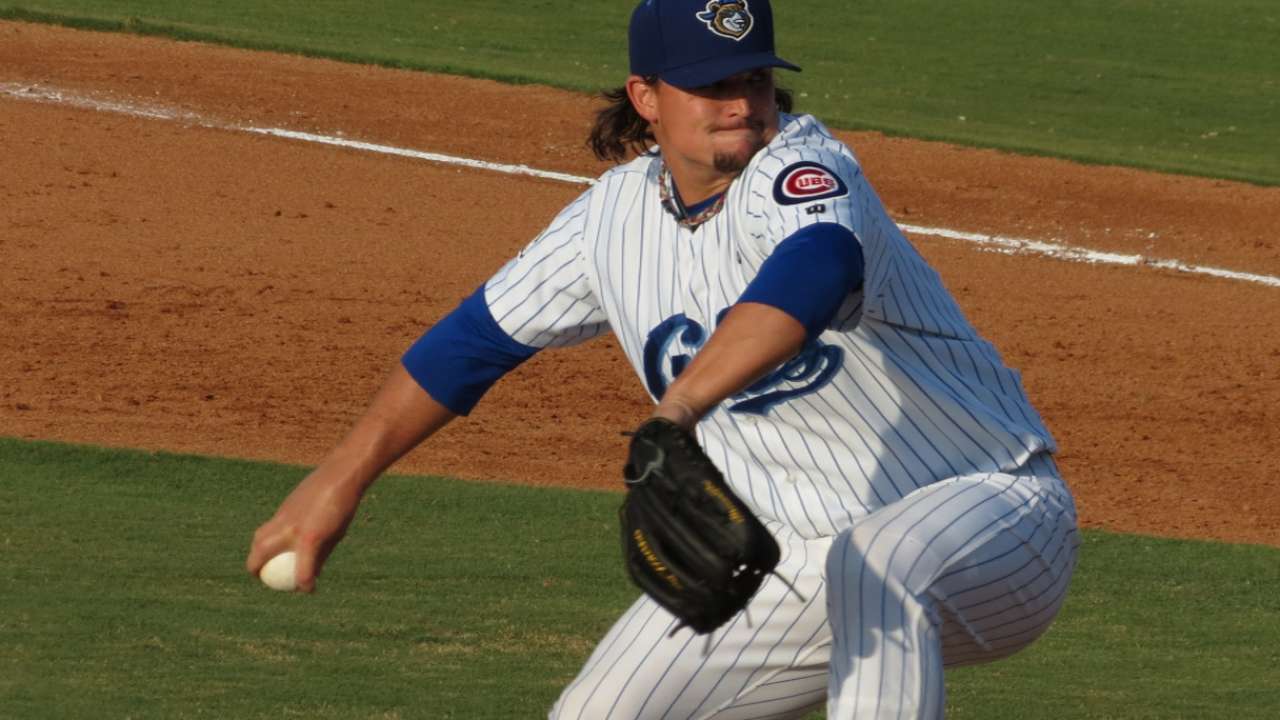 7. Joe Wieland, RHP, Dodgers (from Padres). He went from the Rangers to the Padres in a 2011 trade for Mike Adams and will move a little further north once the Kemp deal is finalized. The 24-year-old Wieland broke into San Diego's rotation in 2012 before blowing out his elbow, necessitating Tommy John surgery that kept him out for all of 2013. He returned this year to show the same mid-rotation potential he had before the injury, with his exquisite command allowing his average four-pitch repertoire to play up.
8. Chad Wallach, C, Reds (from Marlins). Sent along with DeSclafani to Cincinnati for Latos, Wallach could provide a nice complement to Devin Mesoraco a year or two down the line. One of three sons of former All-Star Tim Wallach, currently playing in the Minors, he has taken to catching since moving behind the plate full-time in 2013. The 23-year-old has decent tools across the board with the exception of his speed, batted .322/.431/.457 in Class A during his first full pro season and impressed scouts in the Arizona Fall League.
9. Joe Wendle, 2B, Athletics (from Indians). Cleveland's payment for Moss, Wendle is an offensive second baseman who hit .366 in four years at West Chester (Pa.) -- which he led to the 2012 NCAA Division II College World Series title -- and has batted .292 as a pro. The 24-year-old has some gap power as well and plays steady defense, though he doesn't have the quickness or arm to play on the left side of the infield and serve as a utility man.
10. Chris Bassitt, RHP, Athletics (from White Sox). Marcus Semien is the best of the four players Oakland got for Samardzija, but he has too much big league playing time to qualify for this list. The top prospect in that deal is Bassitt, who barely edges sweet-swinging first baseman Rangel Ravelo (who would be No. 11 if we extended these rankings.) The 25-year-old Bassitt has just one plus pitch in his 91-95-mph fastball, so he may profile better as a bullpen piece, a role in which he topped AFL relievers with 15.2 strikeouts per nine innings.
Jim Callis is a reporter for MLB.com and writes a blog, Callis' Corner. Follow @jimcallisMLB on Twitter. This story was not subject to the approval of Major League Baseball or its clubs.